Crassula multicava Lem.
Family: Crassulaceae
Common names: fairy crassula, pitted crassula (Eng.); feetjie crassula, skaduplakkie (Afr.); umadinsane (Zulu)
Introduction
Crassulas are often small, curiously formed plants that are favourites for succulent collectors. Crassula multicava is one of those plants that can be used for almost all purposes and this is without a doubt why it has become such an important garden plant throughout South Africa as well as in other countries. There are not many shade-loving succulents that create as beautiful a display as C. multicava. The uniformity, compactness and neat low-growing appearance of this plant is much enjoyed by the gardener and landscaper alike. The plants are also very long-lived and respond well to pruning when overgrown.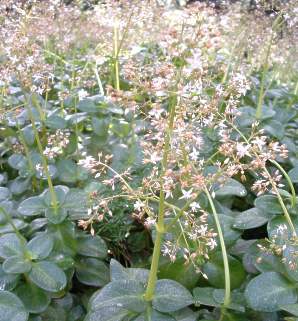 Description
Description
Crassula multicava is a moderate to fast-growing, mat-forming, evergreen ground cover up to ± 300 mm, that produces an outstanding uniform effect when planted in masses. As with all members of the genus, the glossy, oval-to-round leaves are formed in opposite pairs. They are light to dark green depending on the position in the garden, darker in the shade and paler in semi-shade to sunny places. The flowers are petite, charming little stars, hence the common name fairy crassula, and appear in masses above the attractive leaves. The leaves contain hydathodes (water-secreting pores), which serve for rapid absorption of water from the leaf surface.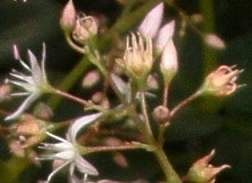 Conservation Status
Status
Least Concern (LC). Crassula multicava is not endangered and due to its free-seeding, easy rooting and perennial nature generally occurs in abundance in its natural habitat.
Distribution and habitat
Distribution description
Crassula multicava occurs on forest margins, river and stream banks, and in coastal and subtropical thickets from Mpumulanga, KwaZulu-Natal to the Eastern and southern Cape. Plants show a preference for well-composted, deep soils as well as clay soils and occur in partial shade. They are found in sheltered frost-free areas.
Derivation of name and historical aspects
History
The name Crassula is the Latin diminutive of crassus, thick, in reference to the plump leaves of many members of the genus. The species name multicava refers to the many little holes that can be seen on the leaves, derived from the Latin multi, meaning many, and cava, hollow, hole or cavity.
Crassula was first named in 1862 and the genus contains about 150-200 species most of which occur in South Africa. Most members are succulent perennials, although there are some shrubby and tree-like species. Other popular genera used in horticulture include Cotyledon, Tylecodon and Kalanchoe which are also succulents and are popular rock garden and container plants that do well in semi-arid climates.
Ecology
Ecology
Crassula multicava is designed for rapid colonization where it occurs in the wild. Apart from seed dispersal, the plants easily root and spread from leaves that fall or break off from the mother plant. They also propagate themselves by producing plantlets on the flowerhead that drop off and develop into independent plants. This vegetative reproduction method and the rapid spread of plants has lead to somewhat problematic invasions of natural landscapes in many parts of the world such as the USA and Australia.
In spring, bees, which are the primary pollinators, visit the masses of flowers.
The larvae of some butterflies feed on Crassula leaves and seasonal infestation of mealy bugs can occur.
The seeds are very fine and germinate quickly in damp shady areas, often on rocks covered with thin layers of soil. Plants that grow on cliffs and riverbanks use gravity for vegetative reproduction: the seeds, and plantlets or any leaves or pieces of the mother plant that are broken off, then fall down the cliff and hopefully land on another ledge where they can root and form an independent plant. And any that fall to far and land in the river, are hopefully washed ashore somewhere suitable for them to root and grow.
Uses
Use
It is used in traditional medicine as a strong emetic, and infusions of the plant are sprinkled around the homestead as a protective charm against lightning.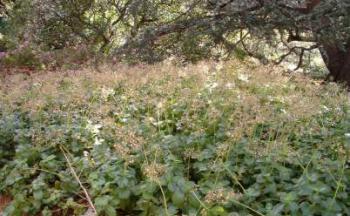 Growing Crassula multicava
Grow
Horticulturally the plants are very popular in rock gardens, on rocky embankments, hanging baskets, and as perennial container plants. They make beautiful displays when planted en masse in shade or semi-shade.
It is easy to grow plants vegetatively as well as sexually. For quick results, leaf or stem cuttings can be made from mature plants. Cuttings can be made throughout the year and root readily in a well-drained medium. Many rooted plants will form from the mother plant in the garden. It may therefore be easier to transplant young plants as they root from leaves that have fallen off in the garden.
The seeds are very fine and must be harvested as soon as the inflorescence turns brown as the fruit ripens. Seeds should be sown on a damp, sandy medium and be kept shaded and moist while cuttings are inserted into coarse river sand and later transplanted into ordinary garden soil. Other shade and semi-shade plants that do well with Crassula multicava include Portulacaria afra var. prostrata, Plectranthus saccatus, P. ciliatus, P. zuluensis, Asparagus densiflorus, A. kraussiana, Crassula spathulata, Impatiens hochstetteri, Begonia sonderiana, B. dregei and B. sutherlandii, Clivia miniata, C. gardenii, C. nobilis, Ledebouria petiolata and Gasteria spp.
References
Germishuizen, G. & Meyer, N.L. (eds) 2003. Plants of southern Africa: an annotated checklist. Strelitzia 14. National Botanical Institute, Pretoria.
Hutchings, A., Scott, A.H., Lewis, G. & Cunningham, A.B. 1996. Zulu medicinal plants: an inventory. University of Natal Press, Pietermaritzburg.
Joffe, P. 2001. Creative gardening with indigenous plants. Briza Publications, Pretoria.
Leistner, O.A. 2005. Seed plants of southern tropical Africa: families and genera. Southern African Botanical Diversity Network Report No. 26. SABONET, Pretoria
Powrie, F. 1998. Grow South African Plants. A gardener's companion to indigenous plants. National Botanical Institute, Cape Town.
Stearn, William T. 2003. Stearn's Dictionary of plant names for the gardener. Cassel, UK.
Credits
Werner Voigt
Kirstenbosch NBG
October 2005
Plant Attributes:
Plant Type: Ground Cover, Succulent
SA Distribution: Eastern Cape, KwaZulu-Natal
Soil type: Loam
Flowering season: Winter
PH: Acid, Alkaline, Neutral
Flower colour: White, Pink
Aspect: Shade, Morning Sun (Semi Shade), Afternoon Sun (Semi Shade)
Gardening skill: Easy
Special Features:

Drought resistant

Good potplant
Indoor plant

Medical plant

Feeds honeybees

Pioneer plant
Horticultural zones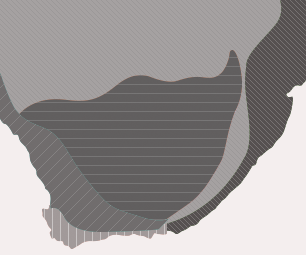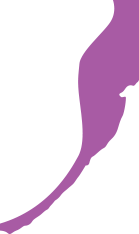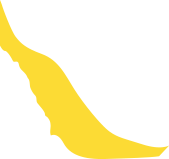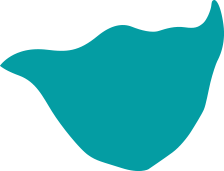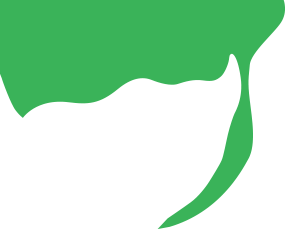 Zone 1 Coastal summer rainfall, frost free
Zone 2 Coastal winter rainfall, frost free
Zone 3 Winter rainfall Karoo, light frost
Zone 4 Summer rainfall Karoo and Highveld, Frost in winter
Zone 5 Bushveld summer rainfall, Light frost
Google QR Code Generator