Curio pondoensis (Van Jaarsv. & A.E.van Wyk) Manning (= Senecio pondoensis Van Jaarsv. & A.E.van Wyk)
Family: Asteraceae
Common names: Pondo cliff daisy (Eng.); Pondo krans-aster (Afr.)
Introduction
The Pondo cliff daisy is a cliff-hanger, leaf and stem succulent, endemic to the river valleys of northern Pondoland, in the Eastern Cape. The attractive, elongated, greyish green leaves have a distinct translucent portion on the upper surface and the plant makes a good pot plant.
Description
Description
This is a spreading, moderately branched, succulent shrublet, with branches up to 400 mm long, fairly fast-growing and hanging from the rock face. The roots are fibrous and the plant sprouts new shoots from its base.
Branches are rounded, succulent, greyish to purplish green, tapering, at first soft, becoming firm and deciduous towards the  base; the older bark brownish.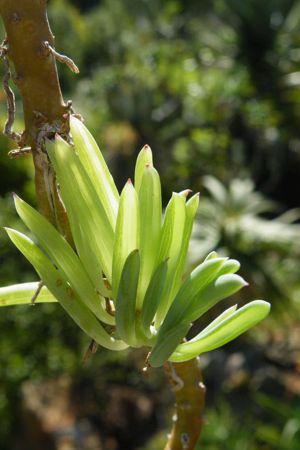 The leaves are ascending, elongated and often sickle-shaped, 45–60 × 5–7 mm, rounded on the lower surface, but flat above, softly succulent, bluish green, covered with a powdery bloom; the older leaves paler. The upper leaf surface bears a translucent window along the length, the leaf tip ends in a short, purplish, sharp point.
The inflorescence is a terminal, spreading, branched, 60–80 mm long corymb, bearing slender, linear bracts. The flower is a bell-shaped (campanulate) capitula, consisting of up to 8 individual flowers, 10 × 3.5 mm. The corolla (petals) lobes 5, white, 1 × 0.75 mm. The ray florets are absent and disc florets tubular, 6–7 × 0.5 mm. The style (female portion) is 5.5 mm long, reaching 6.5 mm when fully extended, white; the stigma is 0.75 mm long. The stamens with anthers 1 × 0.5 mm. Seed 5 × 0.5 mm, tapering to the base.
Flowering time: spring and summer, but with a peak in spring.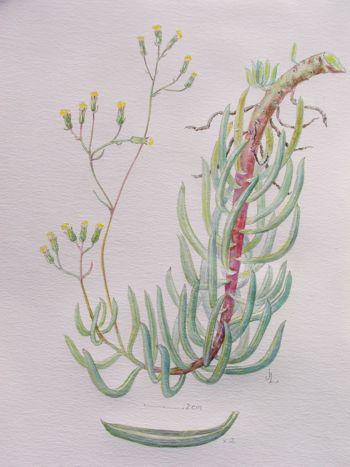 Conservation Status
Status
Although the plants are rare, it is not endangered because of its safe cliff-face habitat, and therefore has not been included in the Red List of South African plants (http:// Redlist.sanbi.org).
Distribution and habitat
Distribution description
Curio pondoensis is known only from the Mzamba River gorge and an endemic to the Pondoland Center of Endemism (Van Wyk & Smith 2001). Although it is only known from sheer, south-facing cliffs of the Mzamba River of northern Pondoland, in the Eastern Cape, it is very possible that plants could be found in some of the adjacent river gorges of southern KwaZulu-Natal and Pondoland, namely, Mzimkulwana, Mtamvuna, Mtentu and Msikaba Rivers. The plants form spreading clusters, soon becoming pendent. Rainfall is mainly from spring to autumn (October–April) and about 1 000–1 500 mm per annum. The vegetation consists of Pondoland-Ugu Sandstone Coastal Sourveld (Mucina & Rutherford 2006), a predominantly grassland vegetation type. Associated succulent plants observed in its locality, include Adromischus cristatus var. zeyheri, Aeollanthus parvifolius, Cotyledon orbiculata, Crassula perfoliata var. perfoliata,  Senecio oxyrifolius and Crassula sarmentosa var. integrifolia, Senecio orbicularis  and Caputia medley-woodii.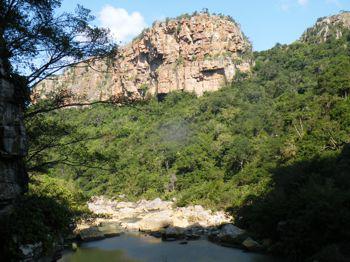 Derivation of name and historical aspects
History
Curio pondoensis (Van Jaarsv. & A.E.van Wyk) Manning was previously known as Senecio pondoensis Van Jaarsv. & A.E.van Wyk.
The Pondo cliff daisy was collected by the author on an expedition forming part of a study on the diversity and adaptations of cliff-dwelling succulents in South Africa and Namibia in December 2004. This included a hike of several kilometres. The Mzamba River Valley is not well explored and consists of a narrows gorge towards the coast with coastal forest, thicket and mainly grassland. The mineral-poor, sandstone rocks belong to the Msikaba Formation sandstone. It was named in the Aloe magazine in 2008 (Van Jaarsveld & Van Wyk 2008) as Senecio pondoensis. The species was then transferred to the genus Curio in 2013 (Manning 2013). The genus Curio was named by P.V. Heath in 1997 to accommodate those species (about 15) with elongated, succulent leaves and of which the flowers are lacking ray florets. The generic name Curio is derived from the Latin word curiosus meaning 'curious', perhaps alluding to its peculiar morphology. The specific epithet, pondoensis pertains to the Pondoland region, its origin. Some other, often grown Curio species include, C. articulatus, C. citriformis, C. ficoides, C. radicans, C. rowleyanus, C. muirii, C. serpens, C. sulcicalyx and C. talinoides. Most of these succulent daisies have been covered by Gordon Rowley's informative book, Succulent compositae (Rowley 1994).
Ecology
Ecology
The pollination  of this species is not clear, but the pollinator could be some insect such as a bee or moth. The plants grow on cliffs and thus out of reach of any larger predator. The broad window on its upper leaf surface, appears to be an adaptation to the shady, south-facing cliff face-(southern hemisphere) guiding light to the chlorophyll-bearing portion of the leaf. The plants will root wherever the stems touch a crevice.
Uses
Use
The only known use is horticulturally. See below.
Growing Curio pondoensis
Grow
Cuiro pondoensis is fairly fast-growing, forming a branched, attractive succulent shrublet. It is best grown in containers or in bushveld gardens (Van Jaarsveld 2010). It should also thrive in Mediterranean-type gardens in other parts of the world, especially where frost is not too severe. This species is easily propagated by stem cuttings taken in spring or summer. It prefers partial shade, however, when grown in full sun, leaves tend to become more compact. The soil should be well drained, and the plants grow best in a rockery on a sunny slope.  The plants should flower within a season.
Curio pondoensis  is easily grown from stem cuttings taken during spring and summer. Cuttings can be planted in situ, but should be watered at least until well rooted. Cuttings are best rooted in a container in a well-drained medium, such as sand or gravel and placed in a warm sunny position. Rooting should begin within three weeks. Once rooted, plants can be planted in individual containers. Best to feed plants with an organic fertilizer (compost or any other liquid fertilizer). Curio pondoensis can be watered at any time of the year, but watering should be reduced in winter.
References
Heath, P.V. 1997. Three new generic names in Asteraceae (part 1). Calyx 5(4): 136, 137.
Manning, J. 2013. Two new combinations in Caputia and Curio (Senecioneae). Bothalia 43(1): 93.
Mucina, L. & Rutherford, M.C. 2006. The vegetation of South Africa, Lesotho and Swaziland. Strelitzia 19. South African National Biodiversity Institute, Pretoria.
Rowley, G.D. 1994. Succulent compositae. Strawberry Press, Mill Valley, California.
Van Wyk, A.E. & Smith, G.F. 2001. Regions of floristic endemism in South Africa. A review with emphasis on succulents. Umdaus Press, Hatfield, Pretoria
Van Jaarsveld, E.J. & Van Wyk, A.E. 2008. Senecio pondoensis (Asteraceae), a new cliff-dwelling species from the Mzamba River Gorge, Eastern Cape, South Africa. Aloe 45 2: 28–30 (2008).
Van Jaarsveld, E.J. & Van Wyk, A.E. 2008. Senecio pondoensis (Asteraceae), a new cliff-dwelling species from the Mzamba River Gorge, Eastern Cape, South Africa. Aloe 45 2: 28–30 (2008).
Van Jaarsveld, E.J. 2010. Water wise gardening. Struik, Cape Town.
Credits
Ernst van Jaarsveld
Kirstenbosch National Botanical Garden
August 2015
Plant Attributes:
Plant Type: Succulent
SA Distribution: Eastern Cape
Soil type: Sandy
Flowering season: Spring, Early Summer
PH: Acid
Flower colour: Cream
Aspect: Full Sun, Morning Sun (Semi Shade), Afternoon Sun (Semi Shade)
Gardening skill: Easy
Special Features:

Good potplant
Indoor plant
Horticultural zones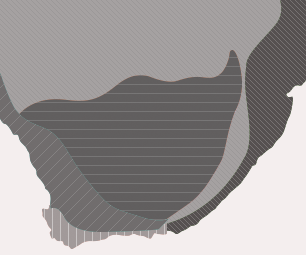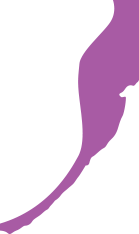 Zone 1 Coastal summer rainfall, frost free
Zone 2 Coastal winter rainfall, frost free
Google QR Code Generator