Delosperma waterbergense L.Bolus
Family: Aizoaceae
Common names: Waterberg delosperma (Eng.), waterbergvygie (Afr.)
Introduction
Delosperma waterbergense is only known from cliffs along the upper Waterberg near Thabazimbi in the Limpopo Province. A fast grower, it has soft flaccid growth from a more compact centre, becoming spreading, with linear semi-terete leaves and attractive dark purplish-pink, narrow-petaled pink flowers, in spring and summer. It is a cliff-squatter and can be used as a pot plant or in hanging baskets. The leaves are slightly grooved at the top and keeled at the base.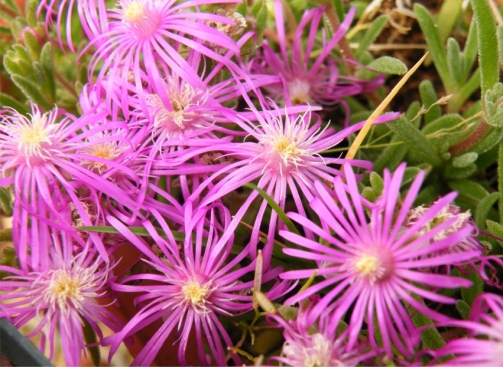 Fig. 1. Delosperma waterbergense in flower at Kirstenbosch National Botanical Garden cliff house nursery (ex Kransberg, Waterberg, Marakele National Park).
Description
Description
Plants are lax shrublets, sometimes becoming pendent, up to 100 mm high and to 300 mm in diameter. Rootstock is swollen. Stems are minutely papillate, sometimes greenish-brown. The leaves are ascending, subterete, linear, 25–34 (–50) × 2–4 mm, 4 mm at the widest point. The upper leaf surface is channelled, the lower surface keeled to rounded, covered in small shiny papillae. The leaf apex is acute. The flowers are solitary, 30–40 mm in diameter, the pedicels 6–16 mm long. The petals are linear-spathulate, up to 22 × 2 mm, pink. Filaments pink. Capsule 5 mm in diameter. Seed pear-shaped, 0.5 × 0.3 mm, tuberculate, dark brown.: Flowering time is in  spring and summer.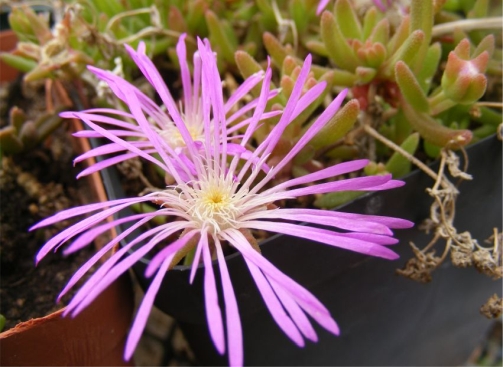 Fig. 2. A Delosperma waterbergense plant in flower at Kirstenbosch National Botanical Garden (ex Kransberg, Waterberg, Marakele National Park), note the narrow petals, and the papillate leaves.
Conservation Status
Status
Delosperma waterbergense is not threatened and is assessed as Least Concern (LC) on SANBI'S Red List. The plants are well protected by the sheer cliffs of its habitat.
Distribution and habitat
Distribution description
Delosperma waterbergense is only known from the upper, south facing, quarzitic sandstone cliffs of the Waterberg plateau margin in Limpopo Province. Plants are rooted in crevices and on ledges, occasionally becoming drooping over the rock face, often on shady cliffs, at altitudes of 1 500 to 1 800 m above sea level.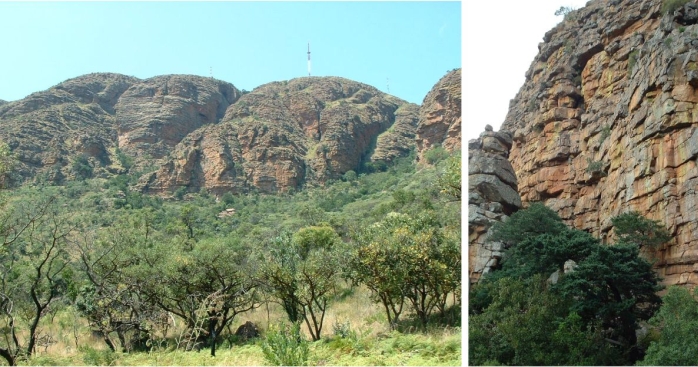 Fig. 3. The Kransberg, Marakele National Park, the upper cliffs are the habitat of Delosperma waterbergense.
The associated vegetation is the Waterberg Magaliesberg Summit Sourveld of the Grassland Biome (Mucina et al. 2005). Plants were observed on Kransberg, in the Marakele National Park and the associated cliff dwellers found with D. waterbergenes include: Aeollanthus buchnerianus, A. parvifolius, Agapanthus coddii, Aloe arborescens, Bulbine latifolia, Coleus ramosior, Crassula cymbiformis, C. sarcocaulis, C. setulosa and C. swaziensis, Lobelia aquaemontis, Teedia pubescens and Tetradenia brevispicata.
Temperatures are moderate, the average daily maximum about 27°C and average daily minimum for the region about 12°C. Winters are cool but frost is absent or light. Rainfall is mainly in summer, 700–800 mm per annum. The geology consists of mineral-poor quarzitic sandstone, Matlabas Subgroup (Waterberg Group).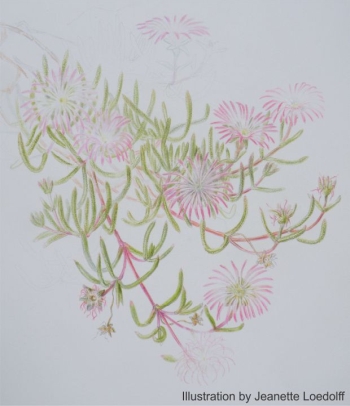 Fig. 4. Illustration of Delosperma waterbergense by Jeanette Loedolff, from plants collected on the Kransberg, growing on a shady south facing slope, in March 2003.
Derivation of name and historical aspects
History
Delosperma waterbergense was first collected by Louis Liebenberg (1900-1985) his specimens (Liebenberg 14475) were sent to the Bolus Herbarium. He was a botanist from the National Herbarium in Pretoria and made botanical surveys in some of the smaller National Parks (Gunn & Codd 1981). It was named by Louisa Bolus in 1963 in her Notes on Mesembryanthemum and allied genera. The author, as part of his work on cliff dwelling succulents, collected plants in the Houtboskloof of the Kransberg, which is part of the Marakele National Park, on 18 March 2003 together with SANBI colleagues Andrew Hankey, David Dlamini and Thompson Mushinyalo.
Delosperma waterbergense belongs to a group of mesembs with papillate stems and leaves, often with a soft and flaccid growth. The other closely related species are D. soutpansbergensis (endemic to the Soutpansberg) and D. zeederbergii (endemic to the upper reaches of the Spekboom River near Lydenburg). Delosperma waterbergense is immediately distinguished from these by its larger flowers and thin, linear-spathulate petals.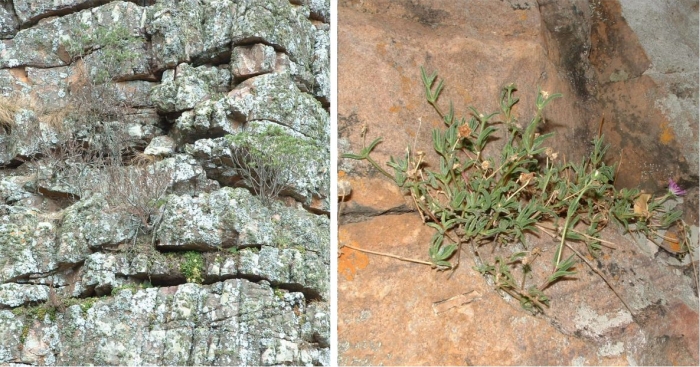 Fig. 5. The lichen covered upper cliffs along the Kransberg, Marakele National Park, habitat of Delosperma waterbergense, and a plant in habitat on a sheer, south-facing rock face on the Kransberg.
Ecology
Ecology
The plants are firmly rooted on ledges, growing in limited soil, which results in them having little competition from non-succulent plants. The succulent leaves store water which enables the plant to withstand periods of drought. The fine pointed papillae, apart from storing moisture, assists with trapping dew and fog, thus providing additional moisture to the plant. Fog during summer is not uncommon on the higher mountain tops of the Waterberg, such as Kransberg, now part of the Marakele National Park. The plant is a rapid grower from a central rootstock, these flowering branches die back during the dry winter months, but the central portion remains intact and the plants sprout again in spring.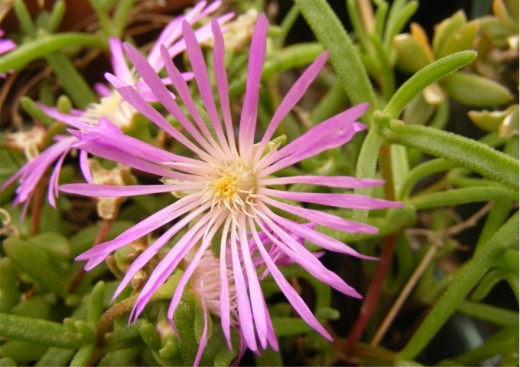 Fig. 6. A Delosperma waterbergense plant in flower at Kirstenbosch National Botanical Garden, note the narrow, pale staminodes (sterile stamens without anthers).
The flowers are quite large in comparison to the two closely related species, D. zoutpansbergense and D. zeederbergii. This rich flowering trait makes the flowers easily visible to possible insect pollinators, such as the honeybee and other small insects (Snogerup 1971). Flowering time is during the growing season, fairly long, and flowers are regularly produced, ensuring a long an continual seed supply. The seeds are retained in the hygrochastical capsules only to be released during rain periods, when the expanding keels of the capsule force open the cell lids, exposing the now uncovered seeds to falling raindrops. Seeds are splashed or washed out from the capsule. The dark brown seed is small, ideal for establishment on the cliff. (Hartmann 1991). Delosperma fruiting capsules do not have covering membranes as are found in many other mesembs, hence the reason for the name: delos means 'naked' and sperma, 'seed'. However upon drying, the cell lids close again, contracting the keels and conserving the seed until the next rain shower.
Uses
Use
Delosperma waterbergense can be grown as a succulent ornamental. It is easily cultivated and best for containers.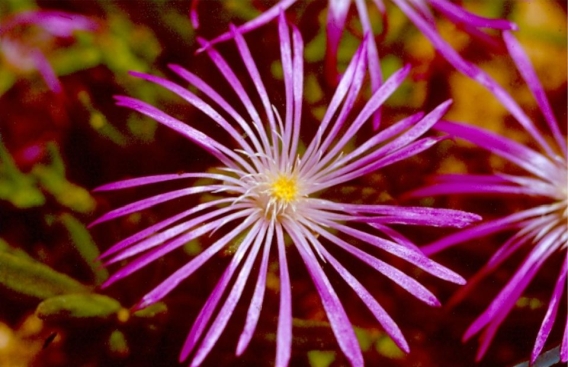 Fig. 7. Close-up of the flower of Delosperma waterbergense.
Growing Delosperma waterbergense
Grow
Although Delosperma waterbergense is easy to grow and is a succulent, it needs regular watering during the summer months, at least 3 times a week. Best grown in a container and placed on a south-facing aspect. It is tolerant of dappled shade. The plant react well to an organic fertiliser,  and to compost. It is suitable for cool grassland gardens (Van Jaarsveld 2010). Due to its specialized cliff habitat in limited spaces, it is not good at competing for growing space with other plant. They are fast growing and should flower during the first season.
It is adapted to grow on mineral-poor quarzitic sandstone soil. Plants grow well in a general succulent mixture, such as 2 parts sand, 1 part garden loam and 1 part well broken down compost. It is adaptable to other soils but good drainage is essential and regular moisture during the summer months.
Propagate from stem cuttings 7-12 cm long, in summer or autumn, planted in a sandy mixture. Remove the lower leaves and plant the stems to a depth of about 1-4 cm. Keep moist until well rooted.
Sow seed in a shallow seed tray and cover with a thin layer of sand, a few mm thickness. Sow in the spring or summer and keep moist.
References
Bolus, L. 1934. Notes on Mesembryanthemum and allied Genera. Journal of South African Botany 29: 45-49.
Bolus, L. 1959. Notes on Mesembryanthemum and allied Genera. Journal of South African Botany 25: 371-374
Bolus, L. 1963. Notes on Mesembryanthemum and allied Genera. Journal of South African Botany 29: 45-49..
Burgoyne, P.M. 2006. Delosperma waterbergense L.Bolus. National Assessment: Red List of South African Plants version 2020.1. http://redlist.sanbi.org/species.php?species=137-178. Accessed 2023/02/16.
Gunn, M. & Codd, L.E. 1980. Botanical exploration of southern Africa. Balkema, Cape town.
Hartmann, H.E.K. 1991. Mesembryanthema. Systematics, biology and evolution of some South African taxa. Contributions from the Bolus Herbarium. No. 13: 75–157.
Hartmann, H.E.K. 2001. Aizoaceae A–E. In Eggli, U. & Hartmann, H.E.K. (eds.), Handbook of succulent plants. Springer. Heidelberg, New York, etc.
Lavis, M. 1969. Notes on the genus Delosperma (Mesembrieae). Journal of South African Botany 35: 145–147.
Mucina, L. & Rutherford, M.C. (eds) 2006. The vegetation of South Africa, Lesotho and Swaziland. Strelitzia 19. South African National Biodiversity Institute, Pretoria.
Snogerup, S. 1971. Evolutionary and plant geographical aspects of chasmophytic communities. In P.H. Davis, P. Harper & I.C. Hedge (eds), Plant life of South-West Asia: 157–170. Botanical Society of Edinburgh.
Van Jaarsveld, E.J. 2010. Waterwise gardening in South Africa and Namibia. Struik, Cape Town.
Credits
Ernst van Jaarsveld
Kirstenbosch National Botanical Garden (Retired 2015)
Babylonstoren Farm
Extraordinary senior lecturer and researcher,
Department of Biodiversity and Conservation, University of the Western Cape
February 2023
Acknowledgements: The author thanks Andrew Hankey, David Dlamini and Thompson Mutshinyalo for assisting him on the March 2002 expedition to the Waterberg.
Plant Attributes:
Plant Type: Shrub, Succulent
SA Distribution: Limpopo
Soil type: Sandy
Flowering season: Spring, Early Summer
PH: Acid
Flower colour: Pink
Aspect: Full Sun, Morning Sun (Semi Shade), Afternoon Sun (Semi Shade)
Gardening skill: Easy
Special Features:

Good potplant

Feeds honeybees
Horticultural zones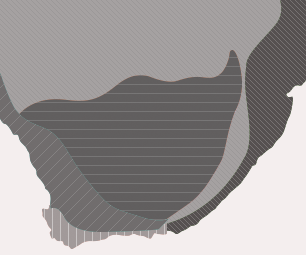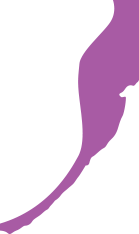 Zone 1 Coastal summer rainfall, frost free
Google QR Code Generator