Dimorphotheca jucunda E.Phillips
Family: Asteraceae
Common names: trailing pink daisy, trailing mauve daisy (Eng.); bergbietou, bloubietou (Afr.); umasigcolo nkonekazi, u-Mesigcolo-nkonekazi (Zulu) (= Osteospermum jucundum (E.Phillips) Norl.)
Introduction
A mass of Dimorphotheca jucunda plants with their striking purple 'flowers' could create an illusion of a deep, dark pool with many hidden secrets in your garden!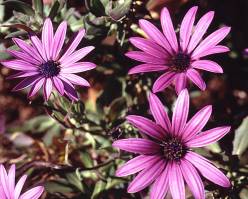 Description
Description
D. jucunda is a perennial herb growing from an underground stem. The above-ground stems are erect or sprawling, up to 500 mm long. The leaves are alternately arranged, semi-succulent, linear-lanceolate, lanceolate, oblanceolate, narrowly elliptic or narrowly oblong, narrowing to a short petiole, with dentate or rarely entire margins. All the above-ground parts are covered with small glandular hairs, giving it a rough feeling, especially when dry.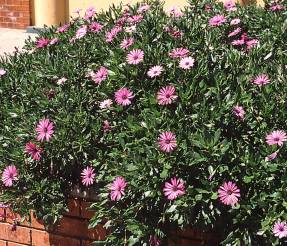 The flowering heads (capitula) are large, solitary and borne terminally on long, nude peduncles. The ray florets are magenta-pink or purple above, orange or coppery below. The disc florets are dark purple or yellow tipped blackish. See more about Asteraceae flowers.
The fruits (cypselae) that develop from the ray florets are 5-7 mm long, narrowly triangular-obovoid or ellipsoid with 3 prominent angles.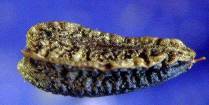 Sometimes cypselae also develop from disc florets. They are flat, winged and broadly cordate.
Conservation Status
Status
This species does not seem to be threatened as it is quite common in the areas where it occurs naturally.
Distribution and habitat
Distribution description
The plants grow naturally on mountains and mountain slopes in sandy soil, among quartzite rocks or in mountain grassland. Its natural distribution ranges from mountains and hills in Limpopo through Mpumalanga, Swaziland, eastern Free State, KwaZulu-Natal, Lesotho and the Eastern Cape. It seems to be fairly frost-resistant as it survives cold, frosty winters in the Pretoria National Botanical Garden.
Derivation of name and historical aspects
History
The generic name Dimorphotheca is a combination of three Greek words: di = 2, morpho = shape, theca = fruit, meaning that the fruits of this genus are of two kinds, those of the ray florets which differ from those of the disc florets. The species name jucunda is derived from the Latin word jucundus meaning pleasing, delightful or lovely, a spot-on name for this beautiful plant.
[See Dimorphotheca ecklonis for discussion on the genera Dimorphotheca and Osteospermum. ]
The white-flowered Dimorphotheca jucunda E.Phillips 'White Moon' seems to be a variant of the true Dimorphotheca jucunda with purplish flowers as described here. Other Dimorphotheca species seen in gardens include: D. ecklonis, D. pluvialis and D. sinuata.
Ecology
Ecology
The flowerheads (capitula) are often visited by butterflies which seem to be its pollinators. The fruits (cypselae) of the ray florets are not adapted to any special kind of long distance dispersal, as they have no pappus, wings or glands. The cypselae that sometimes develop from the disc florets are light, winged and obviously adapted to wind dispersal.
The underground stems are a possible survival mechanism for this species to survive veld fires and cold winters.
Uses
Use
Apparently these plants were used medicinally by the Zulus for stomach and intestinal troubles.
Growing Dimorphotheca jucunda
Grow
Dimorphotheca jucunda must be planted in full sun for the 'flowers' to open to their full potential, but they will tolerate some shade during the day. It can be mass-planted as a groundcover, as a border to a shrubbery, to line path ways, or in a rockery or embankment where it can cascade over the rocks. It can be mixed with the similarly striking white and dark blue-flowered Dimorphotheca ecklonis.
The trailing pink daisy can be cultivated by lifting rooted runners from the mother plant. Propagation from seed is a slow process. Plants are fast-growing, frost-hardy and drought-resistant. The peak flowering time is spring and summer, but some flowers can be found on the plants throughout the year.
There seem to be no garden pests that attack these plants.
References
Hilliard, O.M. 1977. Compositae in Natal. University of Natal, Pietermaritzburg.
Hutchings, A., Scott, A.H., Lewis, G. & Cunningham, A.B. 1996. Zulu medicinal plants. An inventory. University of Natal Press, Pietermaritzburg.
Joffe, P. 1993. The gardener's guide to South African plants. Tafelberg, Cape Town.
Joffe, P. 2003. Skeppende tuinmaak met inheemse plante. 'n Suid-Afrikaanse gids. Briza Publications, Pretoria.
Nordenstam, B. 1994. New combinations in the tribe Calenduleae. Compositae Newsletter 25: 46-49.
Norlindh, T. 1943. Studies in the Calenduleae. I. Monograph of the genera Dimorphotheca, Castalis, Osteospermum, Gibbaria and Chrysanthemoides. Gleerup, Lund.
Pearse, R.O. 1978. Mountain splendour. Wild flowers of the Drakensberg. Howard Timmins, Cape Town.
Phillips, E.P. 1936. Dimorphotheca jucunda. The Flowering Plants of South Africa 16: t. 629.
Pooley, E. 2003. Mountain flowers. A field guide to the flora of the Drakensberg and Lesotho. Flora Publications Trust, Durban.
Smith, C.A. 1966. Common names of South African plants. Memoirs of the Botanical Survey of South Africa No. 35.
Van der Walt, L. 2003. Come to the fair. Veld & Flora 89: 10, 11.
Credits
P.P.J Herman
National Herbarium, Pretoria
July 2005
Plant Attributes:
Plant Type: Perennial
SA Distribution: Eastern Cape, Free State, Gauteng, KwaZulu-Natal, Limpopo, Mpumalanga
Soil type: Sandy, Clay, Loam
Flowering season: Spring, Early Summer, Late Summer, Autumn
PH: Alkaline, Neutral
Flower colour: Purple, Pink
Aspect: Full Sun, Morning Sun (Semi Shade), Afternoon Sun (Semi Shade)
Gardening skill: Easy
Special Features:

Attracts butterflies

Drought resistant

Medical plant
Horticultural zones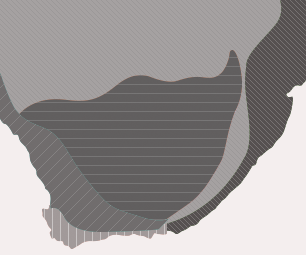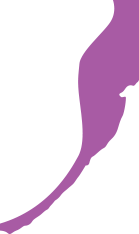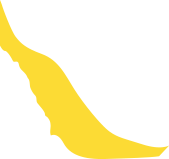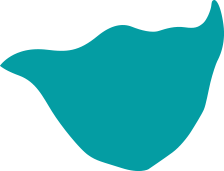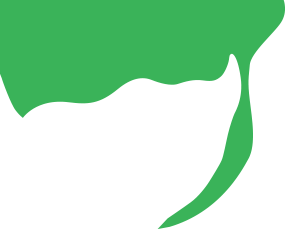 Zone 1 Coastal summer rainfall, frost free
Zone 2 Coastal winter rainfall, frost free
Zone 3 Winter rainfall Karoo, light frost
Zone 4 Summer rainfall Karoo and Highveld, Frost in winter
Zone 5 Bushveld summer rainfall, Light frost
Google QR Code Generator