Gyrocarpus americanus subsp. africanus
Gyrocarpus americanus Jacq. subsp. africanus Kubitzki
Family: Hernandiaceae
Common names: propeller tree, helicopter tree (Eng.); helikopterboom (Afr.); mutama, mudzoudzhou (Tshivenda).
SA Tree No: 120
Introduction
An interesting tree with a smooth, grey to silvery white trunk, and ovoid fruit crowned with 2 wings, which look remarkably like the slender wings of a dragonfly.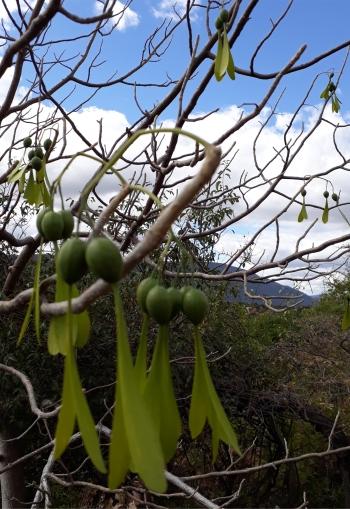 Description
Description
Gyrocarpus americanus subsp. africanus is a small to medium-sized, single-stemmed, deciduous tree, about 9–15 m tall. The stem is smooth, with grey to whitish bark. The leaves are alternate or scattered, simple, almost circular in general outline, about 100 × 100 mm, usually 3-lobed, with 3 markedly yellowish veins from the base, soft-textured, dark green above and pale greyish below; margin entire, apex of the lobes broadly tapering; base tapering; petiole long and slender, up to 80 mm long.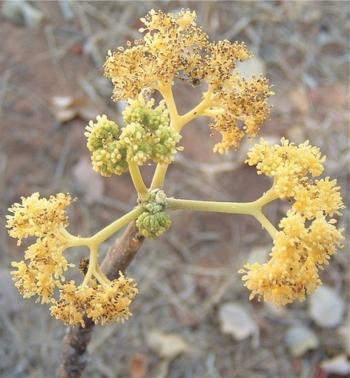 Small, yellow to yellowish green, unpleasantly scented flowers appear in dense heads or racemes in late summer to autumn (from March to May). The flower heads are made of up of many male flowers, with few bisexual, or female flowers.
Fruit is a hard, woody nut, pale brown with marked veining that is only visible when the epidermis has decayed, and bearing 2, long, thin, paddle-like wings, about 50–80 mm, in winter to spring (July to September).
Conservation Status
Status
According to the Red list of South African plants, G. americanus subsp. africanus is not threatened and has been given a Least Concern (LC) status. Therefore, it is not of conservation concern.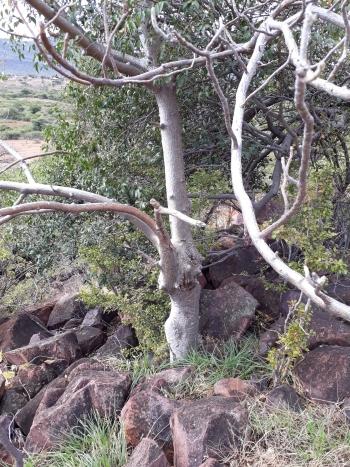 Distribution and habitat
Distribution description
Gyrocarpus americanus subsp. africanus occurs in hot, dry, low-altitude areas, on rocky ridges or stony hillsides. In South Africa it occurs in the north of Limpopo Province; it also occurs in Namibia and Zimbabwe, and northwards to Tanzania, Kenya, and Eritrea.
Gyrocarpus americanus is very widespread, it is found in Central America, South America, tropical Africa, Madagascar, tropical Asia, northern Australia and on islands in the Pacific Ocean.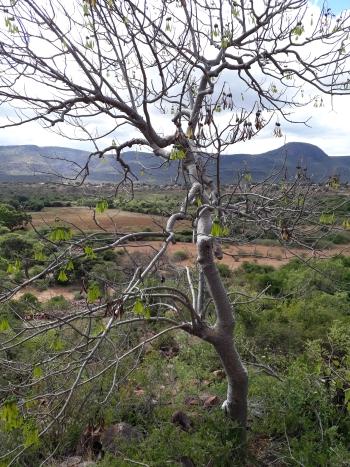 Derivation of name and historical aspects
History
The name Gyrocarpus means 'rotating fruit' and is derived from Greek. The species name americanus means 'from America', where this tree was first known, and the subspecies name africanus means 'from Africa'.
Ecology
Ecology
The tree is adapted to dry and hot, summer rainfall areas, with a mean annual rainfall of 500–100 mm, 5–7 dry months, and a mean temperature of 24℃. This tree is not resistant to fire and does not tolerate periodic waterlogging.
The fruits break off the tree when ripe and are dispersed by wind; the wings rotate and carry them through the air, helicopter-wise, hence the common name.
Uses
Use
The bark contains alkaloids, one of which belongs to the group of ganglionic blocking agents, and could prove useful in the treatment of heart ailments. The plant can exude a white latex that has been used for rubber production. The soft, white wood is a poor timber.
The use of G. americanus subsp. africanus as a garden plant is not popular, but it is a striking tree that deserves to be cultivated, and is best suited in dry and hot areas, as it is frost-prone.
Growing Gyrocarpus americanus subsp. africanus
Grow
The tree is relatively easy to grow from seeds. They are usually collected from the ground. It is recommended to sow them as soon as possible. Prepare a tray with a well-composted, sandy, seedling mixture. The seeds should be covered with a layer of sand, at the depth of roughly twice their size and kept in a warm and moist position.
The seeds start germinating after about 15–40 days and the germination rate is 60–85%. When the seedlings reach the 3-leaf stage, transplant them into a nursery bags or pots using a mixture of 50:50 sifted bark and sand. They are fast growing and should be ready to be planted into the garden after 2 years.
References
Coates Palgrave, K. 1977. Trees of southern Africa. Struik, Cape Town.
Gyrocarpus americanus, WetlandInfo, Department of Environment and Science, Queensland, viewed 9 July 2018, .
Palmer, E. & Pitman, N. 1972. Trees of southern Africa . Balkema, Cape Town.
Plants of southern Africa: an online checklist. http:posa.sanbi.org. Accessed 9/07/2018.
Van Wyk, B. & Van Wyk, P. 1997. Field guide to trees of southern Africa. Struik, Cape Town.
Credits
Matome Leboho
Pretoria National Botanical Garden
August 2018
Plant Attributes:
Plant Type: Tree
SA Distribution: Limpopo
Soil type: Sandy, Loam
Flowering season: Late Summer, Autumn
PH:
Flower colour: Green, Yellow
Aspect: Full Sun
Gardening skill: Easy
Special Features:

Drought resistant

Feature plant
Horticultural zones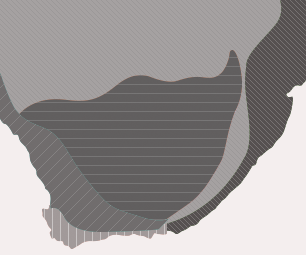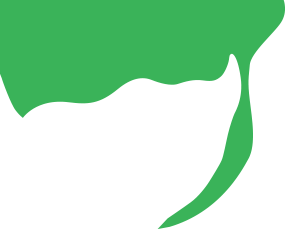 Zone 5 Bushveld summer rainfall, Light frost
Google QR Code Generator