Macledium zeyheri (Sond.) S.Ortiz
Family: Asteraceae
Common names: doll's protea, toy sugarbush (Eng.); skaapdissel, maagbitterwortel, maagbossie (Afr.); mahlabane, somanheva (Swazi); umlunge, umqele (Xhosa); isihlabamakhondlwane, ububendle (Zulu) (= Dicoma zeyheri Sond.)
Introduction
The doll's protea is a strikingly attractive plant found in the grasslands of the eastern parts of South Africa, and used in traditional medicine.   Despite the common name, this plant is a daisy and not part of the protea family.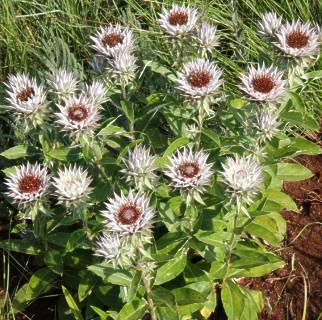 Description
Description
Macledium zeyheri is an erect herb with most leaves at the base developing from a woody rootstock. New flowering stems develop annually and grow up to 300 mm tall. Stems and young leaves are covered with white woolly hairs. Leaves are simple, up to 110 x 30 mm, young leaves are loosely white-felted above but soon glabrous, white-felted below, margins are entire and the apex acute.
Flower heads are usually solitary but sometimes in small groups of up to three per flowering stem.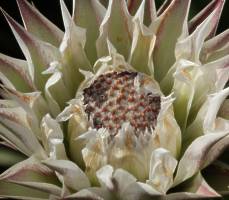 Heads are characterized by 35-45 very tough outer bracts, which are somewhat inrolled to form spiky tips. Outermost bracts are mostly green with white margins and purplish markings. Towards the inner bracts the margins and markings become more prominent. Innermost bracts are pure white and much more delicate. An open flower head can measure 40-60 mm across.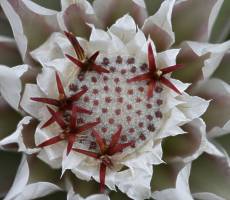 Flowers are brownish-red, numerous, probably up to 90 per head. Initially the flower buds are sunk between numerous white pappus hairs, but as they mature the five long narrow lobes are raised and they spread above the pappus layer. Achenes (fruit) are about 5 mm long and covered with stiff white hairs.
Plants flower from December to March, but dried flowers remain on the plants until about May.
Conservation Status
Status
Macledium zeyheri is not threatened.
Distribution and habitat
Distribution description
Plants are found in the north-eastern part of the country — eastern part of North West Province, Limpopo, Gauteng, Mpumalanga and KwaZulu-Natal. Also occur in Swaziland. They are commonly found in open grasslands, in open flat areas or on gentle slopes.
Derivation of name and historical aspects
History
The specific epithet zeyheri was given in honour of Carl Zeyher (1799-1858), a German naturalist who came to the Cape in 1822 and collected extensively in South Africa.
Ecology
Ecology
"Seeds" (fruits) are wind-dispersed and the persistent pappus aids in the dispersal. Not many seeds survive in nature as they are a sought-after food source of insects and their larvae.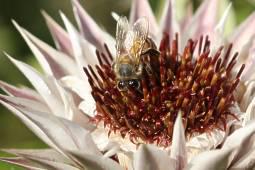 Uses
Use
It is used in traditional medicine to treat chest ailments; decoctions are administered as blood strengtheners to mothers after a long, difficult birth.
This is a very hardy garden plant and the flowering stems can be cut and dried for dry flower arrangements.
Growing Macledium zeyheri
Grow
A few plants can be planted about 40 cm apart in a rockery, or used as an unusual ground cover at the base of trees planted in containers on a sunny terrace. Use well-drained soil, adding plenty of compost and water regularly in summer. The plants are dormant in winter and should be kept dry during this period.
Seed should be planted in early spring and will take about 12 days to germinate. Seedlings transplant well and will often flower at the end of the first season.
References
ELIOVSON, S. 1973. Wild flowers of South Africa for the garden. Hugh Keartland. Johannesburg.
GERMISHUIZEN, G. 1997. Wild flowers of northern South Africa. Fernwood Press, Cape Town.
HILLIARD, O.M. 1997. Compositae of Natal. University of Natal Press.
JOFFE, P. 1993. The gardener's guide to South African plants. Tafelberg Publishers, Cape Town.
ONDERSTALL, J. 1984. Transvaal lowveld and escarpment including the Kruger National Park. South African Wild Flower Guide 4. Botanical Society of South Africa, Cape Town.
POOLEY, E. 1998. A field guide to wild flowers of KwaZulu-Natal and the Eastern Region. Natal Flora Publications Trust, Durban.
RETIEF, E. & HERMAN, P.P.J. 1997. Plants of the northern provinces of South Africa : Keys and diagnostic characters. Strelitzia 6. National Botanical Institute, Pretoria.
VAN WYK, A.E. and MALAN, S. 1997. Field guide to the wild flowers of the Highveld. Struik. Cape Town.
Credits
Z.E.E. Ndhlazi & M. Koekemoer
National Herbarium, Pretoria
July 2010
Plant Attributes:
Plant Type: Perennial
SA Distribution: Gauteng, KwaZulu-Natal, Limpopo, Mpumalanga, North West
Soil type:
Flowering season: Late Summer
PH:
Flower colour: Brown, Red
Aspect:
Gardening skill:
Special Features:

Medical plant
Horticultural zones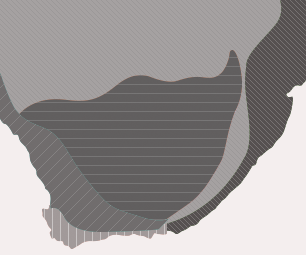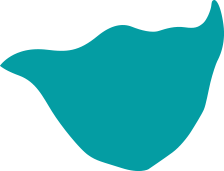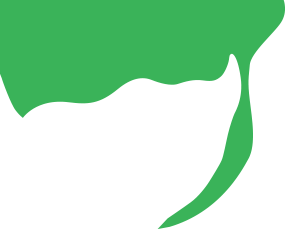 Zone 4 Summer rainfall Karoo and Highveld, Frost in winter
Zone 5 Bushveld summer rainfall, Light frost
Google QR Code Generator