Ornithogalum princeps (Baker) J.C.Manning & Goldblatt (= Galtonia princeps (Baker) Decne.)
Family: Hyacinthaceae
Common names: berg lily, summer hyacinth (Eng.); berglelie (Afr.)
Introduction
Ornithogalum princeps is a hardy perennial bulb with erect, strap-shaped leaves and it carries the palest lime green, waxy bells on tall stems in summer.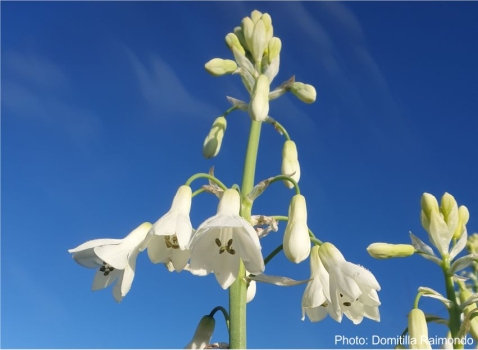 Description
Description
Ornithogalum princeps is a deciduous bulb up to 1.5 m tall which grows and flowers in summer. The bulb grows between 20-40 mm in diameter. It has green, erect, strap-like leaves that narrow towards the tip. The leaves grow 27-50 mm wide and 450-900 mm long. It flowers in early to midsummer, between November and February, bearing pale, creamy green flowers.The inflorescence stalk grows between 500–900 mm tall excluding the inflorescence. Flower bracts are about 20-45 x 8-13 mm and they decrease in size going up the inflorescence. The flower stalks are green and between 25-45 mm long. The inflorescence has about 12-30 bell shaped, pale green flowers. The petals are creamy green with a pale green stripe going up the back, and spread widely. It has white filaments, topped with green anthers that are covered in yellow pollen. After flowering, it produces rounded fruits with an abruptly narrowed base.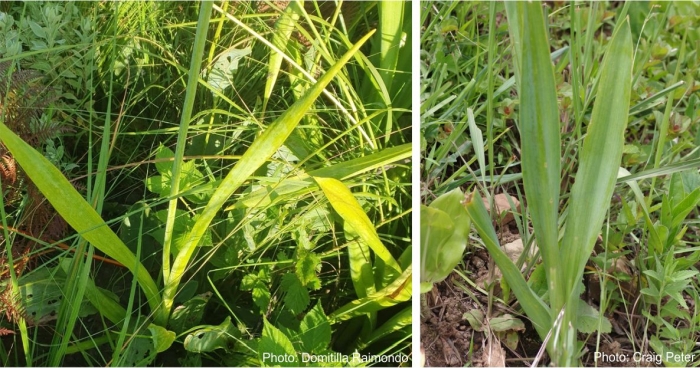 Conservation Status
Status
Distribution and habitat
Distribution description
Ornithogalum princeps it is only found in South Africa, in the Eastern Cape and KwaZulu-Natal provinces. It grows amongst rocks, in marshy areas near streams, from the coast to altitudes up to 1 250 m.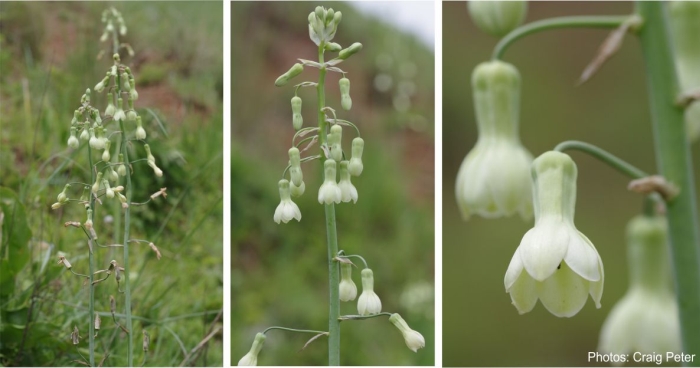 Derivation of name and historical aspects
History
The genus Galtonia was created in 1880 by the French botanist Decaisne, and was named after Sir Francis Galton (1822–1911) who published a book on his travels in South Africa, but is better known for his founding work on fingerprints, eugenics and biometrics. The genus comprises 4 species that occur in KwaZulu-Natal and adjacent areas. A 2004 study of the hyacinth family in sub-Saharan Africa, however, transferred all species of Galtonia, and several other genera, into the large genus Ornithogalum. Which is why it is currently called Ornithogalum princeps although, in old literature, it is found as Galtonia princeps. The name Ornithogalum is derived from Greek and means 'bird's milk', and could refer to the thick sap that many species produce, that resembles the 'pigeon's milk' that birds store in their crop to feed their young, or it could refer to their milky white flowers, or it could mean that these flowers are 'something wonderful', the ancient Greek meaning of the expression 'bird's milk'. The species name princeps is a Latin word meaning 'first one', or 'leader'.
Ecology
Ecology
As one of the common names suggests, this is a summer-growing bulb with deciduous leaves. In autumn, the leaves die back to prepare the bulb to go dormant in winter, which allows it to survive the harsh, cold and dry conditions. The area in which they occur has summer rainfall. Ornithogalum princeps flowers are mostly pollinated by bees.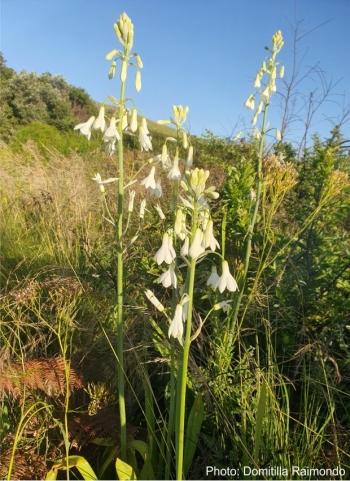 Uses
Use
The summer hyacinth can be used for horticultural purposes such as mass planting in a bulb garden or rock garden and is suitable for containers. It is also a contender for cut flowers due to its attractive flower colour.
Growing Ornithogalum princeps
Grow
The plant grows well in full sun. It thrives in a well-drained loam soil which is enriched with compost. Good drainage is crucial in order to prevent rotting of the bulb. The bulbs must be kept dry in winter and watered regularly in spring and summer. It is favourable to leave them undisturbed for a number of years, preferably up to four years. Occasionally feed the plants with bulb food to keep them in good condition.
The quickest method to propagate Ornithogalum princeps is by using the lift and divide method. Lift an existing overcrowded clump and divide the bulbs in late winter. The bulb must be positioned slightly under the soil surface and the best spacing between the bulbs is to plant them about 10-20 cm apart.
Sow seeds in spring, and put the seed tray or pot in a well-lit spot. They usually germinate in less than a month. Allow seedlings to grow to a sufficient size to be potted or planted out into the open ground.
References
Compton, J. 1990. Eucomis L'Heritier. The Plantsman 12(3) 128-139.
Digging Dog Nursery, Galtonia princeps at Digging Dog Nursery. https://www.diggingdog.com/plant/p-1264. Accessed on 05/01/2023.
Duncan, G. 2010. Grow bulbs. A guide to the cultivation of bulbs of South Africa and neighboring countries. Kirstenbosch Gardening Series. South African National Biodiversity Institute, Cape Town.
Educalingo, Galtonia search. https://educalingo.com/en/dic-en/galtonia/amp. Accessed on 03/01/2023.
Hilliard, O.M. & Burtt, B.L. 1988. A revision of Galtonia (Liliaceae). Notes from the Royal Botanic Garden Edinburgh 45: 95–104.
Jackson, W.P.U. 1990. Origins and meanings of names of South African plant genera. University of Cape Town.
Mathew, B. & Mathew, M. 1997. The four galtonias. The Bulb Newsletter 19: 11-13. https://www.pacificbulbsociety.org/pbswiki/files/TBN/TBN_19.pdf.
Peter, C. 2021. Observation of Ornithogalum princeps, Brooks Nek to Mtumavuna River bridge via Bizana, Eastern Cape. iNaturalist. Online. https://www.inaturalist.org/observations/104595534.
Pienaar, K. 1992. The South African what flower is that? Struik Publishers, Cape Town.
Pienaar, K. 1994. Gardening with indigenous plants. Struik, Cape Town.
Pooley, E. 1998. Wild flowers Kwa-Zulu Natal and the eastern region. Natal Flora Publications Trust, Durban. Page 414.
Pooley, E. 2003. Mountain flowers, a field guide to the flora of the Drakensberg and Lesotho. Natal Flora Publications Trust, Durban.
Raimondo, D., Von Staden, L., Foden, W., Victor, J.E., Helme, N.A., Turner, R.C., Kamundi, D.A. & Manyama, P.A. (eds) 2009. Red list of South African plants. Strelitzia 25. South African National Biodiversity Institute, Pretoria.
Raimondo, D. 2023. Observation of Ornithogalum princeps, Giants Castle Game Reserve, KwaZulu-Natal. iNaturalist. Online. https://www.inaturalist.org/observations/146585928.
Van der Spuy, U. 1976. Wild flowers of South Africa for the garden. Hugh Keartlands Publishers, Johannesburg.
Van Wyk, B.-E., van Oudtshoorn, B. & Gericke, N. 1997. Medicinal Plants of South Africa. Briza Publications, Pretoria.
Credits
Ndiyafhi Muthuhadini and Dineo Dibakwane
Walter Sisulu National Botanical Garden
April 2023
Acknowledgements: images by Craig Peter and Domitilla Raimondo.
Plant Attributes:
Plant Type: Bulb
SA Distribution: Eastern Cape, KwaZulu-Natal
Soil type: Loam
Flowering season: Early Summer
PH: Acid, Neutral
Flower colour: Green, Cream
Aspect: Full Sun
Gardening skill: Average
Special Features:

Good potplant

Feeds honeybees
Horticultural zones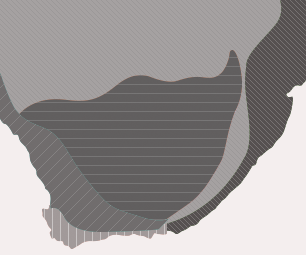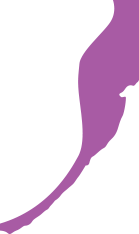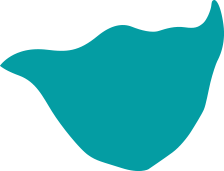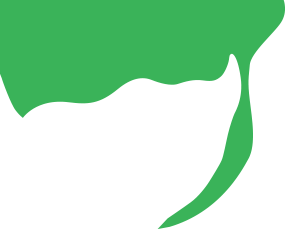 Zone 1 Coastal summer rainfall, frost free
Zone 4 Summer rainfall Karoo and Highveld, Frost in winter
Zone 5 Bushveld summer rainfall, Light frost
Google QR Code Generator