Ornithogalum regale (Hilliard & B.L.Burtt) J.C.Manning & Goldblatt
Family: Hyacinthaceae
Common names: Royal Berg Lily (Eng.)
Introduction
The ever so graceful Ornithogalum regale is one of the summer flowering gems of the Drakensberg.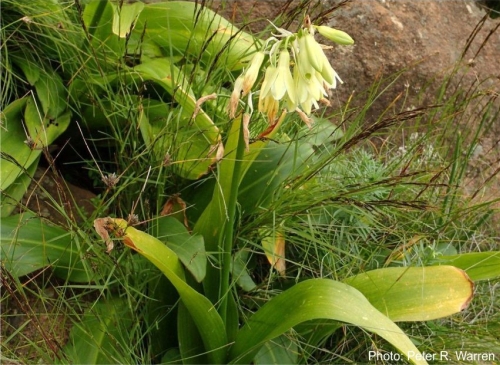 Description
Description
The Royal Berg Lily's egg-shaped bulb grows up to 70 mm long and 60 mm wide and it is covered by a thin, separable peel. It produces between 6 and 9, green, tapering leaves that grow between 150-550 mm long and 30-70 mm wide.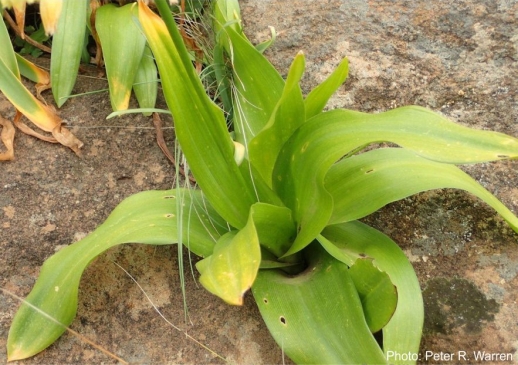 The flower head stem grows between 300-510 mm long, excluding the flower head, and is 3-8 mm in diameter. The flower head is between 100-300 mm long, made up of between 8 and 30 flowers that are pale creamy yellow with a touch of green. Each flower has a green stalk that grows between 150-350 mm long. It flowers in late midsummer, from January to February.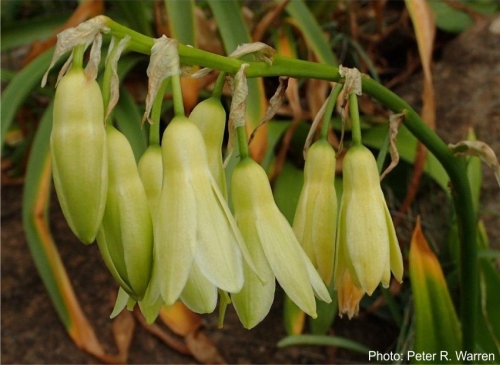 Ornithogalum regale is sometimes confused with its close relative, O. viridiflorum, the Green Berg Lily. The latter has erect leaves that are bluish green, as opposed to the green, rather floppy leaves of O. regale. Also, O viridiflorum has light green flowers, as opposed to the pale creamy yellow flowers of O. regale.
Conservation Status
Status
Ornithogalum regale is assessed as a species of Least Concern (LC) in the Red List of South African plants, meaning it is not threatened in its natural habitat.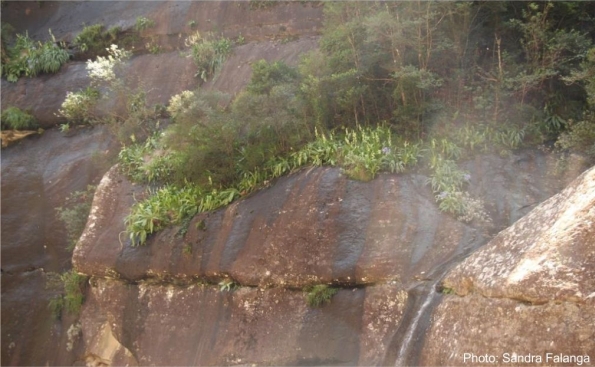 Distribution and habitat
Distribution description
The Royal Berg Lily occurs in two countries, Lesotho and South Africa. It is endemic to the Eastern Mountain Region (EMR) of southern Africa, which is also known as the Drakensberg Alpine Centre of Endemism. This region includes the  mountains of Lesotho, the northern and southern Drakensberg in South Africa's KwaZulu-Natal province as well as the southern Drakensberg in the Eastern Cape province in South Africa.
It grows in colonies on wet cliffs with shallow, rocky soils, up to an altitude of 2 800 m above sea level. It ranges from the Royal Natal National Park in the north to the upper Hlatimba Pass in the south. Lesotho's lone herbarium record came from a wet cliff face near Oxbow. This is the preferred habitat of the species. This plant species is common on wet shady cliffs in the Royal Natal National Park's Tugela Gorge and has also been spotted in Dooley. This species prefers well-drained soils, and it grows and blooms during the rainy summer, and then goes dormant during winter. Flowering takes place in summer. Bulbs may rot in heavy, poorly draining soil.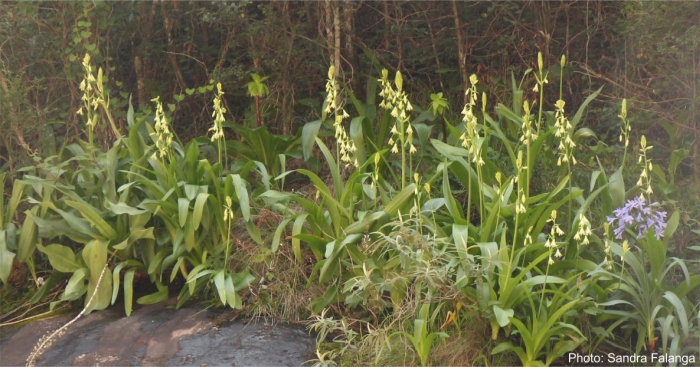 Derivation of name and historical aspects
History
This species was discovered by Olive Hilliard and Brian Burtt, in the Tugela Gorge in 1982 and named and described by them as Galtonia regalis in 1986. The genus Galtonia was created in 1880 by the French botanist Decaisne, and was named after Sir Francis Galton (1822–1911) who published a book on his travels in South Africa, but is better known for his founding work on fingerprints, eugenics and biometrics. The genus comprised four species that occur in KwaZulu-Natal and adjacent areas. A 2004 study of the hyacinth family in sub-Saharan Africa, however, transferred all species of Galtonia, and several other genera, into the large genus Ornithogalum. Which is why it is currently called Ornithogalum regale although, in old literature, it is found as Galtonia regalis.
The name of the genus Ornithogalum is derived from two Greek words ornithos, which means 'a bird' and gala, which means 'milk'. Bird's milk was used to describe something wonderful or rare in ancient Greek and Roman times. The name could be referring to the whiteness of the flowers, resembling bird's droppings from a distance.
The species name regale, comes from the Latin word regalis which means 'royal', referring to the Royal Natal National Park where the type specimen was collected at Tugela Falls.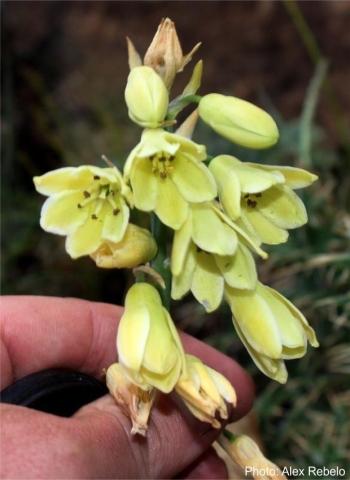 Ecology
Ecology
This is a summer-growing bulb with deciduous leaves. The leaves die back in autumn and the plant goes dormant underground during the cold, dry winter months, allowing it to survive the harsh conditions.
Uses
Use
The Royal Berg Lily is suitable for a bulb garden, rock garden or a sunny mixed border and containers. It is also frost hardy, thus a perfect candidate for areas which experience bad frost.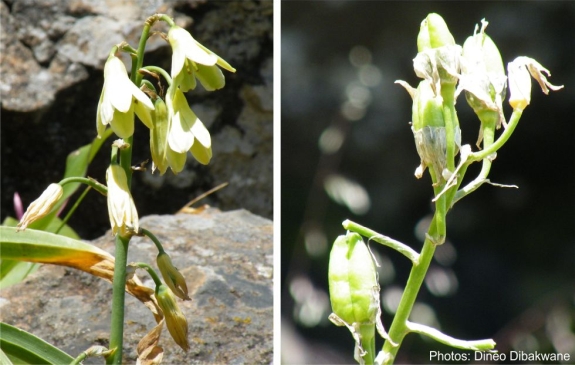 Growing Ornithogalum regale
Grow
It is best to plant Ornithogalum regale and other summer-flowering bulbs in late winter to early spring (October), bury them shallowly, just 2 cm under the soil surface. Plant them in rich, well-drained soil in full sun or semi-shade. Mass planting will give better results and it creates the same effect as they do when they grow in the wild. Summer bulbs do best in compost-enriched soil, and good drainage is crucial to prevent bulbs from rotting. Water the plants frequently during the growing seasons (spring and summer) until they are finished flowering. Since they go dormant during winter, it is best not to water them and keep them dry while they are dormant. They do best if left undisturbed in the same position for a couple of years. Transplant juvenile bulbs at the beginning of their second or third season, this is when one can expect them to flower for the first time.
The best time to divide them is after flowering. Remove offsets in winter, when they are dormant.
This species can be easily grown from seed. Sow seeds in spring, they germinate very easily.
Be mindful of slugs and snails, they can cause considerable damage if left uncontrolled.
References
Duncan, G. 2010. Grow bulbs. A guide to the cultivation of bulbs of South Africa and neighboring countries. Kirstenbosch Gardening Series. South African National Biodiversity Institute, Cape Town.
Falanga, S. 2020-01-17. Observation of Ornithogalum regale, Tugela Gorge, Royal Natal National Park, Drakensberg. iNaturalist. Online. https://www.inaturalist.org/observations/69569378.
Foden, W. & Potter, L. 2005. Ornithogalum regale (Hilliard & B.L.Burtt) J.C.Manning & Goldblatt. National Assessment: Red List of South African Plants version 2020.1. Accessed on 2022/11/15.
Hilliard, O.M. & Burtt, B.L. 1988. A revision of Galtonia (Liliaceae). Notes from the Royal Botanic Garden Edinburgh 45: 95–104.
JSTOR Global Plants, Holotype of Galtonia regalis. https://plants.jstor.org/search?filter=name&so=ps_group_by_genus_species+asc&Query=Galtonia+regalis
Klopper, R.R. 2005. Ornithogalum candicans (Hyacinthaceae). PlantZAfrica. Online. http://pza.sanbi.org/ornithogalum-candicans.
Missouri Botanical Garden, Plant Finder, Ornithogalum regale. https://www.missouribotanicalgarden.org/PlantFinder/PlantFinderDetails.aspx?taxonid=439097. Accessed 3 November 2022.
Plant Lust, Galtonia regalis. https://plantlust.com/plants/12574/galtonia-regalis/. Accessed 3 November 2022.
Plants of the World Online, Galtonia genus search and Galtonia regalis search. https://powo.science.kew.org. Accessed 30 November 2022.
Pooley, E. 2003. Mountain flowers, a field guide to the flora of the Drakensberg and Lesotho. Natal Flora Publications Trust, Durban.
Rebelo, A. 2015-12-21. Observation of Ornithogalum regale, northern Drakensberg. iNaturalist. Online. https://www.inaturalist.org/observations/11174261.
Warren, P. 2016-02-22. Observation of Ornithogalum regale, Witsieshoek, Drakensberg. iNaturalist. Online. https://www.inaturalist.org/observations/11168053.
Credits
Dineo Dibakwane & Asavela Mqambeli
Walter Sisulu National Botanical Garden
December 2022
Acknowledgements: the authors thank Alex Rebelo, Peter Warren and Sandra Falanga for making their images available via iNaturalist.
Plant Attributes:
Plant Type: Bulb
SA Distribution: KwaZulu-Natal
Soil type: Sandy, Loam
Flowering season: Late Summer
PH: Acid, Neutral
Flower colour: Cream, Yellow
Aspect: Morning Sun (Semi Shade), Afternoon Sun (Semi Shade)
Gardening skill: Easy
Special Features:

Good potplant
Horticultural zones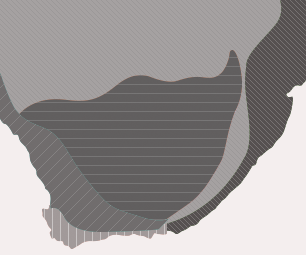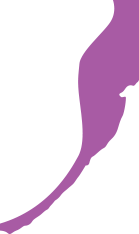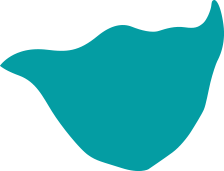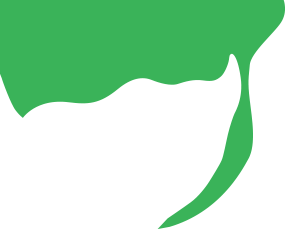 Zone 1 Coastal summer rainfall, frost free
Zone 4 Summer rainfall Karoo and Highveld, Frost in winter
Zone 5 Bushveld summer rainfall, Light frost
Google QR Code Generator