Pelargonium acetosum (L.) L'Hér.
Family: Geraniaceae
Common names: sorrel-leaved pelargonium
Introduction
Pelargonium acetosum, with its beautiful shades of salmon-coloured flowers, provides an attractive display in the garden all year round.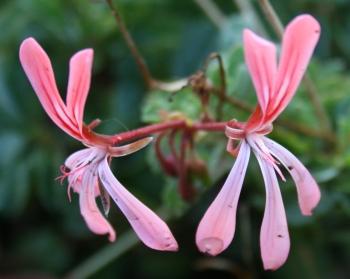 Description
Description
Pelargonium acetosum is a bushy, well-branched shrublet that grows to a height of 600 mm. The branches are slender, smooth and succulent when young. The somewhat fleshy leaves are glaucous green, round, leathery and have an obovate outline. The red and coarsely crenate margin of the leaves is a characteristic feature of this particular species. The attractive flower colour varies from salmon pink to almost white. The flowers are borne in clusters of two to seven and the flowering period is throughout the year.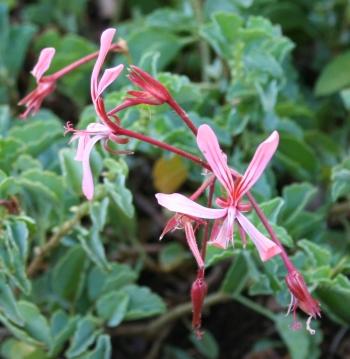 Conservation Status
Status
Least Concern (LC). Pelargonium acetosum is locally common and not declining.
Distribution and habitat
Distribution description
This species occurs only in the Eastern Cape. Its distribution ranges from the Komga River in the west to Kirkwood in the east and as far north as Steynsburg. The plants grow on stony hillsides and in dry grasslands.
Derivation of name and historical aspects
History
The genus Pelargonium belongs to the family Geraniaceae, a large family of 11 genera and 800 species in the subtropical and tropical world. There are 270 species of Pelargonium which occur in S, E and NE Africa , St Helena , Asia , Tristan da Cunha , New Zealand , Madagascar and Australia . Of these, 219 species occur in southern Africa . The genus Pelargonium derives its name from the resemblance of the shape of the fruit to the beak of a stork, pelargos in Greek. The species name acetosus (Latin), meaning sour, refers to the acid taste of the leaves. The common name sorrel-leaved pelargonium refers to the resemblance of the leaves to those of the herbal plant, sorrel or Rumex acetosa. P. acetosum was first cultivated in the Chelsea Physic Garden in England in 1724.
Ecology
Ecology
The seeds of all pelargoniums have coiled, feathered tails that serve to 'drill' the seed into the soil, thus enhancing the chances of germination.
Uses
Use
The young leaves and buds can be eaten in salads and added to soups and stews, they have a pleasing, acidic, lemony taste.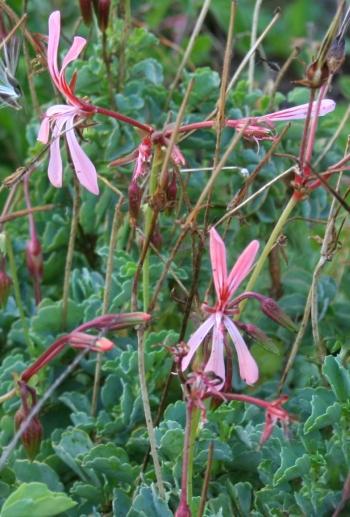 Growing Pelargonium acetosum
Grow
The sorrel-leaved pelargonium can easily be grown from cuttings and seeds. Cuttings can be taken any time of the year as they root very easily. Short, 12 cm stem cuttings can be taken from semi-mature plant material. You can dip the basal ends of the cuttings in a rooting powder to stimulate the rooting process, but rooting hormones are not really required and one can root this plant without using them. The cuttings are inserted in propagation trays with coarse river sand and placed in a cold frame to root. Rooting should take place within three weeks. Once the cuttings are rooted they need to be potted in well-drained, composted soil. The plants can then be placed in a lightly shaded area to harden off before being placed in direct sunlight.
The seeds of summer rainfall pelargoniums can be sown in spring and those species from the winter rainfall areas should be sown in autumn. Seeds of the sorrel-leaved pelargonium can be sown at the end of summer in a well-drained soil mixture using seed trays. Seeds can be pre-treated with a pre-emergence fungicide before being sown. The seeds are then covered with a light topping of fine milled pine bark. Seeds will germinate after four weeks.
Pelargonium acetosum thrives in drier conditions in the garden. The plants do not grow very tall so one needs to plant plenty of companion plants of similar height. They are particularly effective when used in mixed perennial borders. Group the plants with similar plants that love drier conditions in your garden.
References
Goldblatt, P. & Manning, J. 2000. Cape Plants. A conspectus of the Cape flora of South Africa. Strelitzia 9. National Botanical Institute, Pretoria & Missouri Botanical Garden, Missouri.
Manning, J. 2001. Eastern Cape. South African Wild Flower Guide 2. Botanical Society of South Africa , Cape Town.
Roberts, M. 1990. Indigenous healing plants. Southern Book Publishers, Halfway House, Johannesburg.
Van der Walt, J J A. 1977. Pelargoniums of South Africa. Purnell, Cape Town.
Van Jaarsveld, E. 1979. Cultivation of South African pelargoniums as garden or pot plants. Veld & Flora 65: 18-21.
Credits
Trevor Adams
Kirstenbosch National Botanical Garden
April 2006
updated October 2017
 
Plant Attributes:
Plant Type: Shrub
SA Distribution: Eastern Cape
Soil type: Sandy
Flowering season: Sporadic/All year
PH: Acid, Neutral
Flower colour: Pink
Aspect: Full Sun
Gardening skill: Average
Special Features:

Good potplant

Edible plant
Horticultural zones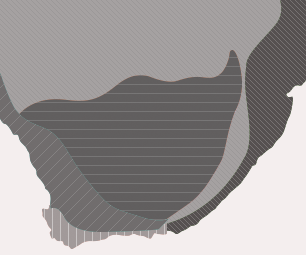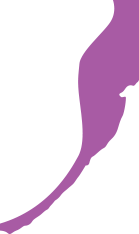 Zone 1 Coastal summer rainfall, frost free
Zone 2 Coastal winter rainfall, frost free
Google QR Code Generator