Pelargonium articulatum (Cav.) Willd.
Family: Geraniaceae
Common names: cliff pelargonium (Eng.); kransmalva (Afr.)
Introduction
Pelargonium articulatum is seldom noticed except when it is in flower, then it is one of the showiest of pelargoniums.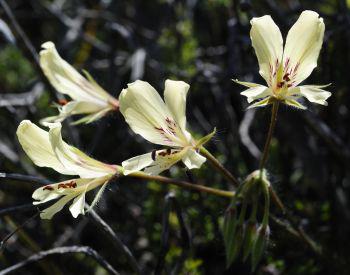 Description
Description
Pelargonium articulatum is a semi-geophyte, with an underground rhizome that has distinct, alternating thick and thin sections. It has short, aerial stems covered by persistent, large scales, or the leaves can grow directly from the rhizome. The kransmalva can grow up to 500 mm high when in flower and is sometimes deciduous in the hot, summer months. The leaves are simple, hairy and often have a reddish zonal marking. The margins of the 5-palmate leaves are irregularly lobed or toothed. The petiole (leaf stalk) is very long and can be up to 200 mm or longer. The branched inflorescences have 2–5 flowers on each stem. The large 40–50 mm cream-coloured or white flowers, appear in early summer, from October to December. The flowers usually have purple markings on them and orange stamens.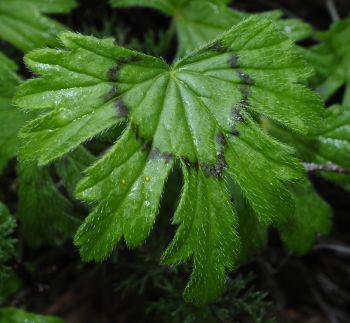 Conservation Status
Status
Distribution and habitat
Distribution description
Pelargonium articulatum often grows on rocky slopes, in rocky crevices, or in partial shade of other plants and is often overlooked when not in flower. It occurs from Steinkopf to Fraserburg in the Northern Cape, southwards to Worcester in the Western Cape. It grows in the Succulent Karoo or dry fynbos, on shale, dolerite and tillite soils.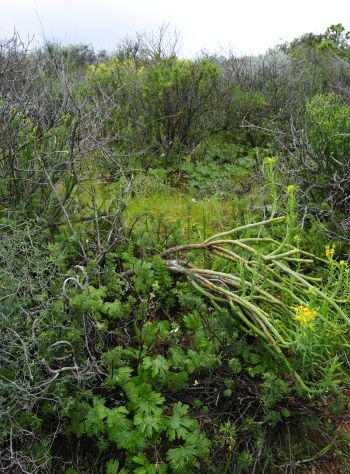 Derivation of name and historical aspects
History
The genus name is derived from the Greek word pelargos, which means 'stork' and refers to the seed that looks similar to the beak of a bird. The species name articulatum, means 'jointed' in Latin, and refers to the rhizome that consists of alternating thick and thin sections.
Pelargonium articulatum was first described by Cavanilles in 1787 under the name Geranium articulatum, he based his description on a herbarium specimen from Thunberg. There are about 270 species of Pelargonium, of which 220 species are found in southern Africa.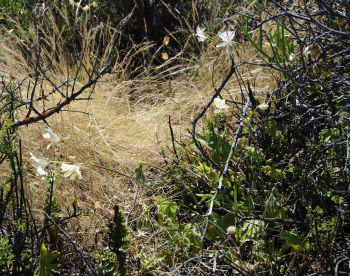 Ecology
Ecology
The leaves of Pelargonium articulatum are very hairy, that is an adaptation used to reflect sunlight and reduce air movement around the leaf, both of which reduces water loss. In the hot summer months, the plant can also go dormant, which allows it to survive the hot, dry periods. It is most probably pollinated by bees and other insects. It has poor grazing potential, but it can be grazed to some degree.
Uses
Use
Pelargonium articulatum has been used as a pollen parent plant and can hybridize with zonal pelargoniums.
Growing Pelargonium articulatum
Grow
Pelargonium articulatum is ideal for semi-arid, or water-wise gardens beneath other shrubs. It can also be grown in pots and rockeries. It can be planted with other pelargoniums such as the Pelargonium karooicum (karoomalva ), or succlents such as Euphorbia mauritanica.
Pelargonium articulatum can easily be grown from seeds, or less often by taking cuttings of the underground rhizome, or the short aerial stem. It is more difficult to grow than most pelargoniums in cultivation, since it goes dormant during the hot summer months, but still needs to be watered sparingly during this period. Sow the seeds in summer or autumn (December to May) in a sandy medium. Keep the medium moist and the seeds should germinate in 2 weeks. Seedlings can be transplanted when they are strong enough. Take cuttings in autumn and place them in a sandy loam medium and keep moist until the cutting has rooted.
References
Blackman, C. Webpage: Developing the Lara Zonartic Hybrids (1985–2006) http://www.geraniaceae-group.org/developing_zonartic.html, accessed 5 September 2016.
Jackson, W.P.U. 1990. Origins and meanings of names of South African plant genera. University of Cape Town.
Manning, J. & Goldblatt, P. 1999. Nieuwoudtville Bokkeveld Plateau & Hantam. Strelitzia 29. South African National Biodiversity Institute, Pretoria.
Manning, J. & Goldblatt, P. 2012. Plants of the Greater Cape Floristic Region 1: the Core Cape Flora. Strelitzia 29. South African National Biodiversity Institute, Pretoria.
Shearing, D. 1994. Karoo. South African Wild Flower Guide 6. Botanical Society of South Africa. Claremont.
Van der Walt, J.J. & Vorster, P.J. 1981. Pelargoniums of southern Africa, vol. 2. Juta, Cape Town, Johannesburg.
Credits
Lize Wolfaardt
Karoo Desert National Botanical Garden
September 2016
Plant Attributes:
Plant Type: Bulb, Perennial
SA Distribution: Northern Cape, Western Cape
Soil type: Sandy
Flowering season: Spring, Early Summer
PH: Acid
Flower colour: White, Cream
Aspect: Morning Sun (Semi Shade), Afternoon Sun (Semi Shade)
Gardening skill: Average
Special Features:

Drought resistant

Good potplant
Horticultural zones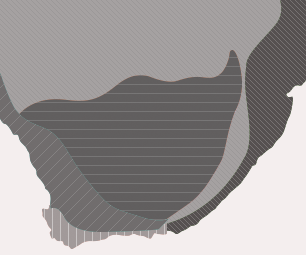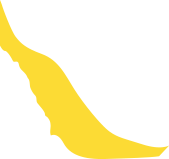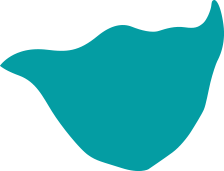 Zone 2 Coastal winter rainfall, frost free
Zone 3 Winter rainfall Karoo, light frost
Zone 4 Summer rainfall Karoo and Highveld, Frost in winter
Google QR Code Generator