Pelargonium hirtum (Burm.f.) Jacq.
Family: Geraniaceae
Common names: hairy pelargonium, fine-leaved pelargonium
Introduction
This is a hardy, waterwise pelargonium ideal for sandy and rocky gardens. It is also well-suited to pots.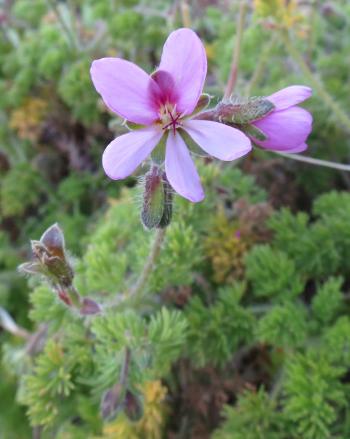 Description
Description
A small, bushy, succulent shrub, that grows up to 300 mm tall. The main stem is divided into thick, fleshy, erect or decumbent branches. The hairy, finely divided compound leaves, are 15–35 mm long and 5–20  mm broad, and borne on long petioles. The flowering branches are significantly thinner than the normal branches. Flowering branches are often branched and may bear leaves. White, various shades of pink, and magnolia-purple flowers are borne in 3–8-flowered, umbel-like inflorescences. Flowering is in winter and spring (July–November).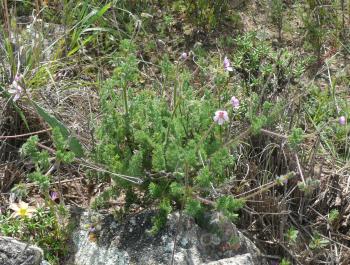 Conservation Status
Status
According to the Red List of South African plants, checked on 16 August 2017, the conservation status of this plant is Least Concern (LC). The rise of urban development saw the decimation of several subpopulations of Pelargonium hirtum, but at present there are still more than 20 extant locations, resulting in this species not being considered to be Near Threatened (NT).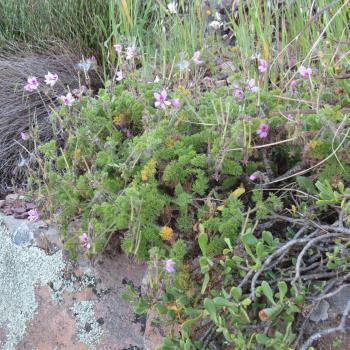 Distribution and habitat
Distribution description
This species is found in sandy soil or rocky ledges on sandstone and granite slopes from Velddrif to Stellenbosch in the Western Cape. It is fairly common on the Cape Peninsula.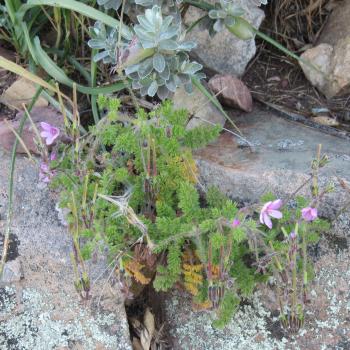 Derivation of name and historical aspects
History
The name Pelargonium is derived from the Greek word pelargos, meaning 'stork' because the rostrum of the schizocarp in Pelargonium is thought to resemble the bill of a stork. This explains the common name, stork's bill. The specific epithet hirtum, means 'hairy' and is in reference of the long hairs found on the plant.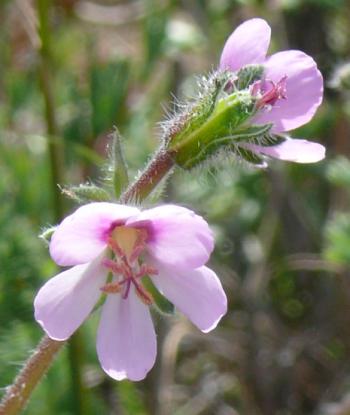 Pelargonium is one of 5 southern African genera in the family Geraniaceae. This family, also known as the pelargonium family, is cosmopolitan, but predominantly confined to temperate and subtropical regions. Pelargonium can be found in S, E and NE Africa, Australia, New Zealand, St Helena, Tristan da Cunha, Madagascar and Asia. Southern Africa, home to more than 80% species, is the global hotspot of Pelargonium. The highest diversity amongst members of this family is found in the Namaqualand-region, and the western and southern Cape of South Africa. There are approximately 250 species of Pelargonium in southern Africa. The other southern African genera in Geraniaceae include: Erodium, Geranium, Monsonia and Sarcocaulon.
Two genera, Pelargonium and Geranium, are popular garden ornamentals with high commercial value. Although the 2 genera cannot be easily confused with one another, in several overseas countries there is persistence in referring to species of Pelargonium as Geranium, or commonly as geranium. In some circles, these 'geraniums' are classified as artificial hybrids of the genus Pelargonium that became enhanced through breeding methods. This vernacular use of the name was probably also brought about by the ever to-and-fro changing of genus names of a species in the past. From a taxonomic perspective, Geranium is derived from the Greek word geranos, which means 'crane'. This is in reference to the rostrum of the schizocarp which resembles the bill of a crane. Crane's bill is a common name for Geranium.
The flowers of Pelargonium are zygomorphic or irregular and means the flowers can be divided into identical halves in one plane only. Geraniums are actinomorphic or regular as it is possible to bisect the flowers into halves in more than one vertical plane.
Burman originally described this species as Geranium hirtum in 1759. Malcolm introduced the species to England in 1768. L'Heritier changed the name to Pelargonium tenuifolium in 1789. Jacquin renamed the species P. hirtum in 1792.
The Irish botanist William Henry Harvey (1811–1866) and German botanist Reinhard Knuth (1874–1957), developed and divided the genus Pelargonium into 15 sections. A set of keys was also submitted to ensure the identification of the section and species. Pelargonium hirtum is found in the section Ligularia, which consist of 23 species. The species found in this section have fairly strong branches, subsucculent stems, which may be woody at the base. The leaves are seldom entire, but rather pinnately divided. The petals are subequal and spathulate with a tapering base. Seven fertile stamens can be found. Other species found in this section include: P. abrotanifolium, P. crassipes, P. pulchellum and P. fragile.
Ecology
Ecology
The light seed of Pelargonium is a feathered, tail-like structure, which is coiled in a spiral arrangement. The tail enables the seed to twist around in the wind and drills itself into the soil. This action ensures more seed have a better chance of germination
The specific pollinator of the hairy pelargonium is not known. Several other insects, including bees, bumble bees, carpenter bees and butterflies, are involved with the pollination of Pelargonium grossularoides, P. peltatum, P. dolomiticum and P. crithmifolium. 
Uses
Use
No cultural uses for Pelargonium hirtum have been recorded thus far. It is perhaps not yet well known in the horticultural trade, but can surely be regarded as a species popular to collectors.
The medicinal properties of Pelargonium are well documented. Some of the species was used by the indigenous people of southern Africa to provide relief with dysentery and diarrhea. Leaf extracts from some species have shown to contain antimicrobial effects.
Essential oils derived from Pelargonium radens, P. capitatum, P. graveolens and P. odoratissimum, yield geranium oil which contains geraniol and citronellol, used in the perfume, flavouring and pharmaceutical industries. Pelargoniums are grown commercially, specifically for their oil yield, in the south of Europe, in various African states and on the island of Reunion.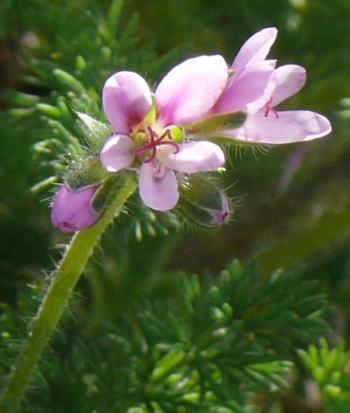 Growing Pelargonium hirtum
Grow
Pelargonium hirtum can be grown from seed and cuttings. Sow seeds in early autumn in seed trays with a light, well-drained medium. Cover seed lightly with a thin layer of compost or white sand and water thoroughly with a fine spray. Move trays to a slightly shaded area. Medium must be kept moist at all times. Seed will germinate between 4–6 weeks.
Cuttings can be taken throughout the year. Depending on the availability of material, take stem cuttings of 50–70 mm, cut below the node and dip in a rooting hormone to stimulate rooting. Place the cutting in prepared holes in a moist, well-draining rooting medium and transfer to a cold frame or slightly shaded area. Monitor cuttings regularly to ensure the medium maintain its moisture. Rooting takes 3–4 weeks. Once more roots have developed, cuttings can be potted up.
Rooted cuttings and seedlings respond well to a liquid seaweed-based fertilizer. Feed adult pot plants with 3:1:5 once in autumn. This can be supplemented with a seaweed-based, liquid fertilizer application every fortnight during the growing season. 
As a somewhat succulent pot plant, care must be taken not to overwater this species. Therefore, reduce the watering to only once every 1–2 week, from late spring. Increase the watering at the sign of new growth in the autumn.
Companion plants may include: Leysera gnaphalodes, Cotyledon orbiculata, Lampranthus aureus and L. amoenus, Salvia africana-lutea and S. africana-caerulea, Pelargonium betulinum and P. cucculatum, Leonotus leonurus, Coleonema album, Agathosma ciliaris, A. serpyllaceae and A imbricata, Arctotis hirsuta, A. stoechadifolia and A. acaulis, Ursinia anthemoides, Restio dispar and Thamnochortus insignis.
So far know serious pests have been observed.
References
Adams, T. 2005-10. Pelargonium peltatum (L) L'Hér. (Geraniaceae). PlantZAfrica. Internet 4pp. http://pza.sanbi.org/pelargonium-peltatum
Forrester, J. 2005-04. Pelargonium grossularioides (L.) L'Hér. (Geraniaceae). PlantZAfrica. Internet 4pp. http://pza.sanbi.org/pelargonium-grossularioides
Gess, S.K. & Gess, F.W. 2014. Wasps and bees in southern Africa. SANBI Biodiversity Series 24. South African National Botanical Institute, Pretoria.
Joffe, P. 2003. Easy guide to indigenous shrubs. Briza Publications, Pretoria.
Koekemoer, M., Steyn, H.M. & Bester, S.P. 2015. Guide to Plant Families of southern Africa. Strelitzia 31. 2nd ed., 2nd print. South African National Biodiversity Institute, Pretoria, South Africa.
Manning, J. & Goldblatt, P. 2012. Plants of the Greater Cape Floristic Region 1: the Core Cape Flora. Strelitzia 29. South African National Biodiversity Institute, Pretoria.
Oliver, I. 2004-08. Pelargonium crithmifolium Sm. (Geraniaceae). PlantZAfrica. Internet 4pp. http://pza.sanbi.org/pelargonium-crithmifolium
Stearn, W. 2002. Stearn's dictionary of plant names for gardeners. Timber Press. Portland, Oregon.
Van der Walt, J J A. 1977. Pelargoniums of South Africa. Purnell, Cape Town.
Zietsman, P.C. 1993. Pollination of Pelargonium dolomiticum (Knuth) Geraniaceae. South African Journal of Botany 59 (2): 259–264.
Credits
Roger Oliver
Kirstenbosch National Botanical Garden
September 2017
Plant Attributes:
Plant Type: Ground Cover, Shrub, Succulent
SA Distribution: Western Cape
Soil type: Sandy, Clay, Loam
Flowering season: Spring, Winter
PH: Acid, Neutral
Flower colour: White, Pink, Mauve/Lilac
Aspect: Full Sun, Afternoon Sun (Semi Shade)
Gardening skill: Easy
Special Features:

Attracts butterflies

Drought resistant

Good potplant

Feeds honeybees
Horticultural zones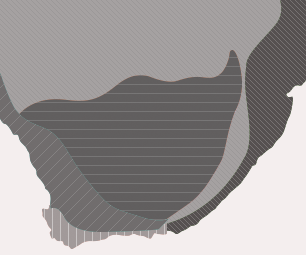 Zone 2 Coastal winter rainfall, frost free
Google QR Code Generator