Pelargonium paniculatum Jacq.
Family: Geraniaceae
Common names: no common names on record
Introduction
A robust, succulent shrub that is ideal for water-wise gardens or rockeries, in arid regions.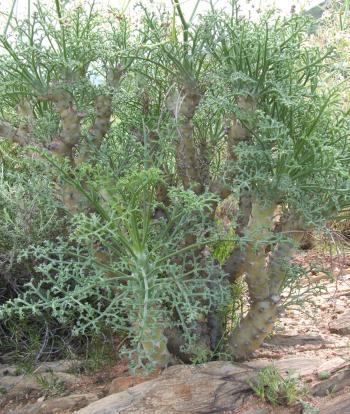 Description
Description
Pelargonium paniculatum is a summer deciduous, succulent shrub with a grey-green stem which turns yellowish green with age. It can grow to a height of 0.6 to 1.5 m.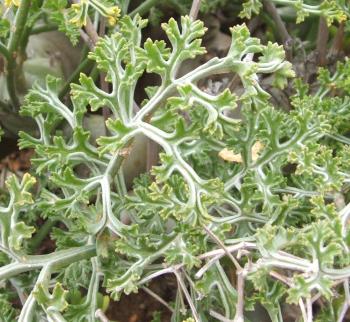 The leaves are pale green, narrow and are fairly hard. The old leaves remain on the stems.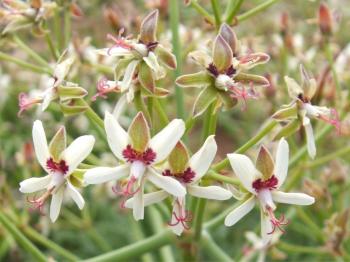 Flowers are produced in panicle-like clusters of three to seven each. The white, cream-coloured or light pink flowers consist of 5 petals with visible purple-red markings at the base and bright orange pollen. The flowers appear from winter to spring (June to October). The seeds have narrow brown heads with spiral tails, and are light in weight, which makes it easy to be dispersed by wind.
This species is very similar to Pelargonium crithmifolium, however, P. paniculatum can be distinguised by the non-persistent, much-branched inflorescence.
Conservation Status
Status
Distribution and habitat
Distribution description
Pelargonium paniculatum has a restricted natural distribution. It only occurs in the southwestern parts of Namibia and northern parts of the Northern Cape. It is mostly found on rocky areas or rocky crevices of sandstone, granite and tillite. The area usually receives an annual rainfall of less than 100 mm per annum, which mainly falls in the winter months, whereas the summers are hot and dry.
Derivation of name and historical aspects
History
Pelargonium paniculatum was described by Jacquin in 1797. The genus name Pelargonium was taken from the Greek word perlagos, which means 'a stork', referring to the beak of a stork. The species name paniculatum, is derived from Latin word paniculate and refers to the panicle-like inflorescence.
Pelargonium is a large genus of 280 species of which most are native to southern Africa.
Ecology
Ecology
This plant has the ability to self-pollinate when no pollinators are available. Normally, bees, flies and beetles are the pollinators. The pollen gets attached on the bees' abdomen and is then transferred to the stamen of the next flower visited.
The intense heat from the sun causes the capsule to burst open and the seeds are then dispersed by wind.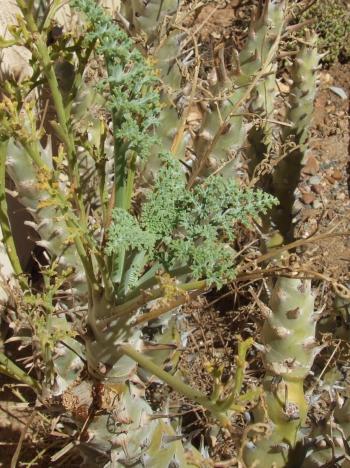 Uses
Use
Pelargonium paniculatum is mostly used for horticultural purpose for its ability to survive under extreme hot and dry temperatures and the attractive shape and form of its swollen stems.
Growing Pelargonium paniculatum
Grow
Pelargonium paniculatum can be easily grown from seeds or cuttings. Sow seeds in autumn in a soil mixture of sand and loam. Place the seeds with the tip facing downward and lightly cover with sand. Water the trays with a fungicide to reduce damping off. Keep the soil moist and place in a warm environment to stimulate germination. The seeds will germinate within 7 to fourteen days.
Cuttings can be taken in spring and autumn after the flowering or seeding period. Cut below the leaf joint, dust with flower of sulphur and leave the cutting to dry for one week, to allow the wound to heal. Apply a rooting hormone for softwood (stem cuttings) to stimulate the rooting process. Place the cutting in well-drained soil, keep moist and rooting will take place after about 4 weeks.
References
Hodgkiss, R.J. 2016. Geranianceae succulent plant search engine. Viewed on 23 February 2016, from: http://succulent-plant.com/families/geraniaceae.html
Jackson, W.P.U. 1990. Origins and meanings of names of South African plant genera. University of Cape Town.
Mannheimer, C. 2008. Wildflowers of the southern Namib: a photographic guide to wildflowers of south-western Namibia. Macmillan, Windhoek.
Van der Walt, J.J. & Vorster, P.J. 1981. Pelargoniums of southern Africa, vol. 2. Juta, Cape Town, Johannesburg.
Credits
Sinikeziwe Ncaphayi and Ricardo Riddles
Karoo Desert National Botanical Garden
July 2017
 
Plant Attributes:
Plant Type: Shrub, Succulent
SA Distribution: Northern Cape
Soil type: Sandy
Flowering season: Spring, Winter
PH: Acid, Neutral
Flower colour: Purple, White, Pink, Cream
Aspect: Full Sun
Gardening skill: Average
Special Features:

Drought resistant

Feature plant

Good potplant

Feeds honeybees
Horticultural zones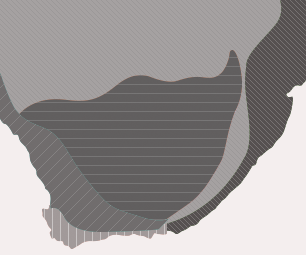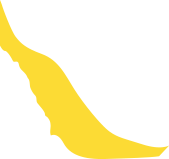 Zone 3 Winter rainfall Karoo, light frost
Google QR Code Generator