Pelargonium tomentosum Jacq.
Family: Geraniaceae
Common names: peppermint pelargonium, peppermint-scented pelargonium, pennyroyal pelargonium, piperitum (Eng.); pepermentmalva (Afr.)
Introduction
With its large, velvety, mint-scented foliage and dainty white flowers, Pelargonium tomentosum makes a rather attractive garden plant in semi-shade, and its leaves can be used to flavour cakes and drinks.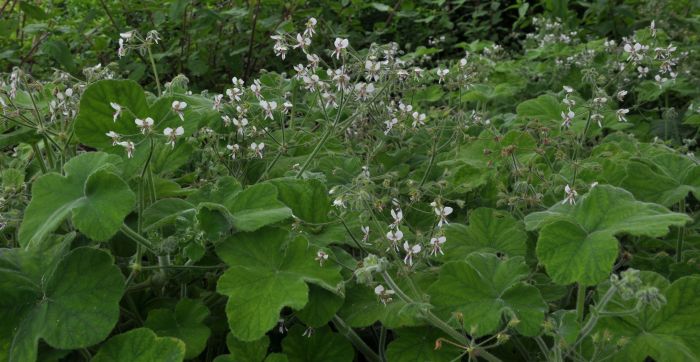 Description
Description
Pelargonium tomentosum is an aromatic, low-growing, sprawling subshrub, with branches spreading in all directions. It can grow up to 0.5 m high and has a spread of 1.5 m. The stems are herbaceous and brittle, becoming somewhat woody with age.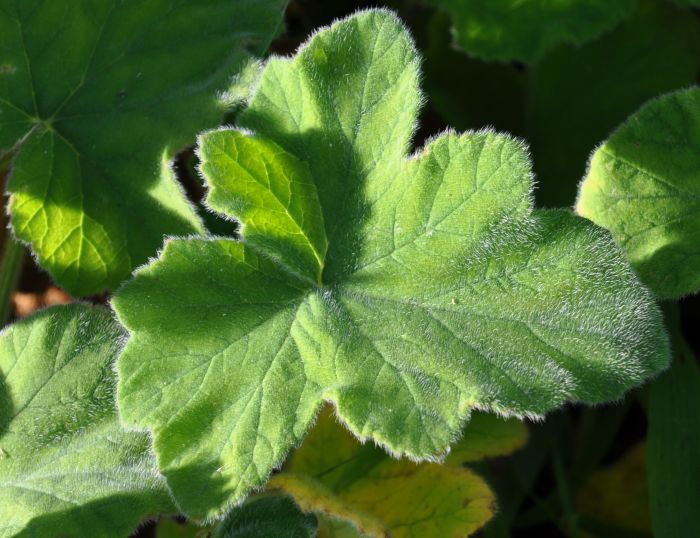 Leaves are simple, cordate at the base and vary from 3–5-palmatilobate, to 3–5-palmatipartite, (25–)40–60(–110) × (35–)50–70(–120) mm; apex mostly obtuse; margins irregularly crenate-serrate. The presence of soft hairs and numerous glandular hairs lends a velvety touch to the leaves and stems. The leaves are showy, especially when covered with morning dew.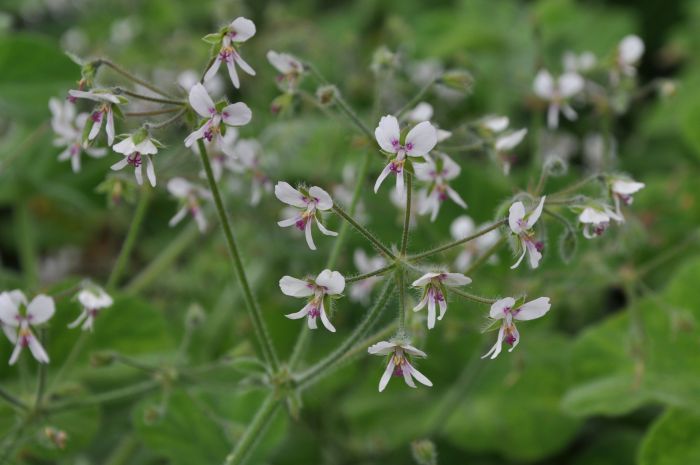 Small, white flowers with purple markings on the petals, are borne in much-branched inflorescences of 4–15 flowers, from spring to midsummer (October to January).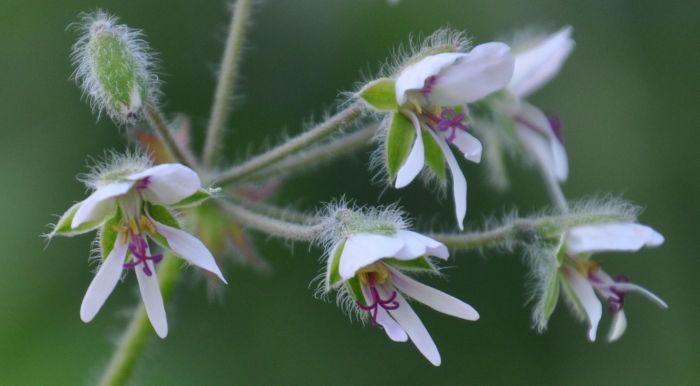 Conservation Status
Status
According to the Red List of South African plants, this species has no present threats and, therefore, the conservation status is assessed as Least Concern (LC). 
Distribution and habitat
Distribution description
Pelargonium tomentosum is confined to mountains where it occurs naturally in semi-shaded, moist habitats, on the margins of ravine forests, near streams. It grows in sandy soil derived from sandstone. This plant is common and occurs on the Hottentots Holland Mountains near Somerset West, on the Riviersonderend Mountains near Greyton, and on the Langeberg Range from Swellendam to Riversdale, in the Western Cape. These areas are all within the winter-rainfall region, where annual rainfall varies between 750–1 000 mm. This species is found in frost free habitats.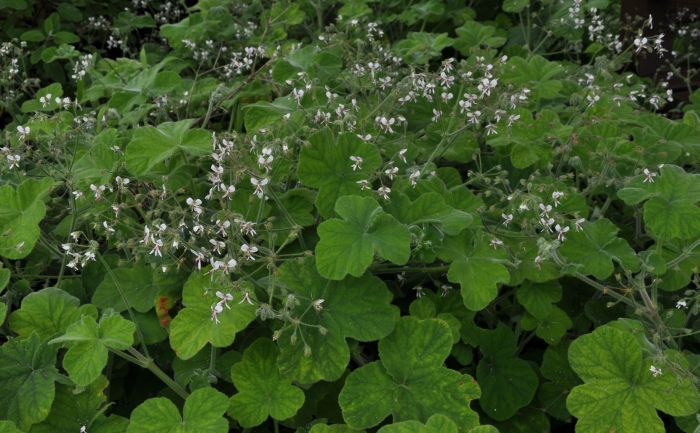 Derivation of name and historical aspects
History
The genus name Pelargonium is derived from the Greek word pelargos, meaning 'a stork', because the fruit resembles the shape of the beak of a stork. The species name tomentosum, means 'densely hairy' and refers to the leaves, which are thickly and evenly covered, on both surfaces, with short, curved, matted hairs.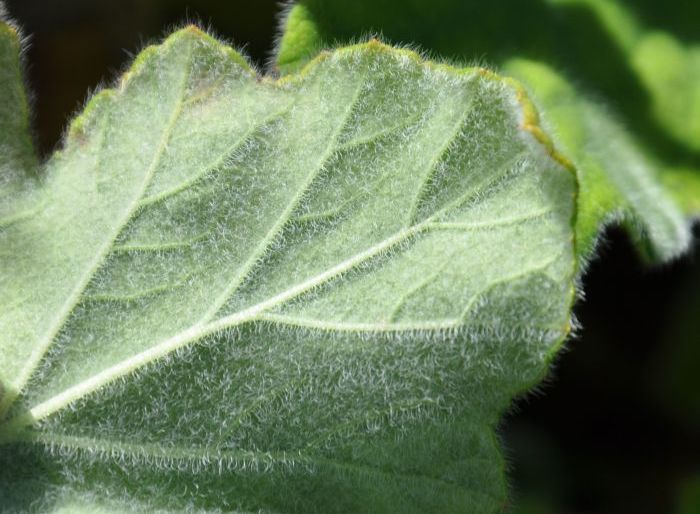 The genus Pelargonium belongs to the Geraniaceae, a family that consists of more than 11 genera and 800 species in the subtropical and tropical regions of the world and includes the well-known genera Geranium and Monsonia. 
Species of Pelargonium are found in Asia, St Helena, Tristan da Cunha, Madagascar, Australia, New Zealand, as well as southern, eastern and northeastern Africa. Southern Africa is globally acknowledged as the official hotspot for species of Pelargonium and the region is currently home to 219 of the 270 species found. Pelargonium triste, P. cucullatum and P. peltatum were some of the first species brought in to cultivation in Europe in the late 1600s and early 1700s and pelargoniums were attracting attention from collectors and travellers during this particular period. 
The herbarium at the University of Zurich houses a specimen of P. tomentosum that was collected in April 1884, at Wynberg, Cape Town. It can be said with great certainty that the species is not in existence in this particular locality anymore. No other records indicate the collection of any specimens in the period after this from this locality.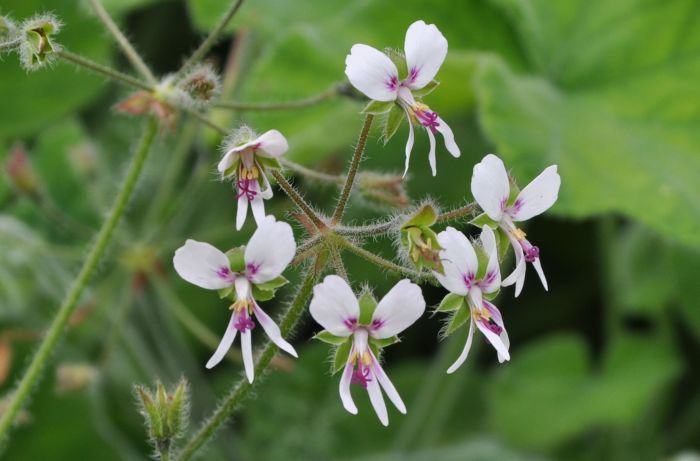 All species of Pelargonium are divided into sections, each with diagnostic features and identification keys. Pelargonium tomentosum forms part of the section Pelargonium. This section is considered to be the most primitive in the genus, on account of its woody and shrubby habit, simple leaves, leaf-shape, free stipules, and 5-petalled flowers, with 7 fertile stamens.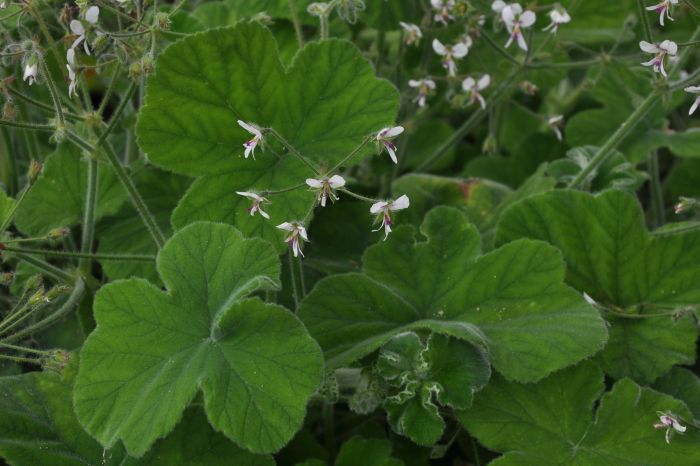 Ecology
Ecology
Hybrids between members of the section Pelargonium and the section Eumorpha have been recorded by the late Pelargonium taxonomist and author Professor J.J.A. van der Walt. He considered the 2 species P. tomentosum and P. patulum as putative parent species for one particular hybrid in the Helderberg Nature Reserve. The sections Glaucophyllum and Pelargonium are also known to hybridize with each other.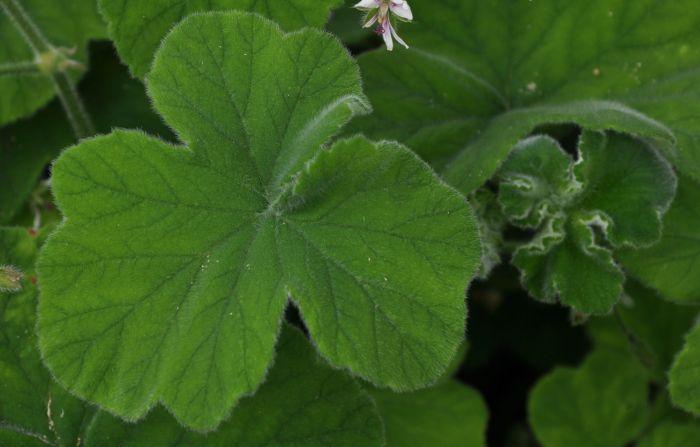 Uses
Use
The peppermint-scented leaves can be used as a culinary herb. Barbara Hey (1994) suggests lining the tin with them before baking a chocolate cake. They can also be used to flavour puddings, jellies and hot or cold drinks. The leaves are good in pot-pourris and can be used to stuff pillows. Fresh leaves make a soothing poultice for bruises and sprains.
As a crop plant, this species is perfectly suited to the production of natural peppermint-scented essential oil in South Africa. Research has indicated the main constituents of the essentials oils found in the peppermint pelargonium are (-)-isomenthone (61–62%) and (+)-menthone (25–27%). These essential oils are produced by the glandular hairs present on the leaves. The economic and agricultural value of this section supersedes that of others, with it providing the core of plants used for artificial hybrids, ornamentals and production of essential oils.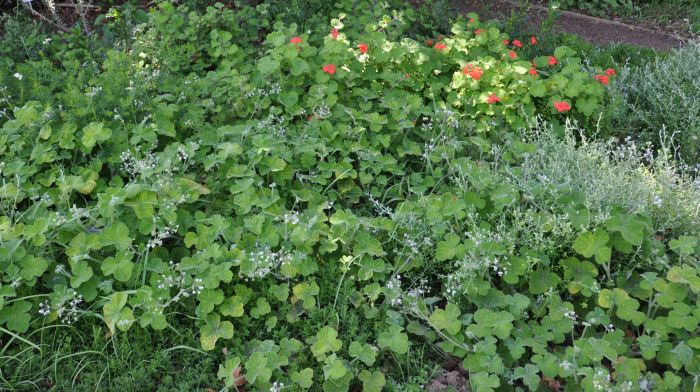 Growing Pelargonium tomentosum
Grow
Pelargonium tomentosum grows easily from cuttings. Stem cuttings of ± 10 cm in length are taken in autumn (March to May) and spring (September to November). The cuttings are then dipped into a suitable rooting hormone powder, and placed in trays containing coarse river sand which has been watered with a fungicide. These trays are then placed into cold frames or a shady spot.
Pelargonium tomentosum is an attractive garden plant. It can be used as a ground cover in semi-shady, moist areas, providing that the soil drains well. It can also be used on embankments in semi-shaded areas or grown in pots. Owing to its broad, coarse leaf texture, the peppermint pelargonium can provide a wonderful contrast against the fine-textured foliage of other species. Use it in light shade for group plantings, interplantings or in a fragrance garden. It is particularly useful in a fynbos garden. It also does well in containers.
Plant this species with some semi-shade to shade-loving species such as: Helichrysum petiolare 'Limelight', Plecostachys serpyllifolia, Knowltonia vesicatoria, Plectranthus spp., Coleus spp., Asparagus spp., Clivia spp., Hypoestes aristata and Justicia petiolaris. 
The plant responds very well to applications of organic, seaweed-based fertilizer in spring (September to November) and summer (December to February). Remove old or damaged leaves to keep it looking at its best and site it where you will enjoy the fragrance and silvery beauty of its velvety, dew-spangled leaves.
References
De Marne, F.E. & Van der Walt, J.J.A. 1990. Pelargonium tomentosum: a potential source of peppermint-scented essential oil. South African Journal of Plant & Soil 7(1).
Stearn, W. 2002. Stearn's dictionary of plant names for gardeners. Timber Press, Portland, Oregon.
Van der Walt, J J A. 1977. Pelargoniums of South Africa. Purnell, Cape Town.
Van der Walt, J.J.A. 1985. A taxonomic revision of the type section of Pelargonium L'Herit. (Geraniaceae). Bothalia. Vol 15.3 & 4: 345–385.
Vorster, P.J. 2012. Geraniaceae. In J. Manning & P. Goldblatt, Plants of the greater Cape Floristic Region 1: The Core Cape Flora. Strelitzia 29. South African National Biodiversity Institute, Pretoria.
Credits
Ebrahim Lawrence
Kirstenbosch National Botanical Garden
September 2002
Updated and expanded by Roger Oliver
Kirstenbosch National Botanical Garden
July 2020
Photos by Alice Notten
Plant Attributes:
Plant Type: Ground Cover, Shrub
SA Distribution: Western Cape
Soil type: Sandy, Loam
Flowering season: Spring, Early Summer
PH: Acid, Neutral
Flower colour: Purple, White
Aspect: Shade, Morning Sun (Semi Shade), Afternoon Sun (Semi Shade)
Gardening skill: Easy
Special Features:

Fragrant

Good potplant
Indoor plant

Edible plant

Medical plant
Horticultural zones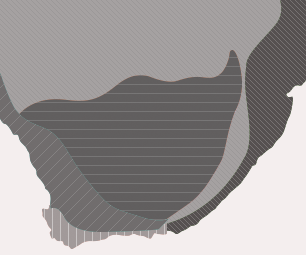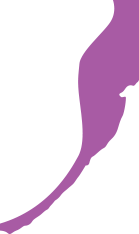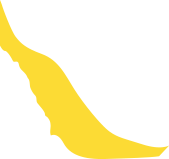 Zone 1 Coastal summer rainfall, frost free
Zone 2 Coastal winter rainfall, frost free
Zone 3 Winter rainfall Karoo, light frost
Google QR Code Generator