Pelargonium vitifolium (L.) L'Hér.
Family: Geraniaceae
Common names: vine-leaved pelargonium, balm-scented pelargonium
Introduction
This lovely vine leaved shrub that is stunning in full flower, with its balm scent, is ideal for your fragrant garden.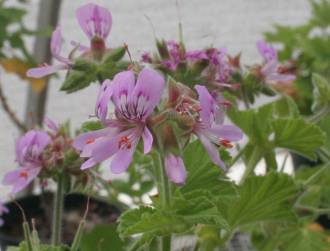 Description
Description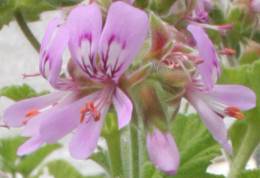 Pelargonium vitifolium is an erect strongly scented shrub, 0.5-1 m tall. The central stem is woody at the base while the side branches are soft, herbaceous and covered with long soft hairs. The leaves are usually about 60 mm long and 80 mm wide; mostly 3-lobed but occasionally 5-lobed and slightly rough to the touch. This is due to the stiff hairs covering the leaf blades. The leaf margin is irregularly toothed and coarse. The fruit, a schizocarp, splits into 5 separate parts, or mericarps, with the basal part about 6 mm long and a tail of about 35 mm long. Pelargonium vitifolium flowers generally throughout the year, except mid winter, but has a peak period during spring from August to October.
Conservation Status
Status
Pelargonium vitifolium is listed on the Red List of South African plants (Raimondo et al. 2009) as Least Concern. A taxon is considered Least Concern when it has been evaluated against the five IUCN criteria and does not qualify for the categories Critically Endangered, Endangered, Vulnerable or Near Threatened.
Distribution and habitat
Distribution description
Pelargonium vitifolium is restricted to the southwestern and southern areas of the Western Cape. It occurs on the Cape Peninsula and eastwards to Knysna. It grows in half-shaded localities near streams or rivulets among other shrubs.
Derivation of name and historical aspects
History
Pelargonium vitifolium belongs in the family Geraniaceae, a large cosmopolitan family of approximately 11 genera and 800 species in subtropical and temperate regions of the world. The South African genera in the Geraniaceae family are Erodium, Geranium, Monsonia, Pelargonium and Sarcocaulon. There are approximately 270 species of Pelargonium which occur in S, E and NE Africa, Asia, St Helena, Tristan da Cunha, Madagascar, Australia and New Zealand, most of which (± 219 species) occur in southern Africa. Pelargoniums are often wrongly called geraniums.
Pelargonium gets its name from the resemblance of the shape of the fruit to the beak of a stork, which is pelargos in Greek. In the Latin species epithet viti- pertains to the vine (Vitis vinifera), and folium, leaf, refers to the leaves of the vine which it resembles. P. vitifolium was introduced into England in 1724 where it was grown in the famous Chelsea garden.
Ecology
Ecology
The seeds are adapted to wind dispersal. Once they reach the ground they bore their way into the soil. This is possible due to the corkscrew tail attached to the end of the seed. As the wind blows, so the corkscrew turns, much like a drill bit.
Uses
Use
Pelargonium vitifolium has no cultural use. Horticulturally, pelargoniums are a versatile group of plants that can be rewarding in any garden. When gardening with Pelargonium vitifolium one should bear in mind that it is best grown in a sunny area of the garden. It has been observed that animals browse on P. vitifolium. It will also make an interesting addition to a scented garden with its strong aromatic scent. Providing year-round colour, if pruned it will stay compact. In general, good sandy loam soils are suitable for most pelargoniums. The pH is not a critical factor and a neutral to slightly acid pH is suitable for most species. It requires much water to establish the species and to encourage rapid and healthy growth. Once established in the garden it will tolerate drought and wind.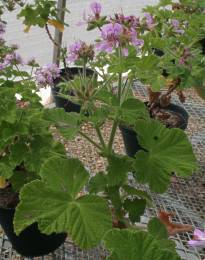 Growing Pelargonium vitifolium
Grow
Pelargonium vitifolium can be propagated from seed and cuttings. Stem cuttings can be taken at any time of the year from a healthy vigorous plant, from softwood or herbaceous growth. It is also the most widely used method of propagating pelargoniums. Plants grown with this method will flower within 3 to 6 months. A rooting hormone will speed up the rooting process, especially for the softwood cuttings. Place the cuttings in a container containing separate compartments or plugs with river sand, and place in cold frames or a well lit area and keep them moist. The cuttings should root in 3 weeks. Give the rooted cuttings a 3-week weaning period and transplant them into a well-drained potting soil mix and place them in a sunny position. When they have formed a strong root-ball they can be planted into the garden.
Sow seeds in late summer to early autumn. The seed should be sown in a light, well-drained potting mix. Sprinkle the seeds evenly in the seed tray and cover them with fine white sand or fine-milled pine bark. Water the seeds gently but thoroughly with a fine rose spray and place them in light shade with no direct sun. Seed germinates in 2-3 weeks. Plants grown from seeds will flower within 12 to 18 months. Pelargoniums grow happily outdoors free of diseases, but if the same plant is grown indoors or in a greenhouse the warmer climatic conditions and lack of air circulation usually result in pests such as aphids, white fly or rust and powdery mildew.
References
Duncan. G. 2007. South African Gardener. Beautiful, water-wise pelargoniums. 69. May 2007.
Goldblatt, P. & Manning, J. 2000. Cape plants. A conspectus of the Cape flora of South Africa. Strelitzia 9. National Botanical Institute, Pretoria & Missouri Botanical Garden Press, Missouri.
Powrie. F. 1991. Who says they are boring? Grow South African pelargoniums and discover the diversity of these beautiful plants. Veld & Flora 77 (3) 84-86; September 1991.
Raimondo, D., Von Staden, L., Foden, W., Victor, J.E., Helme, N.A., Turner, R.C., Kamundi, D.A. & Manyama, P.A. (eds) 2009. Red List of South African plants. Strelitzia 25.South African National Biodiversity Institute, Pretoria.
Van Der Walt, J.J.A. et al. 1981. Pelargoniums of southern Africa, vol. 2. Juta, Cape Town.
Credits
Trevor Adams
Kirstenbosch National Botanical Garden
November 2010
Plant Attributes:
Plant Type: Shrub
SA Distribution: Western Cape
Soil type: Sandy, Loam
Flowering season: Spring, Early Summer, Late Summer, Autumn, Sporadic/All year
PH: Acid, Neutral
Flower colour: Pink, Mauve/Lilac
Aspect: Morning Sun (Semi Shade), Afternoon Sun (Semi Shade)
Gardening skill: Average
Special Features:

Fragrant

Good potplant
Horticultural zones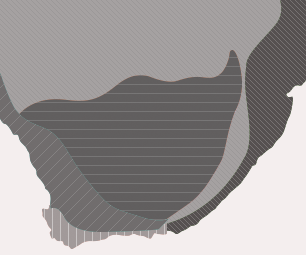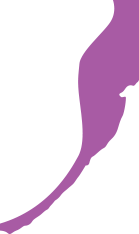 Zone 1 Coastal summer rainfall, frost free
Zone 2 Coastal winter rainfall, frost free
Google QR Code Generator