Plants of the Week Advanced Search
Search results for "Dicoma" (displaying 2 of 2 on page 1)
Refine your search
Sort by date added
Sort Alphabetically
Common names:
karmedik, fever bush (Eng.); karmedik, koorsbossie, melktoubos, melktou, bietou (Afr.)
... in sandy soils or calcrete. Just as in other species of Dicoma and species in the closely related genus Macledium, ... flowers are pollinated by flying insects, such as bees. Dicoma Cultivation requirements are not known, but the ... species in the genus and closely related genus, such as Dicoma anomala , Macledium spinosum and M. zeyheri , are ...
29 / 05 / 2023 | Thuli Makhoba | National Herbarium Pretoria
Read More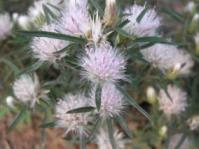 Common names:
fever bush, stomach bush (Eng.); maagbitterwortel, kalwerbossie, koorsbossie, gryshout, maagbossie (Afr.); hloenya, mohlasetse (South Sotho); inyongan
... M. Koekemoer National Herbarium, Pretoria. February 2007 Dicoma anomala is a prostrate, decumbent or erect perennial ... to July, with peak flowering in February and March. Dicoma anomala is widely distributed in sub-Saharan Africa, ... takes place by means of the persistent barbellate pappus. Dicoma Seeds should be sown in a sunny position in ...
26 / 02 / 2007 | Marinda Koekemoer | National Herbarium Pretoria
Read More