Plants of the Week Advanced Search
Search results for "Psychotria" (displaying 2 of 2 on page 1)
Refine your search
Sort by date added
Sort Alphabetically
Common names:
corkbark bird-berry (Eng.); kurkbas-voelbessie (Afr.)
... the author thanks Marieta Visagie for the illustration.   Psychotria suber is an ascending, evergreen shrub or small ... meet. Older leaves become deciduous from below. Fig. 2 . Psychotria suber , illustrated by Marieta Visagie. The ... appear in late autumn and winter. Fig. 3. The flowers of Psychotria suber . Psychotria suber grows wild in the ...
21 / 11 / 2022 | Ernst van Jaarsveld | Kirstenbosch NBG
Read More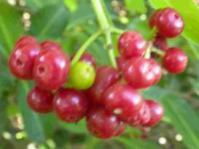 Common names:
black bird-berry, bird-berry, bastard lemonwood, lemon bush (Eng.); swart-voelbessie, voelbessie, baster-lemoenhout, lemoenbos (Afr.); iZele, isiThiti
... NBG Louise Badenhorst Kirstenbosch NBG November 2004 Psychotria capensis is an evergreen shrub or small tree, 3-8 ... pea-sized, shiny yellow fruits ripening to red or black. Psychotria capensis is found on the eastern side of the ... robins and barbets find the berries irresistible. Psychotria This very decorative shrub is a must for all ...
29 / 11 / 2004 | L Badenhorst | Kirstenbosch NBG
Read More