Plectranthus verticillatus
Plectranthus verticillatus (L.f.) Druce
Family: Lamiaceae
Common names: gossip spurflower, money plant, (Eng.); skindersalie (Afr).
Introduction
Plectranthus verticillatus is a perennial semi-succulent ground cover native to woodland and forest margins in southeast Africa. It has long been a popular garden subject in many parts of the world, both for its attractive foliage as well as for its delicate white to pale mauve flowers.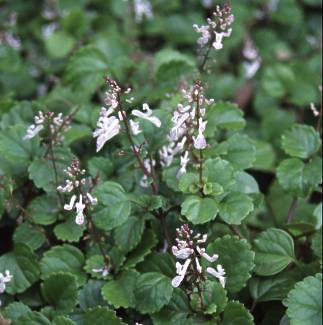 The popular "Swedish Ivy" pot and basket hanging plectranthus is not P. verticillatus, as it is sometimes referred to overseas, but P. oertendahlii from the forested coastal river gorges of KwaZulu-Natal. The latter is characterized by variegated leaves with silvery markings.
Description
Description
Aromatic soft herbs 100-305 mm tall with a spread of about 600 mm. The often glossy, soft, round to obovate leaves are light to dark green above, sometimes deep purple below, semi-succulent (64-90 mm across) with crenate to broadly-toothed margins borne on rectangular stems. Stems are short, strigose (short rough hairs pointed in the same direction).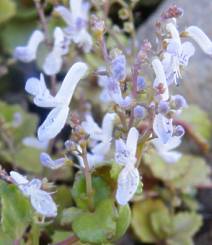 White, pale mauve, or pale pink flowers appear sporadically throughout the year in gardens but more abundantly in spring and late autumn. Inflorescence terminal, racemose, verticillate (whorled), 50-260 mm long, often with paired side branches (verticillasters) at the base. Calyx 3 mm long enlarging to 5 mm. Corolla 10-25 mm long, white, often speckled; tube 4-16 mm long, straight, laterally compressed, 2-3 mm broad, almost linear; base slightly saccate. Nutlets 1 mm long, brownish.
Conservation Status
Status
Not threatened in its natural habitat. This easy-growing plant has become naturalised in a number of warmer areas of the world, from the United States and the Caribbean islands to New South Wales in Australia.
Distribution and habitat
Distribution description
Abundant in its native habitat in frost-free areas along forest margins, in woodland, kloof forest and scrub forest from Knysna through KwaZulu-Natal to Limpopo. Does not tolerate frost.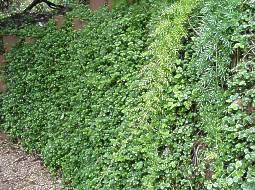 Derivation of name and historical aspects
History
Plectranthus from plektron - a spur, referring to the spur at the base of the flower tube, and anthos - flower; verticillatus - whorled, referring to the inflorescence.
The species was originally described by Linnaeus' son, Carl, as Ocimum verticillatum, but later transferred to Plectranthus by George Claridge Druce (1850-1932), an English botanist after whom Oxford University 's Fielding-Druce Herbarium is named. Other names given to the plant, now recognised as synonyms, include P. nummularius, P. thunbergii, and P. racemosum.
Uses
Use
Plectranthus verticillatus is a nursery favourite in warmer areas of the world. A number of commercial cultivars, including several variegated forms, have been developed here and overseas: 'Barberton', 'Blyde', 'Eureka', 'Freckles', 'Gossip', 'Malelaan', 'Money Maker', 'Pink Surprise', and 'Ubombo'.
Growing Plectranthus verticillatus
Grow
It is easy to grow, whether for ground cover or for ornamental hanging baskets. It needs full sun to partial shade with a rich, well-drained soil mix. In the greenhouse at KZN Botanical Garden we use a soil mix consisting of 2 parts peat moss to 1 part loam to 2 parts sand. Plants are well watered and allowed to dry slightly before watering again. If the plants get too wet they develop root rot. During summer, plants are fertilized monthly with a balanced fertilizer.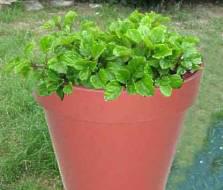 Propagation: Propagated from stem cuttings and by division of larger plants. When established, plant out in beds with a well-drained mixture of bark (we use pine bark chips), sand and soil rich in humus in lightly shaded to full sunlight situations. Sensitive to frost.
Pruning: Prune during late winter to allow new shoots to develop and to stimulate spring flowering. At the same time a good dose of humus or mature manure or granular slow-release fertilizer is added to the soil at the foot of the plant. During spring, a liquid fertilizer rich in nitrogen and potassium is added to the irrigating water every 20-25 days.
Watering: Do not overwater! Water every 2-3 weeks, allowing the surface soil to dry for a few days before re-watering. Waterlogged plants are susceptible to root rot. P. verticillatus grown as pot plants should be regularly checked for drooping: a sure sign of under-watering.
References
Pooley, E. 1998. A field guide to wild flowers of KwaZulu-Natal and the Eastern Region. Natal Flora Publications Trust, Durban.
Van Jaarsveld, E. 1987. The Plectranthus handbook. National Botanical Gardens, Cape Town.
Van Jaarsveld, E. 2006. The southern African Plectranthus and the art of turning shade into glade. Fernwood Press, Simon's Town, South Africa.
Credits
Senzo Khanyile
KwaZulu-Natal National Botanical Garden
July 2010
Acknowledgements: Many thanks for the help and assistance of retired Natal Museum entomologist, Peter Croeser.
Plant Attributes:
Plant Type: Ground Cover, Perennial
SA Distribution: Eastern Cape, KwaZulu-Natal, Limpopo, Mpumalanga, Western Cape
Soil type: Sandy, Clay, Loam
Flowering season: Autumn, Winter
PH: Acid, Alkaline, Neutral
Flower colour: White, Pink, Mauve/Lilac
Aspect: Shade, Morning Sun (Semi Shade), Afternoon Sun (Semi Shade)
Gardening skill: Easy
Special Features:

Drought resistant

Good potplant
Horticultural zones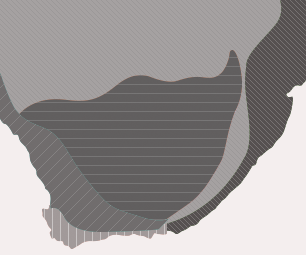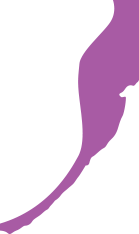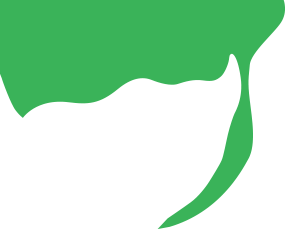 Zone 1 Coastal summer rainfall, frost free
Zone 2 Coastal winter rainfall, frost free
Zone 5 Bushveld summer rainfall, Light frost
Google QR Code Generator