Sorocephalus imbricatus (Thunb.) R.Br.
Family: Proteaceae
Common names: tile-leaf clusterhead, tile-leaf powderpuff, gland-bearing soranthe (Eng.)
Introduction
An outstanding shrub with rounded, sweetly scented flowerheads of white, silky hairy flowers with maroon perianths and pink bracts, that displays its horticultural potential in full sun.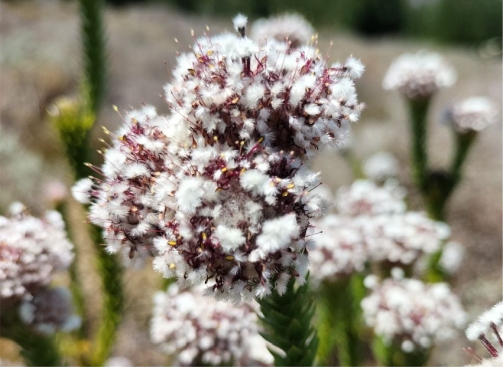 Description
Description
Sorocephalus imbricatus is a slender, sparsely branched, evergreen shrub with a single main stem, that grows from 0.7–1.5 m high. The leaves are small, lance-shaped, flattened, imbricate (densely cover the stems like fish or pangolin scales cover their bodies) and scabrous (rough, as if covered with scabs). The leaves are hairy when young and hairless when mature, 5 mm wide and 15 mm long, with fine-pointed tips.
Globose inflorescences, 40 mm diameter, are produced at the tip of a branch, often standing alone, each one made up of many miniature heads of four flowers in each. The involucral bracts are 14 mm long, densely ciliated (hairs along the margin), pink, lanceolate and scabrous. Perianths are maroon, 10 mm long, densely bearded with long, silky, straight, white hairs, fringed when the individual flower opens. Sorocephalus imbricatus flowers from spring to midsummer (September to December) and releases the seeds three months after flowering; the seed is dark grey to dark brown, small, smooth, nut-like, with an emarginated base.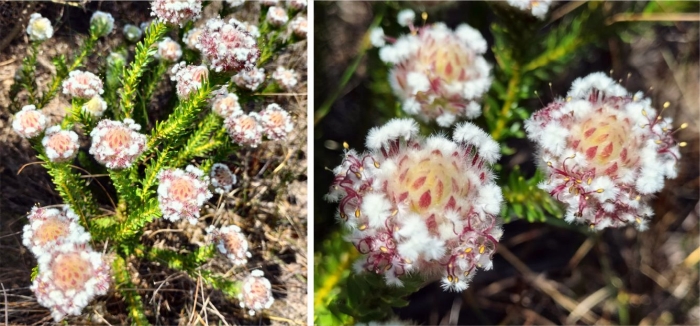 Conservation Status
Status
Sorocephalus imbricatus is assessed as Critically Endangered (CR) on the Red List of South African Plants. This species has a small, scattered wild population which is declining. The main threats are the construction of dams for pump storage and forestry plantations, which cause habitat loss. Too frequent fires and invasion of alien plants are degrading the habitat. Three of the remaining patches occur immediately adjacent to pine plantations. The individual plants are dying every year and recently Phytophthora cinnamomi has been identified as one of the threats causing the mortality of the species. The species is known as a fire ephemeral (short-lived plants that die soon after setting seed, with seeds that persist in the soil and germinate after fire). However, plants are not recruiting consistently after fire. The cause of poor recruitment is not yet known, but is thought to be either not having enough seed banked in the soil caused by predators or fungal infection or because the fire is too cool or happened in the wrong season and conditions were not right for germination to occur.
Cape Nature, SANBI, Millennium Seed Bank and CREW are conducting a monitoring programme, and have hand pollinated the flowers, collected and banked the seeds, and performed germination and propagation by cuttings.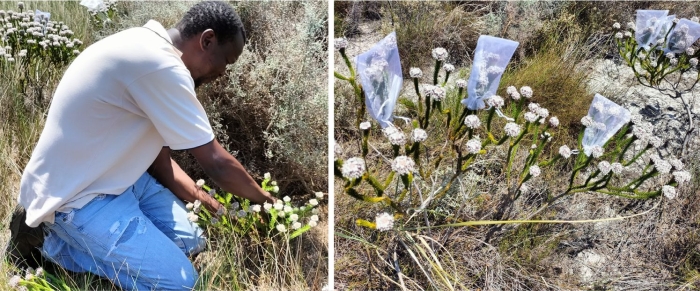 Distribution and habitat
Distribution description
Sorocephalus imbricatus naturally occurs in the sandstone and montane or Cederberg shale, at an altitude of 450–620 m, in Groot Winterhoek, Elandskloof and Piketberg Mountains. The population in the mountains of Elandskloof, in Tulbagh, is the only population known to be extant of all the 3 known localities, and occurs over a 14 km range, between the pine plantations, in a protected area.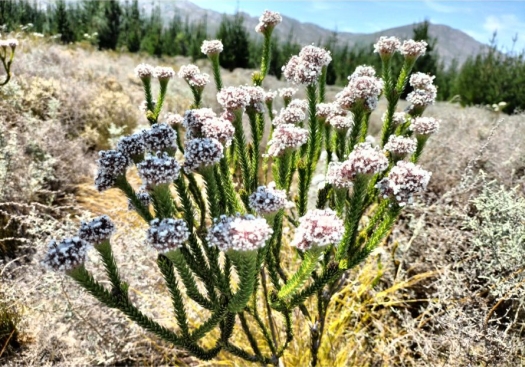 Derivation of name and historical aspects
History
Sorocephalus is a small, little-known genus of the Proteaceae family, comprising of 11 species; 4 are Critically Endangered, 5 are Endangered, 1 is Near Threatened and only 1 species is Least Concern. In 2020, during a gap analysis study of Proteaceae, this genus was highlighted as being of highest conservation priority, and Blackhall-Miles reported that only 2 species were being conserved in ex-situ collections.
The genus name Sorocephalus means 'clustered head' and originates from the Greek words soros, meaning 'a heap' and cephale, meaning 'a head', referring to the compound inflorescence. The species name imbricatus refers to the imbricate leaves, that overlap and cover the stems like tiles on a roof, or fish or pangolin scales.
Sorocephalus imbricatus was propagated in England in the nineteenth century and flowered between the years 1802 and 1808. Since then, no record of propagation of the species was recorded. During that time, the species was illustrated and a plate was made by Andrews, for the famous Botanist's Repository, and his black and white illustration of Sorocephalus imbricatus was shown in Dr John Rourke's studies.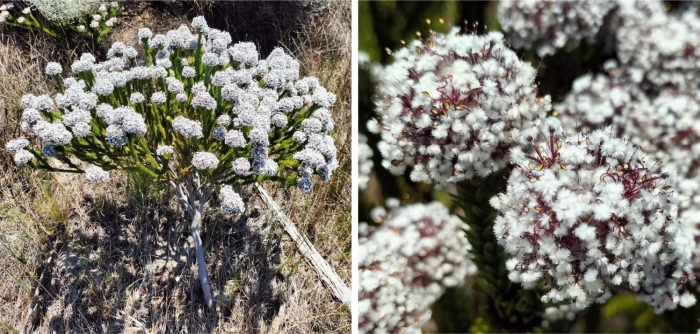 Ecology
Ecology
Sorocephalus imbricatus is pollinated by insects. The scented flowers help to attract pollinators. The plant is killed by fire and regenerates by seed (reseeder). The seeds are released from the plants when mature and drop to the ground. The seeds are nut-like and have a hard seed coat that is covered with an elaiosome, which attracts ants and which they feed on. During the fruiting season, the ants will carry the seeds to their nests underground and eat the elaiosome but leave the seeds undamaged in their nest, where it will be protected from fire and other animals such as mice that would eat them. These ants do not harm the seeds but they help by dispersing the seeds and in the conservation of the seeds. The buried seeds will germinate when the soil temperature is cool during the night and senescent plants are removed by fire. If the seeds are not carried away by the ants, rodents eat and destroy the seeds.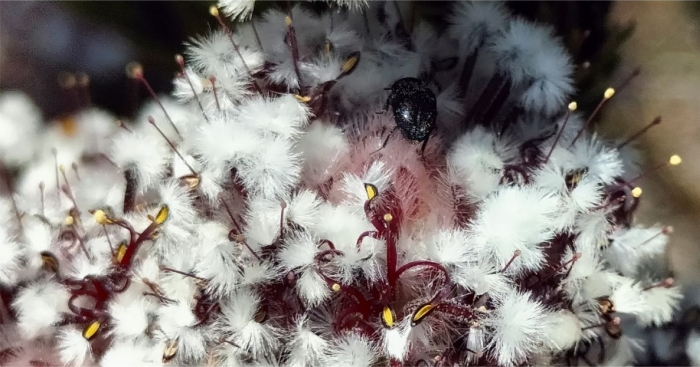 Uses
Use
Sorocephalus imbricatus is not yet in general cultivation, but could make an excellent ornamental plant for fynbos gardens. Its globose inflorescence of numerous tiny flowers and purple-maroon colour in among long silky white hairs, and its different shapes in natural habitat, can create an impressive display. Plant them with Serruria triternata, ericas, restios and fynbos grasses, which are ideal to mimic their natural habitat.
The plants are being grown for the first time at Kirstenbosch, and the young plants have been planted in two different areas, with two different soils, for us to find out where they perform best. They are growing in well-drained granite soil in the motherstock area and in fynbos soil in the nursery.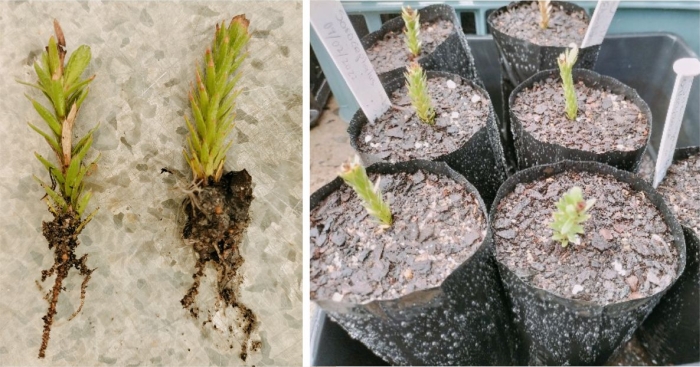 Growing Sorocephalus imbricatus
Grow
Sorocephalus imbricatus is propagated by cuttings or seeds.
Cuttings are collected in the morning, when is still cool and before the plants begin flowering (in winter or spring) on the semi-hard shoots. This is not an easy species to propagate as it is very susceptible to Phytophthora root rot. Cuttings are dipped in rooting hormone for at least 5 seconds, to stimulate rooting. Place the cuttings in well-drained, aerated propagation medium, in multi-trays. Put the trays on the heated benches of 22°C–25°C, and regularly treat the cuttings with fungicide to prevent fungal infections. Keep monitoring the plants regularly until they are rooted. Monitoring and fungal spray are important to keep the plants alive.
The rooted cuttings are moved to the hardening off area for 2-3 weeks. Transplant the cuttings into bag or pots and let them grow on until they are ready to be planted in the garden.
The seeds are very difficult to collect because they fall immediately when ripe. The fruiting heads are thus bagged to collect the seeds and prevent them from being taken by ants. It is still difficult to break the dormancy of seeds in propagation. However, the seeds are treated with smoke to improve germination and other methods can also be tried.
References
Blackhall-Miles, R. 2020. Prioritising wild collections of South African Proteaceae for ex situ conservation. Journal of Botanical Gardens Conservation International 17(2): 35–37.
Cape Nature, News, Rare plant monitoring at Waterval Nature Reserve. https://www.capenature.co.za/news/2021/rare-plant-monitoring-at-waterval-nature-reserve. Accessed 27/07/20222.
Duncan, G., Brown, N. & Nurrish, L. 2013. Grow proteas. Kirstenbosch Gardening Series. South African National Biodiversity Institute, Cape Town.
Rebelo, T. 1995. Proteas, a field guide to the proteas of southern Africa. Fernwood Press, Cape Town.
Rebelo, A.G., Mtshali, H. & von Staden, L. 2019. Sorocephalus imbricatus (Thunb.) R.Br. National Assessment: Red List of South African Plants version 2020.1. Accessed on 2022/07/13.
Rourke, J.P. 1969. Taxonomic studies on Sorocephalus and Spatalla. Journal of South African Botany Supplementary Vol. 7.
Vogts, M. 1982. South Africa's Proteaceae: know them and grow them. Struik, Cape Town.
Credits
Mashudu Nndanduleni & Mane Somtshu
Kirstenbosch National Botanical Garden
August 2022
Plant Attributes:
Plant Type: Shrub
SA Distribution: Western Cape
Soil type: Sandy
Flowering season: Spring, Early Summer
PH: Acid
Flower colour: Purple, White, Pink
Aspect: Full Sun
Gardening skill: Challenging
Special Features:

Attracts butterflies

Fragrant

Feeds honeybees
Horticultural zones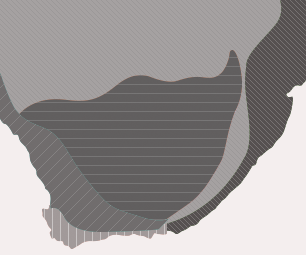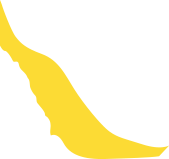 Zone 2 Coastal winter rainfall, frost free
Zone 3 Winter rainfall Karoo, light frost
Google QR Code Generator