Stephania abyssinica (Quart.-Dill. & A.Rich.) Walp.
Family: Menispermaceae
Common names: tale-telling plant (Eng.); verklikkerplant (Afr.); umbombo, umthambana, umthombo (isiZulu)
Introduction
A slender climbing plant with smooth, deep green, heart-shaped leaves and long twining stems, that can climb up to 10 m high.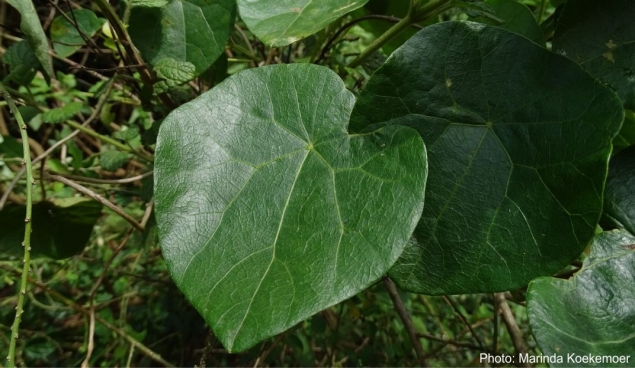 Description
Description
Stephania abyssinica is a herbaceous vine with a woody base and a stem covered with a thin bark. The slender branches are either smooth or hairy when they are still young. The leaf shape is rounded at the base and tips, with a leaf blade of 50-200 x 40-130 mm. The leaf texture is smooth and papery and the leaves are slightly discolored. The leaves are palmately veined with 8-10 basal nerves The petiole is 40-120 mm long and is attached on the underside of the leaf. Male and female flowers are unisexual, on separate plants (dioecious), small and inconspicuous. Male flowers have 6 to 8 sepals that measure 1.2 to 2.5 x 0.6 to 1.2 mm, they are 0.8-1.2 mm long, purplish with a violet base. Female flowers have 3-4 sepals. Fruits are drupes, subspherical and flattened, 5-8 mm in width, smooth, dull orange when ripe. Flowers are produced from spring until early autumn (September to April).
Two varieties are recognized: var. abyssinica with branchlets petioles, abaxial leaf surface and sepals that are hairless and var. tomentella in which they are densely pubescent to tomentose.
Conservation Status
Status
According to the SANBI Red List, both varieties of Stephania abyssinica are assessed as Least Concern (LC), they are not threatened.
Distribution and habitat
Distribution description
In South Africa, Stephania abyssinica is distributed in KwaZulu-Natal, Mpumalanga, Limpopo, Eastern Cape and Free State provinces. It is mostly found in grassland, preferably in moist, shady places and along riverbanks. They also grow in full sunlight and high humidity, on the ground at the edge of the forest or in areas that are disturbed next to the roads. This species also occurs in Mozambique, Zimbabwe, Angola and northwards to Eritrea and Guinea.
Derivation of name and historical aspects
History
The genus Stephania was named after Christian Stephan (1757-1814). Stephan was a director of the Forestry Institute at Petersburg and a professor of botany and chemistry in Moscow. The species name abyssinica means 'from Abyssinia', an old name for Ethiopia. It is commonly known as the tale-telling plant in English and verklikkerplant in Afrikaans because it is used as a charm to discover secrets and find lost things. The variety name tomentella means 'densely short haired'. Stephania abyssinica belongs to the Menispermaceae, commonly called the moonseed family, a large family with about 70 genera and 450 species. Stephania is a large genus consisting of 30 to 60 species distributed in some parts of Africa, tropical and subtropical Asia.
Ecology
Ecology
Stephania abyssinica leaves can be colonized by microscopic mites, arachnids that belong to the family Eriophyidae. The blisters form on the underside of the leaf in response to the feeding insects. Groups of mites remain hidden inside each blister-cavity.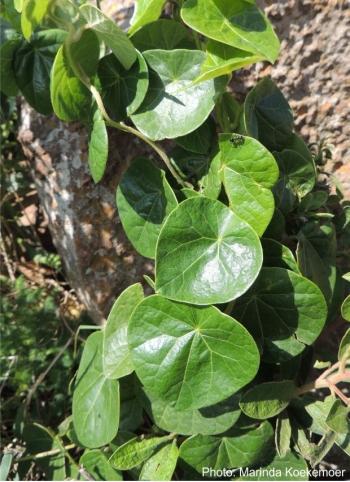 Uses
Use
Stephania abyssinica can be used for medicinal purposes to treat some of the common diseases. Its stem-sap is traditionally used to treat eyes. The leaves are used to treat pulmonary troubles, diarrhea, dysentery, menstrual cycle, to promote wound healing and antitoxins against snake bites. Root-sap is used to treat children that are suffering from malnutrition and the stem is used as building material. In Zulu culture, the boiled roots are taken as a blood purifier to treat boils, and it is used as a charm to find a particular item that is lost or to discover secrets. In Sotho culture, it is used to protect people from being struck by lightning sent by an enemy.
Growing Stephania abyssinica
Grow
Stephania abyssinica can be propagated from seed that can be sown in spring or summer, in well-drained, large-grained sandy soils and kept moist (not wet) and warm. Other than cleaning off the orange pericarp, no pre-treatment of the seed is required. The seeds should be pressed into the soil or lightly covered with soil The seed tray or pot can be placed in a zip lock bag, watered and sealed to retain humidity. More watering is not required because no moisture evaporates through the zip lock bag. The tray can be put on a windowsill or in a small greenhouse in partial shade, with daytime temperatures at about 20-30°C and minimum night temperatures of 10-16°C.
References
De Wet, H., Struwig, M. & Van Wyk, B.E. 2014. Taxonomic notes on the genus Stephania (Menispermaceae) in southern Africa. South African Journal of Botany 95: 146–151.
Exotic Plants, Stephania abyssinica, Kakomakoma – Ubomboo seeds. https://www.exotic-plants.de/seeds/caudiciforms/Stephania-abyssinica.php. Accessed 20 March 2023.
Foden, W. & Potter, L. 2005. Stephania abyssinica (Quart. -Dill. & A. Rich.) Walp. var. abyssinica. National Assessment: Red List of South African Plants version 2020.1. Accessed on 2022/10/26.
Foden, W. & Potter, L. 2005. Stephania abyssinica (Quart.-Dill. & A.Rich.) Walp. var. tomentella (Oliv.) Diels. National Assessment: Red List of South African Plants version 2020.1. Accessed on 2023/04/07.
Kaleab, A. 2021. Biological properties of Stephania abyssinica roots. Medpharm 1: 19-21.
Kupchan, S. M., Liepa, A. J., & Fujita, T. 1973. New phenolic hasubanan alkaloids from Stephania abyssinica. The Journal of Organic Chemistry 38(1): 151-153.
Pooley, E. 1998. A field guide to wild flowers Kwazulu-Natal and the eastern region. Natal Flora Publications Trust, Durban.
World of Succulents, How to grow and care for Stephania. https://worldofsucculents.com/grow-care-stephania/. Accessed 20 March 2023.
Yiblet, G.T., et al. 2022. Evaluation of wound healing activity of 80% methanol root crude extract and solvent fractions of Stephania abyssinica (Dill. & A. Rich.) Walp (Menispermaceae) in mice. Journal of Experimental Pharmacology 14: 255–273.
Credits
Pharamela Umpha
Biosystematics Intern, Foundational Biodiversity Sciences Division
National Herbarium, Pretoria
April 2023
Acknowledgements: images by Marinda Koekemoer.
Plant Attributes:
Plant Type: Climber
SA Distribution: Eastern Cape, Free State, KwaZulu-Natal, Limpopo, Mpumalanga
Soil type: Sandy, Loam
Flowering season: Spring, Early Summer, Late Summer, Autumn
PH:
Flower colour: Purple, Cream
Aspect: Full Sun, Morning Sun (Semi Shade), Afternoon Sun (Semi Shade)
Gardening skill: Easy
Special Features:

Good potplant

Medical plant

Useful plant
Horticultural zones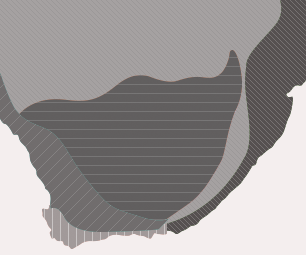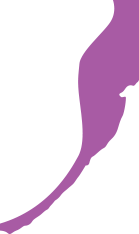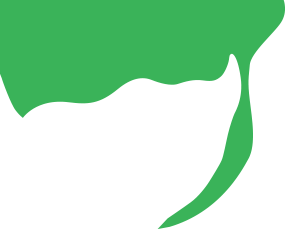 Zone 1 Coastal summer rainfall, frost free
Zone 5 Bushveld summer rainfall, Light frost
Google QR Code Generator