Syzygium legatii Burtt Davy & Greenway
Family: Myrtaceae
Common names: mountain waterberry, mountain umdoni, white umdoni, water pear (Eng.); bergwaterbessie, waterpeer, waterbos (Afr.); mutawi (Tshivenda); umdoni-wamanzi (isiZulu); mosane, mmako (Setswana), muthwa (Tsonga)
SA Tree No: 558
Introduction
A beautiful, evergreen, wild fruit tree with a rounded crown, small, white to cream, sweet-scented flowers in summer followed by juicy, edible purple fruits.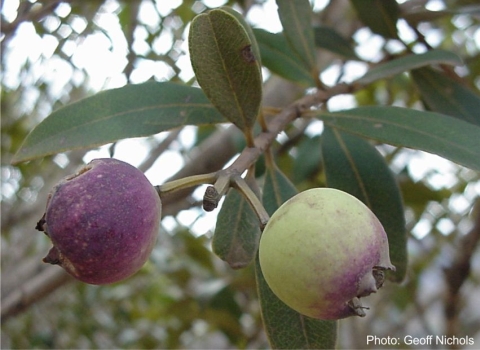 Description
Description
Syzygium legatii is a small to medium sized, evergreen tree with a dense, rounded and spreading crown with low down, brown to greyish brown branches. It grows 3–8 m, up to 11 m tall. It has a single stem, with branches forming low down. Bark is rough and grey with whitish patches. Leaves are simple, hard, flattish, dark glossy green above and paler below. The new leaves may be pinkish and smell when you rub them. They are held stiffly erect and are oppositely arranged on the twig. Leaves are elliptic to elliptic-oblong, midrib is noticeable especially above and the margin is entire. Transparent gland dots are visible on the leaves.

Flowers are small, white to cream, sweetly scented. They occur in small branched terminal heads in summer (Oct. – Jan.) and have numerous fluffy stamens. The fruit is a berry, oval or pear shaped, containing a single seed inside, it becomes purple or black when mature and is juicy when it is ripe.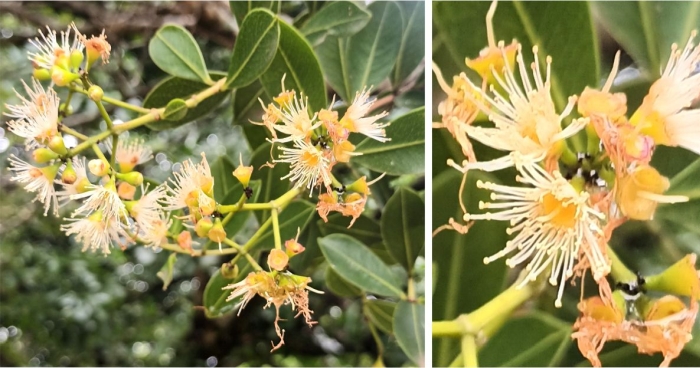 Conservation Status
Status
Distribution and habitat
Distribution description
Syzygium legatii is native to the northern provinces of South Africa and Eswatini and northwards to tropical Africa. In South Africa it occurs in the Soutpansberg Mountains in Limpopo, in Mpumalanga and in northern KwaZulu-Natal in the upper reaches of the Pongola River. They occur between 1 000 and 1 800 m, often on ridges of quartzite rock. This plant species grows in rocky grassland and in savannas, they are commonly found on river beds and on mountain slopes in the mist belt, and plants can survive being submerged during floods. It is frost resistant.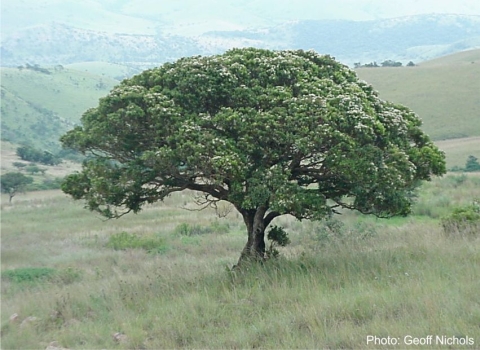 Derivation of name and historical aspects
History
The genus name Syzygium means 'yoked together' and refers to the opposite pairs of leaves that are decussate(arranged along a stem in a way that causes pairs of them to overlap each other). The species name legatii is in honour of C.E. Legat who was the Chief Conservator of Forests in South Africa  from 1913 to 1931. This species was for a time thought to be a subspecies of Syzyguim guineense, and it thus has one synonym: Syzygium guineense (Willd.) DC. subsp. legatii ( Burtt Davy & Greenway) F. White.
The genus belong to a family called Myrtaceae, it is a large family that consists of about 1 200 species. Most of the diversity of this genus occurs from Malaysia to northeastern Australia, where many species are poorly known and have not been described taxonomically. It occurs in Africa, Madagascar, through southern Asia and eastwards throughout the Pacific. Most of the species are evergreen and many are grown as ornamental plants for their attractive glossy leaves. Some of these species produce fleshy edible fruits that are called rose-apples and are eaten fresh and used to make jam or jellies. The fruits of Syzygium jambos and Syzygium fibrosum are commercially used to produce jam and jellies. Syzygium aromaticum is the most important species, economically, because the unopened flower buds are used for spice. Many species of Syzygium are used for medicinal purposes to treat different ailments, especially in China, India and Bangladesh. Syzygium aromaticum is traditionally used to produce essential oil which is used to treat burns and wounds, as a pain reliever in dental care, treating tooth infection and toothache. Syzygium cumini is used to treat asthma and ulcers.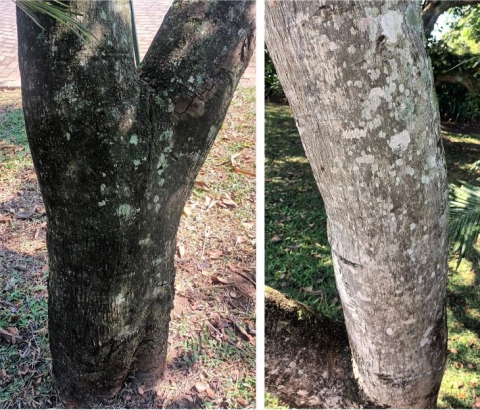 Ecology
Ecology
While most species of Syzygium are pollinated by ants, bees and insects, the pollinators of Syzygium legatii are bees. Vervet monkeys eat the buds and flowers. The fleshy, juicy fruit is eaten and dispersed by humans, monkeys, baboons and birds, such as pigeons.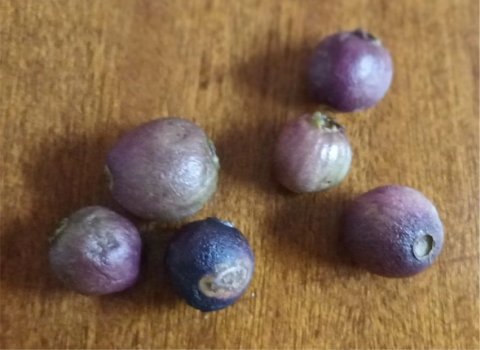 Uses
Use
Although there are no recorded medicinal uses for Syzygium legatii, the closely related species Syzygium guineense and Syzygium cordatum are used to treat abdominal pain, indigestion and diarrhea and Syzygium cordatum bark powder is used as a poison to catch small fish in a small pond.
The fleshy fruits of Syzygium legatii are edible and can be eaten raw by people, but they are not grown or used commercially.
Syzygium legatii can be used as shade tree, ornamental plant, container plant and food source for birds, mammals, insects and human beings.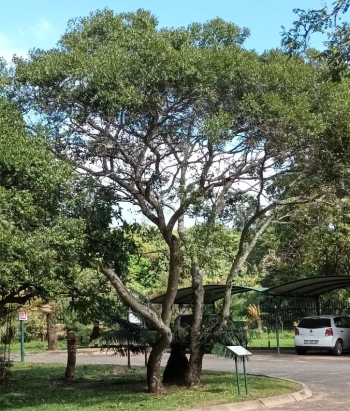 Growing Syzygium legatii
Grow
This beautiful medium sized, slow growing tree grows very well in a well-drained loamy soil in full sun. It is a frost resistant plant. Syzygium legatii can be used as a container plant, ornamental plant because of the dark glossy green leaves and a shade tree for small gardens. It does not need pruning since its dense rounded canopy develops its rounded shape naturally and it does not need constant watering, although in some areas it grows along the river banks. When still young, watering can be done twice a week in summer, and once a week in winter. Slow-release and  organic fertilizer can be used to fertilize this plant. This plant species can be planted near paving since its root system is not aggressive and will not cause damage on the paving.
Syzygium legatii is easy to propagate by seeds. Collect the seeds when they are ripe and turn purple to black (April to May), clean the seeds by eating the fleshy cover, because is edible, the seed should not be dried because it has a viability for only one day after removing the flesh. Sow them when they are still fresh, in a well-drained soil, such as 1 part river sand and 3 parts potting soil. Place the seed tray under a shade net, water the seeds twice a week.
Germination will take place after two weeks and seedlings can be potted up when they have developed two sets of true leaves. Prepare planting bags and soil. Water the seedlings in the seed tray. Make a hole in the soil in a plastic bag using a dibber stick. Carefully prick out the seedling using a dibber stick. Plant the seedling in level with the soil surface inside the bag, firm the soil around the seedlings with your hands. Feed the seedlings with a slow-release fertilizer to kick start growth. Water the seedlings using a watering can and place them in a hardening off area for two weeks, while you are maintaining them. Move them under a shade net of 40% UV block.
In Australia, the most common diseases affecting species of Syzygium are caused by Pimple Psyllids, which are sap-sucking insects that prefer softer leaf surface that they can penetrate and cause galls on the leaves. At the Lowveld National Botanical Garden, Syzygium legatii is affected by Myrtle Rust fungal disease, fungicide is used to control the disease.
References
Boon, R. 2010. Pooley's trees of eastern South Africa, a complete guide. Flora & Fauna Publications Trust, Durban.
Downes Wholesale Nursery. Syzygium Leaf Psyllid – Pimple Psyllid – Lilly Pilly Psyllid (Trioza Eugeniae). https://www.downesnursery.com.au/syzygium-leaf-psyllid/. Accessed 19/05/2023.
Neshar Uddin, A.B.M. et al. Traditional uses, pharmacological activities, and phytochemical constituents of the genus Syzygium: A review. Food Science & Nutrition 10(6):1789-1819. https://doi.org/10.1002/fsn3.2797.
Plants of the World Online. Syzygium legatii Burtt Davy & Greenway. https://powo.science.kew.org/taxon/urn:lsid:ipni.org:names:601851-1. Accessed 19/05/2023.
Raimondo, D., Von Staden, L., Foden, W., Victor, J.E., Helme, N.A., Turner, R.C., Kamundi, D.A. & Manyama, P.A. (eds) 2009. Red list of South African plants. Strelitzia 25. South African National Biodiversity Institute, Pretoria.
Schmidt, E., Lötter, M. & McCleland, W. 2002. Trees and shrubs of Mpumalanga and Kruger National Park. Jacana, Johannesburg.
Tree SA. Syzygium legatii. https://treesa.org/syzygium-legatii/. Accessed 18/05/2023.
Wikipedia. Trioza adventicia. https://en.wikipedia.org/wiki/Trioza_adventicia. Accessed 19/05/2023.
Credits
Winfred Ngwenya
Lowveld National Botanical Garden
June 2023
Acknowledgements: images of Syzygium legatii in habitat and in fruit by Geoff Nichols.
Plant Attributes:
Plant Type: Tree
SA Distribution: KwaZulu-Natal, Limpopo, Mpumalanga
Soil type: Sandy, Loam
Flowering season: Early Summer, Late Summer
PH: Acid, Neutral
Flower colour: White, Cream
Aspect: Full Sun
Gardening skill: Easy
Special Features:

Attracts birds

Fragrant

Good potplant

Edible plant

Feeds honeybees
Horticultural zones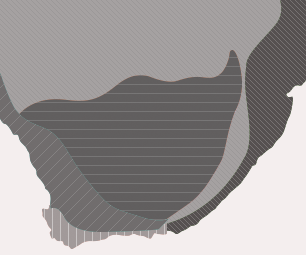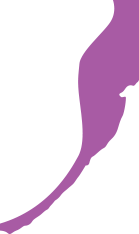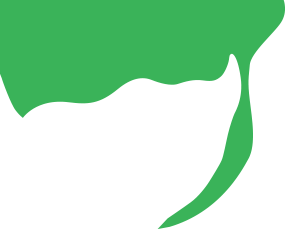 Zone 1 Coastal summer rainfall, frost free
Zone 5 Bushveld summer rainfall, Light frost
Google QR Code Generator