Talinum caffrum (Thunb.) Eckl. & Zeyh.
Family: Talinaceae
Common names: porcupine root (Eng.); osbossie, ystervarkwortel, ystervarkkos, wildevygie (Afr.); mphunyaka, kgalahete, punyuka bamphethe (Tsw.); impunyu, inkucula (Zul.); khutsana (S.So.); ondindiwa (Pedi)
Introduction
A drought resistant, deciduous perennial with a large tuberous caudex, edible succulent leaves and short-lived yellow flowers in summer.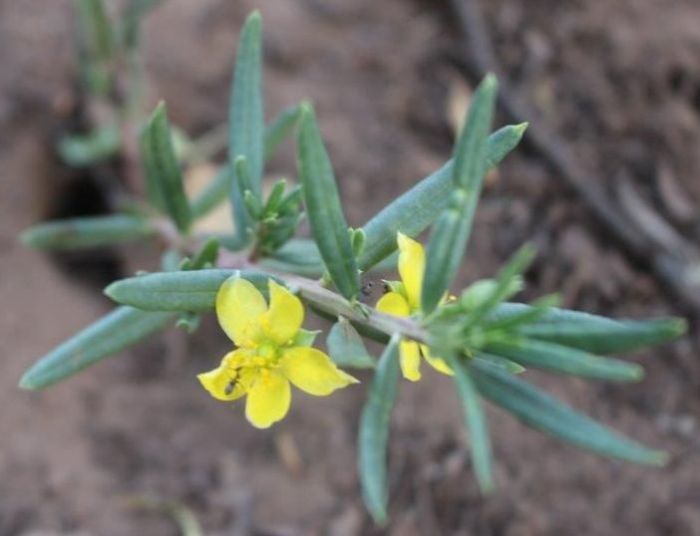 Description
Description
Talinum caffrum has annual, branched, erect or reclining branches with reddish stems, up to 400 mm tall, growing from a buried tuber up to 150 mm in height and diameter, with tuberous roots.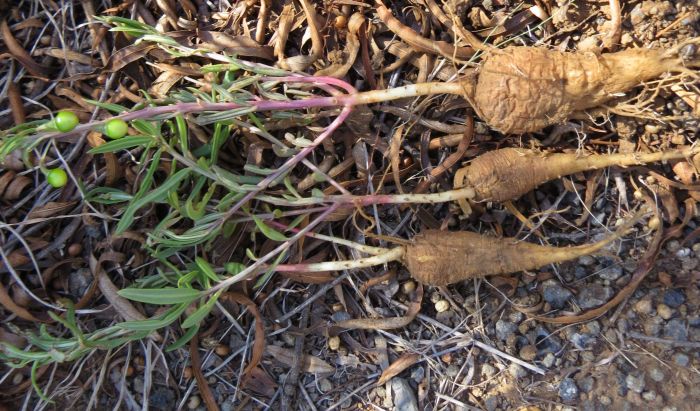 Leaves are simple, alternate, fleshy, 20–40 × 3–10 mm, green, with entire margins. It produces cup-shaped, lemon-yellow flowers, up to 20 mm in diameter, which last for only one day, from spring to late summer (September to February).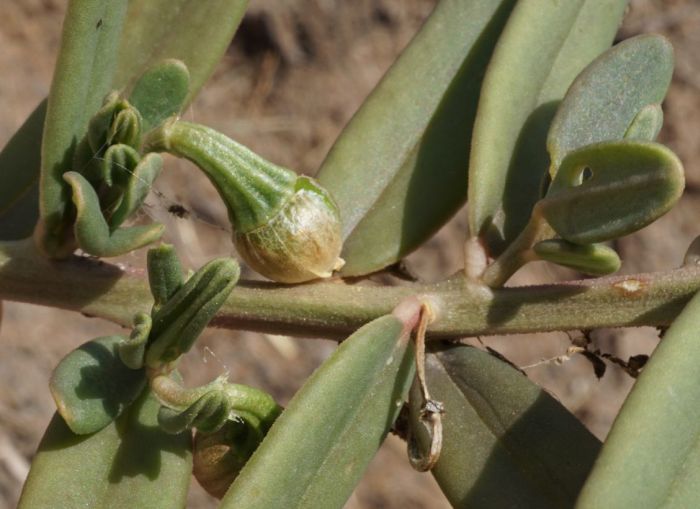 Fruit is a rounded capsule. Seeds shiny black, about 2 mm in diameter. T. caffrum is the only species in the complex with ridged black seeds.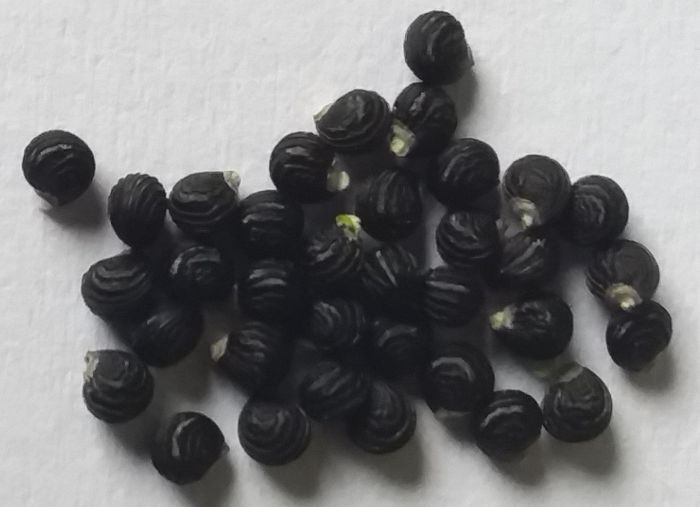 Conservation Status
Status
According to the Red List of South African plants website, the conservation status of Talinum caffrum is assessed as Least Concern (LC).
Distribution and habitat
Distribution description
Talinum caffrum is not endemic to South Africa. It grows in rocky places, open woodland and grassland in South Africa (Eastern Cape, Free State, Gauteng, KwaZulu-Natal, Limpopo, Mpumalanga, Northern Cape and North West Provinces) from sea-level up to 2 000 m altitude, and in Botswana, Namibia and Angola, northwards to Kenya, Ethiopia and Sudan.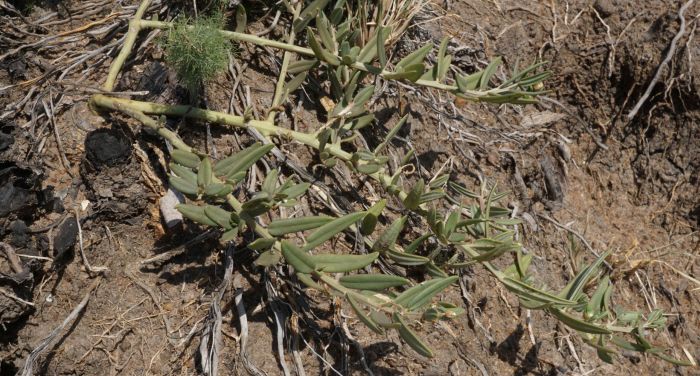 Derivation of name and historical aspects
History
There are more than 40 species of Talinum of which 7 species grow in tropical Africa. There are 4 species that are very closely related to Talinum caffrum, these are: T. arnotii, T. crispatulum, T. tenuissimum and T. portulacifolium. It becomes simple to identify them when seeds are available, as T. caffrum is the only one with ridged seeds.
Talinum caffrum was given this name by Christian Friedrich Ecklon and Carl Ludwig Philipp Zeyher, in 1836. The genus name Talinum, is derived from the Senegalese name for a certain species in Senegal and the species name caffrum is derived from the place where it was first collected by the botanist Thunberg, Kaffraria, now part of the Eastern Cape.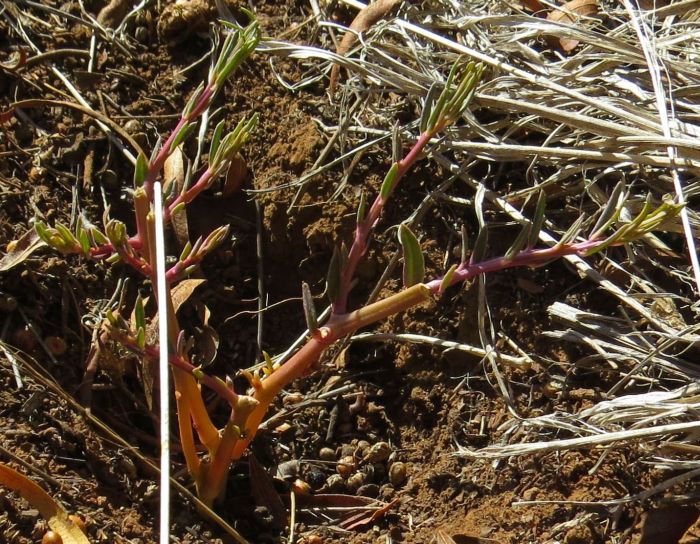 Ecology
Ecology
The tuberous roots are eaten by rodents, porcupines and bush buck. The leaves are browsed by game, and oxen.
This plant has a relatively small amount of above-ground growth, compared to its large underground tuberous rootstock. This allows the plant to escape detection and to survive the dry winter period, as well as periods of summer drought, and fast-moving grass fires. Plants growing in exposed positions tend to be small, and are larger in sheltered positions, such as under trees.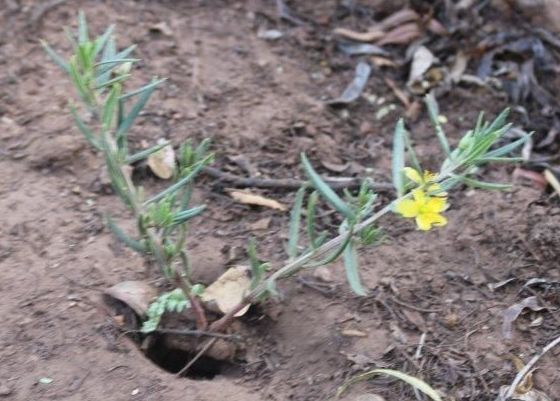 Uses
Use
The leaves of this plant are eaten as a vegetable, either raw or cooked, and because they contain much water, it is also eaten raw to relieve thirst. Traditionally, an infusion made of roots and leaves is used to treat stomachache, chest problems, mental disorders and wounds, or used as a charm against lighting. Roots can also be smoked. The plant is believed to bring peace and leaves are used as a soap.
Talinum caffrum can be grown in containers and has a place in a caudiciform plant collection, and is an excellent succulent plant for rock gardens.
Growing Talinum caffrum
Grow
Propagation can be done by seeds and cuttings. Seeds germinate after 6 to 30 days depending on the climatic conditions of the area.
Grow in well drained soil and it requires plenty of water while in active growth, in summer. Keep it dry in winter when the plant dies back to the caudex, until the next growing season. This plant should be grown in a semi-shade to full sun position.
References
Fabian, A. & Germishuizen, G. 1997. Wild flowers of northern South Africa. Fernwood Press, Vlaeberg.
Plants of the World online: Talinum caffrum (Thunb.)Eckl.&Zeyh. http://www.plantsoftheworldonline.org/taxon/urn:lsid:ipni.org:names:699483-1#source-FZ. Accessed on 2019/11/25
Pooley, E. 2005. A field guide to wild flowers KwaZulu-Natal and the eastern regions. The Flora Publications Trust, Durban.
Retief, E. & Herman, P.P.J. 1997. Plants of the northern provinces of South Africa: keys and diagnostic characters. Strelitzia 6. National Botanical Institute, Pretoria.
Williams, V.L., Raimondo, D., Crouch, N.R., Cunningham, A.B., Scott-Shaw, C.R., Lötter, M. & Ngwenya, A.M. 2008. Talinum caffrum (Thunb.) Eckl. & Zeyh. National Assessment: Red List of South African plants version 2017.1. Accessed on 2019/11/18.
Credits
Lufuno Nenungwi
Free State National Botanical Garden
December 2019
Plant Attributes:
Plant Type: Perennial, Succulent
SA Distribution: Eastern Cape, Free State, Gauteng, KwaZulu-Natal, Limpopo, Mpumalanga, North West, Northern Cape
Soil type: Sandy, Loam
Flowering season: Early Summer
PH:
Flower colour: Yellow
Aspect: Full Sun
Gardening skill: Easy
Special Features:

Drought resistant

Good potplant

Edible plant

Medical plant
Horticultural zones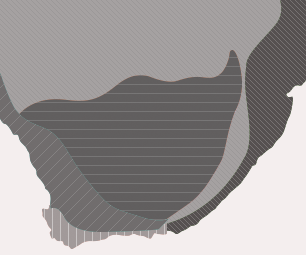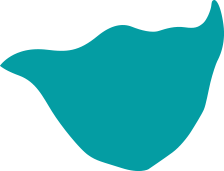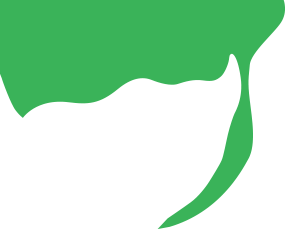 Zone 4 Summer rainfall Karoo and Highveld, Frost in winter
Zone 5 Bushveld summer rainfall, Light frost
Google QR Code Generator