Achyranthemum sordescens (DC.) N.G.Bergh ( = Syncarpha sordescens (DC.) B.Nord)
Family: Asteraceae
Common names: dune chaff-flower
Introduction
A very attractive, clump-forming everlasting, with silky, recurved leaves and stunning yellow flowerheads.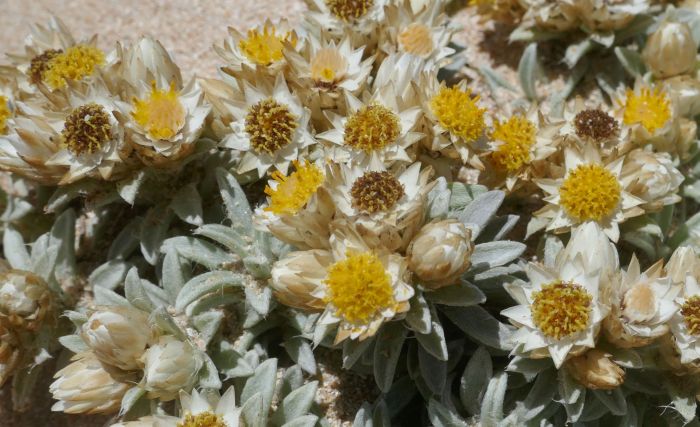 Description
Description
Achyranthemum sordescens has a low, sprawling, often clump-forming, growth habit, much-branched from the base; growing up to 150 mm high in exposed positions and to about 700 mm in more sheltered habitats. The leaves are pressed closely to the stem, overlapping each other (imbricate), with erect to spreading or curved-backward (recurved) tips. Both surfaces of the leaves are covered with very long, fine, white hairs, giving them a silvery appearance. 
A dense cluster of flowerheads, borne at the tips of the branches, give the appearance of a flat-topped inflorescence. The florets are yellow, tubular, with ± 20–60 florets in a flowerhead, subtended by, white to cream-coloured, papery bracts. Achyranthemum sordescens flowers from late spring (October), with the peak season in summer (from November to March).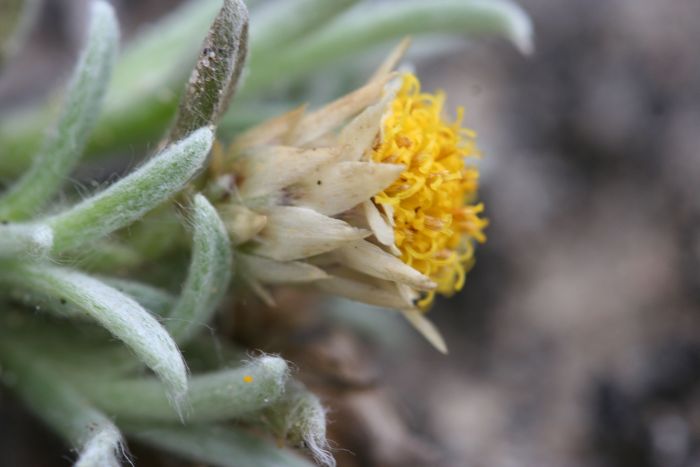 Because of its densely hairy and backward-curving leaves, it has been confused with both Achyranthemum argenteum (= Syncarpha argenteum) and A. recurvatum (= Syncarpha recurvata), but can be distinguished from both by its more woolly leaves and flowerheads that are smaller, in comparison with those of A. argenteum. The flowerheads of A. recurvatum are borne singly, and not arranged in multiple flowerheads like those of A. sordescens and A. argenteum, and, the flowerheads of A. recurvatum are usually borne on long, straight peduncles and are tinged with pink. 
Conservation Status
Status
This species is assessed as Vulnerable (VU) by the SANBI Red List of South African plants. During its assessment, in 2007, the populations were recorded from fewer than 10 locations, from a restricted range. The population trend continues to decrease, because its habitat is being destroyed and degraded by coastal development and alien invasive species. Out of 10 locations, only 2 localities are under formal environmental protection.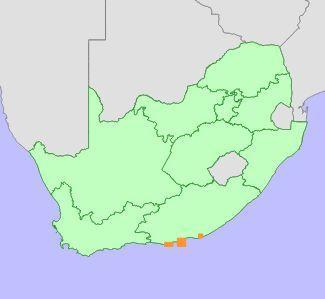 Distribution and habitat
Distribution description
Achyranthemum sordescens is restricted to sandy dunes and slopes, from Port Elizabeth to Kenton-on-Sea, in the Eastern Cape. The climate in this area is oceanic with rainfall changes from winter to summer, especially to the east of Port Elizabeth. This causes a series of successive changes in vegetation from coastal fynbos to dune thicket, hence the range of habitats among the localities of this species.
Derivation of name and historical aspects
History
Achyranthemum sordescens belongs to a tribe of the daisy family, known as Gnaphalieae, the everlastings; this refers to the longevity of the dried ornamental cut flowers. This group is characterized by flowerheads with dry papery bracts, which are often showy and colourful. 
The genus name Achyranthemum means 'chaff flower', from the Greek achyron, meaning 'chaff' or 'bran', and anthos, meaning 'flower'. The specific name sordescens, is from Latin and it means 'somewhat dirty', or 'becoming dirty', referring to its floral bracts that become brownish with age.
This species was initially placed under the genus, Helichrysum by Candolle in 1838, then, based on morphological features not quite fitting that of Helichrysum, Hilliard & Burtt, in 1981, considered that all species of this group should be placed in their own genus. Nordenstam agreed with Hilliard & Burtt, and, in 1989, reinstated the name Syncarpha to accommodate them. Recent DNA studies show that 7 species, which belonged in this group, were only distantly related to Syncarpha, and they have now been placed under the new genus Achyranthemum (N.G. Bergh & J. Manning 2019). The distinguishing characters are based on leaf shape and orientation, fine hairs covering the peduncle, colour of the involucral bracts and floral arrangement. Syncarpha sordescens is among the 7 species moved to the new genus, and thus is currently known as Achyranthemum sordescens.
Ecology
Ecology
There is very limited information available on the ecology of Achyranthemum sordescens, apart from it being confined to stabilized coastal sand dunes, in its distribution range. It is thought that the showy flowerheads and growth form are likely to play a role in attracting an animal pollinator, such as rodents, because of the low-lying flowers.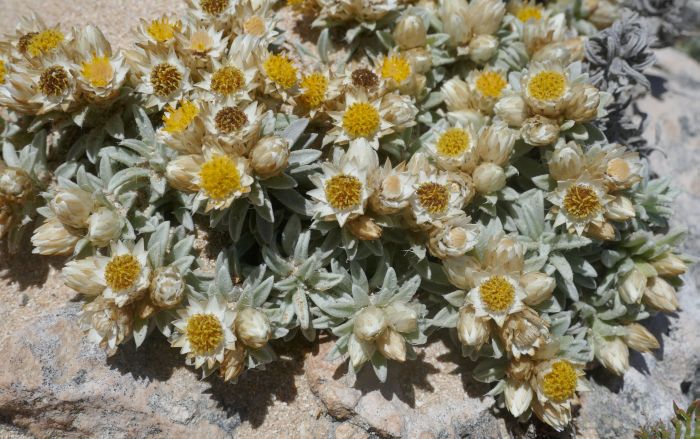 Uses
Use
The showy flowerheads, spectacular growth form, as well as distinctive leaves are undoubtedly the most attractive features of this species. In spite of the fact that, it is not yet used for ornamental purposes, the display of intense flower colour in their natural habitat makes it a desirable addition to the garden for ornamental purposes or dried flower arrangements, and it would be ideal for coastal and seaside gardens.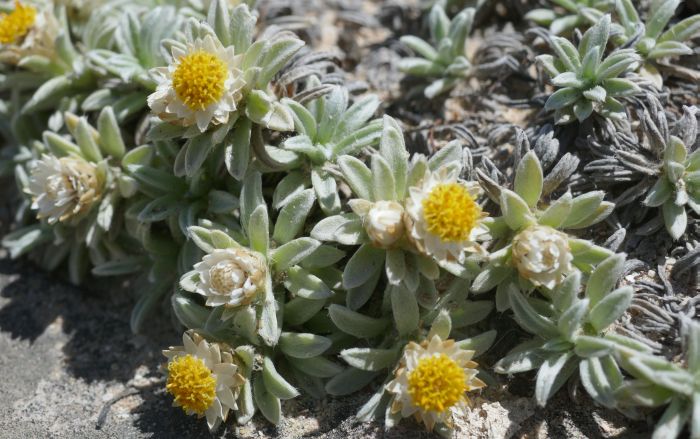 Growing Achyranthemum sordescens
Grow
Achyranthemum sordescens can make an attractive ground cover in rocky and sandy areas of the garden. To my knowledge, there is no available information on how to grow this species specifically, but as a general guide, plants from coastal habitats have to withstand strong winds, resist damage caused by salt-laden breezes and grow in sandy soils, therefore, one needs to consider these aspects when planning to grow them.
There is no information on how to propagate, Achyranthemum sordescens in particular, and the following information briefly explains how to grow everlastings in general. Growing species of Achyranthemum and Syncarpha from seed might be tricky, but opens up an opportunity to grow a wider range of species. When choosing to grow fynbos plants from seed, smoke treatment is advised for better germination success. This is accomplished by soaking seeds overnight in a solution of smoke-infused water using a smoke disc. Alternatively, smoke from burning fynbos can be pumped into an airtight tent containing the seed trays, and left until the air has cleared and then watered again. Rare species have yielded a low germination rate of 20%, even with smoke treatment and presumably this is the case for Achyranthemum sordescens, as it is a rare species.
Sow seed in autumn or early spring. Use a well-drained, sandy, acidic soil medium suitable for fynbos plants. Scatter the seeds evenly and cover with a thin layer of sand. Water with a fine rose and keep moist but not wet, and warm, but not hot and in a well-ventilated place.
Syncarphas are easy to grow once established, and will require almost no watering if planted in the Fynbos Biome. They grow well in sandy, well-drained soil and require full sun exposure, and while most prefer acidic soil, some species can adapt to soil with an alkaline pH. Feed with well-rotted compost, added as a mulch, and keep root disturbance to a minimum.
For best results, plant the young plants out at the start of the rainy season, in autumn or early winter and not in summer. This allows the plants to grow enough to survive the heat and drought of summer. Planting these plants into the garden in the harsh climatic conditions of summer would hinder their establishment.
References
Alexander, M. 2017. Hardy coastal plants. South African Garden and Home online. https://www.gardenandhome.co.za/gardening/how-tos/hardy-coastal-plants/ Accessed on 06/11/2020
Bergh, N. & Manning, J. 2019. Achyranthemum N.G.Bergh, a new genus segregated from Syncarpha DC. (Asteraceae, Gnaphalieae). South African Journal of Botany. 125: 434–456.
Bredenkamp, C.L. 2019. A flora of the Eastern Cape Province, Volume 2. Strelitzia 41. South African National Biodiversity Institute, Pretoria.
Candide, Grow and care guide to everlastings. https://candidegardening.com/ZA/stories/73558d75-649c-4949-abbe-7f830a9ac07d Accessed 06/11/2020.
Latin Dictionary. sordidulus. https://www.online-latin-dictionary.com/latin-english-dictionary.php?lemma=SORDIDULUS100. Accessed 05/11/2020.
Lubke, R. & De Moor, I. 1998. Field guide to the eastern & southern Cape coasts. University of Cape Town Press, Cape Town.
Raimondo, D. 2007. Syncarpha sordescens (DC.) B.Nord. National Assessment: Red List of South African plants version 2020.1. Accessed 04/11/2020.
Credits
Vathiswa Zikishe
Custodians of Rare and Endangered Wildflowers (CREW), Threatened Species Unit
November 2020
Acknowledgements: the author thanks Dr Nicola Bergh for providing information and images for this species (as credited), and Someleze Mgcuwa for sourcing additional information from the Schonland Herbarium.
Plant Attributes:
Plant Type: Ground Cover, Shrub
SA Distribution: Eastern Cape
Soil type: Sandy, Loam
Flowering season: Early Summer
PH: Acid, Neutral
Flower colour: White, Cream, Yellow
Aspect: Full Sun
Gardening skill: Average
Special Features:
Drought resistant
Horticultural zones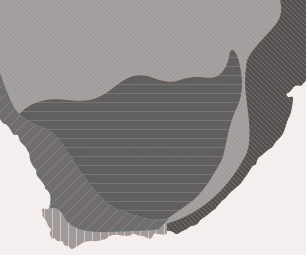 Zone 1 Coastal summer rainfall, frost free
Zone 2 Coastal winter rainfall, frost free
Google QR Code Generator