Agave americana L.
Family: Agavaceae
Common names: American agave, American aloe, century plant (Eng.); Amerikaanse aalwee, Amerikaanse aalwyn, blou-aalwee, blougaringboom, gareboom, kaalgaarboom, makaalwyn (Afr.); lekhala (Sesotho); xikwenga (Xitsonga)
Introduction
Century plants are popular ornamental plants that are native to Central America, southern North and northern South America. Agave americana is no exception and as a result of its widespread cultivation, has become naturalised in many regions globally, including South Africa. Although it is often called the 'American aloe', it is not at all related to members of the genus Aloe, many of which are indigenous to South Africa.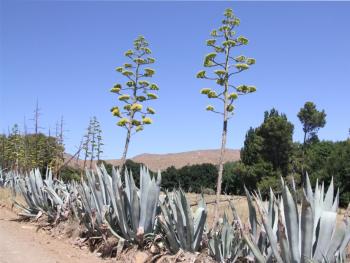 Description
Description
Agave americana is a suckering, evergreen monocarpic, multi-annual, with very large, succulent leaves arranged in a rosette, often reaching a height of 2 m. The long lanceolate (sword-shaped) leaves, 0.8–2.0 × 0.15–0.25 m, are borne on a short stem thickened by the prominent leaf bases. Leaves are grey-green, sometimes with a pale central stripe or yellow leaf margins, and a waxy coating. Leaf margins are nearly straight to crenate, creamy white and armed with variable teeth of up to 10 mm long and 10–40 mm apart. The apices of leaves bear sharp, dark brown, conical or subulate spines of mostly 20–60 mm long.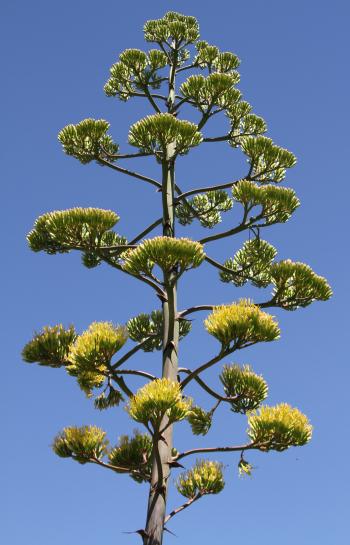 This monocarpic species stores the nutrients needed for producing a single, erect inflorescence, in its leaves for many years. Inflorescences are up to 9 m tall and develop from the centre of the basal rosette of leaves and branch out from about the middle upwards, bearing funnel-shaped greenish yellow flowers in panicles.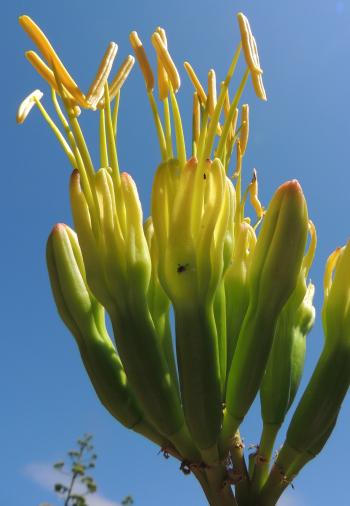 Fruiting capsules are large and oblong with small, pointed tips. When mature, fruits split open releasing shiny D-shaped, black seeds, 6–8 mm long. Century plants flower mainly in late spring to early summer (August to December). After flowering, the mature plants die.
Conservation Status
Status
Agave americana is naturalised in South Africa and is thus not assessed in the Red List of South African plants. It is listed as a category 3 invasive species in the Western Cape, but is not on the national list for South Africa.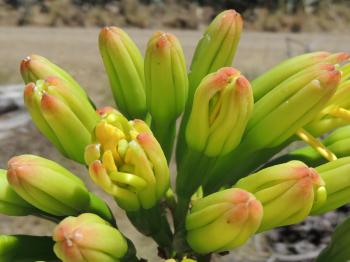 Distribution and habitat
Distribution description
Agave americana is native to Mexico and some parts of the southern United States of America. It is widely cultivated and has become naturalised in many parts of South Africa and other temperate, sub-tropical and semi-arid regions of the world.
In both its natural distribution range and where it has become naturalised, this species is found growing around old habitations, bare sand, banks of watercourses and along roadsides. It also grows in desert scrub, open woodlands and grasslands, at altitudes of 500–1 300 m. It is drought resistant and prefers full sun and well-drained soil.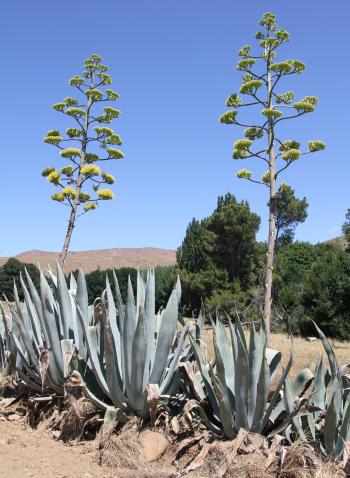 Derivation of name and historical aspects
History
Agave americana was described by Carl Linnaeus in 1753. It is the type species for the genus Agave. The genus name Agave is derived from the Greek word agauos, meaning 'admirable', referring to the very tall inflorescences produced by most species of Agave. The species name americana, means 'of America', referring to its American origin.
The species is divided into 2 subspecies, one of which has 3 varieties, namely Agave americana subsp. americana var. americana, A. americana subsp. americana var. expansa, A. americana subsp. americana var. oaxacensis and A. americana subsp. protamericana. Of these, only A. americana subsp. americana var. americana and var. expansa are present in South Africa. Numerous cultivars of this popular accent plant have been described.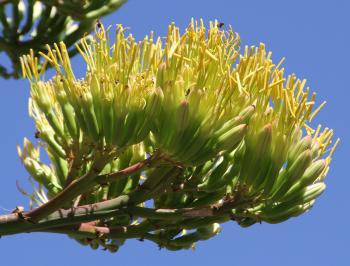 Ecology
Ecology
Agave americana is visited and likely pollinated by birds, bats and insects, even in its adopted habitats in southern Africa. Seed is dispersed mainly by wind. Owing to its suckering habit, these plants form large colonies that impact on the growth of other species. Dense, naturalised stands can have negative effects in blocking movement of livestock and preventing them from gaining entry into fields for grazing.
Uses
Use
Agave americana has many uses. It is used as an ornamental, for fodder, medicinally, agriculturally and for erosion control. Prickles along the leaf margins and the sharp apical spines can cause severe injury to humans and animals. Since it forms dense impenetrable stands, agaves are thus often planted as living protective hedges, for instance to restrict wild animals from accessing crops and domestic livestock.
This plant is almost globally grown as an ornamental. This evergreen species is popular for xeriscaping and is often used as accent plants in desert-themed and other water-wise gardens. Although it does not flower in a pot, it is suitable for potting, both indoors and outdoors. The fierce spines are often cut off when it is grown indoors to prevent injuries to humans or pets.
Leaves and roots are the most utilised parts of the plant. The long inflorescence stalks are also used for roofing poles of huts and fencing. Fibres extracted from the leaves are of economic importance as they are used for twine- and rope-making. Extracts of the leaves or roots are used to make soap. In South Africa, A. americana is grown as a fodder crop. However, to prevent injury, leaves should ideally be dethorned before fed to cattle and other livestock. The terminal spines of the leaves, with some fibres attached basally, are used for sewing in some parts of the world.
Although the leaf juice of Agave americana is known to have anti-inflammatory, anti-bacterial and anti-fungal properties, it is also known to cause painful skin reactions. Decoctions of the leaves and roots are used traditionally to treat a variety of ailments.
Growing Agave americana
Grow
Agave americana plants are monocarpic, meaning that a plant lives for many years before flowering and then dies once it has flowered. Plants are slow-growing and take between 10 and 25 years to flower, depending on climatic conditions. Plants, therefore, do not take 100 years before flowering, as one of the common names suggests. Plants produce basal offsets that will eventually replace the plant that flower. These offsets are easy to grow by simply detaching them, potting them in a mixture of sandy loam and well-drained soil, and minimal irrigation. The plant should be kept warm in a greenhouse and exposed to full sun as soon as it is well established. Although this species is drought resistant, it does respond well to watering during its summer growing period. It is important to allow the potting mixture to dry between waterings, so as to avoid root rot. Once it is well rooted, plants grow best when neglected.
Propagating agaves by seed is not a commonly used method, because plants take many years to flower and to produce seeds. However, seed is very easy to grow. Seed does not require a resting period and should be sown fresh, with the seedling trays kept in a sunny position. Although seed can take up to 3 months to germinate, at the onset of warm weather, seedlings may appear within days of sowing. Grow the seedlings in pots of well-drained soil and once well-rooted and after having reached a height of 20 cm, plants can be established directly in the spot where they are intended to grow. Keep the potting mixture just moist during the first few weeks after repotting, ideally allowing it to dry before watering it again. The same applies to material planted directly in open beds. Feeding with a liquid fertiliser must only be done when plants grow actively.
Plants could suffer from infestations of by wooly mealie bugs, but it is usually free from diseases.
References
Gentry, H.S. 1982. Agaves of Continental North America. The University of Arizona Press, Tucson. Pp. 270–290.
Govaerts, R. 2017. World Checklist of Agave. Facilitated by the Royal Botanic Gardens, Kew. http://apps.kew.org/wcsp/ Retrieved 18/7/2017.
Verhoek, S. & Hess, W.J. 2002. Agave. In: Flora of North America Editorial Committee (eds.), Flora of North America North of Mexico 26: 452, 453. Oxford University Press, New York and Oxford.
Walters, M., Figueiredo, E., Crouch, N.R., Winter, P.J.D., Smith, G.F., Zimmermann, H.G. & Mashope, B.K. 2011. Naturalised and invasive succulents of southern Africa. ABC Taxa 11: 37.
Credits
Cynthia Mikateko Baloyi and Dr Ronell R. Klopper
National Herbarium, Pretoria
August 2017
Plant Attributes:
Plant Type: Succulent
SA Distribution: Eastern Cape, Free State, Gauteng, KwaZulu-Natal, Limpopo, Mpumalanga, North West, Northern Cape, Western Cape
Soil type: Sandy, Loam
Flowering season: Spring, Early Summer
PH: Acid, Neutral
Flower colour: Green, Yellow
Aspect: Full Sun, Morning Sun (Semi Shade), Afternoon Sun (Semi Shade)
Gardening skill: Easy
Special Features:
Attracts birds
Drought resistant
Feature plant
Good potplant
Indoor plant
Poisonous
Hedge/screen
Edible plant
Medical plant
Feeds honeybees
Pioneer plant
Horticultural zones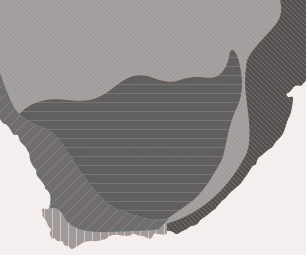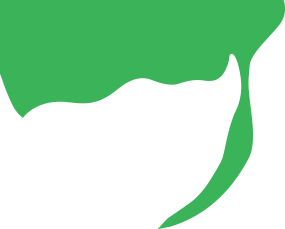 Zone 1 Coastal summer rainfall, frost free
Zone 2 Coastal winter rainfall, frost free
Zone 3 Winter rainfall Karoo, light frost
Zone 4 Summer rainfall Karoo and Highveld, Frost in winter
Zone 5 Bushveld summer rainfall, Light frost
Google QR Code Generator