Albizia antunesiana Harms
Family: Fabaceae
Common names: purple-leaved false-thorn (Eng.), persblaarvalsdoring (Afr.)
SA Tree No: 151
Introduction
An attractive deciduous tree with a flattened, umbrella-shaped crown, large greenish to yellow, half-spherical, fluffy flower heads that make the tree showy during spring and early summer, and very distinctive long, light brown, flat pods.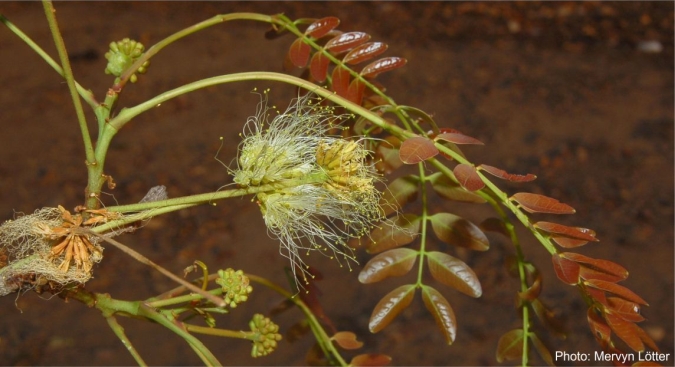 Description
Description
Albizia antunesiana is a medium to large deciduous tree with a spreading crown, growing to 18 m tall but occasionally it can grow up to 25 m depending on the nature of the environment. The bark is rough or smooth, grey to brown and reticulate (netted). Leaves with 1 to 3 pairs of pinnae, each with 3 to 8, large, ovate leaflets, up to 25 mm long, made very distinctive by their pale undersurface, which separates it from Albizia glaberrima. On young trees, Albizia antunesiana produces purple leaves, which can cause this species to be mistaken for Burkea africana in the wild, but it lacks the brown velvety tips to the latter's branches which can help distinguish between the two species in the field. In early spring to early summer (August to November), when the tree is leafless, it bears large, showy, half-spherical, fluffy inflorescences, with 1 to 2 bisexual central flowers which are creamy white. A year after flowering, it produces fruits that are flat pods, up to 230 mm long, light brown, ripening in autumn to spring, between the months of April and September.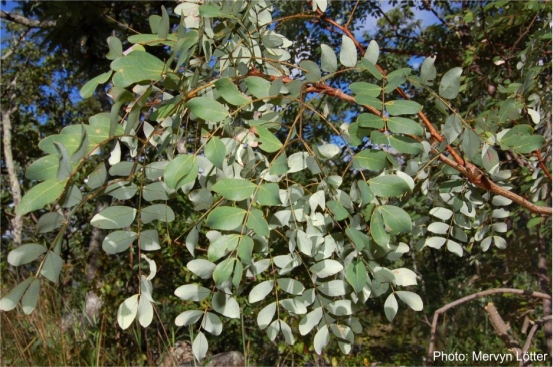 Conservation Status
Status
According to the Red List of South African plants, Albizia antunesiana is regarded as a species of Least Concern (LC), i.e. not threatened, the last assessment of it was done in May 2008 by D. Raimondo. The common practice of harvesting the roots for numerous uses in traditional medicine may be reducing the population of the species in the wild, thus having an impact on its future conservation status.
Distribution and habitat
Distribution description
Albizia antunesiana can be found growing only in Limpopo Province in South Africa and is widespread in neighbouring tropical Africa, occurring in Rwanda, Tanzania, Zambia, DRC, Angola, Namibia, Zimbabwe, Malawi, Mozambique and Botswana. It grows in deciduous woodland and wooded grassland at an elevation between 900-1 700 m descending to 250 m, preferring a sunny position on loamy soils.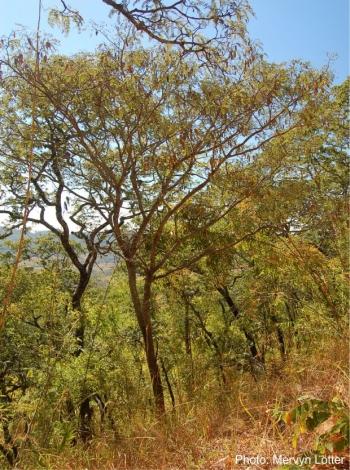 Derivation of name and historical aspects
History
Albizia is a genus, usually called silk tree or silk plant, which has approximately 160, fast-growing, short-lived species of subtropical to tropical trees and shrubs in the subfamily Mimosoideae of the family Fabaceae. The species of this genus are used as ornamentals in gardens and parks, grown for their showy, outstanding flowers, that have colourful stamens rather than colourful petals. The genus is named for an Italian nobleman, F. del Albizzi (1724–1789) who, in 1749, introduced Albizia julibrissin for cultivation in Europe, for its special ornamental features. This species is named in honour of Father José Maria Antunes (1856–1928) who collected plants in Angola and South Africa, including a specimen of this species in Angola in 1900.
Ecology
Ecology
Albizia antunesiana is pollinated by beneficial insects such as bees and other insects that are nectar loving. This species has a symbiotic relationship with certain soil bacteria, forming nodules on the roots, that fix atmospheric nitrogen, releasing it in the soil in a form that can be utilized by the tree  and other plants growing nearby.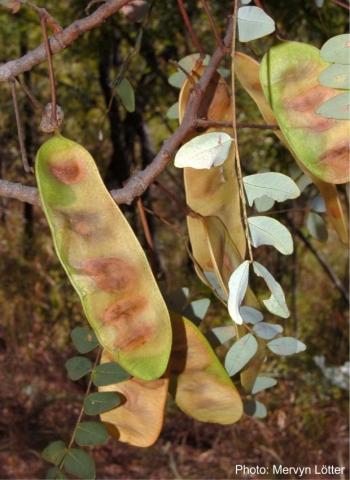 Uses
Use
Albizia antunesiana is well-known in traditional medicine, its roots are commonly harvested. An infusion or decoction of the root is used to treat sore throat, tonsillitis, tuberculosis, gonorrhea, abdominal pains, certain sexually transmitted diseases and depressed fontanelle in infants. The infusion also plays a role in women's infertility and helps prevent abortion, and is also used as a substance that increases sexual desire in both men and women. The roots are used externally and applied on skin to treat painful and swollen legs, cuts, sore eyes, ulcers and pneumonia.
A bark infusion is taken to treat constipation and applied externally to treat cuts.
Crushed leaves are used as an enema for their purgative action and are also applied as a dressing directly to the skin to treat oedema of the legs.
The roots of Albizia antunesiana have shown significant in-vitro activity against rat tapeworm that causes hymenolepiasis infection and the trematode that causes schistosomiasis, also known as bilharzia.
The bark can be used for tanning. The wood can be used for firewood, and to make furniture, boats, implements and ornaments and in building.
Young leaves of Albizia antunesiana are edible, they can be cooked with groundnuts, soda and gravy, and eaten as a vegetable.
Growing Albizia antunesiana
Grow
Propagation of Albizzia antunesiana can be done by seeds. Collect the seeds between the months of April and September, before the pods are ripe and split open to release the seeds, which makes them more difficult to collect. The seeds have a hard seed coat and will benefit from scarification. Soak the scarified seeds prior to sowing, in lukewarm water for 12-24 hours, after which one should have swollen seeds. If that is not the case, then carefully make a nick in the seed coat, take care not to damage the embryo during the process, and soak again for a further 12 hours. When they are ready, sow them in a seedling tray filled with loamy soil and place them where they will receive sun. Once they are germinated, transplant the seedlings into plant bags. When they are well established they can then be planted out in the garden and grown as an ornamental tree to display its attractive flowers.
References
Clarke, H. & Charters, M. 2016. The illustrated dictionary of southern African plant names. Flora & Fauna Publications Trust, Jacana, Johannesburg.
Coates Palgrave, K. 1977. Trees of southern Africa. Struik, Cape Town.
Hyde, M.A., Wursten, B.T., Ballings, P. & Coates Palgrave, M. 2022. Flora of Caprivi: Species information: Albizia antunesiana. https://www.capriviflora.com/speciesdata/species.php?species_id=125610. Accessed 2022/12/05.
JSTOR Global Plants, Albizia antunesiana compilation. https://plants.jstor.org/compilation/albizia.antunesiana?searchUri=. Accessed 2022/12/05.
Kwapata, M.B. & Maliro, M.F. 1995. Indigenous vegetables in Malawi: germplasm collecting and improvement of production practices. https://www.bioversityinternational.org/fileadmin/bioversity/publications/Web_version/500/ch19.htm. Accessed 2023/01/10.
Lemmens, R.H.M.J. 2007. Albizia antunesiana Harms. Online. PROTA4U. https://uses.plantnet-project.org/en/Albizia_antunesiana_(PROTA). Accessed 2022/12/05.
POWO, Plants of the World Online. Albizia antunesiana Harms. https://powo.science.kew.org/taxon/urn:lsid:ipni.org:names:473176-1/general-information. Accessed 2022/12/05.
Raimondo, D. 2008. Albizia antunesiana Harms. National Assessment: Red List of South African Plants version 2020.1. Accessed on 2022/12/05
Useful Tropical Plants, Albizia antunesiana. https://tropical.theferns.info/viewtropical.php?id=Albizia+antunesiana. Accessed 2022/12/05.
Van Wyk, B. & Van Wyk, P. 1997. Field guide to trees of southern Africa. Struik, Cape Town.
Van Wyk, A.E. & Van Wyk, P. 2007. How to identify to trees in southern Africa, Struik, Cape Town.
Credits
Caroline Marima
Pretoria National Botanical Garden
January 2023
Acknowledgements: the author gives great thanks to Mervyn Lötter for providing images of the plant.
Plant Attributes:
Plant Type: Tree
SA Distribution: Limpopo
Soil type: Sandy, Loam
Flowering season: Spring, Winter
PH: Acid, Neutral
Flower colour: Cream, Yellow
Aspect: Full Sun, Morning Sun (Semi Shade), Afternoon Sun (Semi Shade)
Gardening skill: Average
Special Features:
Attracts birds
Attracts butterflies
Feature plant
Edible plant
Medical plant
Useful plant
Feeds honeybees
Horticultural zones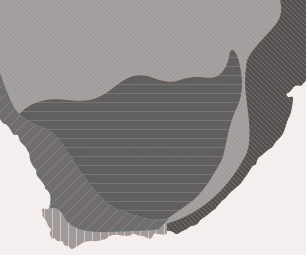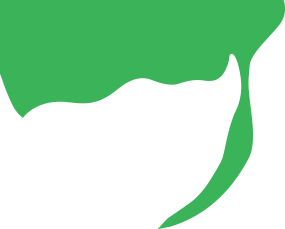 Zone 1 Coastal summer rainfall, frost free
Zone 5 Bushveld summer rainfall, Light frost
Google QR Code Generator