Alepidea amatymbica Eckl. & Zeyh.
Family: Apiaceae
Common names: giant alepidea, larger tinsel flower (Eng.); kalmoes, slangwortel (Afr.); iqwili (isiXhosa); ikhathazo (isiZulu); lesoko (South Sotho), inkatsankatsa (Swazi)
Introduction
Alepidea amatymbica has extremely popular and highly sought after rhizomes, for medicinal use, and is an important component of the healer's pharmacy. The high demand for this species has resulted in over-exploitation of the wild population and it is now an endangered species.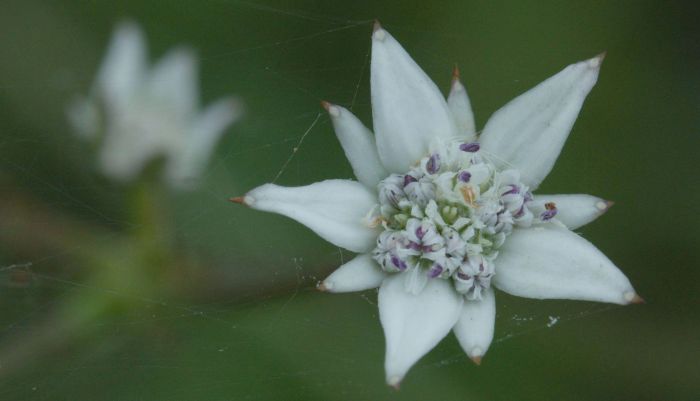 Description
Description
Alepidea amatymbica is a robust, erect perennial herb, up to 2 m tall. The stem is hollow, grooved, branched, with a large, aromatic root stock of numerous slightly fleshy roots up to 25 mm in diameter. The leaves are triangular, simple, up to 480 mm long, mostly basal forming a loose rosette but also spread up the stem. Basal leaves are distinctly petiolate; leaf stalks are 200 mm long and 10 mm in diameter, margin prominently toothed, each tooth ending in a long bristle. Leaves on the stem have no stalks.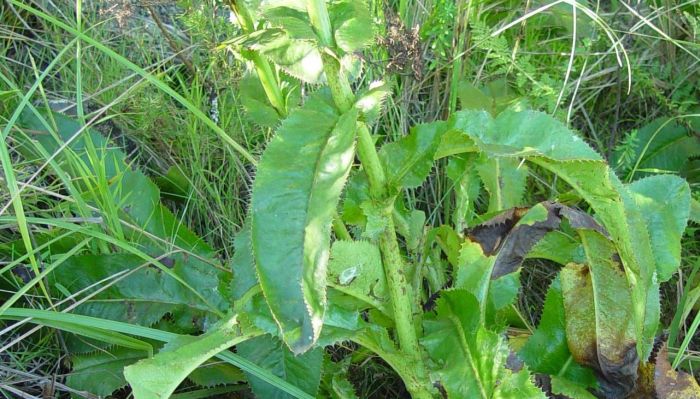 The inflorescence is at the tip of a long flower stalk arising directly from the roots (scape), up to 1.8 m high, widely branched from below and middle, with the lateral branches short or long in the upper parts. Flowers in flat-topped flowerheads, ± 20 mm in diameter, with 5 large, petal-like, unequal bracts, white to pale yellow above, pale olive-green below. Flowering is in late summer to autumn (January – April). Fruits are egg-shaped and seeds are flat on one side and curved on the other side.
Conservation Status
Status
The Red List conservation status of Alepidea amatymbica has recently been changed from Vulnerable (VU) to Endangered (EN) because of consistent destructive harvesting of wild individuals of this species for the medicinal plant trade, and some loss of suitable habitat to timber plantations and crop cultivation. It is highly sought-after in traditional medicine, and has been over-exploited over much of its range in the Eastern Cape and southern KwaZulu-Natal, especially at lower altitudes, where local extinctions have been observed at several sites.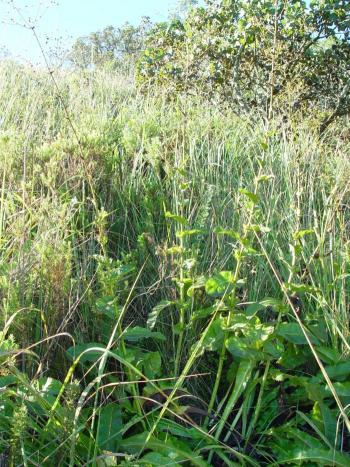 Distribution and habitat
Distribution description
In its natural state Alepidea amatymbica is distributed along the Amathole Mountains in the Eastern Cape, extending north-eastwards to southern KwaZulu-Natal and along the eastern border of Lesotho, and northwards to the Free State, Swaziland, Mpumalanga, Limpopo and eastern Zimbabwe. It is usually found in damp grassland near streams from 1 520 to 2 590 m altitude. It is common in the summer rainfall grasslands of southern Africa.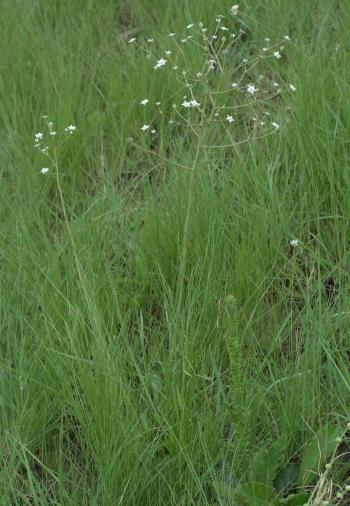 Derivation of name and historical aspects
History
The genus name Alepidea means 'without a scale', from the Greek a-, meaning without, and lepis meaning 'a scale'. This species is named after the amaThembu, people whose historical territory is the former Transkei, now in the Eastern Cape, where this plant occurs.
Alepidea amatymbica belongs to the Apiaceae, commonly known as the carrot family, members of which are usually aromatic herbs, stems often with pith or hollow internodes and flowers in flat-topped inflorescences. This family includes economically important food plants such as carrots, celery, and parsley, and consists of ± 446 genera and ± 3 540 species that occurs around the world. Alepidea is a genus of 28 species of herbaceous geophytes, endemic to grassland areas of eastern and southern Africa and northwards to Kenya and Ethiopia.
Alepidea amatymbica has three recognised varieties:
Alepidea amatymbica Eckl. & Zeyh. var. amatymbica, and var. microbracteata Weim., from the Umzinto region in southern KwaZulu-Natal, and var. aquatica (Kuntze)Weim., from the mountains of the Eastern Cape. The variety aquatica has longer, narrower leaves, and the variety microbracteata has much smaller involucral segments than the typical variety.
Alepidea amatymbica can be distinguished from the other 2 smooth-fruited species Alepidea macowanii and Alepidea multisecta by its regularly dentate leaf margin lacking any deeper incisions.
Ecology
Ecology
Alepidea amatymbica produces, small, white flowerheads on long stems rising above the surrounding grasses, that attract insects, including bees and butterflies, which assist with pollination. In winter, the plant is dormant and all above-ground parts are withered and dry. It is an important component of the grasslands, whichs are subjected to regular burning, and the strong, thick roots and underground stems of Alepidea amatymbica enable it to survive the heat of the grass fires, and it regenerates with strong new growth in spring.
Uses
Use
Alepidea amatymbica is an important plant in traditional medicine. The rhizomes and roots have a variety of medicinal and traditional uses, and harvesting of the rhizomes usually results in the death of the plant, which is why this species is now facing the threat of local extinction. The rhizomes and roots are either chewed or used in the preparation of an infusion that is used as a remedy for colds, coughs and influenza by Zulu people. Ikhathazo is used by Sotho and Xhosa people to treat respiratory tract infections, rheumatism and gastro-intestinal complaints. In Zimbabwe the rootstock is used to repel bees and as a protective charm. It has been reported that the dry rhizome and roots are smoked or powdered and taken as a snuff by diviners and healers to assist in divination and communication with ancestors. Smoking the roots reportedly results in mild sedation and vivid dreams and the dry rhizome and roots are used as a lotion to wash the divining bones. Marijuana (dagga) smokers are seen mixing it in their cigarettes and it is said that it takes away the smell of the herb.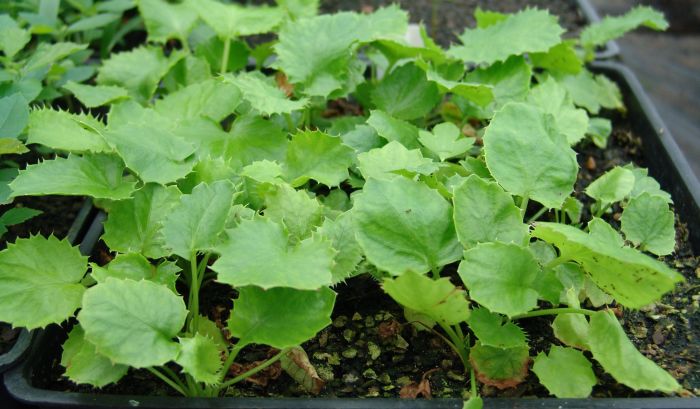 Growing Alepidea amatymbica
Grow
For optimal growth, Alepidea amatymbica must be planted in a sunny position, in a well-drained and composted loam soil. It is best cultivated in a summer rainfall region, with moderate water in the spring and summer growing season, and kept dry during winter. It is an ideal addition to a grassland garden and should be inter-planted with grasses.
Alepidea amatymbica can be propagated by seed or by division. Propagation from division is done by removing suckers that appear at the base of the plant. Suckers should be removed in spring and summer, and ensure that some root is taken with the new plant.
Propagation from fresh seed is the best method of producing new plants. Seed of Alepidea stains one's hands orange and has a strong, clean, antiseptic smell (Nichols 2005). Clean the seed, and sow in early spring or late summer, in well-drained soil. The seed can be sown on a firmly tamped surface and lightly covered with soil, approximately 3 mm deep. The seed trays should be kept in a bright, warm position out of direct sunlight and keep watering until germination takes place. Seed germinates within 14-20 days. Seedlings are very prone to damping off, therefore watering should only be done when necessary and seedlings should be monitored. Once potted into individual pots, the plants need to be grown on until the underground stem develops, after which they can be planted out.
References
De Castro A. & Van Wyk. B.-E. 1994. Diagnostic characters and geographic distribution of Alepidea species used in traditional medicine. South African Journal of Botany 60(6): 345-350.
Pooley, E. 2013. A field guide to wild flowers KwaZulu-Natal and the eastern region. Natal Flora Publications Trust, Durban.
Hutchings, A., Scott, A.H., Lewis, G. & Cunningham, A.B. 1996. Zulu medicinal plants: an inventory. University of Natal Press, Pietermaritzburg.
Manning, J. 2001. Eastern Cape. South African Wild Flower Guide 2. Botanical Society of South Africa , Cape Town.
Nichols, G. 2005. Growing rare plants: a practical handbook on propagating the threatened plants of southern Africa. Southern African Botanical Diversity Network Report No. 36.
Killick, D, 1990. A field field guide to the flora of the Natal Drakensberg. Jonathan Ball and Ad. Donker Publishers, Johannesburg.
Van Wyk, B.-E., de Castro, A. Tilney P.M., Winter P.J.D. 1, Magee. A.R. 2008. A new species of Alepidea (Apiaceae, subfam. Saniculoideae). South African Journal of Botany 74 (2008) 740–745.
Wintola, O. A. & Afolayan, A. J. 2004. Alepidea amatymbica Eckl. & Zeyh: a review of its traditional uses, phytochemistry, pharmacology, and toxicology. Hindawi Publishing Corporation Volume 2014, Article ID 284517
Credits
S. Nonjinge & B. B. Tarr
KwaZulu-Natal National Botanical Garden
May 2003
Updated and expanded by
Lungisani Zondi
Walter Sisulu National Botanical Garden
October 2019
Acknowledgements: photos by Geoff Nichols.
Plant Attributes:
Plant Type: Bi/Annual, Perennial
SA Distribution: Eastern Cape, Free State, Gauteng, KwaZulu-Natal, Limpopo, Mpumalanga
Soil type: Sandy, Loam
Flowering season: Early Summer, Late Summer
PH: Acid, Neutral
Flower colour: White
Aspect: Full Sun, Morning Sun (Semi Shade), Afternoon Sun (Semi Shade)
Gardening skill: Average
Special Features:
Attracts butterflies
Fragrant
Medical plant
Useful plant
Horticultural zones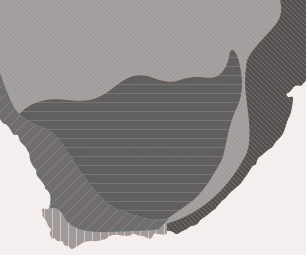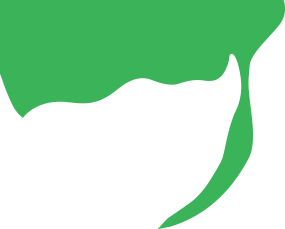 Zone 1 Coastal summer rainfall, frost free
Zone 2 Coastal winter rainfall, frost free
Zone 4 Summer rainfall Karoo and Highveld, Frost in winter
Zone 5 Bushveld summer rainfall, Light frost
Google QR Code Generator