Aloe condyae Van Jaarsv. & P.Nel
Family: Asphodelaceae
Common names: Barberton cliff-aloe (Eng.); barberton grasaalwyn (Afr.)
Introduction
Aloe condyae is a rare, dwarf, cluster-forming, cliff-dwelling succulent, up to 100 mm high, with short, ascending stems and leaves in a rosette. It is only known from the mountains south of Barberton. The ascending inflorescence bears conspicuous heads of tubular, orange-red flowers that are pollinated by sunbirds. It grows well in containers, in a cool, moist, frost-free environment.
Fig. 1. Aloe condyae in flower in its natural habitat on a sheer rock face on a sandstone cliff ledge, south of Barberton. Note the Thorncroftia thorncroftii on the left hand side, which shares its habitat, together with Plectranthus rubropunctatus.
Description
Description
Perennial, solitary at first, becoming cluster-forming, rosette-forming succulent from subterranean suckers, forming small groups up to 100 mm in diameter. The roots are fleshy and the branches ascending to ascending spreading, about 15 mm in diameter. The leaves are soft and flaccid, 8–14 per head, linear-lanceolate, 200–300(–250) × 10–15(–20) mm, ascending spreading, becoming somewhat recurved and occasionally drooping from rock faces, fleshy and the upper surface channelled, especially during the dry season, the surface smooth, green, dark brown at base and densely white-spotted, the lower face is flat to convex and the leaf margin bearing minute, white, cartilaginous teeth. The leaf tip is drawn to a sharp point (acuminate).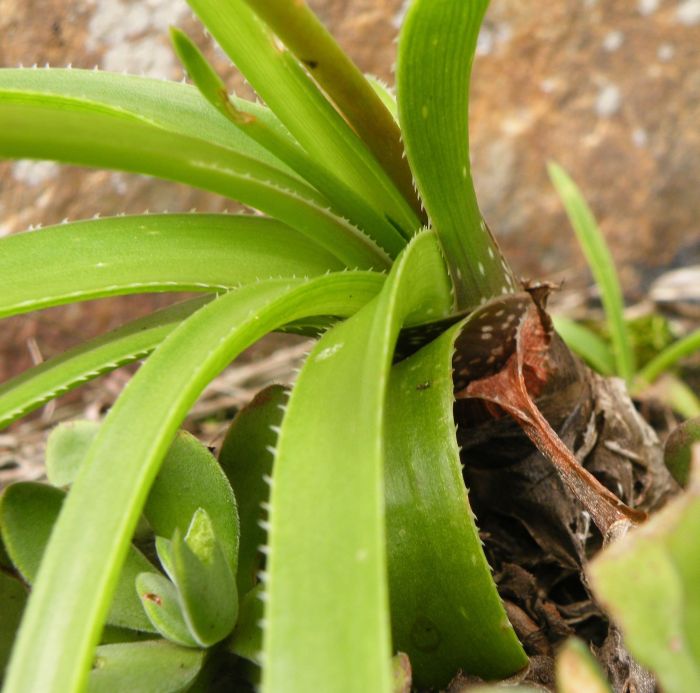 Fig. 2. Aloe condyae in its natural habitat on a sandstone cliff ledge, note the small marginal teeth and purplish, spotted base of the leaves.
The inflorescence is simple, ascending and 220–290 mm long, the peduncle 170–230 mm long, 5–7 mm broad and slightly flattened at base, with 5 or 6, sterile bracts, 10–20 × 9 mm long, and clasping; raceme short, capitate, 40–60 mm long; flowers densely arranged (12–30-flowered); floral bracts thin and papery, triangular and drawn to a sharp point, 15 × 5 mm; pedicels 20–25 mm long, ascending, orange. The flower (perianth) is cylindrical, oblong, pendent and about 30 mm long, orange-red. The tepal tips are rounded and sometimes ending in a sharp point. The flower segments are free to base, the outer 3, linear-lanceolate, 30.0 × 3.5 mm, channelled, the inner 3, 30 × 6 mm. The stamens are yellowish, 27–29 mm long. The ovary is oblong, 5.0 × 1.5 mm, grooved, brownish green and the style 27 mm long. Flowering time is midsummer (December to January, southern hemisphere).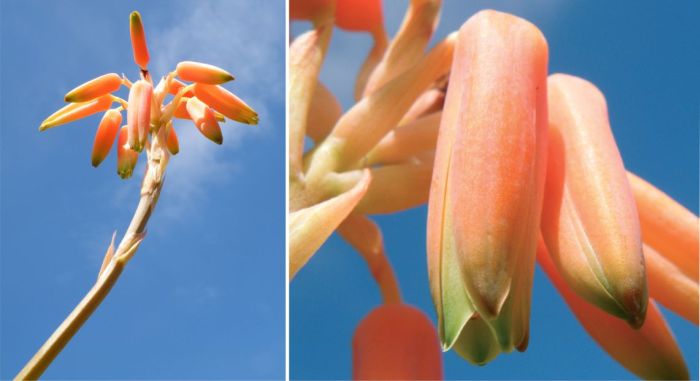 Fig. 3. The inflorescence and flower of Aloe condyae. Note the densely arranged flowers.
Fig. 4. The young inflorescence of Aloe condyae. Note the protective large bracts. (Photo Philip Nel)
Conservation Status
Status
Although Aloe condyae is a rare and localised endemic, the plants are well protected by their sheer cliff-face habitat and the wild population is stable. This species has been assessed as Vulnerable (VU) because it is potentially threatened by invasive alien plants, in particular pine trees; should seedlings escape from the surrounding timber plantations and invade its inaccessible habitat, they would be difficult to clear.
Fig. 5. The cliff habitat of Aloe condyae, with Afromontane forest below, south of Barberton, Mpumalanga.
Distribution and habitat
Distribution description
Aloe condyae is confined to the mountains southeast of Barberton, Mpumalanga, at an altitude of 1 500 to 1 800 m. The habitat consists of cool, southwest-facing, mineral-poor, quarzitic sandstone cliffs. Plants can be found in shallow soil among leaf litter, on ledges and often among lichens and moss, often in the shade of cliff-dwelling shrubs or trees. Rainfall is mainly in summer (convectional thunder showers) ranging from 200–400 mm per annum. It is only known from the higher slopes of mountains which are frequently covered in fog and cloud and have a high rainfall in summer, allowing for a regular moisture supply. 
The associated vegetation consists of Barberton Montane Grassland of the Grassland Biome on exposed slopes and Northern Misbelt Forest (Mucina et al. 2006). It grows in the Barberton Centre of Plant Endemism (Van Wyk & Smith 2001). Aloe condyae grows in association with species such as Aloe arborescens and A. suprafoliata, Begonia sutherlandii, Elaphoglossum sp., Crassula albiflora, C. natalensis, C. sarcocaulis and C. swaziensis, Cyanotis speciosus, Morella pilulifera, Ornithogalum juncifolium, Plectranthus purpuratus subsp. montanus, Streptocarpus sp. and Thorncroftia thorncroftii. 
Fig. 6. A close-up of the rosette of Aloe condyae. Note the small marginal teeth and Crassula swaziensis growing on the same ledge. 
Derivation of name and historical aspects
History
Aloe condyae was named by Philip Nel and the author in the succulent magazine Bradleya in 2012. The plant honours Gillian Condy, retired botanical artist at SANBI. Gillian worked at the National Herbarium at the Pretoria National Botanical Garden in South Africa since 1983. She is a winner of several prestigious rewards and also the founder member of the Botanical Artists Associate of South Africa (BAASA). Her work is featured in several magazines, including Flowering Plants of Africa, and several books. She was the main artist in Grass aloes of the South African veld (Craib 2005) and Geophytic pelargoniums (Craib 2001).
Aloes are characteristic of Africa and its islands, stretching to the Arabian Peninsula and is a large and diverse genus, which varies from Aloe liliputana a few centimetres high to the almost tree-like A. rupestris and A. castanea. They belong to the family Asphodelaceae, consisting of about 1 200 species arranged in 40 genera, of which Aloe is the largest (Christenhusz 2017). South Africa is especially rich in species and especially Mpumalanga, where Aloe condyae resides. 
Aloe condyae is the seventeenth South African species of Aloe confined to cliffs and the sixth member of section Leptoaloe recorded as confined to sheer cliff faces in South Africa. Related species include A. andersonii, A. challissii, A. nubigena, A. thompsoniae and A. soutpansbergensis, all of them confined to sheer cliffs and mineral-poor sandstone soils. They also have soft, flaccid leaves bearing small or no (Aloe nubigena) marginal teeth (Craib 2005, Van Jaarsveld & Van Wyk 2006). Aloe condyae can readily be distinguished from these by its ascending rosettes of linear-lanceolate leaves, with leaf bases that are dark brownish, densely spotted at the base and the leaf margin that is distinctly denticulate, as well as its flowers that are arranged in dense heads of 12–30 flowers. Aloe nubigena and A. thompsoniae are confined to the northern Drakensberg Escparpment Mountains. Aloe nubigena grows near Graskop, has distichous to subdistichous leaves with an entire margin and the plant becomes drooping. Aloe thompsoniae is known only from the Wolkberg near Tzaneen and distinguished by its smaller densely proliferating rosettes.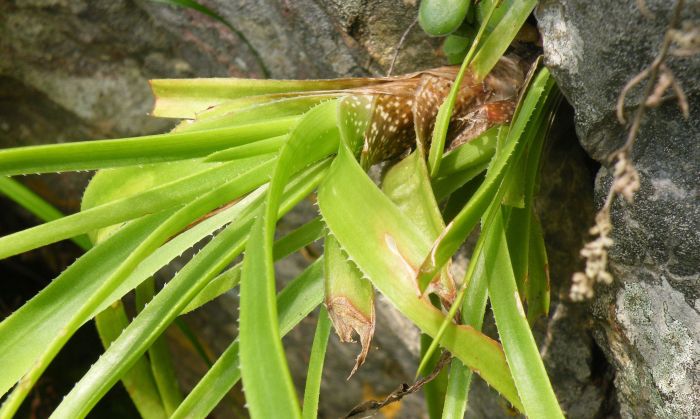 Fig. 7. The base of the leaves of Aloe condyae are purplish and spotted.
Ecology
Ecology
The conspicuous tubular flowers are pollinated by local sunbirds (Nectarina spp.). The light winged seed is dispersed by wind. The mature capsules become ascending, which retains the seed and only gusts of strong wind will allow them to become airborne. The succulent leaves enable the plant to grow in shallow soil among poikilohydric moss and lichens, which dries out regularly enabling the plants to survive the dry winters.
A cliff-hugger with soft, flaccid, non-bitter leaves that are fragile but well protected by its habitat where larger and smaller herbivores, such as Procavia capensis and others, cannot reach. 
Fig. 8. Aloe condyae in a sandstone rock crevice in its natural habitat.
Uses
Use
It is not known whether the plants are used medicinally.
Growing Aloe condyae
Grow
Although Aloe condyae is not well-known from cultivation, it is fairly easily grown and makes a beautiful, small, pot plant. The well-being of any plant in cultivation depends on the attention to detail by the grower. Important factors include its position to a light source, substrate, watering and temperature. Keeping a plant with a specialist habitat happy is not always easy, but becomes easier with experience. Some plants are very easily grown with a wide tolerance, whereas others require more attention. In a garden situation it is always better to grow local indigenous as they are adapted to local conditions and plants will become self-sufficient. Aloe condyae is a small plant with a specialized, cool, cliff-face habitat and for best performance requires additional attention. Plant in a cool, moist, frost-free environment and preferably in dappled shade. Best to grow as a house plant, in a container or hanging basket, on a cool stoep or near a windowsill, preferably on the cooler, south side of a building (southern hemisphere). Plant in a sandy, acidic medium with a well broken-down compost and peat, that allows for optimal drainage. Feed with an organic fertiliser at least once in spring, summer and autumn. Water regularly from spring to autumn, but water can be reduced or withheld in winter. 
Propagate by seed of by stem cuttings. Place offshoots in a sandy soil. Best time is in spring and summer. Seed is fine and can be sown in a sandy mixture. Sow seed in spring or summer and cover with a very thin layer of gravel or sand. Keep moist. Remove seedlings as soon they are large enough to handle.
Aloe cancer, caused by microscopic small mites, can sometimes be troublesome, causing distorted growth, but is easily treated with a contact and stomach insecticide, such as carbaryl in dusting powder format, mixed with water and painted onto the infected cancerous portion with a paint brush. If the tuberous growth is large it can also be removed by hand and the wound painted. Roots are sometimes affected by mealybug; treat by drenching the plant in a contact or systemic insecticide.
References
Christenhusz, M.J.M., Fay, M.F. & Chase, M.W. 2017. Plants of the World, an illustrated Encyclopedia of vascular plants. Kew Publishing, Royal Botanic Gardens, Kew.
Clarke, H. & Charters, M. 2016. The illustrated dictionary of southern African plant names. Flora & Fauna Publications Trust, Jacana, Johannesburg.
Craib, C. 2001. Geophytic pelargoniums. Umdaus Press, Cape Town.
Craib, C. 2005. The grass aloes of the South African veld. Umdaus Press, Hatfield, Pretoria.
Linnaeus, C. 1753. Species plantarum. 1st edition. Salvius, Stockholm.
Mucina, L. & Rutherford, M.C. (eds) 2006. The vegetation of South Africa, Lesotho and Swaziland. Strelitzia 19. South African National Biodiversity Institute, Pretoria.
Reynolds, G.W. 1950. The aloes of South Africa. Trustees of the Aloes of South Africa Book Fund, Johannesburg.
Van Jaarsveld, E.J. 2012. Aloe condyae, a new cliff-dwelling aloe from Mpumalanga, Republic of South Africa. Bradleya 30: 167–172.
Van Jaarsveld, E.J. 2006. Aloe challissii, a new cliff-dwelling aloe from Mpumalanga, and a check-list of the obligate cliff-dwelling aloes in South Africa and Namibia. Aloe 43(2 & 3): 36–39.
Van Wyk, A.E. & Smith, G.F. 2001. Regions of floristic endemism in South Africa. A review with emphasis on succulents. Umdaus Press, Hatfield, Pretoria
Von Staden, L. 2013. Aloe condyae Van Jaarsv. & P.Nel. National Assessment: Red List of South African plants version 2020.1. Accessed on 2020/11/03.
Credits
Ernst van Jaarsveld
Kirstenbosch National Botanical Garden (Retired 2015)
Babylonstoren Farm
Extraordinary senior lecturer and researcher,
Department of Biodiversity and Conservation, University of the Western Cape
November 2020
Acknowledgments: the author thanks Phillip Nel for accompanying and assisting him in the field.
Plant Attributes:
Plant Type: Succulent
SA Distribution: Mpumalanga
Soil type: Sandy, Loam
Flowering season: Early Summer
PH: Acid, Neutral
Flower colour: Red, Orange
Aspect: Shade, Morning Sun (Semi Shade)
Gardening skill: Challenging
Special Features:
Attracts birds
Indoor plant
Horticultural zones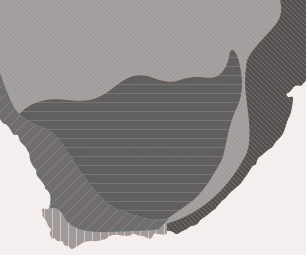 Zone 1 Coastal summer rainfall, frost free
Zone 2 Coastal winter rainfall, frost free
Zone 3 Winter rainfall Karoo, light frost
Google QR Code Generator