Aloe greatheadii var. davyana
Aloe greatheadii Schönland var. davyana (Schönland) Glen & D.S.Hardy
Family: Asphodelaceae
Common names: spotted aloe (Eng.); Transvaalaalwyn, grasaalwyn (Afr.); kgopane (Tswana)
Introduction
Aloe greatheadii var. davyana is a drab and uninteresting plant, but when it flowers in winter, it is spectacular. It is a plant that will cheer up any highveld garden in winter.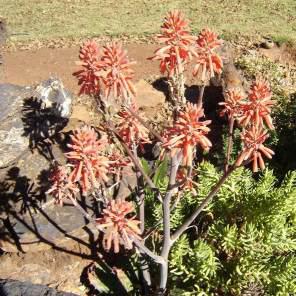 Description
Description
Aloe greatheadii var. davyana is stemless and grows singularly or in groups of up to 15 plants. The succulent leaves are arranged in a basal rosette. The leaves range from triangular to lance-shaped, are often faintly striped above with oblong white spots arranged in more or less distinct bands but are unspotted below and usually a whitish green; margins are armed with sharp, dark brown teeth. In winter, the apical half of the leaf dies back and becomes twisted, leaving the remaining part almost square in shape.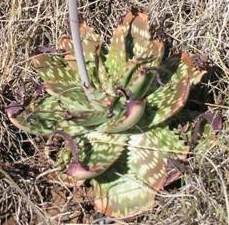 The inflorescence can reach a height of up to 1.5 m high and has up to 6 branches. More than one inflorescence is often formed and up to seven have been counted on one plant alone. The flower colour ranges from pale pink to red. The species flowers in midwinter from June to July.
Conservation Status
Status
Fortunately, although thousands of these plants are destroyed annually due to development, neither of the two varieties is threatened, yet.
Distribution and habitat
Distribution description
This species occurs in the Grassland and Bushveld Biomes. Aloe greatheadii var. davyana occurs in all the northern provinces of South Africa, including the Free State and northern parts of KwaZulu-Natal, and is very common in Gauteng. It often forms extensive stands in overgrazed areas.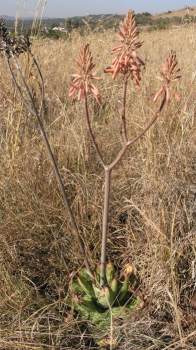 Derivation of name and historical aspects
History
The genus name, Aloe, derives from the Greek word alsos, which refers to the bitter juice from the leaves of the plants. It is derived from the earlier Arabic word alloeh, meaning bitter.
The species name, greatheadii, is named after Dr J.B. Greathead who co-collected the type specimen with Dr S. Schönland. The variety, davyana, is named after Dr J. Burtt Davy, head of the Botany Division (which later became the Botanical Research Institute) of the Department of Agriculture in 1903.
This plant is being recognised as a species in its own right,  and the name changed to  Aloe davyana Schönl.
Ecology
Ecology
Pollinators are bees and other birds. Seeds are dispersed by wind.
Uses
Use
Trials have shown that this species can be used successfully as a soil binder in disturbed areas such as mine dumps. The bitter sap in the leaves is used medicinally for the treatment of wounds, sores and burns.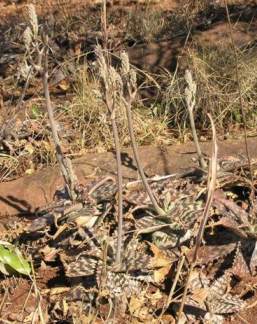 Growing Aloe greatheadii var. davyana
Grow
Aloe greatheadii var. davyana makes an excellent garden plant, especially in the drier regions of South Africa. Because the plant is a succulent, it needs very little water, and because it is frost resistant, it will survive in extremely cold conditions.
Aloe seeds germinate very well but may damp off if overwatered. Use a mixture of river sand, compost and soil to sow seeds in. Sprinkle the seeds evenly on the surface and cover with a layer of small pebbles. The pebbles help the seedlings to stay upright and prevent damping off. Keep seed tray in a dry warm corner and do not allow to dry out. Transplant the seedlings after one year.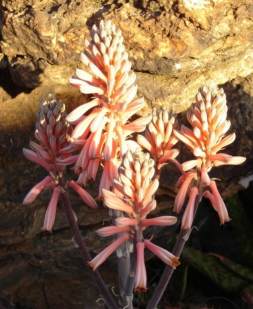 To cultivate by cuttings, remove cuttings/offspring from the parent plant with a sharp pruning knife or secateurs. Place the cuttings in the same mixture one uses for seeds except fill the top layer with river sand. Use root hormone to stimulate root growth.
If using damaged plants, use a fungicide to treat damaged roots and stems. Let the wound dry out and heal for some weeks before planting.
Pests: a thriving plant will be less prone to pests and diseases than one which suffers from incorrect watering, poor drainage or too much shade. Aloes, like most plants, are prone to a variety of diseases. Only a few of them will ultimately lead to the demise of the plant, but they will certainly spoil their appearance.
One of the most unsightly aloe infestations is the one caused by white scale insect which gathers in rows on the lower surfaces of leaves. They can be killed by insecticide. Alternatively, one can use a mixture of normal washing powder, dishwashing liquid and ammonia to kill them. Apply the mixture with a hand spray gun or wash the leaves with a soft brush. If left untreated, the insects will eventually cover the whole plant and even kill it.
Another problem is the occurrence of aloe cancer that causes deformation of the leaves or inflorescences. It occurs when mites feed on the plants and results in unnatural cell growth. It is very difficult to control this problem. In some cases the whole plant should be destroyed to prevent infestation of other plants. As a desperate measure, the infected areas can be removed by a sharp knife. Treat the wounds with insecticide.
Round brown spots are sometimes seen on leaves. This is caused by a fungus, and the disease is referred to as aloe rust. Treat these infected leaves with fungicide. Unfortunately recovery is very slow.
Probably the worst pest in South Africa is the snout beetle. This insect tunnels into the crown where it lays its eggs. The larvae hollow out the stems so that the plant starts to rot. Treat the plant with insecticide by injecting it into the stems.
References
Jeppe, B. 1969. South African aloes. Purnell, Cape Town.
Pooley, E. 1998. A field guide to the wild flowers of Kwazulu-Natal and the Eastern Region. Natal Flora Publications Trust, Durban.
Reynolds, G.W. 1950. The aloes of South Africa. Balkema, Cape Town.
Van Wyk, B. & Malan, S. 1988. Field guide to the wild flowers of the Highveld. Struik, Cape Town.
Van Wyk, B. & Smith, G. 1996. Guide to the aloes of South Africa. Briza Publications, Pretoria.
Credits
Jean Meyer
SANBI, Pretoria
July 2007
Plant Attributes:
Plant Type: Succulent
SA Distribution: Free State, Gauteng, KwaZulu-Natal, Limpopo, Mpumalanga, North West
Soil type: Sandy, Loam
Flowering season: Winter
PH: Neutral
Flower colour: Pink
Aspect: Full Sun
Gardening skill: Easy
Special Features:
Attracts birds
Drought resistant
Medical plant
Useful plant
Feeds honeybees
Horticultural zones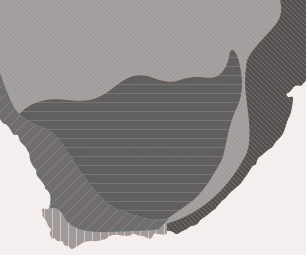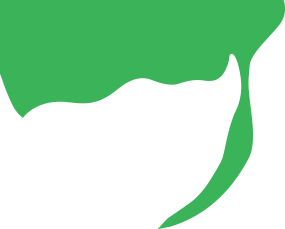 Zone 4 Summer rainfall Karoo and Highveld, Frost in winter
Zone 5 Bushveld summer rainfall, Light frost
Google QR Code Generator