Aloe kamnelii Van Jaarsv.
Family: Asphodelaceae
Common names: Doorn River aloe (Eng.); Doringrivier-aalwyn (Afr.)
Introduction
Aloe kamnelii is a shrubby, ascending aloe, with glossy green leaves and yellow flowers in spring, that is endemic to the Doorn River of the Western Cape, South Africa. Easily grown from off-shoots or seed and best for gardens with a summer dry climate.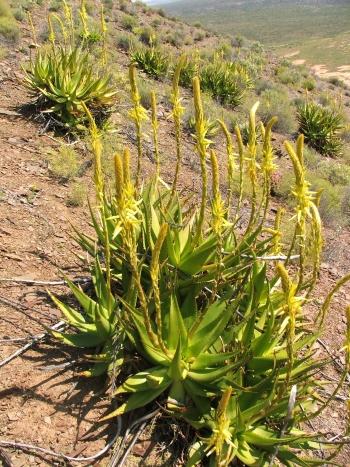 Description
Description
Slow-growing, long-lived, dense, erect shrubs, with up to 25 heads, and a tufted growth habit, and stems up to 1.5 m high. Roots slightly fleshy. Branches with dry leaves and leaf bases that are persistent, forming a dry, leafy skirt. Leaves fleshy, coriaceous, in an apical rosette, linear-lanceolate, 600–700 mm in diameter, ascending spreading during the rainy season, incurved and with a reddish colour during the dry season or prolonged droughts, 300–400 × 50–80 mm, glossy, grass-green, both surfaces distinctly striate (striations translucent, 3–4 mm apart); upper surface rounded at base, flat in the middle part and becoming slightly channelled towards the end. Lower surface rounded bearing a distinct keel in upper half or third. The leaf margin and keel leathery, reddish brown, teeth 6–7 × 5 mm, dark brown and 10–20 mm apart, the leaf end sharp and ending in 1–3 prickles. The leaf sap drying translucent to faintly orange-yellow. Leaves in juvenile plants opposite (distichous) at first, the surface distinctly greyish green, and the lower surface with few prickles towards the leaf end, becoming smooth at maturity.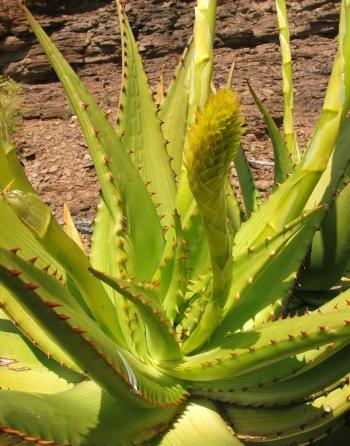 Inflorescence ascending, simple, up to 800–1 010 mm long (1–5 per rosette), the raceme cylindric acuminate, 450–510 mm long, the slender ends often bending to the north. The floral bracts are densely arranged (imbricate), triangular-lanceolate, each ending in a narrow drawn-out point (the young inflorescence densely covered with a coma of overlapping bracts). Flowers subpendent (buds ascending-spreading); pedicels ascending, recurved at the apex in open flowers, yellow, 20–22 mm long. Perianth yellow, buds green-tipped, and cylindric-three-angled, 45 mm long, 8–10 mm in diameter, the base slightly swollen and narrowing to 5–6 mm wide at apex. Stamens with filaments filiform, flattened, 33–43 mm long, 3 inner ones slightly longer, slightly exerted; anthers 3.5–6.0 mm long; pollen yellowish orange. Ovary cylindrical, 8.0–10.0 × 3.5 mm, green; style 30 mm long, lengthening to 35 mm and becoming slightly exerted. Fruit a capsule, 18–22 × 7–8 mm, ascending-spreading, young fruit ovoid. Seed 3.5 × 2.0 mm, blackish grey.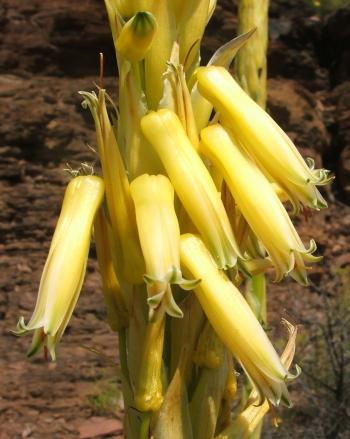 Plants flower in spring (August–October, in the southern hemisphere).
Conservation Status
Status
Aloe kamnelii is a Rare species. Plants grow in an isolated environment, but are locally abundant and not threatened. It has since its naming in 2009, become well-established in cultivation.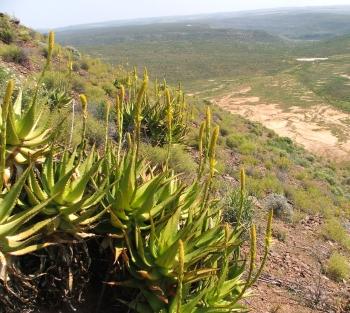 Distribution and habitat
Distribution description
Aloe kamnelii is only known from the Doorn River Valley between the Cedarberg and Gifberg Mountain ranges, as well as the Olifants River near Trawal, growing in Succulent Karoo. The Doorn River drains the Tanqua Karoo, the closest desert to Cape Town.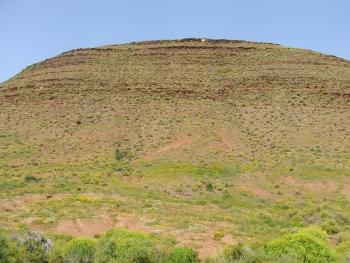 Derivation of name and historical aspects
History
Aloe kamnelii is named for the geologist Mike Kamstra and aloe expert Philip Nel, both keen aloe students and explorers. This aloe was known to the farmer Mike Kotze and he has grown it in his garden for a number of years. Rob Kamstra (Mike's brother) heard about it, informed his brother and upon investigating with Philip Nel, found it to be a new species. They brought it under the attention of the author who named it in honour of both intrepid gentleman, in the Aloe journal in 2009. Aloe kamnelii is closely related to A. glauca, but distinguished at once by its glossy grass-green, distinctly lineate leaves and larger yellow flowers of 45 mm long. The coma of bracts on the young inflorescence is also distinct and not unlike Aloe comosa from the same region.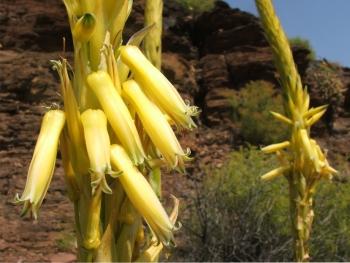 Ecology
Ecology
Grows on dry, steep, northern, rocky slopes, between 600 and 800 m above sea level. Rainfall ranges about 200 mm per annum and occurs mainly in winter. The geology consists of Bokkeveld shale, and the vegetation is clearly Succulent Karoo and classified as Agter-Sederberg Shrubland (Rainshadow Valley Karoo Bioregion). The pollinators are sunbirds and the Malachite Sunbird has been observed, pollinating the plants. The temperatures are high during the day, especially during the summers, and averages about 28ºC. Winters are cooler, but frost is absent from its habitat. The soil is mineral rich and fertile and associate succulents include, Adromischus marianae, Crassula rupestris and C. muscosa var. muscosa, Pelargonium crithmifolium, Euphorbia hamata, Phyllobolus noctiflorus, Prenia pallens, Ruschia caroli and Tylecodon paniculatus. Aloe kamnelii proliferates from the base, forming dense groups. The succulent leaves ensure the survival of the plants through the dry summer months.
Uses
Use
It is not known whether the plants are used medicinally.
Growing Aloe kamnelii
Grow
Aloe kamnelii is easily grown both from cuttings or off-shoots from its main stem or seed. Best grown in summer-dry, Mediterranean-type gardens. In South Africa it is best grown in a Succulent Karoo garden among succulents or other plants from the region, preferably on a north-facing rockery, in full sunlight (Van Jaarsveld 2010). Mineral-rich soil and a well-drained aspect is where the plant is at its happiest. Once established, plants are not shy to flowers, and will attract sunbirds to the garden.
Sow seed in late summer or autumn in a seed tray, in a well-drained medium, e.g. 2 parts sand or gravel, 1 part garden loam and 1 part leaf mould or compost. Cover with a thin layer of sand or gravel. Keep moist in a warm position, ideally in dappled shade. Germination is within 3 weeks. Transplant young seedlings when big enough to handle, which is at least a year or two after sowing.
References
Nel, P. 2016. The beauty of aloes. CPW Printers, Pietermaritzburg.
Van Jaarsveld, E.J. 2009. Aloe kamnelii, a new cliff-swelling species of Aloe section Aloe series Rhodacanthae from the Western Cape (South Africa). Aloe 46, 2: 36–45.
Van Jaarsveld, E.J. 2010. Waterwise gardening in South Africa and Namibia. Struik, Cape Town.
Von Staden, L. 2013. Aloe kamnelii Van Jaarsv. National Assessment: Red List of South African plants version 2017.1. Accessed on 2018/06/18.
Credits
E.J. van Jaarsveld
Kirstenbosch National Botanical Garden (Retired)
Babylonstoren Farm
Extraordinary senior lecturer and researcher, Department of Biodiversity and Conservation, University of the W. Cape.
July 2018
Plant Attributes:
Plant Type: Shrub, Succulent
SA Distribution: Western Cape
Soil type: Sandy
Flowering season: Spring
PH: Neutral
Flower colour: Yellow
Aspect: Full Sun
Gardening skill: Easy
Special Features:
Attracts birds
Drought resistant
Feature plant
Horticultural zones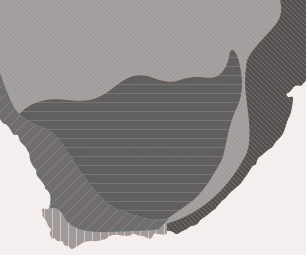 Zone 1 Coastal summer rainfall, frost free
Zone 2 Coastal winter rainfall, frost free
Google QR Code Generator