Aloe kouebokkeveldensis Van Jaarsv. & A.B.Low
Family: Asphodelaceae
Common names: Kouebokkeveld aloe (Eng.); kouebokkeveldaalwyn (Afr.)
Introduction
Aloe kouebokkeveldensis is a rare, medium-sized, cliff-squatting aloe with a decumbent to ascending rosette of faintly spotted, striate, pale-green leaves and a branched panicle of tubular orange-red flowers in early summer that are pollinated by sunbirds.  Its growth is solitary. It is only known from the Theerivier, a tributary of the Olifants River in the Olifants River Valley east of Citrusdal.
Figure 1. Aloe kouebokkeveldensis rosette in habitat, Theewaterskloof, near Citrusdal, Western Cape.
Description
Description
Plants with ascending growth; the stem short and the rosette up to 1 m wide, usually solitary but occasionally dividing to form small groups of up to 3. Mature leaves 12–15, arcuate-ascending, lanceolate  tapering gradually and ending in a sharp point (acuminate), 400–480 x 100–150 mm, flat above and slightly channelled toward the tip, flat to convex below, fleshy and fairly soft in texture, easily bruised; leaf sap colourless, not bitter, becoming sulphur-yellow when dried; margin leathery, with small pinkish white teeth 1 mm long. The leaf surface is grey to whitish green, often tinged bluish, becoming slightly reddish with drought stress, faintly striate and irregularly spotted with pale, elongated, H-shaped, confluent spots, up to 5 mm long. Younger leaves with distinct bluish tinge, densely spotted. Inflorescence a branched corymbose panicle, 1.0–1.4 m tall, branching above the middle; peduncle basally biconvex, 37 mm wide at base. The racemes in heads, 80–100 mm long; bracts thin, papery, triangular-acuminate. The flower stalks 12–15 mm long. The flower (perianth) orange-red, 22–23 mm long, sub-pendulous, in bud horizontally spreading and slightly curved, base rounded 4–5 mm wide, abruptly narrowing to 3 mm and expanding to 5 mm near the tip. The outer floral segments orange, free for 7 mm, 3 mm wide, acute to subacute. Stamens orange, just exserted at mouth. Ovary yellowish green, 6.5 x 3.0 mm. Style filiform, finally exserted for 3 mm; stigma capitate, minute. Capsules almost rounded, 18–20 x 15–18 mm, green, becoming purplish green. Seeds grey-black, winged, 4 x 3 mm. Flowering time is mainly in early summer (November–December). Seeds are dispersed by wind, in autumn.

Figure 2. A group of Aloe kouebokkeveldensis on a sandstone cliff beside the Theerivier, and a close-up of the leaves and the flower head.
Conservation Status
Status
Although only known a single tributary of the Olifants River near Citrusdal, it is not threatened because of its remote, inaccessible habitat. This species, however, has been classified as Rare (Red List of South African plants, Raimondo et al. 2009).
Figure 3. A north-facing cliff, habitat of Aloe kouebokkeveldensis , plants can be seen in the background.
Distribution and habitat
Distribution description
Aloe kouebokkeveldensis is confined to the lower southern slopes of the Kouebokkeveld Mountains southwest of Citrusdal, in the Western Cape and is known only from a few small populations on north-facing quartzitic sandstone cliffs and steep slopes.
Aloe kouebokkeveldensis grows in fully exposed or partially shaded, cliff-face habitats, on rocky ledges and in crevices, in shallow soil, at an altitude of 600–800 m. The geology consists of mineral-poor quartzitic sandstone of the Table Mountain Group (Cape Supergroup). The rock substrate has many ledges, crevices and fissures and is ideal for the establishment of plants. It shares its habitat (sympatric) with Aloe mitriformis, which is common in the area. The sandy soil is derived from sandstone and is slightly acid. Summers are dry and hot. The average daily maximum temperature is about 23ºC and the average daily minimum about 12ºC. Rainfall occurs mainly in winter and ranges from 700–800 mm per annum.
The vegetation consists of Cederberg Sandstone Fynbos of the Fynbos Biome (Mucina et al. 2006). Associated cliff dwellers observed in its habitat include  Diospyros glabra, Dodonaea angustifolia, Hymenolepis parviflora, Searsia undulata, Secamone alpini and various members of the Restionaceae. Associated succulent species include Adromischus hemisphaericus, Aloe mitriformis, Crassula dejecta, C. muscosa var. muscosa and C. rupestris, Oscularia lunata and Pelargonium alternans.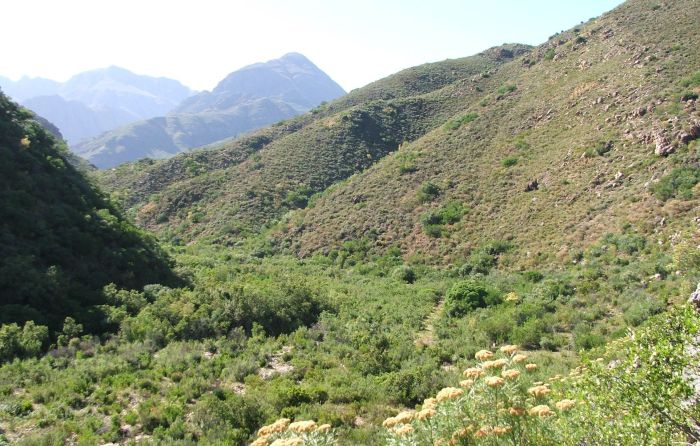 Figure 4. The Theerivier, a tributary of the Olifants River, with the Kouebokkeveld peaks in the background. Plants of Aloe kouebokkeveldensis grow at the base of the dry exposed cliffs.
Derivation of name and historical aspects
History
Aloe kouebokkeveldensis was named by Barrie Low and the author in the magazine Aloe in 2004 (Van Jaarsveld et al. 2004) from plants discovered in 2002 by Barrie Low and his team of river vegetation explorers, Peter & Jill Blignaut, Ann MacGregor, Lucille Krige, Mark Liddle and Uschi Pond, while investigating the Theerivier tributary of the Olifants River (Low et al. 2006). They brought this aloe under the attention of the author who went to investigate on an expedition 16–18 December 2002, with student Paul Emms, Henk and Zaria van Jaarsveld and Steffie and Charl Swart. The region was approached from Wyekloof (Kouebokkeveld side) and we descended to the plants at Maermeriekloof.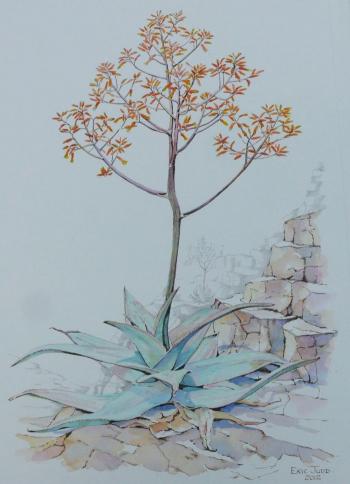 Figure 5. Aloe kouebokkeveldensis in flower, illustration by the accomplished aloe painter, Eric Judd.
Aloe kouebokkeveldensis is the sixth member of Aloe series Paniculatae and the first recorded from fynbos vegetation. Members of the series are characterised by their entire or minutely toothed leaves and subcorymbose panicles, the flowers with a rounded basal swelling and enlarging towards the throat. Aloe kouebokkeveldensis is at once distinguished from other members of this series by a combination of characters, the most conspicuous of these being its large, solitary rosettes of up to 1 m in diameter (occasionally dividing to form small groups) of grey-white, often bluish tinged leaves with elongated, confluent white spots and denticulate margins. The juvenile leaves are densely spotted, soft-textured, with margins that are often wrinkled. The inflorescences grow up to 1.4 m high, making them the largest in the Paniculatae. The small orange-red flowers are 22–23 mm long, and are followed by rounded fruiting capsules. A further diagnostic character is the leaf sap, which is not bitter. Plants growing in shade have leaves that are similar in colour to those of A. reynoldsii, the easternmost member of this group. Aloe reynoldsii occurs in riverine Valley Bushveld (Savanna Biome) and flowers in spring (September and October). Aloe striata flowers in late winter (August and September) and occurs in Nama-Karoo, Succulent Karro and Thicket vegetation. It is the most widespread member of the series. Aloe karasbergensis, the northernmost species in the group, is confined to Nama-Karoo and Succulent Karoo, but seems to favour winter-rainfall conditions and flowers in midsummer (January and February). Aloe buhrii and A. komaggasensis grow in Succulent Karoo along the western escarpment, their respective flowering periods being spring to early summer (October–December) and midsummer (January). The distribution of A. kouebokkeveldensis falls between that of A. buhrii (Bokkeveld Escarpment) in the north and A. striata in the east.
Ecology
Ecology
Plants grow on rocky cliffs, which dry out rapidly and where there is little competition from other fynbos plants. Although the plants have shallow roots and grow in soil that dries out during the long summers, sufficient moisture is taken up during the moist winters and stored in the fleshy leaf rosettes. Plants grow on sun-exposed sites, and the greyish, pale leaves are well adapted, reflecting some of the harsh sunlight.
Flowering is in early summer (November December, southern hemisphere). The orange-red flowers are readily visited by sunbirds, which are the main pollinators.
The capsules ripen in summer and the seed is dispersed in autumn just before the coming rains. These are held in an erect position where strong gusts of wind dislodge them from the open capsule. The seed is small, 4 ◊ 3 mm, an ideal size for establishment in crevices. Germination is usually after 14–21 days.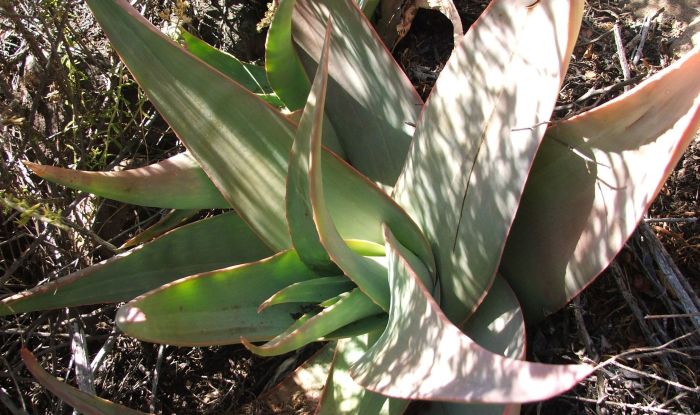 Figure 6. Close-up of a rosette of Aloe kouebokkeveldensis, note the small teeth.
Uses
Use
It is not known whether the plants are used medicinally.
Growing Aloe kouebokkeveldensis
Grow
In South Africa, Aloe kouebokkeveldensis is best grown in fynbos gardens in the winter-rainfall Western Cape. Growing local indigenous plants is advantageous, as the plants are mostly self-sustaining where the climate is concerned. It will also grow well in other Mediterranean climate gardens and in parts of California.  Outside of its habitat a greenhouse is required. The plants grow well in containers.
When growing any plant it is important to take the light, soil, moisture and temperature into consideration. Aloe kouebokkeveldensis grows in a summer-dry climate, in an exposed position and if frost occurs, it is very light. It thus requires a sunny position and a well-drained site. The soil should be sandy, slightly acidic and can be nutrient poor. Well-rotted compost can be added to the soil. The plants are shallow rooted and do not require deep soil. 
Propagation is by seed sown in autumn. Sow in a standard seed tray filled with sandy soil. First moisten the soil and then sow lightly and cover with a thin layer of sand or gravel. Keep moist and germination is within 3 weeks. The plants grow relatively fast and can be pricked out once large enough to handle. Feed with an organic fertiliser.
References
Low, A.B., Pond, U, & Van Jaarsveld, E.J. 2006. Aloe kouebokkeveldensis, a new species of aloe endemic to the Cape Fynbos. 2006. Veld & Flora, March Issue.
Reynolds, G.W. 1950. The aloes of South Africa. Trustees of the Aloes of South Africa Book Fund, Johannesburg.
Van Jaarsveld, E.J. 2010. Water wise gardening. Struik, Cape Town.
Van Jaarsveld, E.J., Low, B. & Van Wyk, A.E. 2004. Aloe kouebokkeveldensis—a new species from the Western Cape. Aloe 41,2 & 3: 36, 37.
Van Wyk, A.E. & Smith, G.F. 2001. Regions of floristic endemism in South Africa. A review with emphasis on succulents. Umdaus Press, Hatfield, Pretoria
Von Staden, L. 2018. Aloe kouebokkeveldensis Van Jaarsv. & A.B.Low. National Assessment: Red List of South African plants version 2020.1. Accessed on 2021/01/20.
Credits
Ernst van Jaarsveld
Kirstenbosch National Botanical Garden (Retired 2015)
Babylonstoren Farm
Extraordinary senior lecturer and researcher,
Department of Biodiversity and Conservation, University of the Western Cape
January 2021
Plant Attributes:
Plant Type: Succulent
SA Distribution: Western Cape
Soil type: Sandy
Flowering season: Early Summer
PH: Acid
Flower colour: Orange
Aspect: Full Sun, Morning Sun (Semi Shade), Afternoon Sun (Semi Shade)
Gardening skill: Average
Special Features:
Attracts birds
Drought resistant
Feature plant
Good potplant
Feeds honeybees
Horticultural zones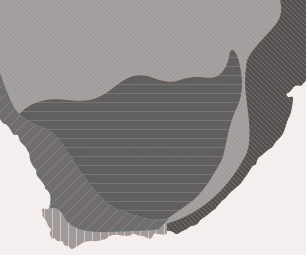 Zone 2 Coastal winter rainfall, frost free
Zone 3 Winter rainfall Karoo, light frost
Google QR Code Generator