Aloe lineata (Aiton) Haw. var. muirii (Marloth) Reynolds
Family: Asphodelaceae
Common names: Muir's striped aloe (Eng.); streepaalwyn (Afr.)
Introduction
Aloe lineata var. muiri is an attractive and rewarding garden plant. Its striking yellowish green leaves and tall flower spikes will give much needed contrast to any garden theme. It will flourish in any garden providing sufficient drainage to the root system. A. lineata var. muiri is a succulent plant that requires minimal water and it is the ideal plant to use in any landscape that strives to be water-wise.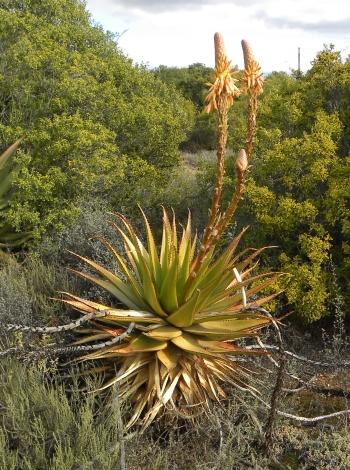 Description
Description
Aloe lineata var. muirii is a succulent plant with a single or branched stem. The stem can reach a height of 2 m, and is covered with old dry leaves. This species has a dense rosette of lanceolate leaves, which are about 400–500 mm long. The bright yellowish green leaves have very noticeable fine red lines on the surface. The margins of the leaves are covered with sharp teeth.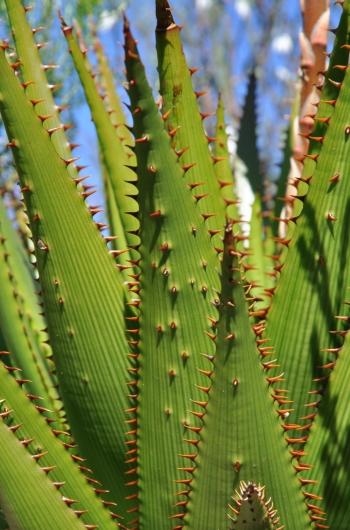 The flowers are quite spectacular and large, cylindrical, 20–40 mm long, and their colour ranges from pink to deep red. Each rosette of A. lineata var. muirii can develop up to 4 unbranched flowering spikes up to 1.2 m tall, from midwinter to late spring (June to November).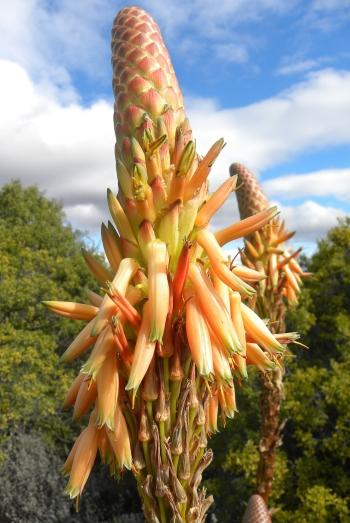 The flower heads are densely packed, and consist of developing flower buds, which are protected under thick bracts. The flowers open from the bottom upwards and as they open they elongate, emerge from under the protective bract, and when fully open, are pendent and unprotected.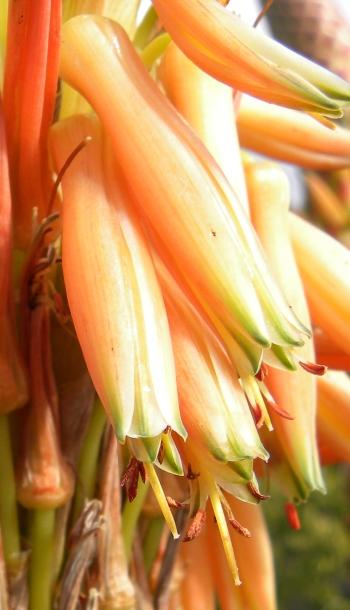 Conservation Status
Status
Distribution and habitat
Distribution description
Aloe lineata var. muiri occurs in the Western Cape, from Ladismith to George. It grows in the winter rainfall region and predominately occurs in the Little Karoo. This species grows in well-drained soils and is found on quarzitic slopes in the transition veld between Fynbos and Renosterveld. A. lineata var. muirii thrives in areas with minimal frost.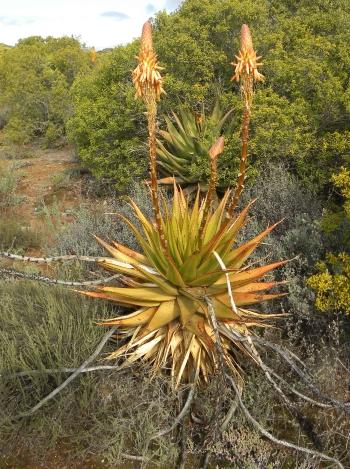 Derivation of name and historical aspects
History
Aloes are one of the more recognizable tall growing succulents known, with over 600 species in this genus. It belongs to the family Asphodelaceae, which has several other genera that includes Astroloba, Kumara, Aloidendron, Gasteria, Haworthia and others. Aloe derives from the Greek word Aloé, which describes the bitter taste of the juice found in aloe leaves. Lineata refers to the Latin word lineatus, which describes the distinctive longitudinal lines on the leaves of Aloe lineata. This variety is named after Dr John Muir (1874–1947), a Scottish plant collector, who discovered many new species of South African flora. Var. muiri typically looks like var. lineata, but differs in having yellowish green leaves with more distinct red lines. The former also has much larger marginal spines and flowers in spring (June to November), whereas var. lineata flowers in autumn (February to March).
Ecology
Ecology
The succulent leaves of Aloe lineata var. muirii hold plenty of moisture, and supply the plant with water during long periods of drought. Dry old leaves around the stem of the plant, protect it from veld fires. It has a shallow adventitious root system that allows the plant to take up water in minimal rain conditions. Flowers produce nectar which attract and supply food to sunbirds, who are the main pollinators. Seeds of A. lineata var. muirii are light and small and are dispersed by wind. 
Uses
Use
Although many other aloes are used for their medicinal value, there are no records of Aloe lineata var. muirii being used medicinally. This species is mainly used as an ornamental plant in gardens to attract birds and insects. It is also used as a container plants and does well in rockeries.
Growing Aloe lineata var. muiri
Grow
Aloe lineata var. muirii is mainly propagated by seed. This species can also be propagated by cuttings or truncheons, but this method is not popular becausue it only occasionally produces branched stems. Cleanly remove a branch from the parent plant and leave it to dry for a couple of days. Plant directly in clean, coarse sand and transplant to a well-drained soil medium of 1 part well rotted compost and 2 parts river sand, once rooted.
Sow seed during the warmer months of the year. Fresh seed is always the best to use. Sow seed in coarse river sand and cover the seed with a layer of sand, about 2 mm deep. Do not sow seed too deep, as it can rot. Keep the medium moist at an optimum temperate of 25ºC. Seed will germinate within 2 to 3 weeks. Treat small seedlings with a fungicide, as they are prone to damping off. Seedlings can be transplanted once they have reach 2 to 3 cm, into bigger containers, with a soil that consists of 1 part well rotted compost and 2 parts river sand.
Aloe lineata var. muirii is best planted in areas where there is minimal frost. It needs well-drained soil conditions and does well in rockeries, containers, and water-wise gardens. Companion plants include Drosanthemum speciosum, Cotyledon orbiculata, Pteronia incana, Tylecodon wallichii, Euclea undulata, Crassula rupestris and C. ovata and Ruschia caroli.
References
Oliver, I.B. 1993. Grow succulents. Kirstenbosch Gardening Series, National Botanical Institute, Cape Town.
Smith, G.F. & Van Wyk, B. 2008. Aloes in southern Africa. Struik, Cape Town.
Van Wyk, B-E. & Smith, G. 2005. Guide to aloes of South Africa. Briza Publications, Pretoria.
Vlok, J. & Schutte-Vlok, A. 2010. Plants of the Klein Karoo. Umdaus Press, Hatfield, Pretoria.
Credits
Ricardo Riddles
Karoo Desert National Botanical Garden
June 2018
Plant Attributes:
Plant Type: Shrub, Succulent
SA Distribution: Western Cape
Soil type: Sandy, Loam
Flowering season: Spring, Winter
PH: Acid, Neutral
Flower colour: Red, Pink, Orange
Aspect: Full Sun
Gardening skill: Easy
Special Features:
Attracts birds
Drought resistant
Good potplant
Feeds honeybees
Horticultural zones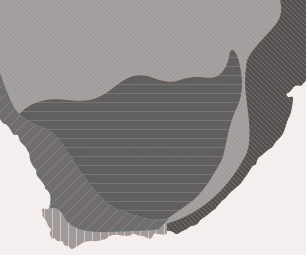 Zone 2 Coastal winter rainfall, frost free
Zone 3 Winter rainfall Karoo, light frost
Google QR Code Generator