Aloe neilcrouchii R.R.Klopper & Gideon F.Sm
Family: Asphodelaceae
Common names: Karkloof grass aloe (Eng.); karkloof grasaalwyn (Afr.); inhlaba (Zul.); inkalane (Xho.)
Introduction
Aloe neilcrouchii is the largest and the most robust of the grass aloes (section Leptoaloe), with long, leafless stems, rosettes of white-spotted leaves and heads of salmon-pink flowers in midsummer. It is one of many succulents that are found in the mistbelt grasslands of the KwaZulu-Natal midlands.
Description
Description
Aloe neilcrouchii has a long, sprawling to erect, leafless stem that can grow up to 950 × 90 mm and which branches from the base, forming very evident off-shoots. The leaves are lost on an annual basis (deciduous); they form a dense rosette at the tip of the stem and the old leaves do not persist. The leaves are green and have many white, elongated, tuberculate spots on both surfaces. They are deltoid to ovately lanceolate, up to 430 mm long and 135 mm wide at the base, with small, irregularly spaced, white teeth along the margin, 1–2 mm long and 2–5 mm apart. When broken, the leaf gel is clear and dries clear, and is not bitter.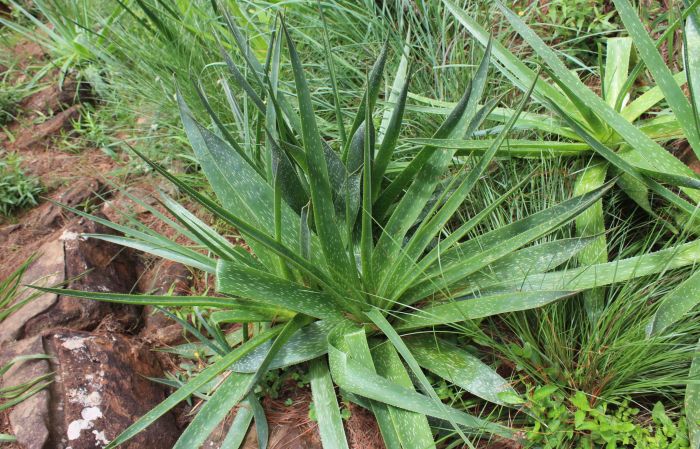 Flowering time is in midsummer (December to February), and one, unbranched, erect inflorescence is produced per rosette. The flowers are tubular, about 45 mm long, salmon-pink with green tips, in dense heads about 120 × 100 mm, erect in bud and spreading to nodding when open. The fruit is an oblong capsule, bright green to yellowish green, up to 40–45 × 22 mm. Seeds are angular, black, 3 × 2 mm with a semi-transparent, light brown wing, about 1 mm wide.
Aloe neilcrouchii may be confused with Aloe boylei, but can be distinguished by its long, sprawling, leafless stems (those of A. boylei are stemless to up to 20 mm long) and its shorter but broader, copiously white-spotted leaves.
Conservation Status
Status
According to the Red List of South African plants this species is assessed as Endangered (EN) and endemic to KwaZulu-Natal Province. Its population has declined because of land fragmentation and habitat loss caused by the forestry industry and sugar cane plantations. It is estimated to have lost 80% of its habitat, and the loss is ongoing.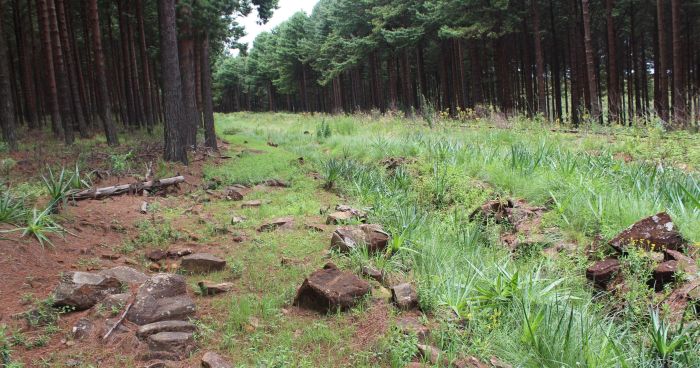 Distribution and habitat
Distribution description
Aloe neilcrouchii is found growing in rocky grasslands on southeast-facing slopes in Drakensberg Foothill Moist Grassland and in Ngongoni Veld. The only known populations are found in the Karkloof vicinity and near New Hanover in the KwaZulu-Natal Midlands. The plant is very tolerant of frost. It grows in association with Agapanthus campanulatus, Alepidea cordifolia, Blechnum inflexum, Senecio oxyriifolius and Merwilla plumbea.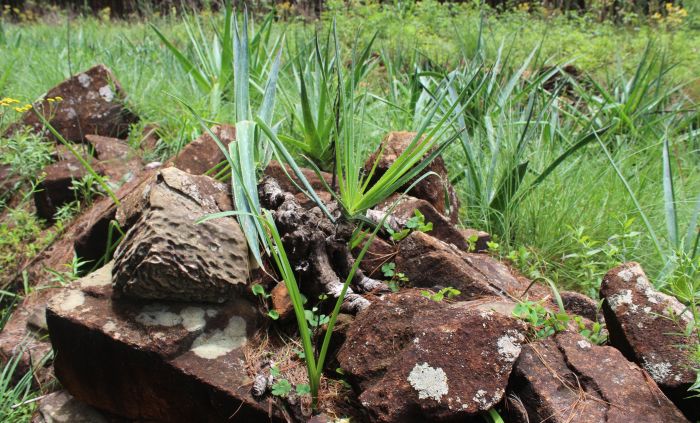 Derivation of name and historical aspects
History
Aloe neilcrouchii is named after ethnobotanist Prof. Neil R. Crouch, who brought this species to the attention of botanists. He works under the Ethnobotany Unit at the South African National Biodiversity Institute. The name Aloe comes from the Semitic word alloeh meaning 'bitter', referring to the bitter taste of the juice produced by leaves of many species of Aloe.
Aloe neilcrouchii belongs in the section Leptoaloe, a group of small aloes from mountainous, grassland habitat, commonly called grass aloes or slender aloes.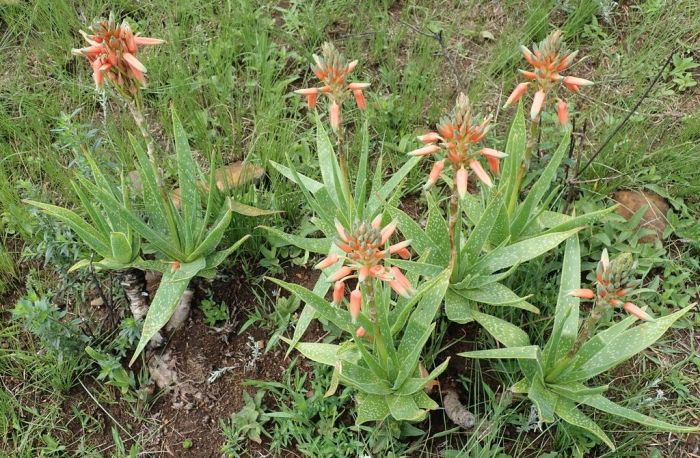 Ecology
Ecology
Aloe neilcrouchii flowers are visited, and probably pollinated by honey bees, which transport pollen from one plant to another. They may also be visited by sunbirds, but this has not been observed. Seeds are kept in a capsule, when it dries out, it cracks open and the seeds are both dispersed into the air by wind or fall into the surrounding soil.
Fire does not kill the plants, but seems to promote branching of young stems and new off-shoots along the stems.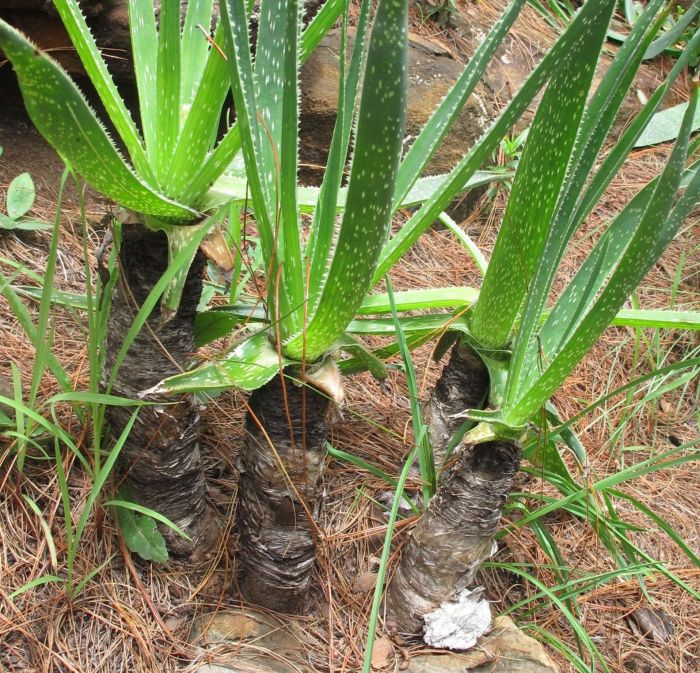 Uses
Use
Aloe neilcrouchii can be grown in rockery gardens and as a focal feature in landscapes. Although many species of Aloe are known to be used medically and in cosmetics, there is no record of A. neilcrouchii being used for medical or cultural purposes.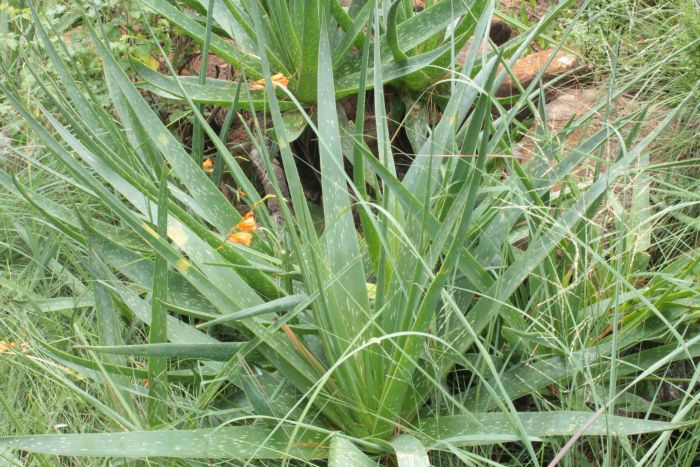 Growing Aloe neilcrouchii
Grow
Aloe neilcrouchii can be propagated both sexually (using seeds) and asexually (by off-shoots and stem cuttings). When propagating, prepare a well-aerated soil mix that is also friable and includes well-decomposed organic matter. When propagating by stem cuttings and off-shoots, allow the cuttings and the removed shoots to dry off for 2–3 days to form a callus, then plant the cuttings in sterilised containers filled with a sandy mixture, irrigate lightly and infrequently after planting, to prevent rot. When propagating using seeds, sow the seeds in spring or early summer, in coarse sand, cover them lightly and keep the medium moist. Germination is seen after 3–4 weeks, in favourable conditions.
References
Candotti, P. & Candotti, R. 2020. The plant hunter, an interview with Prof. Neil Crouch. The leopard's Echo. Online. https://le.kloofconservancy.org.za/the-plant-hunter/
Johnson, I.M., Harvey, J., Von Staden, L. & Mtshali, H. 2018. Aloe neilcrouchii R.R.Klopper & Gideon F.Sm. National Assessment: Red List of South African plants version 2020.1. Accessed on 2021/01/21.
Klopper, R.R. & Smith, G.F. 2010. Aloe neilcrouchii, a new robust leptoaloe from KwaZulu-Natal, South Africa. Bothalia 40(1): 93–96.
Smith, G.F., Crouch, N.R., Klopper, R.R. & Condy, G. 2011. Aloe neilcrouchii. Flowering Plants of Africa 62: 10–15.
Credits
Bathabile Ndlovu
KwaZulu-Natal National Botanical Garden
and Alice Notten, Kirstenbosch NBG
February 2021
Acknowledgements: the author thanks Isabel Johnson and Peter Warren for some of the images used in the article.
Plant Attributes:
Plant Type: Succulent
SA Distribution: KwaZulu-Natal
Soil type: Sandy, Loam
Flowering season: Early Summer, Late Summer
PH:
Flower colour: Green, Orange
Aspect: Full Sun, Morning Sun (Semi Shade), Afternoon Sun (Semi Shade)
Gardening skill: Average
Special Features:
Attracts birds
Good potplant
Feeds honeybees
Horticultural zones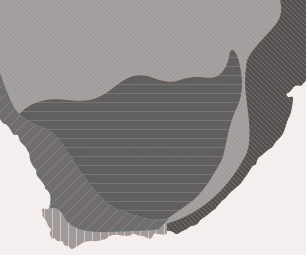 Zone 1 Coastal summer rainfall, frost free
Google QR Code Generator