Aloe petricola Pole-Evans
Family: Asphodelaceae
Common names: rock aloe (Eng.); rotsaalwyn (Afr.)
Introduction
The rock aloe, true to its name, is perfect for rocky areas in the garden, producing beautiful bicoloured flowers that will attract nectar-feeding birds to your garden.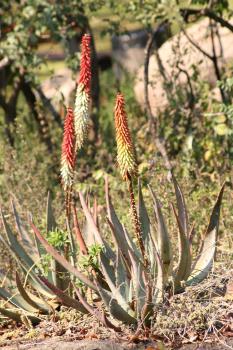 Description
Description
This is generally a stemless aloe, although very short stems have been found. It grows to between 450 and 600 mm tall. The plants grow as single, densely leafy rosettes. The rosette has a rounded appearance caused by the upper parts of the leaves that are curved inwards. The leaves are greyish green and long, with broad bases and narrow tips. The upper, and especially the lower surfaces, have scattered thorns on them. The leaf margins are armed with 5 mm long, sharp, brown, triangular teeth.
The inflorescence vary in number on young to older plants, with younger plants only having one, but in older plants it can go to between three and four branches, in some cases up to six. The densely flowered racemes (flowerheads) are long, narrow and bicoloured. The tubular flowers are up to 30 mm long and wider in the middle. The general bicoloured forms have red buds with the open flowers turning a greenish white. In some forms though, the buds can be orange and the open flowers yellow. Flowering takes place in winter, between July and August. The flowers are followed by the seeds which are enclosed in capsules.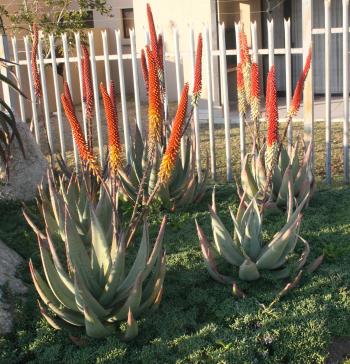 Conservation Status
Status
According to the website http://redlist.sanbi.org, checked on 6 October 2015, the conservation status of this plant is LC (Least Concern).
Aloe petricola has a restricted range, but it is locally common and numbers thousands of plants. Although about 52% of its range has been transformed by forestry plantations, this species occurs in extremely shallow soils in and around rocky outcrops which are not suitable for trees, and the plantations have thus not had a significant impact on the wild population. This species is still common, its population is stable and its habitat is not threatened.
Distribution and habitat
Distribution description
Aloe petricola has a restricted range, found naturally only around Nelspruit in Mpumalanga, from Sabie to Barberton, westwards to Schoemanskloof and eastwards to Krokodilpoort and Pretoriuskop. It is found at altitudes ranging from 500 to 1 000 m or 1 650 to 3 300 m, on sandstone slopes and granite outcrops. In this area it is relatively common, growing in large groups, sometimes in very shallow soil, in rocky outcrops and slopes.
Derivation of name and historical aspects
History
The name of the genus aloe, is derived from the Greek, alsos, which refers to the bitter juice found in the leaves of these plants. It can be traced back earlier to the Arabic word alloeh, or the Hebrew word allal, both meaning 'bitter'. The scientific name petricola, means 'inhabitant of rocky places', referring to this aloe's preferred habitat.
Aloe within South Africa consists of 155 species. Recent genetic studies have, however, led to certain re-classifications, and some plants formerly known by the genus Aloe, has now been changed to Aloiampelos, Aloidendron and Aristaloe. Aloes are used throughout the world as garden subjects as well as for various medicinal uses.
Ecology
Ecology
Aloes have nectar- and pollen-rich flowers that attract a wide variety of animals, ranging from insects to birds, and even small lizards. The plants themselves are also used by animals such as baboons and rock hyrax during times of drought as a source of food and water.
Uses
Use
Aloes are one of the most widely used medicinal plants in the world, both traditionally and commercially.
Aloe plants produce two substances that are used, namely gel and latex. The gel is a clear, jelly-like substance found on the inside part of the leaf. The latex comes from just under the skin of the leaf and is yellow. In some products both the gel and latex are used. It is used to treat a wide variety of ailments, including ulcers, colds and constipation.
Aloe gel is also used in a wide variety of commercial skincare products, ranging from medicinal treatments for burns and other skin irritations, to cosmetics and hand lotions.
Aloe petricola, is used as a remedy to heal stomach ailments. The sap-filled leaves are used for this, as well as for treating wounds and minor burns.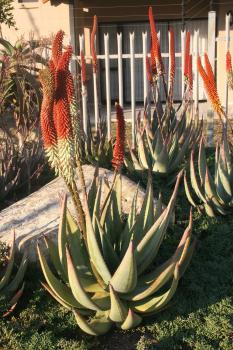 Growing Aloe petricola
Grow
Aloe petricola grows well in cultivation and is a welcome addition to a water-wise garden, needing little maintenance given the right environment and is able to grow in those difficult, rocky places found in some gardens and is, therefore, perfect for landscaped rockeries. They are also well suited to sloping banks and even in containers. Planting them in groups make for a spectacular sight when they are in full bloom.
This aloe is drought resistant, as are most of the other aloes, although if watered in its summer growing season, it will thrive and flower more profusely.
For optimum growth, they need a well-drained soil with a pH that is either acidic, neutral (pH=7), or very slightly basic. They can, however, grow in different soil types, from clay-like soils to sandy soils.
Aloe petricola grows easily from seed. Let the pods dry on the plant, and when completely dried, break open and collect the seeds. Plant in semi-shade to full sun and protect the plants from severe frost. The plants will benefit from a regular mulch of compost.
A combination of factors can lead to unhealthy plants; they include incorrect watering, poor drainage or too much shade. It can lead to attack by pests and diseases. Stressed plants are susceptible to white scale, aloe cancer, aloe rust and the aloe snout beetle.
References
Reynolds, G.W. 1969. The aloes of South Africa. Balkema, Cape Town.
Van Wyk, B. & Smith, G.F. 2014. Guide to the aloes of South Africa. Briza Publications, Pretoria.
Wikipedia https://en.wikipedia.org/wiki/Aloe_petricola accessed 6/10/15
Fryslan Wood and Garden Centre http://www.fryslan.co.za/#!aloe-petricola/c1w7e accessed 6/10/15
Succulents.co.za Succulent plant site http://www.succulents.co.za/aloes/stemless-aloes/aloe-petricola.php accessed 6/10/15
Dave's Garden http://davesgarden.com/guides/pf/go/60932/ accessed 6/10/15
Credits
Lou-Nita Le Roux
Lowveld National Botanical Garden
October 2015
Plant Attributes:
Plant Type: Succulent
SA Distribution: Mpumalanga
Soil type: Sandy, Clay
Flowering season: Winter
PH: Acid, Neutral
Flower colour: Green, Red, Yellow, Orange
Aspect: Full Sun
Gardening skill: Average
Special Features:
Attracts birds
Attracts butterflies
Drought resistant
Good potplant
Medical plant
Feeds honeybees
Horticultural zones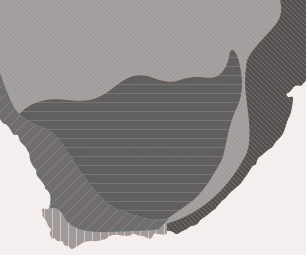 Zone 1 Coastal summer rainfall, frost free
Google QR Code Generator