Aloe pretoriensis Pole Evans
Family: Asphodelaceae
Common names: Pretoria aloe (Eng.); Pretoria aalwyn (Afr.)
Introduction
A widespread aloe that occurs from Pretoria in Gauteng, to Limpopo, Mpumalanga, Zimbabwe and Swaziland, with a neat, compact rosette of thin leaves and a 3 m tall, branched inflorescence in winter.
Description
Description
Aloe pretoriensis is a medium-sized, rosette-forming succulent, which can reach a height of up to 1 m and approximately 0.8 m wide. Unlike most aloes that tend to be fleshy with thick leaves, A. pretoriensis has thinly fleshy leaves, lance-shaped and tapering to a point, up to 500 mm long and 150 mm broad. The leaves are pale bluish green, have vertical stripes, toothed leaf margins and dense thorns at the base. Old leaves die back from the tips, and the dried leaf tips develop a reddish colour.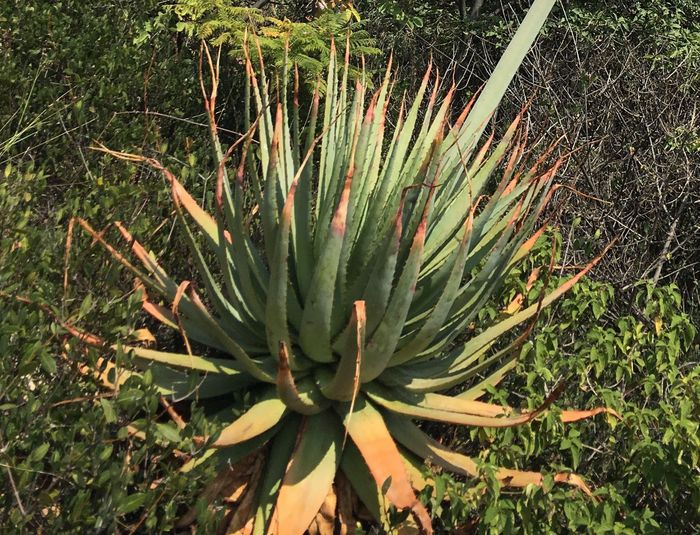 Stems are solitary, and produce only one inflorescence. The inflorescence is 3–5 m tall and about 70 mm in diameter at the base, with 5–8 branches, each tipped with a densely flowered raceme, up to 300 mm long and about 10 mm diameter. Flowers are tubular, up to 45 mm long; matured flowers are bright peach-red, sometimes with yellowish tips. Flowering is in late autumn to winter (May–July).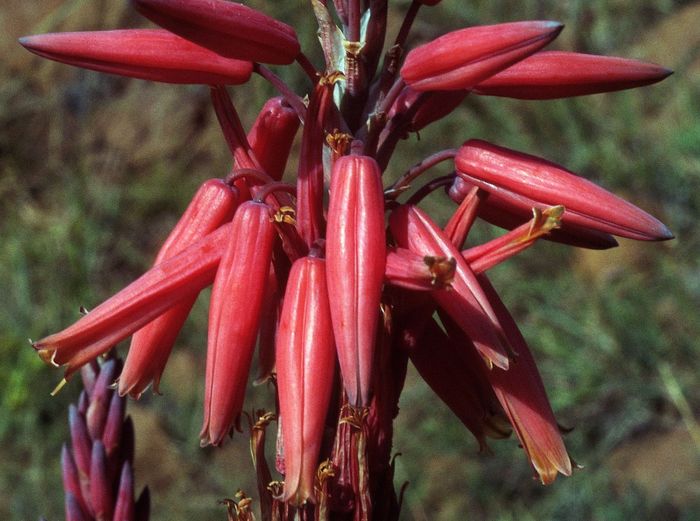 Conservation Status
Status
Aloe pretoriensis is not a threatened species, although urban expansion in Pretoria in the last 100 years has led to localised declines of Aloe pretoriensis. The species is assessed as Least Concern (LC) in the Red List of South African plants.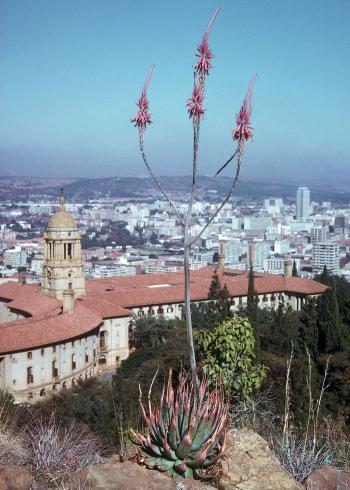 Distribution and habitat
Distribution description
Aloe pretoriensis has a widespread distribution and occurs in the northern part of South Africa, in Gauteng, mainly Pretoria around the Union Buildings to Koedoespoort, Mpumalanga mainly in Emalahleni, Lydenburg, Mbombela and Barberton, and in Limpopo; it also occurs in Zimbabwe, mainly in Rusapi, Inyanga, Chimanimani and Mutare, and in Swaziland, mainly along the Lebombo Mountains. This species is normally found in dry, rocky outcrops, on north-facing slopes, in Savanna and Grassland Biomes, in well-drained soil. The summers are hot with cooler winters, light frost and normally receiving rainfall in summer and experiencing a dry winter.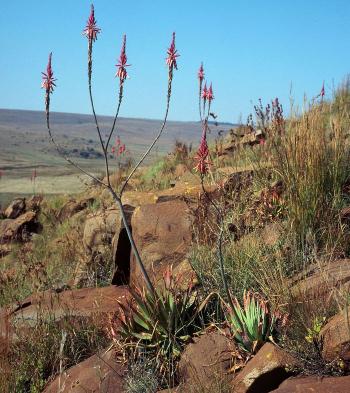 Derivation of name and historical aspects
History
The genus name Aloe is derived from the Semitic word alloeh, meaning 'bitter' and the name refers to the bitter juice found in the leaves of aloes. The specific epithet pretoriensis refers to the original location, Pretoria, where it is believed that this aloe was first collected by A. Schenk, in May 1886. This species was described by I.B. Pole Evans in 1914, who found that many specimens had been kept in different herbariums for years misidentified and recorded as A. pluridens, A. lineata or A. arborescens.
The family Asphodelaceae has over 20 genera, such as Aloidendron, Astroloba, Gasteria, Haworthiopsis, Haworthia, Kumara, Tulista and Bulbine, to name a few. The genus Aloe occurs in about 40 countries, mainly in Africa, Arabian Peninsula, Madagascar and eastern Indian Ocean Islands. Aloe has about 615 taxa, of that about 1 155 taxa (including subspecies and varieties) and about 140 species occur in southern Africa.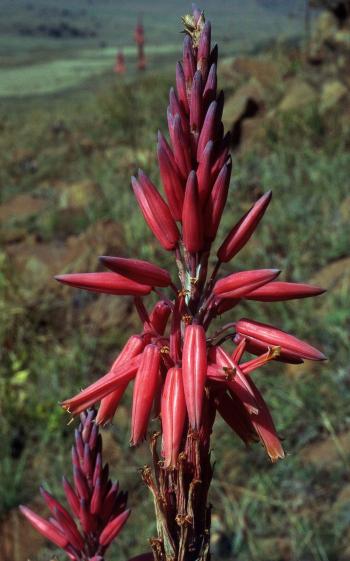 Ecology
Ecology
Aloe pretoriensis flowers in winter (May–July); the flowers are rich in nectar and are visited by many insects, including honey bees, and nectar-feeding birds, such as sunbirds, which depend on this plant for food. The flowers are pollinated by sunbirds. When the fruits are ripe the capsules dry, and split open to release the seeds. Seeds are dispersed by wind in late winter to spring, and they fall into crevices and between the rocks, are banked in the soil during summer season and start germinating in autumn. This species normally grows in habitats that are exposed to veld fires and the plants that grow between the rocks are protected from the fire. This species is resistant to veld fires and even if they get burned, some of the damaged plants regrow after fires. This species has a tall inflorescence to ensure that the flowers and/or fruits are not exposed to natural fire. The population around the Union Buildings in Pretoria is infested by invasive plant species because the habitat has not been burned for many years and that will have a negative effect on the population in that area.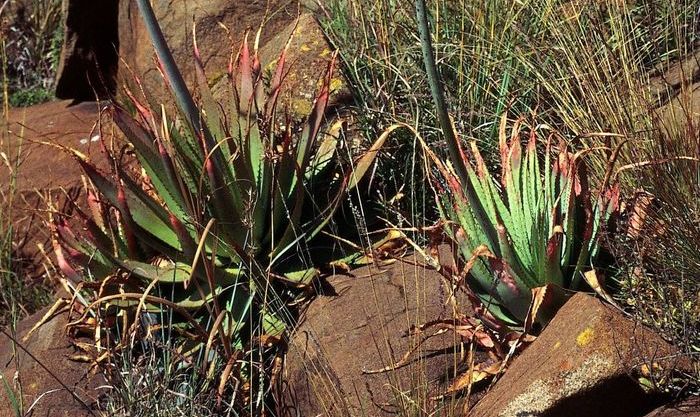 Uses
Use
Aloes are both decorative and highly collectable. They have become common in the general horticultural trade and landscaping, particularly in the regions where the genus occurs naturally, as well as the specialist ornamental plant trade. The commercial trade of aloes for medicinal purposes is based mainly on 2 materials obtained from the leaves of certain species of Aloe: leaf exudate, used in laxatives, and leaf mesophyll, used in products applied topically for skin ailments or taken internally to improve digestion. As with other species such as A. ferox, A.marlorthii and other aloe species used for medicinal purpose, A. pretoriensis leaves are used as a skin lightening in some communities, but this species is mostly used in landscape designs because of its rosette-forming arrangement which is appealing to the eye and in some gardens can be used alongside with other aloe species in rocky gardens or in water-wise gardens. This aloe can also be grown as a pot plant which may be used to form a focal point in the garden.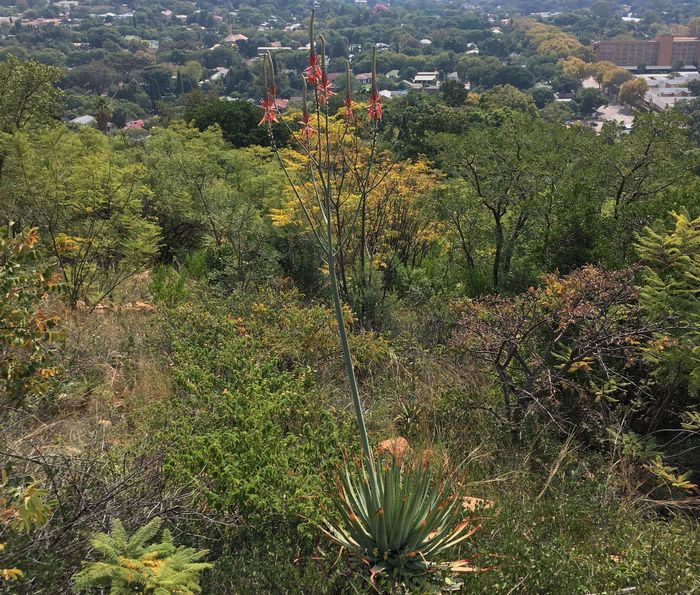 Growing Aloe pretoriensis
Grow
Aloe pretoriensis grows very well in cultivation and is suitable for rockeries and water-wise gardens, where the winter is cool with light frost or no frost, and also as a pot plant. It grows well in full sun and must be planted in a well-drained soil, on a slope. During hot weather, water once a week and twice a month in normal summer temperatures, and once a month in winter. When mature plants are removed from the soil, or are being transplanted into bigger pots, leave the plant out of the soil for 2 to 3 days to dry and cut off the old roots to prevent rotting of the root system and promote growth of new roots.
Aloe pretoriensis can be propagated using both sexual (seed sowing) and asexual (stem cutting) propagating methods. Sow seed during the warm months (mainly March and April) on coarse river sand and slightly cover the seeds with a layer of sand, not more than 2 mm deep, and keep the medium moist. Seeds germinate after 3 to 4 weeks. Transplant the seedlings 1 to 2 months after germination. Seedlings must be transplanted into a medium consisting of 2 parts coarse river sand and 1 part of well-rotted compost. Asexual propagation is done with leaf cuttings using a clean, sharp instrument. Allow the cut leaves to dry in a cool, airy place, away from direct sunlight for a few days, until the cut ends have dried and dust the wounds with a fungicide. Plants the leaf cuttings in a well-drained potting medium, in an area lightly shaded, cool and with high relative humidity. Keep moist but not wet.
Aloe pretoriensis is prone to gall mite (aloe cancer), white scale, aphids, rust and they can be controlled by a fungicide or pesticide application. Prevent plant infection by sterilising your medium, tools, only using disease-free seeds, and also monitor pest and control them at an early stage to prevent spreading. Remove plants infested with gall mite, as it is difficult to treat it.
References
Clarke, H. & Charters, M. 2016. The illustrated dictionary of southern African plant names. Flora & Fauna Publications Trust, Jacana, Johannesburg.
Foden, W. & Potter, L. 2009. Aloe pretoriensis Pole Evans. National Assessment: Red List of South African plants version 2017.1. Accessed on 2019/09/13.
Jeppe, B. 1969. South African aloes. Purnell, Cape Town.
Judd, E. 1967. What aloe is that? Purnell Pocketbook, Cape Town.
Mapunya, M.B., Nikolova, R.V. & Lall, N. 2012. Melanogenesis and antityrosinase activity ofselected South African plants. Hindawi Publishing Corporation, Pretoria.
Mucina, L. & Rutherford, M.C. (eds) 2006. The vegetation of South Africa, Lesotho and Swaziland. Strelitzia 19. South African National Biodiversity Institute, Pretoria.
Reynolds, G.W. 1950. The aloes of South Africa. Trustees of the Aloes of South Africa Book Fund, Johannesburg.
Van Wyk, B. & Smith, G.F. 2014. Guide to the aloes of South Africa. Briza Publications, Pretoria.
Van Wyk, B. & Smith, G.F. 2003. Guide to the aloes of South Africa. Briza Publications, Pretoria.
Credits
Ntuthuko Mabuya, Thabang Makola and Sithi Ngamlana
Pretoria National Botanical Garden
October 2019
Acknowledgements: the authors acknowledge A. Frisby, G.W. Reynolds and P. Joffe for habitat photographs.
Plant Attributes:
Plant Type: Succulent
SA Distribution: Gauteng, Limpopo, Mpumalanga
Soil type: Sandy, Loam
Flowering season: Winter
PH:
Flower colour: Red, Orange
Aspect: Full Sun
Gardening skill: Easy
Special Features:
Attracts birds
Drought resistant
Feature plant
Medical plant
Feeds honeybees
Horticultural zones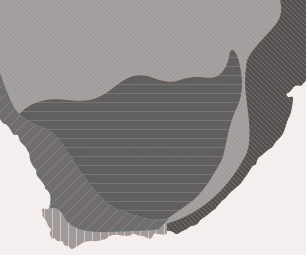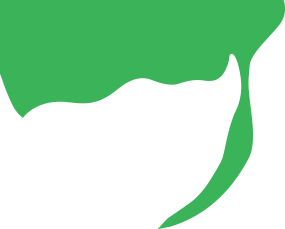 Zone 1 Coastal summer rainfall, frost free
Zone 5 Bushveld summer rainfall, Light frost
Google QR Code Generator