Aloe reynoldsii Letty
Family: Asphodelaceae
Common names: yellow spineless aloe, Mbashe aloe
Introduction
A rare aloe with smooth, spineless leaves and a short stem, only found on south-facing cliffs along the Mbashe River in Idutywa, Eastern Cape.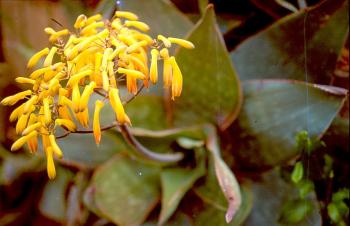 Description
Description
Aloe reynoldsii is a perennial succulent, with a short stem. The plant grows up to 650 mm tall, usually occurring singly or in small groups of 3 to 20 plants in their habitat. The stem is about 50 mm in diameter, with a height of 100 to 150 mm, usually covered with dry leaves, branching and rebranching to form clumps. The leaves are lanceolate, about 350 mm long and 110 mm broad. Leaf margins are crenulate, with a pink or white cartilaginous border and small, soft teeth. The leaves have white spots on both the upper and lower surfaces.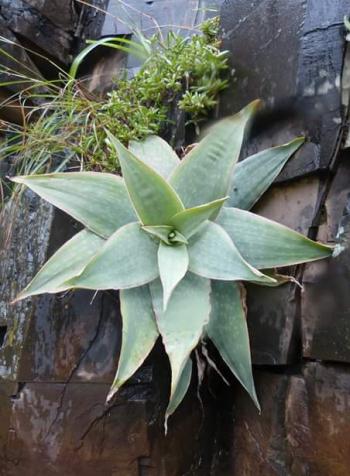 This species flowers in spring (August to October), with yellow flowers in a multi-branched inflorescence, that is a 400–600 mm high panicle. Seed capsules are about 220 mm long and 100 mm in diameter.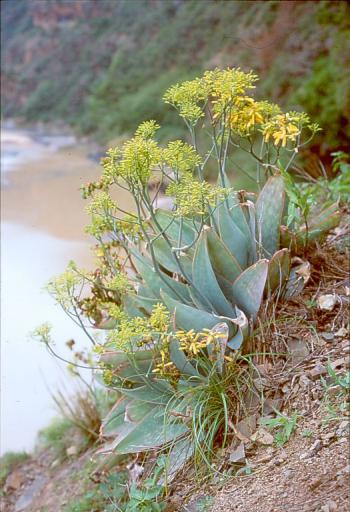 Conservation Status
Status
Aloe reynoldsii is listed as Rare in the Red List of South African plants. It has a very restricted distribution and a very specialized habitat. Major threats are invasion of its habitat by Lantana camara and illegal collecting for horticulture, however, most of its population is inaccessible, because of its cliff-face habitat and it is not believed to be threatened.
Distribution and habitat
Distribution description
Aloe reynoldsii is only known from sheer, southeast- and south-facing, shale cliffs, at an altitude of 300–600 m above sea level, along the Mbashe River in Idutywa, Eastern Cape.
It occurs in the Savanna Biome, Sub-Escarpment Savanna Bioregion and the vegetation where this species is found, is Eastern Valley Bushveld.  The summers are hot, with cooler, dry winters. Rainfall occurs mainly in summer and ranges between 1 000–1 250 mm. This species grows in semi-shaded areas, and in its habitat, is exposed to direct sunlight for the first 3 to 4 hours of the day. There are a number of other associated species that occur in this habitat, such as Cotyledon pendens, Portulacaria afra, Bulbine thomasiae, Drimia anomala and D. loedolffiae, Haworthia cymbiformis var. setulifera, Crassula cordata, C. intermedia and C. perforata, Haemanthus albiflos, Plectranthus hadiensis, Ficus burkei, Schotia latifolia, Bauhinia bowkeri, etc.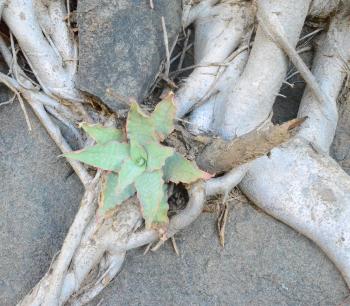 Derivation of name and historical aspects
History
The genus name Aloe is from the Semitic word alloeh, meaning 'bitter' and the name refers to the bitter juice found in the leaves of aloes. A. reynoldsii is named after a well-known aloe expert, Dr Gilbert W. Reynolds (1895–1967).
The family Asphodelaceae has over 20 genera, such as Aloidendron, Gasteria, Astroloba, Haworthia, Kumara and Bulbine to name a few. Aloe has about 630 taxa, and of that about 170 taxa (including subspecies and varieties) and about 154 species occur in southern Africa. Aloe mainly occurs in Africa, Arabian Peninsula and Madagascar.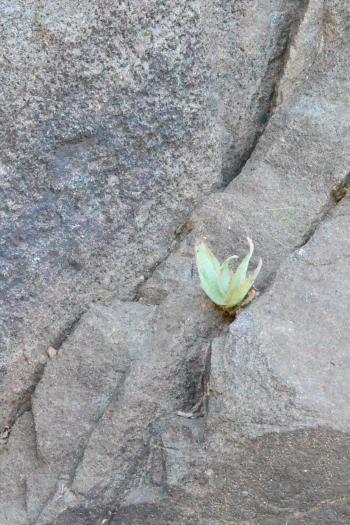 Ecology
Ecology
Aloe reynoldsii flowers are pollinated by sunbirds, and form capsules. When the fruits are ripe the capsules dry, and split open to release the seeds. Seeds are dispersed by wind in late summer to autumn, and they fall into crevices and are banked in the soil during the dry winter season. The seeds start to germinate with the first rains of the summer rainfall season. On the cliffs along river banks, mature plants grow at about 3 to 5 m at the bottom of the cliff, with a few small seedlings, indicating that seedlings are washed away by water during the rainy season when the Mbashe River is full flood, before they can grow into mature plants.
Uses
Use
Aloe reynoldsii is commonly used in landscaping and as a pot plant. Although aloes such as Aloe ferox, A. vera, A. arborescens are used for medicine and cosmetics, there are no records of Aloe reynoldsii being used for medicinal or cultural purposes.
Growing Aloe reynoldsii
Grow
Aloe reynoldsii grows very well in cultivation and is suitable for rockeries and water-wise gardens, where the winter is cool with no frost and also as a pot plant. It grows well in semi-shaded areas with morning sunlight and afternoon shade and must be planted in a well-drained soil. During hot weather, water once a week and twice a month in normal summer temperatures, and once a month in winter. When mature plants are removed from the soil, or are being transplanted into bigger pots, leave the plant out of the soil for 2 to 3 days to dry and cut off the old roots to prevent rotting of the root system and promote growth of new roots.
Aloe reynoldsii can be propagated using both sexual (seed sowing) and asexual (stem cutting) propagating methods. Sow seed during the warm months on coarse river sand and slightly cover the seeds with a layer of sand, not more than 2 mm deep, and keep the medium moist. Seeds germinate after 2 to 3 weeks. Transplant the seedlings after 1 to 2 months. Seedlings must be transplanted into a medium consisting of 2 parts coarse river sand and 1 part of well-rotted compost. Branches can be cut off using a clean, sharp instrument. Allow the cut stem to dry in a cool, airy place, away from direct sunlight, for a few days until the cut ends have formed a callus. Plant the callused stem in a well-drained potting medium, in a lightly shaded spot, keep moist but not wet.
Aloe reynoldsii is prone to aloe cancer, white scale, aphids, rust and they can be controlled by a fungicide or pesticide application. Prevent plant infection by sterilizing your medium, tools, only using disease-free seeds, and also monitor pest and control them at an early stage to prevent spreading.
References
Clarke, H. & Charters, M. 2016. The illustrated dictionary of southern African plant names. Flora & Fauna Publications Trust, Jacana, Johannesburg.
Jeppe, B. 1969. South African aloes. Purnell, Cape Town.
Reynolds, G.W. 1950. The aloes of South Africa. Trustees of the Aloes of South Africa Book Fund, Johannesburg.
Smith, G.F. & Van Wyk, B. 2008. Aloes in southern Africa. Struik, Cape Town.
Von Staden, L., Victor, J.E. & Smith, G.F. 2006. Aloe reynoldsii Letty. National Assessment: Red List of South African plants version 2017.1. Accessed on 2017/05/09
Credits
Ntuthuko Mabuya
Pretoria National Botanical Garden
May 2017
 
Plant Attributes:
Plant Type: Succulent
SA Distribution: Eastern Cape
Soil type: Sandy, Loam
Flowering season: Spring
PH: Acid
Flower colour: Yellow
Aspect: Morning Sun (Semi Shade)
Gardening skill: Easy
Special Features:
Attracts birds
Drought resistant
Good potplant
Horticultural zones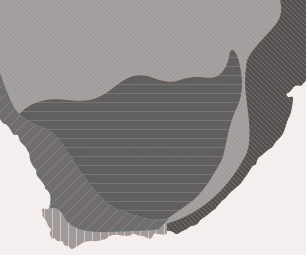 Zone 1 Coastal summer rainfall, frost free
Google QR Code Generator