Aloe rouxii Van Jaarsv.
Family: Asphodelaceae
Common names: Low's Creek grass aloe (Eng.); grasaalwyn (Afr.)
Introduction
Aloe rouxii is a recently named, small grass aloe, only known from the Lows Creek region, near Barberton (Mpumalanga, South Africa), where it grows on mountain peaks in grassland. It forms small clusters with yellow flowers in winter, and is difficult to spot among the rocks and grass, when not in flower.
Description
Description
Plants are cluster-forming (rarely solitary), up to 200 mm in diameter, consisting of 8–22 stems, up to 120 mm high. The roots are fleshy, terete, up to 4 mm in diameter. Its branches up to 18 mm in diameter, covered with remains of dry leaf bases. The main branch is up to 30 mm in diameter.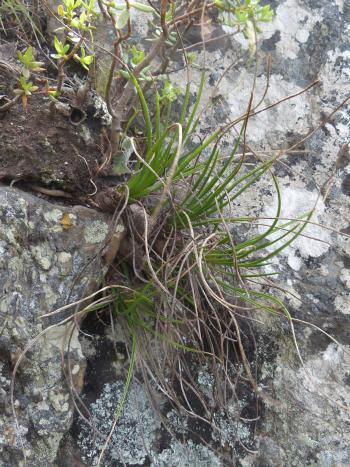 The leaves are ascending, 12–18, in dense rosettes, linear, 60–120 × 1.5 mm, the ends becoming dry and grass-like, up to 1.5 mm in diameter, bright green. The lower surface is convex and the upper surface is channelled. The leaf margin is armed with small, whitish, translucent teeth, 0.3 × 0.3 mm in diameter, 1–2 mm apart. The leaves are at the base and imbricate-amplexicaul with few white spots.
The inflorescence is 110–200 mm high. The flower stalk is up to 7 mm in diameter at the base, tapering to about 5 mm, rounded at both sides but asymmetric at base. Sterile bracts up to 5, broadly egg-shaped, ovate-acuminate, 13 × 7 mm, membranous, maroon-brown; margins grey. The floral bracts 5 × 10 mm becoming smaller upwards. Racemes 20–40 mm long; dense, bearing up to 22 flowers; the pedicles erect, 12–18 mm long, yellow; the flowers at first erect, spreading to slightly drooping when opened. The perianth is 12–14 × 4–5 mm, yellow; slightly club-shaped, 4 mm in diameter at the base and widening up to 5 mm at the end. The outer segments 13 × 3 mm, with a subacute end; inner segments 13 × 4 mm. The stamens are 10–15 mm long; the anthers are orange; 2 × 1 mm; filaments 8–13, yellow, 3 inner lengthening in advance of the 3 outer. The ovary is oblong, 3 × 1.5 mm; stipe 1 mm long; style is 10 mm long, lengthening to 12.5 mm and protruding to 3 mm beyond the throat. The fruiting capsule and seeds not seen.
Flowering occurs mainly in autumn to early winter (April to June in the southern hemisphere).
Conservation Status
Status
Aloe rouxii is a rare endemic which should be protected. It is a newly described species that has not yet been assessed for the Red List of South African plants.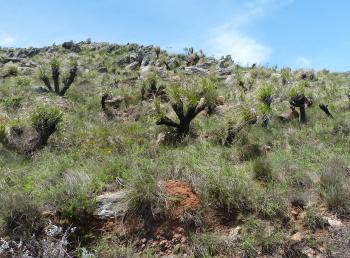 Distribution and habitat
Distribution description
Aloe rouxii is known only from the upper mountain slopes, east of the Lows Creek region, growing in full sun, among grass and rocks. Rainfall in the habitat is fairly high and ranges from 800 to 1 000 mm per annum and is experienced mainly in summer (in the form of thunder showers, October to May, southern hemisphere). The summers are cool, very moist and humid, with frequent fog. The geology consists of serpentines (greenstone belt) of the Onverwacht Group (Barberton Supergroup). Soils derived from these ultramafic lavas are rich in magnesium. It has high concentrations of heavy metals and is toxic to many plants and consequently has a high level of plant endemism. (Morrey et al. 1989; Van Wyk & Smith 2001; Barker et al. 2006; Mucina & Rutherford 2006).
The vegetation in its habitat consists of grassland and Barberton Serpentine Sourveld (Lowveld Bioregion), which the latter forms part of the Savanna Biome (Mucina & Rutherford 2006). Plants grow on upper slopes at altitudes of about 800 to 1 200 m above sea level.  Companion species of Aloe rouxii noticed include, Aloe arborescens and A. spicata, Angraecum pusillum, Burchellia bubalina, Crassula lanceolata, C. pellucida subsp. lineolata, C. sarcocaulis and C. swaziensis, Delosperma lebomboensis, Ekebergia pterophylla, Kalanchoe rotundifolia, Merwilla plumbea, Plectranthus verticillatus and P. montanus, Senecio barbertonicus and Xerophyta retinervis.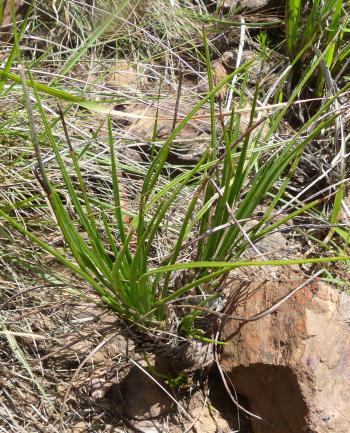 Derivation of name and historical aspects
History
Aloe rouxii was named in honour of Mr John Roux from Christchurch, New Zealand, in 2016 in the German succulent magazine, Avonia. This little grass aloe was first brought to the author's attention by Mr John Roux on 25 April 1976, when he accompanied me to his uncle's farm, northeast of Barberton, where he showed me the little aloe in habitat. Mr John Roux at the time, was farming with cattle and game on Kondowe Farm in the Limpopo Province. In 1976, the author was working at the Lowveld National Botanical Garden in Nelspruit (Mpumalanga) where a few plants were gathered and grown. However, the plants did not react well to the hot, low-lying, Lowveld climate and eventually died. In 1999, Mr Roux brought me plants in flower which I immediately took to Mrs Vicki Thomas, botanical artist, who prepared the illustration (see below). I also drew up a tentative description, but was at first hesitant to formerly publish it, because of the uncertainty of its status.
Aloe rouxii belongs to a group of aloes known as Leptoaloe. These small aloes usually grow in grassland and are adapted to sporadic fires (Reynolds 1974; Craib 2005). The older leaves usually form a thick layer around its stems, which acts as an insulator against excessive heat or winter cold. Grass aloes when not in flower, are difficult to spot, as they blend into their background. Also plants of this group usually have fleshy roots which also store water during the dry winter months.
Aloe rouxii (within the Leptoaloe), is related to A. chortolirioides var. chortolirioides, A. chortolirioides var. woolliana and A. dominella and but is distinguished from them by its bright green, very narrow, channelled leaves, 1.5 mm in diameter, bearing small translucent teeth, and its short perianth 12–14 mm long and bright yellow flowers.
Ecology
Ecology
Aloe rouxii is pollinated by local sunbirds. The plant proliferates from the base, and when damaged by fires, will simply re-sprout. Seeds are dispersed by wind in spring (September–October), just before the onset of the summer rains.
Uses
Use
No uses have been recorded.
Growing Aloe rouxii
Grow
Aloe rouxii is a difficult plant in cultivation because of its soil requirements and montane climate. It can be grown both as a container plant, or in a moist, grassland garden, where frost is not severe (Van Jaarsveld 2010). The species proliferates from the base, forming small clusters. It is best grown in a well-drained, sandy soil and an annual compost dressing, will improve its growth performance. In cold climates, it should rather be grown in a cool greenhouse and kept dry during winter. They are fairly pest-free, but will rapidly rot if kept too wet or in poorly drained soil.
Aloe rouxii can be propagated from both seed and cuttings. Cuttings ranging from 100–150 mm in length, are best rooted in clean sand, in spring or summer. It is best planted in a mineral-poor, sandy, acidic soil. Provide ample compost, which should boost its performance. Seed should be sown in spring or summer and kept moist.
References
Craib, C. 2005. Grass aloes in the South African veld. Umdaus Press, Pretoria.
Mucina, L. & Rutherford, M.C. (eds) 2006. The vegetation of South Africa, Lesotho and Swaziland. Strelitzia 19. South African National Biodiversity Institute, Pretoria.
Reynolds, G.W. 1974. The aloes of South Africa. Balkema, Cape Town, Rotterdam.
Van Jaarsveld, E.J. 2010. Water wise gardening. Struik, Cape Town.
Van Jaarsveld, E.J. 2016. Aloe rouxii — eine neue Gras-Aloe aus der Provinz Mpumalanga (Südafrika) Avonia 34 (1): 12–15.
Credits
E.J. van Jaarsveld
Kirstenbosch National Botanical Garden (Retired)
Babylonstoren Farm
Extraordinary senior lecturer and researcher, Department of Biodiversity and Conservation, University of the W. Cape.
July 2017
Plant Attributes:
Plant Type: Succulent
SA Distribution: Mpumalanga
Soil type: Loam
Flowering season: Autumn, Winter
PH: Neutral
Flower colour: Yellow
Aspect: Full Sun, Morning Sun (Semi Shade), Afternoon Sun (Semi Shade)
Gardening skill: Challenging
Special Features:
Attracts birds
Good potplant
Indoor plant
Horticultural zones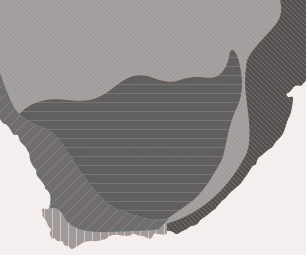 Zone 4 Summer rainfall Karoo and Highveld, Frost in winter
Google QR Code Generator