Aloe vanbalenii Pillans
Family: Asphodelaceae
Common names: van balen's aloe, crawling octopus (Eng.); van-balen-se-aalwyn (Afr.); icenalamatshe, icenandhlovu (isiZulu); lihala (siSwati)
Introduction
This is one of the most beautiful and distinctive aloes, with its long, twisted and recurved leaves resembling an octopus.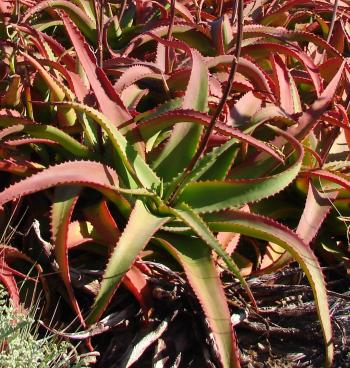 Description
Description
In time, the almost stemless Aloe vanbalenii forms short, robust creeping stems, developing into dense groups of numerous rosettes, 300-600 mm tall. The soft-textured, deeply channelled (U-shaped in cross section), recurved leaves are 700–800 × 120–250 mm long, with the tips almost touching the ground. They are copper-red when exposed to full sun, with marginal teeth of the same colour and bright green when grown in shade. The leaves release a musty smell when damaged.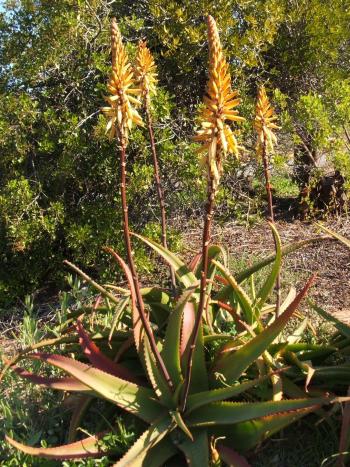 The inflorescence is about 1 m tall, and branches into 2 or 3, narrowly conical racemes, from about half way up the peduncle. The flower colour varies, from different shades of yellow and orange, but is usually red. The flowers are tubular, 30-40 mm long. Flowering occurs in winter (June to August in the southern hemisphere).
Conservation Status
Status
According to the Red List of South African Plants, checked on 21 February 2017, the conservation status of this plant is Least Concern (LC), as the species is widespread and the population is stable.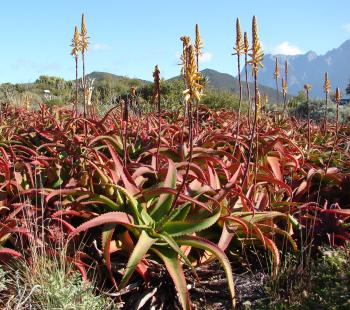 Distribution and habitat
Distribution description
Aloe vanbalenii occurs in northern KwaZulu-Natal and in the southeastern part of Mpumalanga and adjacent areas in Swaziland, growing along the edges of exposed rock sheets or on rocky outcrops, in shallow soils, in bushveld vegetation, at an altitude of between 300–600 m. This area is frost-free with moderately high summer rainfall.
Derivation of name and historical aspects
History
The genus Aloe is derived from the Greek word aloé, which refers to the bitter juice that oozes out of the plants, when leaves are cut. Tracing it further back, the word aloe, is derived from a Semitic word alloeh. The species name vanbalenii, is in honour of a former Director of Parks of Johannesburg, J.C. van Balen (1894-1856), who was the first to collect the species.
The Aloe genus is a large group, in that there are more than 550 species. Of that, 125 species are found in South Africa. Some of the aloes are also found from Arabia in the north, to Madagascar in the east and southern Africa in the south.
Ecology
Ecology
According to Geoff Nichols 2017 pers. comm., Aloe vanbalenii is pollinated by nectar-feeding sunbirds.
Uses
Use
There are no medicinal uses recorded. The leaves and fruits are eaten and this aloe is planted on royal family graves in Swaziland.
Horticulturally, the plants are used in raised planters and also planted in containers for them to stand out. With their attractive foliage, they make beautiful displays when planted in a rockery en masse, to create that effect.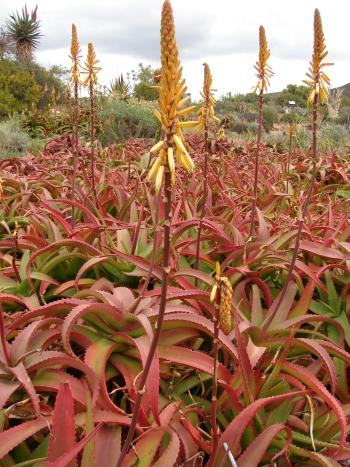 Growing Aloe vanbalenii
Grow
Aloe vanbalenii can be propagated using 2 methods, either by using seeds or by taking cuttings.
Sow seeds in summer, in a well-drained soil, preferably ½ river sand mixed with 6 mm sieved compost. Level your medium and thereafter sprinkle the seeds evenly across the tray to avoid overcrowding. Overcrowding of seeds may result in weaker seedlings due to competition for sunlight, nutrients and water. Use a fungicide to prevent damping off.  Lightly cover the seeds using your soil mixture. For successful germination, ensure that your seeds receive adequate light, water and ventilation. According to Doug Cooke  pers. comm. 2017, the seeds should start germinating after 3 weeks to a month. When the seedlings are about 20–25 mm high, prick them out into pots. Then use the same medium to transplant them and place them in an area with full sun. Feed the seedlings with a liquid fertilizer and when they reach a height of 50 mm, they need to be planted into bags placed under 20% shade net.     
Take cuttings from the parent plant, but don't plant them immediately, let the cuttings dry (heal) for at least a day. When planting, dip the cuttings into rooting hormone suitable for semi-hardwood cuttings and then insert it into a sandy medium. Place your tray in the glasshouse. It must only be watered twice a week, because the plant rots easily. It usually roots after a month or so. Pot the rooted cuttings into a well-drianed soil mixture, such as 2 parts compost: 2 parts sandy soil and 1 part loamy soil, and place your pots where they will receive adequate light.                                 
This drought resistant plant is easy to grow in well-drained soil in full sun or partial shade and will give you excellent results with regular watering during its growing season.
Kalanchoe thrysiflora, Crassula rupestris, Tylecodon paniculatus and Tulista pumila are ideal companion plants for Aloe vanbalenii that you can use to transform your garden.
References
Carter, S., Lavranos, J.J., Newton, L.E. &Walker, C.C. 2011.Aloes The Definitive Guide. Royal Botanic Gardens Kew, Richmond.
Flora of southern Africa, Aloe van balenii entry, accessed 17 May 2017 via Plants of southern Africa online: http://posa.sanbi.org/flora/results_browse.php?src=FloraSA&taxon=genno=2206,spno=266
Long, C. 2005. Swaziland's flora – siSwati Names and Uses. http://www.sntc.org.sz/flora/clbotalpha.asp?l=A
Oliver, I.B. 1993. Grow succulents. Kirstenbosch Gardening Series, National Botanical Institute, Cape Town.
Smith, G.F. & Van Wyk, B. 2008. Aloes in southern Africa. Struik, Cape Town.
Victor, J.E., Scott-Shaw, C.R. & von Staden, L. 2008. Aloe vanbalenii Pillans. National Assessment: Red List of South African Plants version 2017.1. Accessed on 21 February 2017
Credits
Anelisiwe Nocwanya
Karoo Desert National Botanical Garden
May 2017
Plant Attributes:
Plant Type: Succulent
SA Distribution: KwaZulu-Natal, Mpumalanga
Soil type: Sandy, Loam
Flowering season: Winter
PH: Acid
Flower colour: Red, Yellow, Orange
Aspect: Full Sun
Gardening skill: Easy
Special Features:
Attracts birds
Drought resistant
Good potplant
Feeds honeybees
Horticultural zones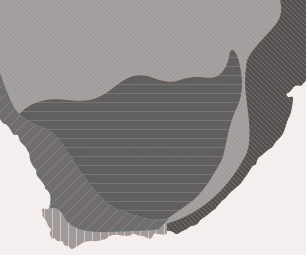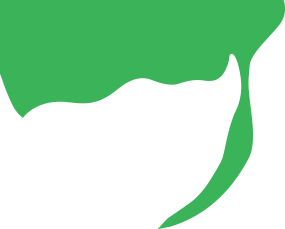 Zone 1 Coastal summer rainfall, frost free
Zone 2 Coastal winter rainfall, frost free
Zone 3 Winter rainfall Karoo, light frost
Zone 5 Bushveld summer rainfall, Light frost
Google QR Code Generator