Anginon difforme (L.) B.L.Burtt
Family: Apiaceae
Common names: common needle-leaf, common finkel (Eng.); wildevinkel, wildeseldery (Afr.)
SA Tree No: 568.5
Introduction
Anginon difforme is an endemic of southern Africa with reduced, needle-like leaves that resemble pine needles, so much so that it sometimes is confused with alien invasive pine trees and this has resulted in plants being mistakenly treated with herbicide, with the aim of eradicating them.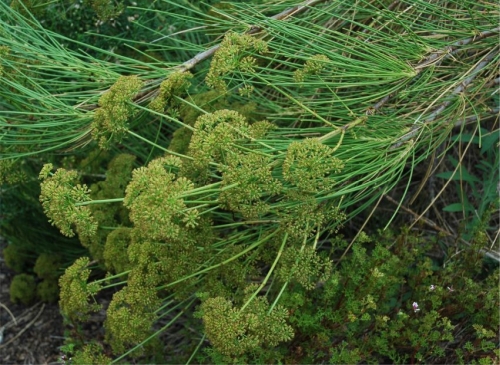 Description
Description
A rigid, glabrous (hairless), erect, sparsely branched, woody shrub, 1–3 m tall, branching from the base. Leaves green, needle-like, variable on the same branch, simple or ternate (arranged in threes); leaflets undivided or cut. Leaves aggregated, often 150 to 300 mm long; young leaves on the lower part of the stem composed of many small, flat leaflets, finely cut, of a sea-green colour; these leaves soon fall off, and the upper part of the branches are closely covered with long, rush-like, angled leaves, coming out in clusters from each joint.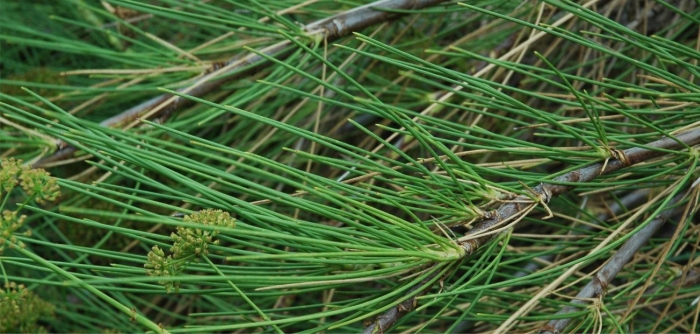 Inflorescences apical on long shoots, sparse or congested, rarely with only primary racemes, mostly with secondary racemes; lateral racemes terminate in compound umbels. Involucral leaves about 5, linear, acute, much shorter than the peduncles. Calyx with acute teeth. Fruit obovoid (egg-shaped), with pedicel somewhat intruding at the base, tubercled (covered with small, rounded bumps), rugulose (finely wrinkled). Flowering time is from early summer to autumn (December to April).
Conservation Status
Status
Anginon difforme is currently assessed as Least Concern (LC) in the Red List of South African Plants. It is an endemic of southern Africa, but is not threatened with extinction.
Distribution and habitat
Distribution description
Anginon difforme is widely distributed in the Eastern, Western, and Northern Cape provinces of South Africa. It occurs in mountains from the Richtersveld to Tulbagh, Swellendam, Worcester, Uitenhage and south-eastern Eastern Cape, where it is mostly found in sandstone and quartzitic soils, usually on steep rocky slopes.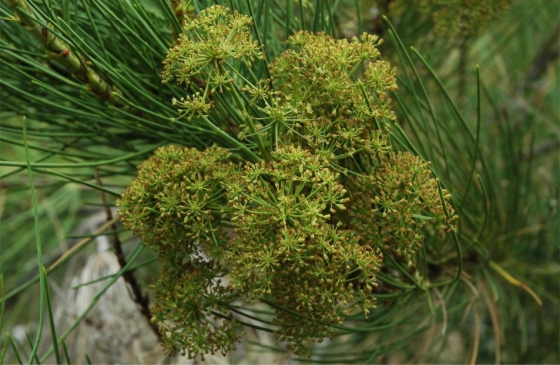 Derivation of name and historical aspects
History
Anginon belongs to the family Apiaceae. Members of this family are easily identified by their umbellate inflorescence structure, therefore the alternative name of this family is Umbelliferae, which describes the inflorescence. The genus Anginon was first published by Rafinesque in 1840 in the Good book and amenities of nature or annals of historical and natural sciences, on page 56, with the type species A. rugosum. This genus of 12 species occurs in south-western southern Africa in the Eastern, Western, and Northern Cape provinces of South Africa and in southern Namibia. Anginon is closely related to the genus Glia but the latter are geophytes with tuberous roots, mostly radical leaves that are minutely scabrous whereas those of Anginon are glabrous.
The name Anginon was first used by Dioscorides to refer to hemlock (Conium maculatum), also a member of the Apiaceae, before being applied to this genus by Rafinesque. The specific epithet difforme means 'differently formed' or 'of differing shape', probably referring to the leaves.
Ecology
Ecology
Where many species in the arid winter-rainfall region become dormant during the dry season (summer) and emerge with the first rains (autumn), Anginon difforme is a woody shrub with persistent, sclerophyllous leaves that have adapted to the extremely dry weather (summer aridity) of south-western South Africa.
Apiaceae flowers are small but are arranged in conspicuous inflorescences that are visited by large numbers of insects. The role of floral scent and essential oil in the attraction of pollinators is yet unexplored in African Apiaceae. Preliminary studies showed that up to 25 different families of insects may be found on a single flowering plant of Apiaceae. The main groups of visitors are ants, bees, beetles and flies.
Insects actively collect nectar and pollen from flowers and in the process contribute to pollination. The stylopodium of the Apiaceae flower appears to function as a nectary and seems to be a highly specialized organ to produce nectar. The shape is typically cuneate (wedge-shaped) but may be expanded and disc-shaped, with a flattened upper surface and wavy margins. A shiny, sticky exudate is often visible on the stylopodia of most African Apiaceae but the chemical composition and sugar content are as yet unknown. It is likely that many interesting discoveries are still to be made in the floral biology and pollination mechanisms of Apiaceae.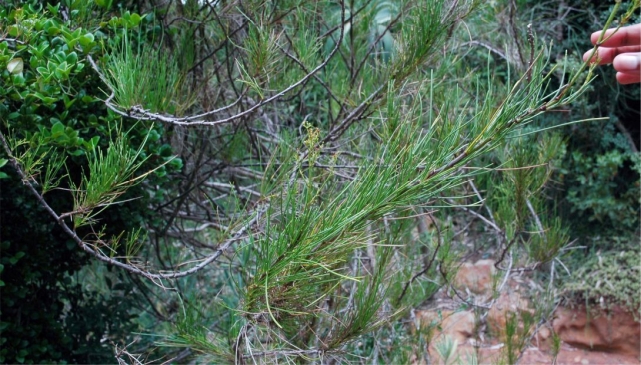 Uses
Use
Anginon difforme leaves are boiled with Olea europaea subsp. africana leaves, and the decoction is drunk as an appetite stimulant, and stored in a glass bottle, not a plastic bottle. To treat tuberculosis, it is used with Notobubon pearsonii leaves. The decoction is used for dizziness. Anginon difforme is also used to treat backache. A leaf decoction, is used to treat venereal diseases but not for fevers. In combination with asafoetida, Asclepias crispa (witvergeet), klipsweet and bomeester, it is used for flatulence and as magic medicine (paljas) to expel evil by promoting dreaming. It is also used to make a general medicine used for insomnia and flatulence, and earache (dry and powered mixed with castor oil).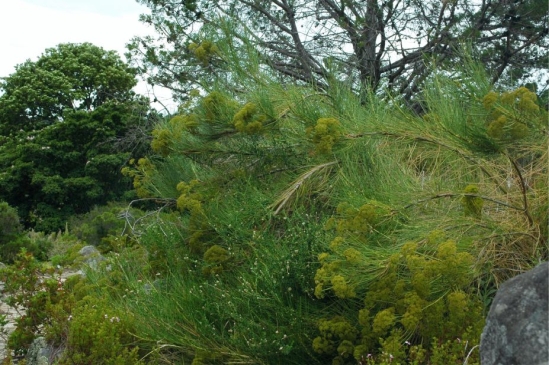 Growing Anginon difforme
Grow
Removing offsets (side shoots) or tufts is the best way to propagate this species. In addition to seeds, cuttings, offshoots or layering, several plant species can be reproduced by offsets, or division of tufts and rhizomes. Anginon difforme grows in tufts, and although no successful vegetative propagation procedures have as yet been attempted or described, this species can be cultivated vegetatively by dividing and breaking up plants. As a result, they are rarely started from seed. Tuft division is usually done in the spring, but it can also be done in the autumn and results in new plants with the same features as the mother plant. It is a simple procedure to do and is guaranteed to work. The plant is dug out from the ground or removed from a pot, then tufts are located and freed with the hands or with the help of a knife, taking care not to damage the roots. Plants should be planted or potted in a well-drained, acidic, sandy mix with a high humic content once they have been split, and placed in a sunny, well-ventilated place. When planted, the soil should be kept damp until they are well established, whereafter they require very little extra watering.
Sow seeds in a freely draining medium in autumn or winter. After levelling the medium, distribute the light seeds evenly over the surface, moisten gently, and cover with a thin layer of sand or fine-milled bark. Smoke treatments can be used to enhance germination. Place in a sunny location, because most species seeds in the Cape Floristic Region require sunlight to germinate. Within 2 to 3 weeks, the seeds will germinate. When the seedlings are large enough to handle, prick them out of the trays and pot them. Place the potted seedlings in a covered area, such as under a shade net, and gradually introduce them to full sun.
Anginon difforme grows with a range of fynbos species in its natural setting in the Cape Floristic Region, therefore it gets along with most of the other larger fynbos groups such as the Cape reeds (restios), proteas, ericas, and buchus.
References
Allison, I. & Van Wyk, B.-E. 1997. A revision of the genus Anginon (Apiaceae). Nordic Journal of Botany 17(6):561-577.
Clarke, H. & Charters, M. 2016. The illustrated dictionary of southern African plant names. Flora & Fauna Publications Trust, Jacana, Johannesburg.
iNaturalist. Observations of Anginon difforme, Common Finkel. https://www.inaturalist.org/observations?taxon_id=579853.
Manning, J. & Goldblatt, P. 2012. Plants of the Greater Cape Floristic Region 1: the Core Cape Flora. Strelitzia 29. South African National Biodiversity Institute, Pretoria.
Nortje, J.M. & Van Wyk, B.E. 2015. Medicinal plants of the Kamiesberg, Namaqualand, South Africa. Journal of ethnopharmacology 171:205-222.
Smith, C.A. 1966. Common names of South African plants. Memoirs of the Botanical Survey of South Africa No. 35. Government Printer, Pretoria.
Van Wyk, B.-E., Tilney, P.M. & Magee, A.R. 2013. African Apiaceae: a synopsis of the Apiaceae/Umbelliferae of sub-Saharan Africa and Madagascar. Briza Academic Books.
Victor, J.E. & Winter, P.J.D. 2005. Anginon difforme (L.) B.L.Burtt. National Assessment: Red List of South African Plants version 2020.1. Accessed on 2022/05/20.
Wilman, V. 2019. A practical guide for community-run nurseries. Growing indigenous plants for restoration. WWF South Africa, Cape Town.
Credits
Nokukhanya Mhlongo
Compton Herbarium
January 2023
Acknowledgments: the author thanks Kamogelo Solomon Modimola for his insights on the propagation and cultivation of Anginon difforme at Kirstenbosch National Botanical Garden and Mulweli Maswoliedza for taking the pictures.
Plant Attributes:
Plant Type: Shrub
SA Distribution: Eastern Cape, Northern Cape, Western Cape
Soil type: Sandy, Loam
Flowering season: Late Summer, Autumn
PH: Acid, Neutral
Flower colour: Yellow
Aspect: Full Sun
Gardening skill: Average
Special Features:
Drought resistant
Medical plant
Feeds honeybees
Horticultural zones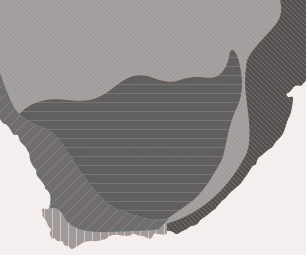 Zone 2 Coastal winter rainfall, frost free
Zone 3 Winter rainfall Karoo, light frost
Google QR Code Generator