Apodolirion macowanii Baker
Family: Amaryllidaceae
Common names: spiralled leaf ground lily, MacOwan's ground lily
Introduction
The beautiful spiralled leaf Apodolirion macowanii has delicate, white flowers that open for just two days and have a strong sweet-scent, which might uplift your spirits to witness such a rare sight.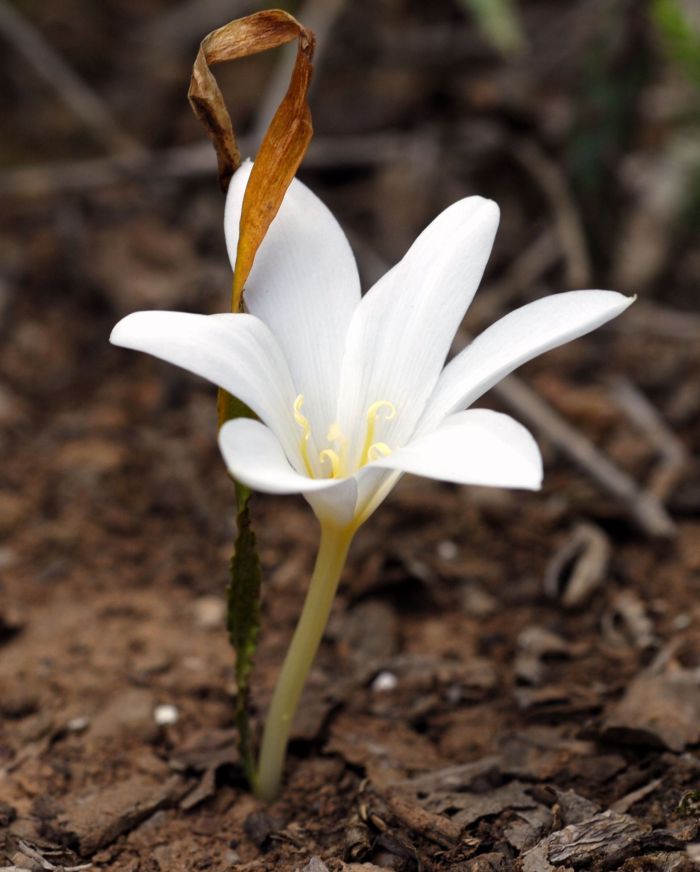 Description
Description
A winter-growing, deciduous, dwarf plant, about 70 mm tall. The bulb is solitary, 20 mm in diameter, with a thin, white, membranous covering. The bright green leaves are erect, strap-shaped, 50–85 mm long and 3–5 mm wide, spiralled and leathery, with crisped margins; usually 2–4 and sometimes appearing at the same time as the flower. New leaves emerge in autumn.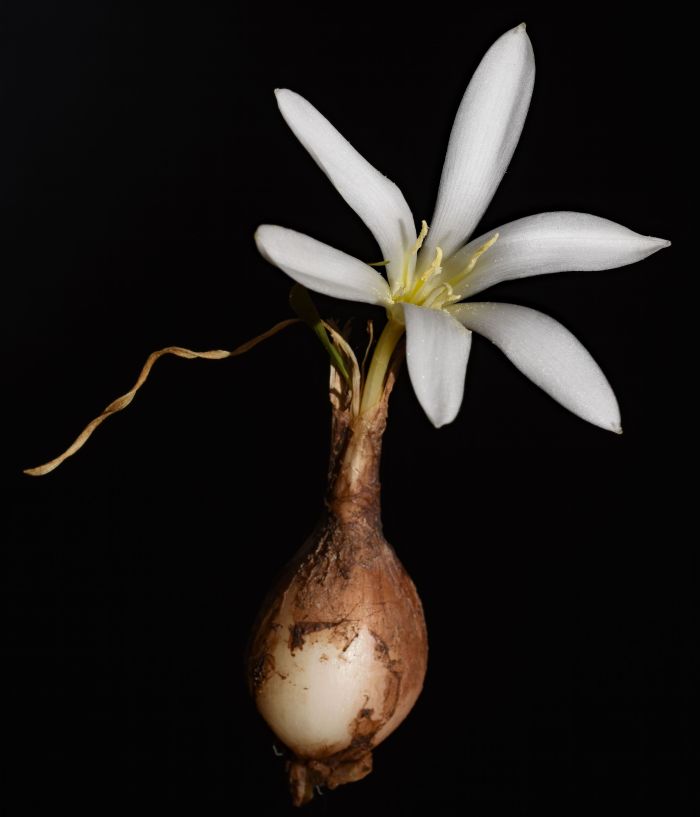 The strongly sweetly-scented flower is white, and funnel-shaped, 50–60 mm across with a 90 mm long, cylindrical perianth tube. The sepals and petals are undifferentiated, each tepal 25–30 mm long and 8–10 mm wide, spreading, becoming recurved. There are 6 protruding stamens, with yellow anthers and white filaments of unequal lengths (inner longer and outer shorter). The ovary is underground, held within the neck of the bulb. The style reaches just above the throat of the perianth tube, and the stigma is shortly 3-lobed. Flowering is in mid- to late summer, from December to April, while the plant is dormant and usually well before the new leaves appear. Individual flowers are short-lived, lasting for 2 days, and each bulb produces just 1 flower per season.
The fruit is a fleshy, club-shaped berry, 35–50 mm long, almost erect or leaning towards the ground, green at first and yellow-orange at maturity. The berry emerges in autumn.
Conservation Status
Status
According to the SANBI's Red List of South African plants, this species is assessed as Vulnerable (VU). It has already disappeared from 2 of its known locations, and 2 more are being severely impacted by urban and industrial development, and any further loss of habitat will push it to the verge of extinction in the near future, if present threats continue unchecked. The main threat to this species is habitat loss due to urban expansion, which is causing a population decline. Some populations are affected by severe overgrazing.
Distribution and habitat
Distribution description
This is a South African endemic with a distribution range from the Fish River to Jeffrey's Bay in the Eastern Cape Province. Its habitat is varied; major habitats of the species are: Humansdorp Shale Renosterveld, Sundays Thicket, Gamtoos Thicket, Great Fish Thicket and Great Fish Noorsveld. Plants show a preference for heavy clay soils in renosterveld or thicket, but are also seen growing on flats and rocky ridges in stony or shale soils. They occur as scattered solitary plants, or in small colonies.
Derivation of name and historical aspects
History
Apodolirion means 'stemless flower' in Greek, alluding to the almost stalkless flowers of the genus. There are 6 species of this genus in South Africa with the main distribution centered in the summer-rainfall zone of the Eastern Cape. The species epithet was coined in 1888 by John Gilbert Baker (1834–1920) in tribute to the Grahamstown botanist and chemistry teacher, Professor Peter MacOwan (1830–1909), who found plants along the banks of the Coega River in Port Elizabeth in 1872 and brought them to the attention of scientists.
Apodolirion is very similar to the closely related genus Gethyllis, the Kukumakrankas, of the winter-rainfall region of South Africa.
Ecology
Ecology
The sweetly-scented flowers may be visited by bees by day for pollen and/or nectar, but little is known about its pollination biology. The fruits ripen in autumn, which coincides with the onset of winter rains, and the seeds germinate as soon as the fleshy berry disintegrates. Our observations suggest that the fruits may be eaten by rodents and the seeds dispersed this way. The underground ovary protects the developing seeds from the summer heat.
Uses
Use
The beauty of the flower and curious spiralled leaves with delightful crisped margins of Apodolirion macowanii, carries ornamental value. The small size and clumping habit of the bulbs make it best suited to container growing. It is a difficult plant to grow in most gardens.
Growing Apodolirion macowanii
Grow
At the Kirstenbosch National Botanical Garden nursery, A. macowanii bulbs are treated as winter-growing (meaning they are watered during the winter months and kept dry in summer). A. macowanii thrives in a well-lit and warm environment. Plant the bulbs in a 20 cm plastic pot filled with a sandy growing medium of washed silica sand and coarse river sand. Apply heavy watering once every 2 weeks from late autumn to early summer, and allow a dry dormant period of about 4 months, when the leaves will disappear. This species flowers during the dormant period, which is mid-summer, and the flowers only appear for 2 days.
References
Dold, A.P., Snijman, D.A. & Raimondo, D. 2007. Apodolirion macowanii Baker. National Assessment: Red List of South African plants version 2017.1. Accessed on 2019/09/25.
Duncan, G., Jeppe, B. & Voigt, L. 2016. The Amaryllidaceae of southern Africa. UMDAUS Press, Hatfield, Pretoria.
Manning, J., Goldblatt, P. & Snijman, D. 2002. The color encyclopedia of Cape bulbs. Timber Press, Cambridge.
The Plant List. Apododlirion macowanii. http://www.theplantlist.org/tpl1.1/record/kew-299920. Accessed on 25 Sep. 2019.
Credits
Pamela Nondumiso Sgatya
Custodians of Rare and Endangered Wildflowers (CREW), Eastern Cape.
November 2019
Acknowledgements: the author thanks the Curator of the Kwelera NBG, Nomama Mei for some information on propagating the species of this genus and Mr Tony Dold for providing more sources to obtain information on this species, proof reading, and allowing the use his images.
Plant Attributes:
Plant Type: Bulb
SA Distribution: Eastern Cape
Soil type: Sandy, Clay, Loam
Flowering season: Late Summer, Autumn
PH:
Flower colour: White
Aspect: Full Sun
Gardening skill: Challenging
Special Features:
Fragrant
Horticultural zones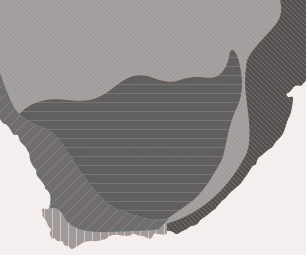 Zone 1 Coastal summer rainfall, frost free
Zone 2 Coastal winter rainfall, frost free
Google QR Code Generator