Argyrolobium robustum T.J.Edwards
Family: Fabaceae
Common names: liquorice bean (Eng.), soethoutbossie (Afr.), umuzimuka (Zul.)
Introduction
Argyrolobium robustum is an attractive plant with many-flowered, yellow flower-heads that are produced from spring to early summer; common in grasslands across KwaZulu-Natal and Mpumalanga.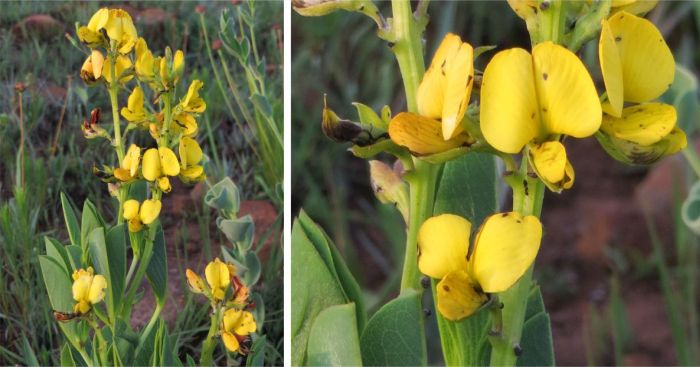 Description
Description
Argyrolobium robustum is an erect, sparsely branched, perennial herb, woody at the base, with annual stems that are triangular in cross-section. It grows up to 0.75 m tall. The leaves are smooth, greenish-grey, slightly fleshy but often covered with silky hairs on the lower surface when young. Leaf stalks are 15–40 mm long and grooved, the leaflets are 20–80 mm wide and 50–170 mm long, narrowly to broadly obovate, with rounded apices. Flowers are produced in spring and early summer (Sep. to Jan.), in racemose inflorescences (a central flowering stem with individual flowers each borne on a shorter stalk), up to 400 mm long, with 20–62 flowers. The flowers are yellow with red veins. The calyx is 2-lipped and covered with fine silky hairs. The standard (upper) petal is suborbicular, while wing petals are more or less obovate and slightly longer than the inner, beaked keel. Pods are ± 60–85 mm long and 4 mm wide, linear, compressed, sparsely sericeous and pointing upwards. Seeds are 2–3 mm long, irregular in shape or suborbicular, compressed, light brown and sometimes recalcitrant (wet).
Conservation Status
Status
Distribution and habitat
Distribution description
Argyrolobium robustum is commonly across Mpumalanga and KwaZulu–Natal and is also distributed in Free State, Gauteng and Limpopo, and in Swaziland and southeastern Botswana. It occurs in Highland Sourveld, Dohne Sourveld and Ngongoni Veld.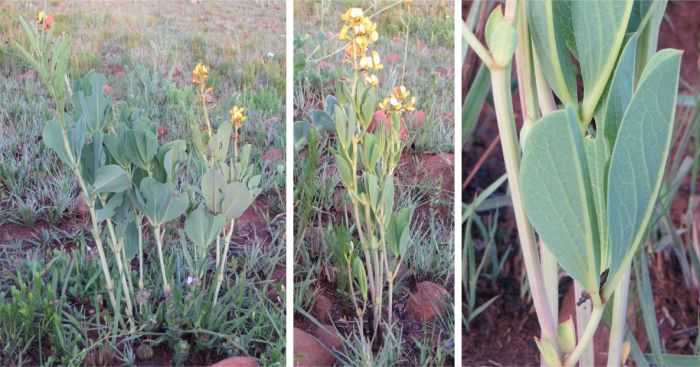 Derivation of name and historical aspects
History
The name Argyrolobium, is derived from two Greek words argyros and lobus, which mean 'silver' and 'lobe' or 'pod', respectively, together making up the name 'silver pods', that the genus typically has. The species name robustum means 'large' in Latin, and refers to the large basal leaves, typical of this species.
Ecology
Ecology
Like other species of Argyrolobium, A. robustum is most likely insect pollinated. The bright, showy, yellow flowers attract insects, which suggest that this species may also be pollinated by bees. The erect fruits probably throw out some of the ripe seeds in a small explosive action, when they split open after drying out, as a means of seed dispersal.
Uses
Use
The roots of Argyrolobium robustum are used in traditional medicine by sangomas (spiritual healers) as an emetic, to treat impotence.
Growing Argyrolobium robustum
Grow
Argyrolobium robustum is propagated by seeds sown in spring or summer. The availability of A. robustum seeds in nurseries suggests that this species is easy to grow and can be a wonderful addition to most gardens.
References
Edwards, T.J. 1997. Notes on Argyrolobium (Fabaceae) in South Africa. South African Journal of Botany 63(5):271–275.
Edwards, T.J. 2005. A synopsis of Argyrolobium (tribe Genisteae, Papilionoideae) in South Africa. South African Journal of Botany 71(3): 380–417.
Pooley, E. 2003. Mountain flowers, a field guide to the flora of the Drakensberg and Lesotho. Natal Flora Publications Trust, Durban.
Raimondo, D., Von Staden, L., Foden, W., Victor, J.E., Helme, N.A., Turner, R.C., Kamundi, D.A. & Manyama, P.A. (eds) 2009. Red list of South African plants. Strelitzia 25. South African National Biodiversity Institute, Pretoria.
Retief, E. & Meyer, N.L. 2017. Plants of the Free State inventory and identification guide. Strelitzia 38. South African National Biodiversity Institute, Pretoria.
Credits
Thembeka Malwane
MSBP Seed Processing Coordinator
and Dr M.M. le Roux
National Herbarium, Pretoria
January 2022
Plant Attributes:
Plant Type: Perennial
SA Distribution: Free State, Gauteng, KwaZulu-Natal, Limpopo, Mpumalanga
Soil type: Sandy, Loam
Flowering season: Spring, Early Summer
PH:
Flower colour: Yellow
Aspect: Full Sun
Gardening skill: Easy
Special Features:
Medical plant
Feeds honeybees
Horticultural zones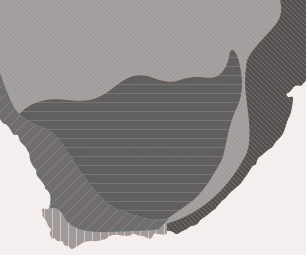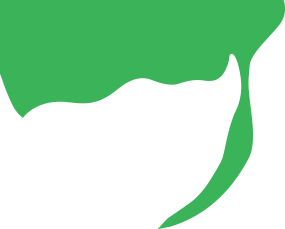 Zone 1 Coastal summer rainfall, frost free
Zone 4 Summer rainfall Karoo and Highveld, Frost in winter
Zone 5 Bushveld summer rainfall, Light frost
Google QR Code Generator