Asparagus aethiopicus L.
Family: Asparagaceae
Common names: wild asparagus (Eng.); haakdoring (Afr.)
Introduction
A very important species as it is related to Asparagus officinalis, which is cultivated as a vegetable crop worldwide. This is a species that adapts very well to a variety of habitats and has the ability to grow well under harsh and disturbed conditions.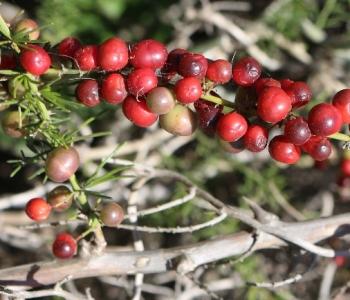 Description
Description
Asparagus aethiopicus is a branching, perennial climber, 2–3 m high, with firm, woody stems which are armed with short, 10–12 mm long, hard, recurved spines. Young stems are twining and ribbed, becoming woody, smooth and pale. The root system is rhizomatous, with many long roots forming bulbous tubers and a mat of fibrous roots, from which new stems may resprout. The leaves are not true leaves but are actually leaf-like cladodes (modified flattened stem), which are 10–40 mm long and 1.0–1.5 mm wide, and arise in groups of 4–6 from the stem. Cladodes are terete (cylindrical in cross section) or ridged, tipped with a short, sharp point and usually grey-green.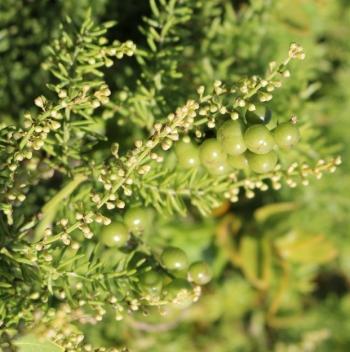 The flowers are small, white, star-like and fragrant, 3–5 mm long and arise in clusters off the stem, mainly in summer to winter (Jan.–Jun.). Flowers are followed by small, rounded berries 5 mm in diameter, which bear a black, 3 mm diameter seed. Initially green, the berries turn red when mature in spring to early summer (Aug.–Nov.).
Conservation Status
Status
Least Concern (LC), this species is widespread and common and is tolerant of disturbance, and is therefore not threatened.
Distribution and habitat
Distribution description
Asparagus aethiopicus is native to the Northern, Western and Eastern Cape, North West, Free State and KwaZulu-Natal Provinces of South Africa, usually found in dry areas, shale hills and coastal bush in a variety of Biomes including Thicket, Fynbos, Grassland, Karoo and Savanna.
Introduced as an ornamental plant, it has escaped from cultivation, naturalized and is now considered an invasive weed in many countries. In the United States, it has been declared a weed in Hawaii and Florida. It has also been declared a weed in New Zealand, and has become established around major urban areas in Australia, including Sydney, Wollongong, the Central Coast, Southeastern Queensland and Adelaide, as well as Lord Howe and Norfolk Islands. It has also been introduced to Ethiopia, Eritrea, Madagascar, Mauritius, the Marianas and Marshall Islands, Puerto Rico, Argentina and Uruguay. Although it should be noted that some of the online weed literature refers to Asparagus aethiopicus, but the plant pictured and described is A. densiflorus.
Derivation of name and historical aspects
History
This species was originally described by Carl Linnaeus in 1767. The genus name is derived from asparagos, the Greek name for the cultivated asparagus. The species name aethiopicus, is Latin and means 'from Africa'.
Asparagus aethiopicus  has been confused with A. densiflorus, as the specimen described by the botanist Eduard von Regel in 1896 as Asparagus sprengeri and made popular as an ornamental plant by Carl Ludwig Sprenger, is in fact A. densiflorus, but it has mistakenly been called a synonym of A. aethiopicus. These 2 species are not similar, Asparagus densiflorus is a small (300–600 mm tall), compact bushy plant with no spines. The true current identity of 'Sprenger's Asparagus' is the cultivar Asparagus densiflorus 'Sprengeri'.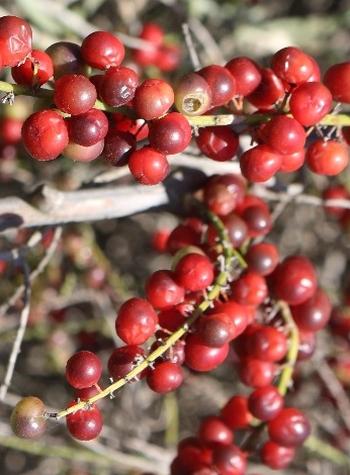 Ecology
Ecology
Seeds are spread by fruit-eating birds and plants by improper disposal of garden refuse. In Australia, the Pied Currawong (an Australian native bird), is a culprit in seed dispersal in Sydney. Where the species becomes invasive, it can be eradicated by using a systemic herbicide or by manual removal of tubers.
Uses
Use
The young shoots can be harvested and eaten in the same way as the cultivated asparagus, Asparagus officinalis. Consuming the berries of A. aethiopicus, can cause gastrointestinal symptoms, such as diarrhoea, vomiting and abdominal pain, and contact with the skin may cause dermatitis. This plant is reputedly toxic to domestic cats and dogs.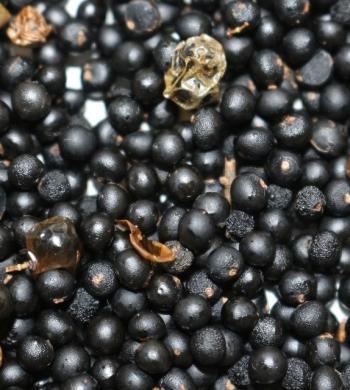 Growing Asparagus aethiopicus
Grow
Asparagus aethiopicus is grown as an indoor plant in cold climates, or as an ornamental garden plant in urban gardens, rockeries or in pots and can be trained up a trellis. It thrives in sun or semi-shade. It is drought tolerant and a good pioneer species. It can be propagated by seed sown in spring, summer or autumn, after cleaning off the fleshy covering. Older clumps can also be lifted and divided; be sure to get a piece of the rhizome with a few attached tubers for every new clump. Gardeners growing this plant outside of its natural range should take note of its weedy nature and take care not to let it escape into surrounding natural areas.
Collecting seed from Asparagus aethiopicus
The populations of Asparagus aethiopicus are deteriorating in South Africa because of habitat loss through agriculture and other related human developments. The Millennium Seed Bank Partnership (MSBP) managed by SANBI, has collected and conserved the seed of Asparagus aethiopicus, in 2016. The seed collected is readily available for any required conservation programme, such as habitat restoration or species re-introduction where relevant. The horticulturists can also make use of the seed to conduct research, such as development of germination or viability tests. The species is a wild relative of Asparagus officinalis, the edible asparagus crop plant, and could potentially be used to develop a new variety of asparagus crop that is resistant to harsh conditions, like drought, pests and diseases, to improve food security in the country.
The MSBP team avoided collecting green fruits because they are immature. Collecting immature seed is very destructive to the population, as the seed will ultimately die within a few days of collection. The best time to collect seed from the species is when most of fruits on the plant turn red and the seed turns black, as a sign of ripeness. The fruits become very soft and easy to remove seed from the fleshy part of the fruit. Only 20% of available seed should be collected to avoid damaging the population. Make use of cotton or cloth bags to carry fruits. The fruits are fleshy and seeds must be removed from the fruit by washing immediately after collecting, to avoid moulding and ultimately rotting. The washed seeds must be kept in open trays to allow ventilation. Most of the ripe fruits can be found between August and November in the Eastern Cape Province. Seeds are stored in a long-term storage unit at under -20ºC temperature and 15% relative humidity.
References
Goldblatt, P. & Manning, J. 2002. Cape plants: a conspectus of the Cape flora of South Africa. Strelitzia 9. National Botanical Institute, Pretoria and Missouri Botanical Garden, St Louis.
Jackson, W.P.U. 1990. Origins and meanings of names of South African plant genera. University of Cape Town.
Manning, J. 2007. Field guide to Fynbos. Struik Publishers, Cape Town.
Obermeyer, A.A. & Immelman, K.L. 1992. Asparagaceae. Flora of southern Africa, Vol 5 Part 3, accessed via POSA
Romand-Monnier, F. & von Staden, L. 2013. Asparagus aethiopicus. The IUCN Red List of Threatened Species 2013: e.T13507050A44531856. http://dx.doi.org/10.2305/IUCN.UK.2013-2.RLTS.T13507050A44531856.en. Downloaded on 15 January 2018.
Van Wyk, B.E. & Gericke, N. 2000. People's plants. Briza Publications, Pretoria.
Von Staden, L. 2012. Asparagus aethiopicus L. National Assessment: Red List of South African Plants version 2017.1. Accessed on 2017/10/10
Wikipedia. 2017. Asparagus aethiopicus. Free Encyclopaedia https://en.wikipedia.org/wiki/Asparagus_aethiopicus
Credits
Livhuwani Auldrean Nkuna
Millennium Seed Bank Partnership (MSBP)
and Alice Notten
Kirstenbosch National Botanical Garden
February 2018
Plant Attributes:
Plant Type: Climber
SA Distribution: Eastern Cape, Free State, KwaZulu-Natal, North West, Northern Cape, Western Cape
Soil type: Sandy, Clay, Loam
Flowering season: Late Summer, Autumn, Winter
PH: Acid, Neutral
Flower colour: White
Aspect: Full Sun, Shade, Morning Sun (Semi Shade), Afternoon Sun (Semi Shade)
Gardening skill: Easy
Special Features:
Attracts birds
Drought resistant
Fragrant
Good potplant
Indoor plant
Poisonous
Edible plant
Horticultural zones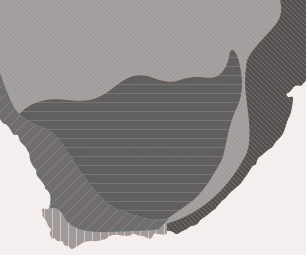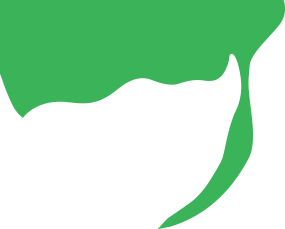 Zone 1 Coastal summer rainfall, frost free
Zone 2 Coastal winter rainfall, frost free
Zone 3 Winter rainfall Karoo, light frost
Zone 4 Summer rainfall Karoo and Highveld, Frost in winter
Zone 5 Bushveld summer rainfall, Light frost
Google QR Code Generator