Asparagus africanus Lam.
Family: Asparagaceae
Common names: bush asparagus, African asparagus, wild asparagus, climbing asparagus fern, ornamental asparagus, sparrow grass (Eng.); haakdoring, katdoring, wag-'n-bietjie (Afr.); umathunga, ubulawu ubumhlope, umthunzi (isiXhosa); isigoba, isigobo (isiZuli); lelala-tau-le-leholo, leunyeli (Southern Sotho)
Introduction
A perennial climber or sub-shrub with woody, prickly, scrambling stems, fern-like foliage, clusters of beautiful small, white, sweetly scented flowers and red berries.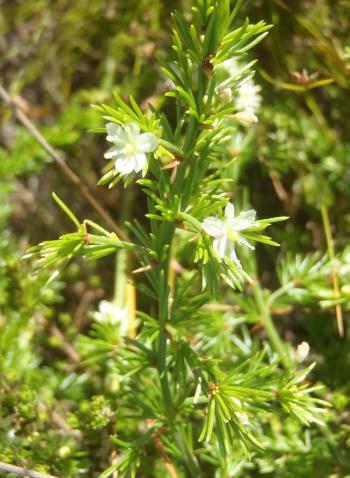 Description
Description
A scrambling shrub up to 1 m tall, or a climber with stems to about 3 m long, with rhizomatous roots, producing many slender stems. The stems are glabrous (with no hair), but mostly have spines and grow in a twining way.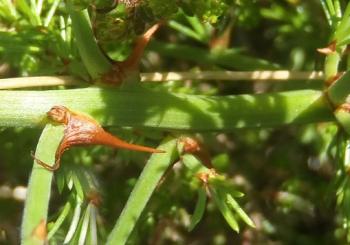 The spines are straight or curved, 2–10 mm long, sharp and reddish brown. It has short, spreading branches with leaf-like cladodes (modified branchlets) in clusters of up to 12 along the branches. The true leaves are minute scales, whereas it is the cladodes that function as leaves. The cladodes are 6–15 mm long and only 0.5 mm wide and end in a sharp point. They are produced in clusters above each leaf scale.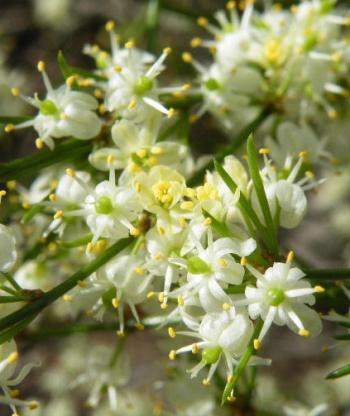 The flowers are also produced in small clusters in the axils and each cluster contains several flowers, in spring and summer (Sept. –Feb.). Each flower is about 7–12 mm long, on stalks which are 5–10 mm long. They consist of 3 sepals and 3 petals, both of about 2.5–4.0 mm long. The sepals and petals are whitish in colour, extend outwards horizontally (spreading) and appear to be 6 petals, due to their similarity. Flowers have 6 stamens 2.0–3.5 mm long, usually with white filaments and yellow anthers.
After flowering, a rounded berry of about 5–6 mm diameter and containing a single seed, is produced. They are sometimes present throughout most of the year. Initially the berries are green and turn orange-red as they mature
Conservation Status
Status
Asparagus africanus has been given a conservation status of Least Concern (LC) according to Red List of South African plants, checked on 01.12.2016.
Distribution and habitat
Distribution description
This species occurs in southern Africa, in Namibia, Zambia, Mozambique, Zimbabwe, Lesotho, Swaziland and South Africa, where it is found from the Cape Peninsula, along the Eastern Cape coast to KwaZulu-Natal, Mpumalanga and Limpopo. It is also widely distributed in tropical Africa and occurs on the Arabian Peninsula, and in India. It is often found in moist places, and occurs in a variety of habitats, including rainforest, temperate forest, grassland, thicket, coastal scrub, forest margin and semi-desert, and in a number of vegetation types, including Fynbos and Strandveld.
Asparagus africanus has naturalized in parts of Australia and is an invasive weed in eastern Australia, ranked among the top ten most invasive plants in southeastern Queensland. It invades forests, rainforests, open woodland and riverside vegetation. It is also common in disturbed sites and waste areas, along roadsides in parks and gardens. The climbing twining growth habit of this species can completely smother smaller trees, understory shrubs and plants. The fibrous root system forms a dense mat just below the soil surface, which can interfere with the survival of seedlings.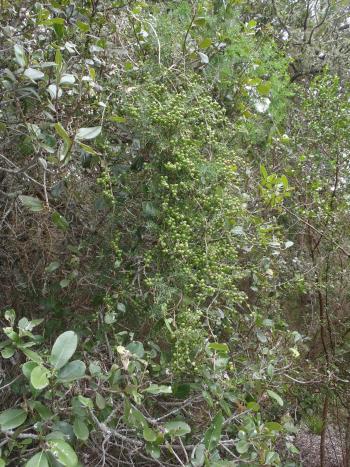 Derivation of name and historical aspects
History
The genus Asparagus derives its name from the Greek word asparagos; this name was given to the edible asparagus, A. officinalis. In India, Asparagus is called shatavari in Hindi, which means 'one who possesses a hundred husbands'. The species name africanus means 'from Africa'.
Asparagus africanus was described by Jean-Baptiste Pierre Antoine de Monet de Lamarck, in 1783. The genus Asparagus contains approximately 217 to 242 species. This genus includes a variety of plant forms, but many of them are climbing plants. They occur in a variety of habitats from rainforests to semi-desert, in Africa, Asia and Europe. Species from Africa were once classified in two separate genera: Protasparagus and Myrsiphyllum, but because of the implications of new species discovered, these genera have been reunited under Asparagus.
Ecology
Ecology
This species is pollinated by insects. The white colour and fragrance of the flowers attracts insects, such as bees, and they serve as pollination agents. After flowering, red berries are produced and birds and animals feed on them. The seed is dispersed through their gut. Some species of Asparagus, such as A. officinalis, A. schoberiodes and A. cochiniensis, are dioecious, which means male and female flowers are on separate plants.
Uses
Use
The shoots, roots and the underground stems of Asparagus africanus are used to make medicines to treat ailments, such as rheumatism, arthritis, eye problems, nausea, colic, pulmonary tuberculosis, and bladder and kidney infections. The root tubers are boiled and mixed with milk and given to women just after childbirth to release the afterbirth. The branchlets, stems or roots are pounded, soaked in water and the fusion is drunk 2 or 3 times a day for the treatment of mental disturbance. Powdered dried roots are rubbed into scarifications on the back, stomach and legs of boys undergoing circumcision.
The new shoots, or spears, of this plant are eaten as a vegetable. It is believed to be a good source of dietary fibre and a good source of vitamins A, E, C and B6. They are harvested in the same way as Asparagus officinalis. Root tubers are also cooked for several hours and consumed. The ripe fruit is collected and juice is sucked out and the solid part is thrown away. The fruit is mostly eaten during famine periods.
The berries of some Asparagus, including A. officinalis and A. densiflorus are poisonous. The berries contain chemical compounds such as furostanol and spirostanol saponins. Rapid ingestion of more than 5 to 7 ripe berries, can induce abdominal pain and vomiting. Sulphur compounds in the young shoots are also considered at least partially responsible for mild skin reactions in some people who handle the plant.
Growing Asparagus africanus
Grow
Asparagus africanus is cultivated worldwide as a garden plant and propagated by seeds and never by cuttings. Sow seeds in spring or summer after cleaning off the fleshy fruit. Clumps can be carefully lifted and divided in early spring.
It is mostly grown for its decorative foliage, attractive flowers and bright red showy berries. It attracts birds, butterflies, and bees to the garden. It thrives in deep shade to partial shade. It is suitable for gardens that have lots of shade and can also be used in hanging baskets. At Kirstenbosch, species of Asparagus are displayed on the rockeries to soften the landscape and used as under-storey plants in the arboretum. The flowers lighten up the under planting and the foliage provides the soft texture contrast. Cutting back the stems encourages new shoots.
References
Burkill, H.M. 1985. The useful plants of west tropical Africa, Vol 3. Accessed via JSTOR, 5 December 2016. http://plants.jstor.org/stable/10.5555/al.ap.upwta.3_836
Flora of southern Africa. 19. Protasparagus africanus. Accessed 5 Dec 2016, via Plants of southern Africa online: http://posa.sanbi.org/flora/results_browse.php?src=FloraSA&taxon=genno=728,spno=4
Hassan, H.S., Ahmadu, A.A. & Hassan, A.S. 2008. Analgesic and anti-inflammatory activities of Asparagus africanus root extract. African Journal of Traditional, Complementary and Alternative Medicine 5(1): 27–31.
Hutchings, A., Scott, A.H., Lewis, G. & Cunningham, A.B. 1996. Zulu medicinal plants: an inventory. University of Natal Press, Pietermaritzburg.
iSpot southern Africa: http://www.ispotnature.org/species-dictionaries/sanbi/Asparagus%20africanus?nav=search
Manning, J. & Goldblatt, P. 2012. Plants of the Greater Cape Floristic Region 1: the Core Cape Flora. Strelitzia 29. South African National Biodiversity Institute, Pretoria.
Victorian Resources Online: Asparagus fern (Asparagus africanus). http://vro.agriculture.vic.gov.au/dpi/vro/vrosite.nsf/pages/weeds_asparagus-fern_africanus Accessed 5 December 2016
WebMD: Asparagus. http://www.webmd.com/vitamins-supplements/ingredientmono-286-asparagus.aspx?activeingredientid=286& Accessed 5 December 2016
Weeds of Australia: Asparagus africanus. http://keyserver.lucidcentral.org/weeds/data/media/Html/asparagus_africanus.htm. Accessed 5 December 2016.
Wikipedia: List of poisonous plants. https://en.wikipedia.org/wiki/List_of_poisonous_plants. Accessed 5 December 2016.
Credits
Nomama Mei
Kirstenbosch National Botanical Garden
January 2017
 
Plant Attributes:
Plant Type: Climber, Shrub
SA Distribution: Eastern Cape, Free State, Gauteng, KwaZulu-Natal, Limpopo, Mpumalanga, Western Cape
Soil type: Sandy, Loam
Flowering season: Spring, Early Summer
PH: Acid, Neutral
Flower colour: White
Aspect: Full Sun, Shade, Morning Sun (Semi Shade), Afternoon Sun (Semi Shade)
Gardening skill: Average
Special Features:
Attracts birds
Fragrant
Edible plant
Medical plant
Feeds honeybees
Horticultural zones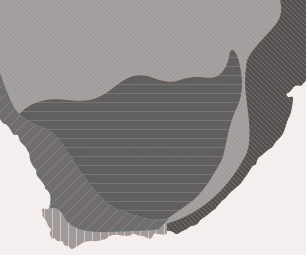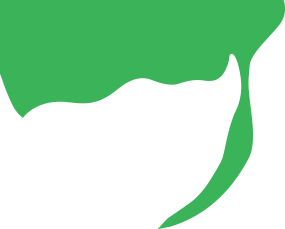 Zone 1 Coastal summer rainfall, frost free
Zone 2 Coastal winter rainfall, frost free
Zone 4 Summer rainfall Karoo and Highveld, Frost in winter
Zone 5 Bushveld summer rainfall, Light frost
Google QR Code Generator