Asparagus asparagoides (L.) Druce
Family: Asparagaceae
Common names: Cape smilax, African asparagus smilax, baby smilax, bridal creeper, bridal veil creeper (Eng.); breȅblaarklimop, krulkransie, gnarboola, narbass (Afr.); isicakathi (isiXhosa); ibutha, inkunzimbili (isiZulu); khopananyane, likhopa, sethota-sa-matuela (Sesotho)
Introduction
A scrambling shrub with lovely glossy foliage, for shade or sun, in the garden or indoors, and excellent for flower arrangements, but take note that outside of its natural range, it can become a weedy pest.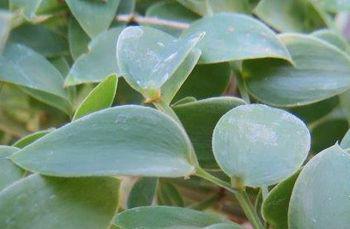 Description
Description
Asparagus asparagoides is an herbaceous, scrambling or climbing, much-branched perennial with twisting, wiry, spineless stems that can grow up to 3 m in length. Roots are rhizomatous and form numerous root tubers. It has decorative shiny green leaves that are not true leaves but phylloclades or 'leaf-like branches'. These structures are flattened stems that resemble leaves and are 25–40 mm long and 8–20 mm wide. Flowering usually occurs in winter or early spring (July to September). Small, 6–10 mm long, greenish white, hanging, fragrant flowers are borne singly in the axils. The fruit is a globose, sometimes sticky berry, 5–10 mm in diameter, that is red when mature in early summer. Each berry usually contains a few, shiny, black seeds that are egg-shaped or rounded.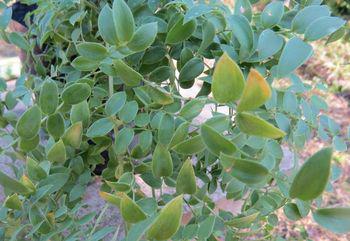 Conservation Status
Status
Asparagus asparagoides is not a threatened or protected plant in South Africa, and is , assessed as Least Concern by the Red List of South African plants. In some countries, including Australia and New Zealand, it is an invasive weed that needs to be controlled.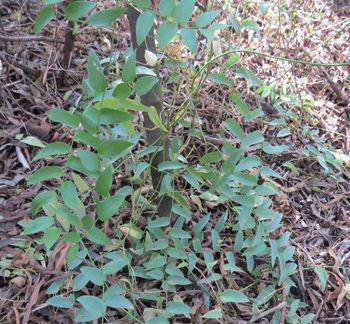 Distribution and habitat
Distribution description
It ranges from southern Africa, northwards to tropical Africa. It is widespread and common in forests, bushveld, woodlands, along river banks and in bush, in all the provinces of South Africa and in Namibia, Lesotho and Swaziland.
It has naturalised in parts of southern Europe, California, Hawaii, Australia and New Zealand, and is a listed invasive or environmental weed in some countries.
Derivation of name and historical aspects
History
The name Asparagus is thought to be derived from the Greek, asparagos, for the cultivated asparagus, which is possibly derived from sparasso meaning 'to tear', referring to the sharp spines of many species, or from spargan meaning 'to swell or sprout'. The species name asparagoides means 'like the genus Asparagus', which seems a strange name to give a species of Asparagus, but when this species was first named by Linnaeus in 1753, it was placed in the genus Medeola and in 1808, was moved to the genus Myrsiphyllum, but is now classified in the genus Asparagus.
The genus Asparagus contains approximately 200 species, which occur in Africa, Asia and Europe. In southern Africa there are 86 species of Asparagus currently recognised.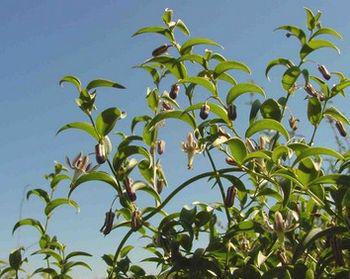 Ecology
Ecology
This plant can survive drought and frost because of its tuberous roots that store water and nutrients. It produces bright red berries, which are eaten by birds, and other animals, enabling it to be spread long distances.
Uses
Use
Asparagus asparagoides is a popular garden plant, and it can attract birds to the garden with its red berries. Best known under the name Cape smilax, it is often used in floral arrangements and in bridal bouquets, and is a popular container plant for home decorating. Roots serve a medicinal purpose as a balm for sore eyes, as a purgative and as a fertility charm for cattle.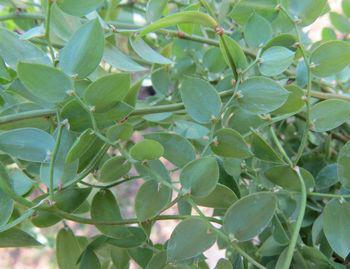 Growing Asparagus asparagoides
Grow
Asparagus asparagoides is best grown in semi-shade or dappled shade, although it will grow in full shade to full sun. It is not fussy about soil, but performs best in well-drained, fertile, well-composted soil, with regular watering. Use it as a ground cover, allow it to cascade over a retaining wall or from a hanging basket. It can also be trained up a small trellis. It is suitable for containers and can be grown indoors. Once established, it is moderately drought resistant. The plant can be damaged and appears to be killed by frost, but will survive and resprout in the spring. Likewise, in extreme drought situations, the stems may die, but the rootstock will survive and send out new growth when watered again. When the plant becomes overgrown and untidy, it can be cut back to ground level and it will resprout.
This plant reproduces by seed and spreads by underground stem or rhizomes. Propagate it from seed or by dividing the clumps. Remove the thin fleshy coating from the fruit and sow the seeds in spring or summer, using a general, well-drained, sterile, sowing medium. Keep warm and moist, transplant the seedlings when they are large enough to handle and grow on in light shade. Take note, when dividing a clump, a new plant will grow from a piece of the rhizome, but not from a tuber, ideally plant a piece of rhizome that has a few tubers attached.
References
Flora of southern Africa accessed via Plants of southern Africa online http://posa.sanbi.org/flora/results_browse.php?src=FloraSA&taxon=genno=728,spno=11 accessed on 18/8/2016
Global Compendium of Weeds. http://www.hear.org/gcw/species/asparagus_asparagoides/ accessed on 18/8/2016
Jackson, W.P.U. 1990. Origins and meanings of names of South African plant genera. University of Cape Town.
Joffe, P. 2001. Creative gardening with indigenous plants. Briza Publications, Pretoria.
Manning, J. 2001. Eastern Cape. South African Wild Flower Guide 11. Botanical Society of South Africa, Cape Town.
Pooley, E. 1998. A field guide to wild flowers Kwazulu-Natal and the eastern region. Natal Flora Publications Trust, Durban.
Wikipedia https://en.wikipedia.org/wiki/Asparagus_asparagoides accessed on 18/8/2016
Credits
Samuel Lekhetho, Free State National Botanical Garden
and Alice Notten, Kirstenbosch National Botanical Garden
September 2016
 
Plant Attributes:
Plant Type: Scrambler, Shrub
SA Distribution: Eastern Cape, Free State, Gauteng, KwaZulu-Natal, Limpopo, Mpumalanga, North West, Northern Cape, Western Cape
Soil type: Sandy, Loam
Flowering season: Spring, Winter
PH: Acid, Neutral
Flower colour: White
Aspect: Full Sun, Shade, Morning Sun (Semi Shade), Afternoon Sun (Semi Shade)
Gardening skill: Easy
Special Features:
Attracts birds
Drought resistant
Fragrant
Good potplant
Indoor plant
Medical plant
Useful plant
Horticultural zones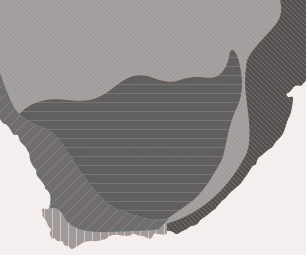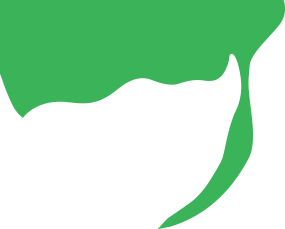 Zone 1 Coastal summer rainfall, frost free
Zone 2 Coastal winter rainfall, frost free
Zone 3 Winter rainfall Karoo, light frost
Zone 4 Summer rainfall Karoo and Highveld, Frost in winter
Zone 5 Bushveld summer rainfall, Light frost
Google QR Code Generator