Asparagus rubicundus P.J.Berguis
Family: Asparagaceae
Common names: red-stemmed asparagus, wild asparagus (Eng.); wag-'n-bietjie, swart haakdoring (Afr.)
Introduction
An erect thorny shrub with glossy, reddish brown, thorny stems, soft feathery foliage and starry white flowers, and one of the fastest growing species after a veld fire.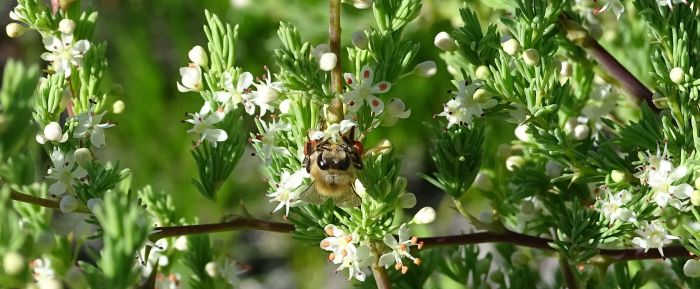 Description
Description
Asparagus rubicundus is an erect, spiny shrub, that grows up to 1.5 m tall, with multiple glossy, dark brown stems, arising from fibrous roots. The branches bear sharp, curving spines, about 6 mm long, that look like fish hooks.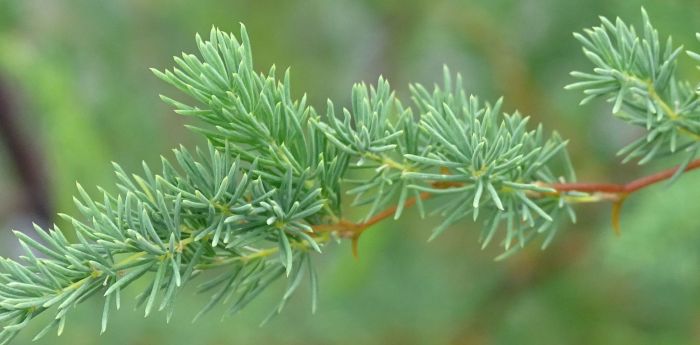 The long, narrow, needle-like leaves are actually false leaves, called cladodes, which is a modified stem structure that resembles and performs the function of a leaf. They are carried in bunches of 10 along the branches.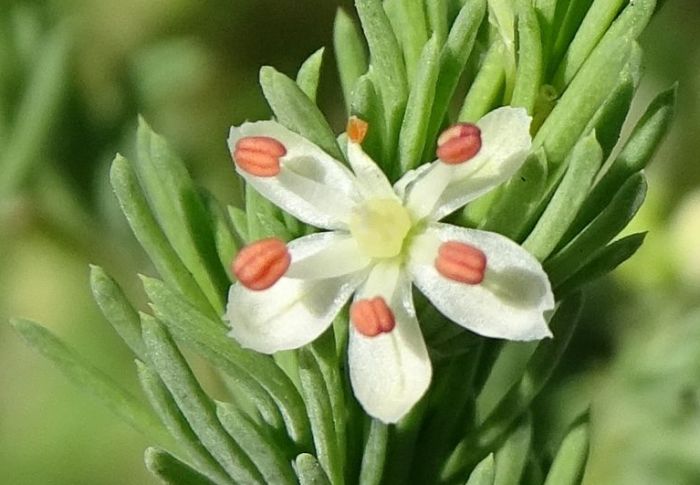 Small, white, lightly coconut-scented, star-shaped flowers, 1 or 2 per axil, are scattered on the branches. The petals and ovaries are white and the anthers are brown. The flowers occur from summer to early winter (January–June).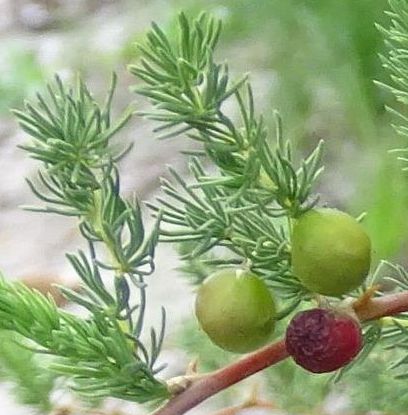 After flowering, globose, green berries that mature into red, are produced, each containing a single seed.
Conservation Status
Status
Asparagus rubicundus is assessed as Least Concern (LC) according SANBI's Red List of South African plants.
Distribution and habitat
Distribution description
This asparagus is found over a wide range, from the Kamiesberg of Namakwaland in the Northern Cape, to Gifberg in the Western Cape and to Uitenhage in the Eastern Cape. It grows on granite, clay or sandy slopes.
Derivation of name and historical aspects
History
The genus name Asparagus comes from the Greek name asparagos, given to the edible asparagus (Asparagus officinalis). The species name rubicundus is derived from Latin ruber, meaning 'red' and cundus, which means 'tendency', referring to the reddish brown stems. The common name wag-'n-bietjie, meaning 'wait-a-bit', refers to how the thorns catch a hold as you pass by, and can get your clothes, and skin, hooked into this bush, making it extremely hard to extricate yourself, and painful if it scratches you while you free yourself.
The asparagus family (Asparagaceae) consists of one genus and  about 120 species in Africa, Asia and Europe, with 81 species in southern Africa, and about 15 are recorded in our area (Bean & Johns). This genus includes a variety of living forms, habitats and many are climbing plants. The differences among them comes from the different communities and ecosystems in which they occur.
Ecology
Ecology
Asparagus rubicundus flowers are pollinated by insects. The white, star-shaped, scented flowers attract insects, such as bees and butterflies. The red berries are eaten and dispersed by birds, which are attracted to the red berries.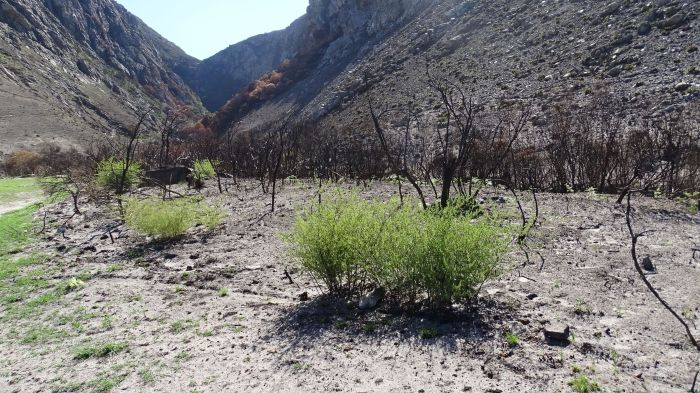 The red-stemmed asparagus is one of the first plants to grow back after a veld fire, and makes welcome patches of green among the empty sand and blackened remains of the plants. It survives the fast-moving fynbos fire because of its fibrous rootstock, and quickly sends out new growth, flowers and sets seed soon after the fire, also providing much needed nectar and pollen for the insects, and fruit for the birds. These bushes are also present in mature fynbos, but are less easy to spot among all the other shrubs.
Uses
Use
The very young, new shoots are edible, harvested like those of Asparagus officinalis. There are no records of this species being used in traditional medicine, although some other species are used to treat a variety of ailments. The berries of some asparagus are mildly poisonous, causing abdominal pain, vomiting and diarrhoea when eaten.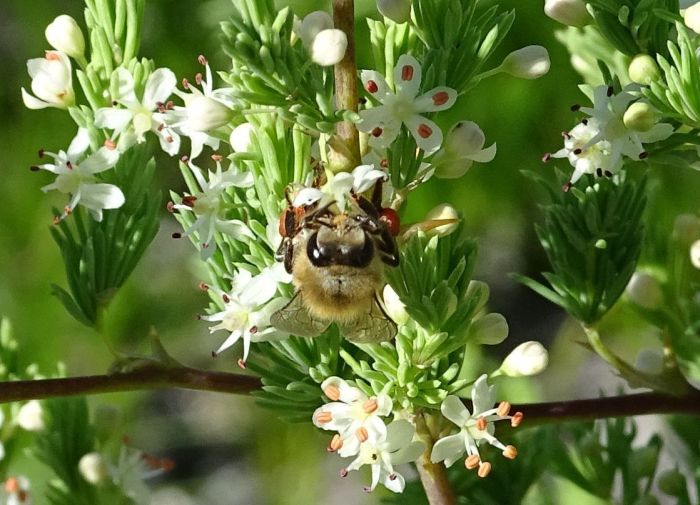 Growing Asparagus rubicundus
Grow
Not often seen in cultivation, Asparagus rubicundus is best grown from seed and not from cuttings. It attracts birds, butterflies, and bees to the garden. It thrives in full sun to partial shade. Remove the thin fleshy coating of the fruit before sowing, to get the best results. Sow seeds in autumn or spring, use a well-drained soil mix of sifted bark, river sand and compost. Cover the seeds lightly with the same mix, water well, and do not allow the soil to dry out.
References
Bean, A. & Johns, A. 2005. Stellenbosch to Hermanus. South African Wild Flower Guide 5. Botanical Society of South Africa, Cape Town.
Manning, J. 2007. Field guide to Fynbos. Struik Publishers, Cape Town.
Manning, J., Goldblatt, P. 1996. West Coast. South African Wild Flower Guide 7. Botanical Society of South Africa, Cape Town
Trinder-Smith, T.H. 2003. The Levyns Guide to the plant genera of the south western Cape. Bolus Herbarium, UCT, Red Roof Design CC, Cape Town
Credits
Loretta Floors
Harold Porter National Botanical Garden
June 2019
Plant Attributes:
Plant Type: Shrub
SA Distribution: Eastern Cape, Northern Cape, Western Cape
Soil type: Sandy, Clay, Loam
Flowering season: Late Summer, Autumn, Winter
PH: Acid
Flower colour: White
Aspect: Full Sun, Morning Sun (Semi Shade), Afternoon Sun (Semi Shade)
Gardening skill: Challenging
Special Features:
Attracts birds
Drought resistant
Fragrant
Edible plant
Feeds honeybees
Pioneer plant
Horticultural zones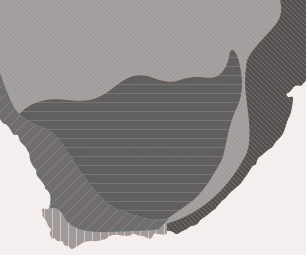 Zone 2 Coastal winter rainfall, frost free
Zone 3 Winter rainfall Karoo, light frost
Google QR Code Generator