Astroloba cremnophila Van Jaarsv.
Family: Asphodelaceae
Common names: cliff astroloba (Eng.); krans-astroloba (Afr.)
Introduction
Astroloba cremnophila is a small, cluster-forming, leaf succulent from the cliffs along the Buffelsrivier. The plant has leafy, succulent stems, the leaves are arranged in a spiral twist and an inflorescence made up of small tubular flowers with star-like mouths appears from each branch tip.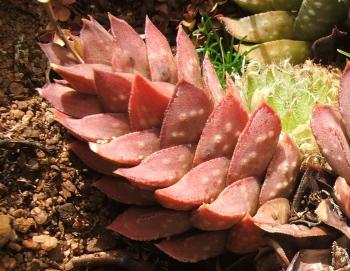 Description
Description
Astroloba cremnophila is a slow-growing, long-lived, succulent perennial, forming small, dense clusters, branching from the base, up to about 400 mm in diameter and consisting of about 12–60 heads, mainly pendent from cliff faces. The branches are 50–200 mm long; the leafy stems about 35–38 mm in diameter, glaucous green, becoming reddish green during the dry periods. Leaves are ascending, erect, in 5, spirally twisted rows, densely arranged, like tiles on a roof; triangular to egg-shaped, firm, 22–25 × 12–15 mm, with a distinct marginiform keel, apex acute to acuminate, minutely denticulate-tuberculate; margin leathery, with small saw-edged teeth (serrulate). Adaxial surface somewhat channeled, faintly striate; abaxial surface tuberculate; tubercles greenish white.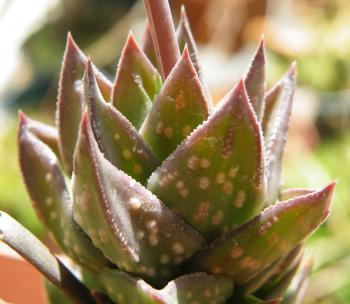 Inflorescence a simple raceme, 120–460 mm long; scape 2.0–2.5 mm wide at the base, with raceme in upper half to one third. Bracts membranous; lower bracts up to 5 mm long, triangular-acuminate, whitish translucent; floral bracts 2.5–3.0 mm long, translucent with darker median stripe. Flowers 3–10 mm apart, sub-secundly arranged, ascending spreading. Pedicel 3 mm long. Flowers tubular, 11 × 2.5 mm; lobes fused into a tube, slightly curved, free for 1.5 mm, grey-green, with white stripes; outer lobes spreading, apices truncate to emarginate; inner lobes obtuse, curved inwards. Stamens 8–9 mm long, anthers 5 mm long. Ovary oblong, 3.5 × 1.5–2.0 mm, green, styles 3 mm long, stigma minute, white, capitate. Capsule linear ovoid 7 × 3 mm. Seeds not seen. Flowering time is in summer, from November to April.
Conservation Status
Status
The Red List status of this recently described species has not yet been evaluated, but in the author's opinion it is not threatened, as it is protected by its sheer cliff-face habitat, which makes them difficult to reach.
Distribution and habitat
Distribution description
Astroloba cremnophila is only known from from the cliffs at Buffelspoort along the Buffels River, tributary to the Gouritz River, in the Western Cape. The Buffelspoort is part of the western portion of the Groot Swartberg. It is locally common and well protected by its cliff face habitat (most aspects), growing at altitudes of 600–800 m above sea level. The vegetation consists of Gamka Thicket and part of the thicket vegetation (Mucina 2006). Plants grow in mineral-poor sandstone cliffs. Associated plants include Albuca buffelspoortensis, Portulacaria afra, Crassula arborescens, C. cultrata, C. perforata, C. rupestris subsp. rupestris and C. orbicularis, Drimia convallarioides (= Rhadamanthus montanus)  and Senecio citriformis. The climate is dry, without frost. Temperatures during summer can be very high, with an average daily maximum of about 25–26°C, the average daily minimum about 10°C. Rainfall occurs during summer and winter and rains range from 200–300 mm per annum.
Derivation of name and historical aspects
History
The generic name Astroloba, meaning 'star lobe', is from the Greek astro, meaning 'star-like' or 'star-shaped', and lobos, meaning 'lobe', and pertains to its flowers. The specific epithet cremnophila, meaning 'cliff-loving', is from the Greek cremnos, meaning 'cliff or crag' and philos, meaning 'loving or fond', pertaining to its cliff face habitat.
Astroloba cremnophila was named by the author in the British Cactus & Succulent Journal, Bradleya, in 2015 (Van Jaarsveld 2015). It has been known for several years and grown at Kirstenbosch National Botanical Garden.
It is one of 8 species of Astroloba, all are endemic to South Africa, and all are succulent and popular in cultivation. Astroloba is part of the Asphodelaceae and is closely related to Aloe, Haworthia, Gasteria, Tulista and Haworthiopsis. They are easily distinguished by their short, leathery, firm, succulent leaves ending in a hard point and star-lobed flowers.
Ecology
Ecology
The tubular, pale whitish flowers are pollinated by local insects. After fertilization the capsules mature and become erect, opening from the end and the fine seeds dispersed by wind.
Uses
Use
Apart from its ornamental use, no other uses have been recorded.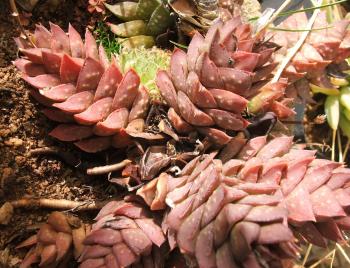 Growing Astroloba cremnophila
Grow
Astroloba cremnophila can be grown in containers and rockeries, however, is best cultivated in clay pots in a greenhouse under controlled conditions. Best in bright light conditions, however plants will tolerate some shade. For outdooor cultivation it is best cultivated in Thicket and Succulent Karoo Gardens (Van Jaarsveld 2010), or similarly, dry Mediterranean-type gardens in other parts of the world, where frost is not too severe. Plants prefer full sun to partial shade. It is a slow grower, eventually forming a small cluster. Flowering size can be reached in about 3 to 5 years. Best to feed plants with an organic fertilizer such as compost or any other liquid fertilizer. Astroloba cremnophila can be watered at any time of the year, however, watering should be reduced in winter.
This species can by propagated by stem cuttings or seed.
Astroloba cremnophila is easily propagated from stem cuttings, but can take several weeks to root and is best undertaken in spring or summer. Cuttings are best rooted in a small container in a well-drained medium such as sand. Sow seed preferably in spring or summer in a shady position in a sandy slightly acidic soil. Cover with a thin layer of sand and keep moist.
References
Mucina, L. & Rutherford, M.C. (eds) 2006. The vegetation of South Africa, Lesotho and Swaziland. Strelitzia 19. South African National Biodiversity Institute, Pretoria.
Van Jaarsveld, E.J. 2010. Water wise gardening. Struik, Cape Town.
Van Jaarsveld, E.J. 2015. Astroloba cremnophila, a new cliff-dwelling succulent from the Klein Karoo (Western Cape, South Africa). Bradleya 33: 171–179.
Credits
Ernst van Jaarsveld
Babylonstoren Farm for Kirstenbosch National Botanical Garden
March 2016
Plant Attributes:
Plant Type: Succulent
SA Distribution: Western Cape
Soil type: Sandy
Flowering season: Early Summer, Late Summer
PH: Acid
Flower colour: White
Aspect: Full Sun, Shade, Morning Sun (Semi Shade), Afternoon Sun (Semi Shade)
Gardening skill: Average
Special Features:
Drought resistant
Good potplant
Indoor plant
Horticultural zones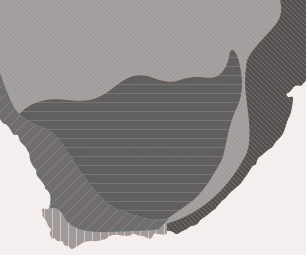 Zone 1 Coastal summer rainfall, frost free
Zone 2 Coastal winter rainfall, frost free
Zone 3 Winter rainfall Karoo, light frost
Google QR Code Generator