Barleria wilmsiana Lindau
Family: Acanthaceae
Common names: Wilms's barleria (Eng.); Wilms-se-barleria (Afr.)
Introduction
A beautiful garden plant but difficult to grow.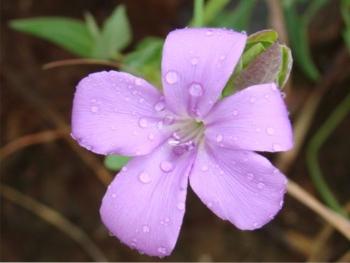 Description
Description
Barleria wilmsiana is an unarmed shrublet, up to 400 mm high. The stems develop out of a woody rootstock and are glabrous (without hairs); older stems are reddish.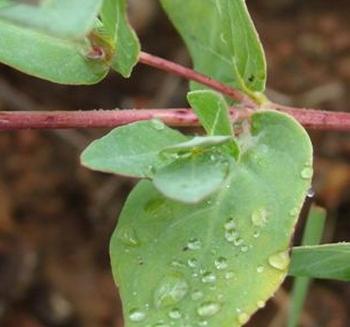 The leaves are opposite, ovate (egg-shaped), subsessile (shortly stalked)  and the base is rounded. The leaf margins are entire and the apex (leaf tip) tapers to a point. The leaves are dull green above and light green beneath. Young leaves have a reddish tinge beneath.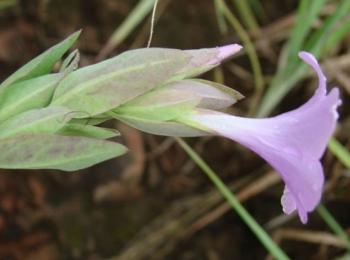 The flowers are solitary in the leaf axils or a few are clustered at the tips of the branches. The flowers range in colour from light to dark mauve. The corolla is 2-lipped, the upper lip 4-lobed and lower lip 1-lobed. Each flower is subtended by modified leaves called calyx lobes. The calyx lobes are narrowly elliptic and the margins are entire. Plants flower from late summer to midwinter, from February to June, during which time flowers appear sporadically.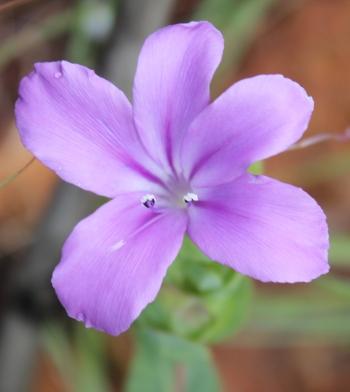 The seed capsule is turgid at the base and ends in a conical beak. The ripe capsules explode to distribute the seeds.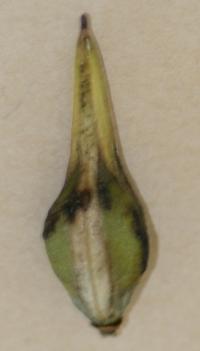 Conservation Status
Status
According to the red list of South African plants, Barleria wilmsiana is assessed as Least Concern (LC).
Distribution and habitat
Distribution description
Barleria wilmsiana grows on grassy slopes, in serpentine and dolomite soils, in Mpumalanga, Limpopo and KwaZulu-Natal Provinces. Plants grow well in full sun and prefer sandy loam soils.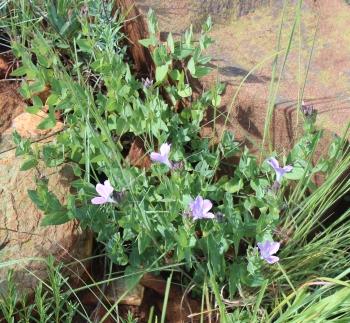 Derivation of name and historical aspects
History
Barleria wilmsiana is named after Dr Friederich Wilms (1848–1919), apothecary and plant collector from Lydenburg.
The genus Barleria consists of shrubs, subshrubs and herbs, with or without spines and all distribute their seeds by means of explosive capsules. The genus is distributed throughout the country from tropical to very dry and cold conditions.
Ecology
Ecology
Barleria wilmsiana is pollinated by insects and attracts various species of butterflies.
Uses
Use
Although this species is difficult to grow, it is still a beautiful plant and can be recommended as a water-wise garden subject for partly sunny and sunny spots in the garden. Barleria wilmsiana is suitable to be planted among other plants. In nature, plants grow between grasses.
Growing Barleria wilmsiana
Grow
Barleria wilmsiana can be propagated from seed. Harvest the brown seed capsules before they explode and scatter the seeds. Use 1 part coarse river sand and 2 parts potting medium as a growing medium for germination. Place the seeds 2 cm apart on the growing medium and cover them lightly with the growing medium. Place the seed tray in a shady spot and water well once a week. Germination starts to take place in 7 days. Transplant the seedlings when they are 10 cm in size.
Barleria wilmsiana does not grow from cuttings; seed is the only method to multiply plants.
There are no specific pests and diseases that affect Barleria wilmsiana.
References
Little, J. R. & Jones, C.E. 1980. A dictionary of botany. Van Nostrand Reinhold Compony, New York, Cincinnatti, Toronto, Melbourne.
Raimondo, D. et al. 2009. Red list of South African plants. Strelitzia 25. SANBI (South African National Biodiversity Institute), Pretoria.
Retief, E. & Herman, P.P.J. 1997. Plants of the northern provinces of South Africa: keys and diagnostic characters. Strelitzia 6. National Botanical Institute, Pretoria.
Thiselton-Dyer, W.T. 1900. Acanthaceae to Plantaginee. Flora of tropical Africa, Vol. V. Lovell Reeve, London.
Credits
Willem Froneman
Lowveld National Botanical Garden
March 2018
Plant Attributes:
Plant Type: Shrub
SA Distribution: KwaZulu-Natal, Limpopo, Mpumalanga
Soil type: Sandy, Loam
Flowering season: Late Summer, Autumn, Winter
PH: Acid, Neutral
Flower colour: Mauve/Lilac
Aspect: Full Sun, Morning Sun (Semi Shade), Afternoon Sun (Semi Shade)
Gardening skill: Challenging
Special Features:
Attracts butterflies
Drought resistant
Horticultural zones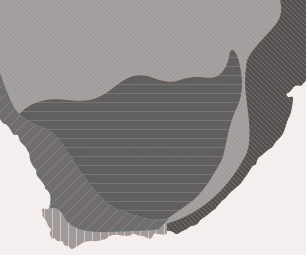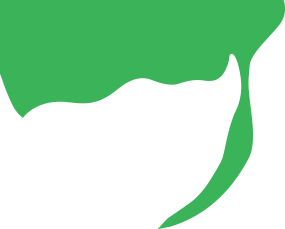 Zone 5 Bushveld summer rainfall, Light frost
Google QR Code Generator