Bergbambos tessellata (Nees) Stapleton (= Thamnocalamus tessellatus (Nees) Soderstr. & R.P.Ellis)
Family: Poaceae
Common names: Drakensberg bamboo, wild bamboo, African bamboo, southern mountain bamboo (Eng.); bergbamboes (Afr.); uduli, uqalo (Xho.)
Introduction
This is one of only two species of bamboo that are indigenous to South Africa. It is a small, tough bamboo that will tolerate wind and frost, preferring moist, rocky places and best suited to cooler regions. Bamboos are evergreen, perennial flowering plants in the subfamily Bambusoidaea of the grass family Poaceae.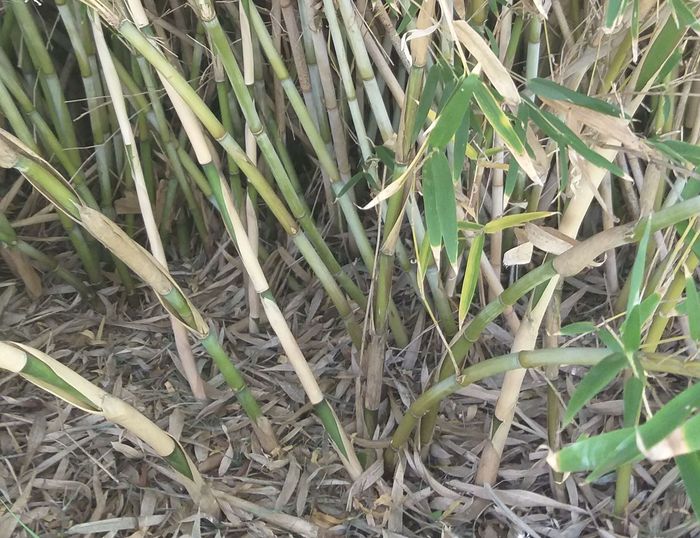 Description
Description
Bergbambos tessellata is a loosely tufted bamboo that grows in dense clumps, 1 to 5 m tall. It has stout, noded, hollow, woody culms (also called canes), 20–25 mm in diameter, arising from a woody rhizome. Culms are erect to slightly arching and they are dark maroon when young, becoming straw-coloured and waxy with age. Growth is sympodial and each new rhizome becomes a new culm. The culms are profusely branched from the upper nodes, giving the canes a plume-like effect. The leaves at the base of the branches are reduced to papery sheaths, whereas the other leaves are 40–150 mm long and 8–15 mm broad, stiff, narrowly lanceolate and sharply pointed, with spiny margins and a strongly tessellated (cross-veined) surface.
Bamboos are divided in to 3 categories based on their flowering behaviour: some flower every year, i.e. annual flowering; some flower sporadically at irregular intervals; and in some, all populations of the species flower and produce seeds at the same time and this mass flowering can happen at intervals of 3 to 120 years, and afterwards the plant often dies; this is called gregarious flowering. Most bamboos, including this one, belong in the third category and the flowering interval is genetically determined for each species. Bergbambos tessellata flowers at 45-year intervals, and records from KwaZulu-Natal note flowering in 1908, 1953 and 1998/99. The inflorescence is a terminal panicle on leafy shoots, consisting of 3–5- or 4 flowered spikelets, 15–18 mm long, the inflorescence covered by long, overlapping sheaths that become straw-coloured and frayed with age.
Conservation Status
Status
Bergbambos tessellata was regarded as rare and vulnerable on previous assessments, but it is currently assessed as not threatened, with a Red List status of Least Concern (LC). It is at risk from fire and exploitation, and was heavily exploited in the 1700s and 1800s.
Distribution and habitat
Distribution description
Bergbambos tessellata is endemic to the high mountains of South Africa, Lesotho and Swaziland, at elevations of 1 500–2 000 m. It grows near streams, in wet and damp places, on mountain sides, rocky slopes, in sheltered ravines and on forest margins, along the southeastern part of southern Africa, in the Eastern Cape, KwaZulu-Natal and Free State Provinces, and is found in the Amatola Mountains, the Bamboesberg, after which it is named, and the Drakensberg.

Derivation of name and historical aspects
History
The generic name Bergbambos is derived from its Afrikaans common name bergbamboes, meaning 'mountain bamboo'. The former generic name means 'bush reed' and is derived from Greek, thamno meaning 'a bush' and calamus meaning 'a reed'. The species name tessellata means 'tiled' and refers to the mosaic-like rectangular pattern of the veins on the leaves, which can be seen through a lens.
The Bamboesberg (meaning 'bamboo mountain') receives its name from this plant, because it grows quite prolifically there. The name bamboo comes from bambu from the Kannada language of the Karnataka State in India, and was introduced to English through Indonesian, Malaysian and Portuguese.
Bergamboes is one of only 2 species of bamboo that are indigenous to South Africa. The other South African bamboo is Oxytenanthera abyssinica, known here as the Holy Venda Bamboo. It grows in woodland, grassland and thicket throughout tropical Africa.
Our species was first described by Nees in 1841 who placed it in the genus Nastus, and it was transferred to Arundinaria by Munro in 1868. Based on the structure of its inflorescence, its sympodial rhizomes and branching habit, which do not fit with Arundinaria, Soderstrom and Ellis undertook a comparative study of its leaf anatomy and epidermis, morphology and inflorescence (published in 1982), and concluded that it belongs in the genus Thamnocalamus, a genus of 5 species in the Himalayas and China. A 2013 study by Stapleton, which included molecular analysis, has concluded that our species shares equal similarity with the genera Thamnocalamus and Fargesia, but that it belongs in neither, and recognizes it as a distinct genus on its own. It has thus been renamed Bergbambos tessellata. Bergbambos is a monotypic genus, confined to the mountains of South Africa, Lesotho and Swaziland.
Ecology
Ecology
Bergbambos tessellata is a host of the rare and localised, IUCN Red Data Book listed butterfly Metisella syrinx (Bamboo Sylph).
The roots have air canals, which is an adaptation for wet conditions.
The plants spread by means of rhizomes, producing flowers and fruits very rarely. Fruits are not adapted for long-distance dispersal, nor are they long-lived.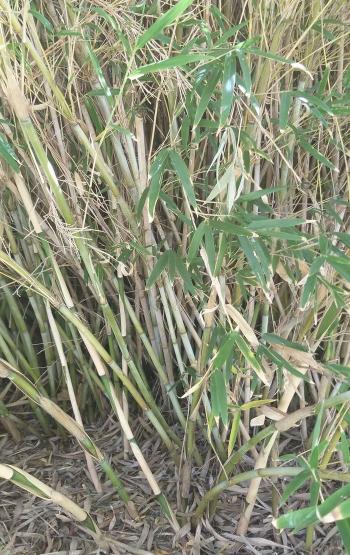 Uses
Use
Bamboos are of notable economic and cultural significance in Asia, being used for building material, as food sources and as a versatile raw product.
The culms of our bamboo are thick and very strong and have been used by local people for many years. The canes are used to construct huts, screens, gates etc., and used as walking sticks, implement handles and as spear and arrow shafts. They are also said to make good fishing rods.
Growing Bergbambos tessellata
Grow
Bergbambos tessellata is a very tough bamboo, that is much more wind and drought tolerant than most other bamboos. It is frost hardy and is best suited to cooler climates. This is one of the best clumping bamboos for a sunny position. Plant in sun or semi-shade, in fertile, loamy soil and water in summer.
Propagate by seeds or division. Seeds are rarely produced, and when available, sow as they are, in spring or early summer, in standard seedling mix, in a greenhouse; keep moist and don't allow the compost to dry out. Divide mature clumps in spring, as new growth is happening. Take 3 canes in a clump, pot them in a well-composted, sandy medium and place them in a shaded area or greenhouse and water regularly until established.
When trimming a bamboo, prioritize the branches that look dead, sick or weak. Most bamboo can be pruned without fear of harming the plant; so trim freely to achieve the look you desire in your plant. This will also remove the growths that are unsightly or less healthy, encouraging the overall health and appearance of your plant.
References
Boon, R. 2010. Pooley's trees of eastern South Africa, a complete guide. Flora & Fauna Publications Trust, Durban.
Chippindall, L.K.A. 1955. The grasses and pastures of South Africa. Central News Agency, Cape Town.
Fish, L., Mashau, A.C., Moeaha, M.J. & Nembudani, M.T. 2015. Identification guide to southern African grasses. Strelitzia 36: 271–276. South African National Biodiversity Institute, Pretoria.
Plants for a future, 1996-2012. Thamnocalamus tessellatus. Accessed 2 April 2019. https://pfaf.org/user/Plant.aspx?LatinName=Thamnocalamus+tessellatus
Raper, P.E. 1987. Dictionary of southern African place names. Internet Archive. p. 68 https://archive.org/stream/DictionaryOfSouthernAfricanPlaceNames/SaPlaceNames#page/n68/mode/2up Retrieved 2 April 2019.
Smith, C.A. 1966. Common names of South African plants. Memoirs of the Botanical Survey of South Africa No. 35. Government Printer, Pretoria.
Soderstrom, T.R. & Ellis, R.P. 1982. Taxonomic status of the endemic South African bamboo, Thamnocalamus tessellatus. Bothalia 14(1): 53–67.
Stapleton, C.M.A. 2013. Bergbambos and Oldeania, new genera of African bamboos (Poaceae, Bambusoidea). PhytoKeys 25: 87–103.
Wikipedia: Thamnocalamus tessellatus. Accessed 2 April 2019. https://en.wikipedia.org/wiki/Thamnocalamus_tessellatus
Credits
Samuel Lekhetho,
Free State National Botanical Garden
and Alice Notten
Kirstenbosch National Botanical Garden
April 2019
Plant Attributes:
Plant Type: Grass
SA Distribution: Eastern Cape, Free State, KwaZulu-Natal
Soil type: Sandy, Loam
Flowering season:
PH:
Flower colour:
Aspect: Full Sun, Morning Sun (Semi Shade), Afternoon Sun (Semi Shade)
Gardening skill: Average
Special Features:
Drought resistant
Horticultural zones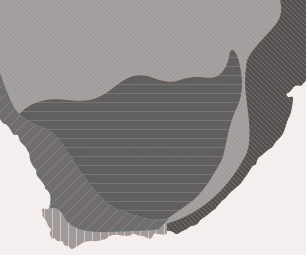 Zone 4 Summer rainfall Karoo and Highveld, Frost in winter
Google QR Code Generator