Bersama tysoniana Oliv.
Family: Melianthaceae
Common names: white ash, common white ash, common bersama, forest white ash, bitterbark, wild quinine tree (Eng.); witessenhout, gewone witessenhout, basternieshout, bitterbas (Afr.); indiyaza, isibhara, isindiyandiya, undlandla (isiXhosa); isindlandla, undiyaza (isiZulu); mokgoba, mokgwagane (Sesotho.); sando (Tshivenda)
SA Tree No: 443
Introduction
Bersama tysoniana is an attractive tree because of its dense foliage, russet-brown new growth and knobbly fruits that split into quarters, exposing red seeds.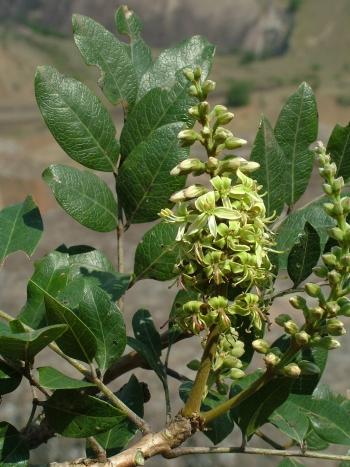 Description
Description
Bersama tysoniana is a shrub or a small to medium-sized tree, usually 3 to 10 m high, sometimes growing up to 15 m high. The bark is thick, wrinkled, and grey-brown. Leaves are compound, 70–250 mm long, with 4–6 pairs of opposite leaflets plus a terminal one; petioles up to 50 mm long. Leaflets elliptic, ovate or obovate, 15–19 × 7–40 mm, apex rounded or pointed, dark green, veins prominent below, hairless or hairy on both surfaces; margin entire or finely toothed over the upper half; petiolules (stalks) short. Young leaves densely hairy and red-brown. Inflorescences produced before or with new leaves, in dense terminal racemes, up to 250 mm long, on short or long, hairy stalks.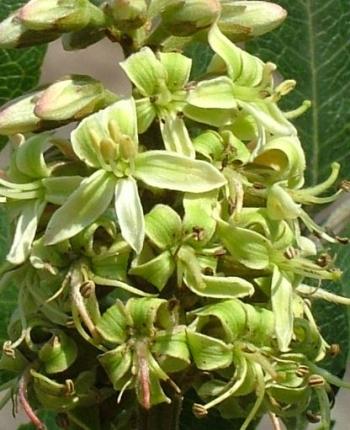 Flowers small, greenish to cream-white and sweetly scented, in spring and early summer (August–December).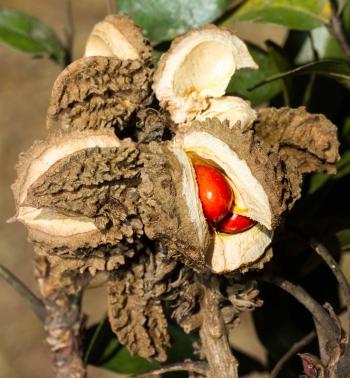 Fruits knobbly, woody, roundish, brown capsules, up to 30 mm in diameter, splitting into 4 parts; seeds reddish orange with yellow arils at the base, in late summer, autumn and winter (February to August).
Conservation Status
Status
Distribution and habitat
Distribution description
Bersama tysoniana is indigenous to southern Africa, where it is distributed in South Africa and Swaziland. In South Africa, it occurs from the northern Eastern Cape and former Transkei, through KwaZulu-Natal to Limpopo and Mpumalanga. It is found in forest and on forest margins, in coastal and mountain forests, up to an altitude of ±1 500 m. It grows on well-drained, humus-enriched, sandy loam and shale soils.
Derivation of name and historical aspects
History
Bersama refers to the common name for a tree of this genus in Ethiopia. The species tysoniana was named after William Tyson (1851–1920), a schoolmaster and indefatigable botanical collector.
There is a very similar species, B.stayneri, which has smaller leaves than B. tysoniana and occurs in the Eastern Cape and KwaZulu-Natal, although the characters are very variable and not clearly separated in the field, and today it is not regarded as a distinct species but is synonymous with B. tysoniana. Another former species, B. transvaalensis, from Mpumalanga and Limpopo, has also been sunk into B. tysoniana. Other South African species are: B. lucens (glossy white ash) and B. swinnyi (coastal white ash).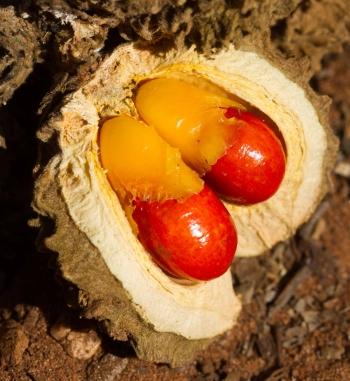 Ecology
Ecology
Bersama tysoniana  grows in forest and on forest margins, on humus-enriched, well-drained, sandy loam and shale soils. The fruits start ripening from late summer. Mode of dispersal is by animals. The seeds have a short lifespan because of being eaten by birds and animals, and the seeds are scarified by them. The foliage is strong smelling and often poisonous. The flowers secrete copious nectar and attract bees and sunbirds.
Uses
Use
Bersama tysoniana bark is widely used for medicinal purposes in traditional African medicine, to cure fever and hysteria and also for gall sickness in cattle. It is used by Xhosa people by placing roots on either side of their cattle kraal to prevent and protect animals from sickness and theft. It is also used by Zulu people to disband those who wish evil upon you. In cases of calves, or lambs, being thin, they dose the animal with B. tysoniana roots, which are powdered and mixed with other roots.
Growing Bersama tysoniana
Grow
Bersama tysoniana is not well known as a garden plant, but its dense, strong foliage, russet-brown new growth, and attractive knobby capsules with red seeds, make it an interesting selection for small gardens. Seeds must be sown fresh, in spring to early summer, using a well-drained soil mix. Allow the seedlings a few months of growth before pricking out as they are difficult to transplant when they are young. Grow in sun or semi-shade, in humus-enriched, well-drained soil.
References
Boon, R. 2010. Pooley's trees of eastern South Africa, a complete guide. Flora & Fauna Publications Trust, Durban.
Foden, W. & Potter, L. 2005. Bersama tysoniana Oliv. National Assessment: Red List of South African plants version 2017.1. Accessed on 2018/07/10.
Coates Palgrave, M. 2002. Keith Coates Palgrave Trees of southern Africa , edn 3. Struik, Cape Town.
Palmer, E. & Pitman, N. 1972. Trees of southern Africa. Balkema, Cape Town.
Pooley, E. 1993. The complete field guide to trees of Natal, Zululand and Transkei. Natal Flora Publication Trust, Durban.
Credits
Nonkululeko Ntshangase
KwaZulu-Natal Herbarium
July 2018
Plant Attributes:
Plant Type: Shrub, Tree
SA Distribution: Eastern Cape, KwaZulu-Natal, Limpopo, Mpumalanga
Soil type: Loam
Flowering season: Spring, Early Summer
PH:
Flower colour: Green, White, Cream
Aspect: Shade, Morning Sun (Semi Shade), Afternoon Sun (Semi Shade)
Gardening skill: Easy
Special Features:
Attracts birds
Feature plant
Fragrant
Poisonous
Medical plant
Feeds honeybees
Horticultural zones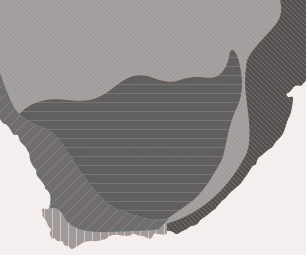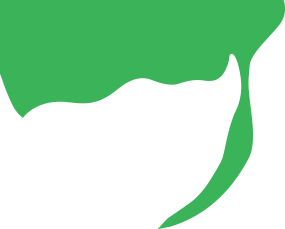 Zone 1 Coastal summer rainfall, frost free
Zone 5 Bushveld summer rainfall, Light frost
Google QR Code Generator