Cephalophyllum parviflorum
Cephalophyllum parviflorum L. Bolus
Family: Aizoaceae
Common names: Tygerberg trailing-vygie (Eng.)
Introduction
Cephalophyllum parviflorum is one of the lesser-known species in the vygie family; it is predominantly a dwarf, trailing, succulent ground cover, hence the common name 'trailing-vygie'. Found on sandy coastal flats, growing among granite, with very bright, attractive yellow flowers in July.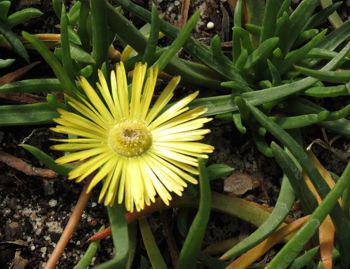 Description
Description
Cephalophyllum parviflorum is a succulent, perennial, ground cover, with small, triangular, spotted leaves that are arranged on the main stem  decussately  (with opposite pairs), with leaves 80 mm long and 8 mm in diameter. The stems consist of long nodes and internodes, with heads of crowded leaves.
Usually 3 yellow flowers, sometimes 2 or 1 per plant, flower in July. Flowers consist of long pedicels, with 5 sepals covering the ovary, many, linear, free (not fused) petals and many, erect, free stamens. The  top of inferior ovary forms a  fleshy rim around the base of  the stigmas. Occasionally they have 15 to 20, plumose (feathery) stigmas at the center of the capsule.
The capsules of Aizoaceae have a complicated structure, more so than any other family. Plants of this genus have an opening and closing mechanism, which comes into play in wet and dry conditions, for seed exposure and dispersal. When the seeds are ripe and the capsule is moistened, the capsule opens, exposing the seeds, but due to the elastic covering membrane of the locules, the seeds are exposed, but not released for the first few rains, until the covering membrane opens, whereby the capsules totally disintegrate, releasing the seeds; this can sometimes happen after several years, or after continuous rains (H. Herre 1971). Fruit capsule have valve and valve wings, opening keels, covering membranes and 8 to 20 locules, with small, ovate to pear-shaped, brown to light brown seeds.
Conservation Status
Status
Cephalophyllum parviflorum has been given a threat status of CR (Critically Endangered), and it is of high conservation concern to prevent it from extinction. This species is known from five locations, three of these populations are extinct and two are continuing to decline, because of ongoing habitat loss, due to urban development and farming.
Distribution and habitat
Distribution description
The Tygerberg trailing-vygie has a very restricted distribution and only known from a few very specific populations in the southwestern Cape, from Saldanha to Milnerton and found on rocky outcrops on Renosterveld, with an average annual rainfall of 467 mm.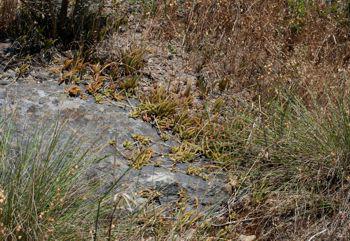 Derivation of name and historical aspects
History
Cephalophyllum is derived from the Greek word kephale meaning 'head' and phyllon meaning 'leaf' (H. Herre 1971); the leaves may be oppositely arranged, forming a head-like ball. The specific epithet parviflorum, is from parvus meaning 'small' and floris meaning 'flower' = small flower.
There are 63 species recorded for this genus from Namibia and the Cape Province: the Richtersveld, Namaqualand, Bushmanland, and the Karroo and Little Karroo in the southwestern Cape.
Ecology
Ecology
A common trait of succulents is the ability to store water in the leaves, which is a distinct adaptation of plants growing in dry areas. The bright yellow flowers open during midday allowing pollinators such as bees, to pollinate. The seeds are dispersed by water during rain, when the rain makes the capsules wet, causing it to expand and open, releasing seeds that are the carried by little water streams during rains.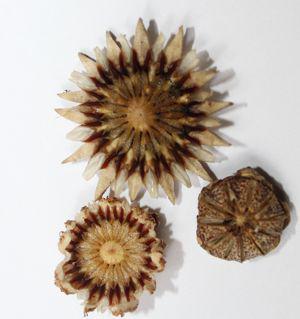 Uses
Use
Apart from horticultural use in the garden as an edging and for soil stabilizing, there have been no other uses that have been recorded on Cephalophyllum parviflorum.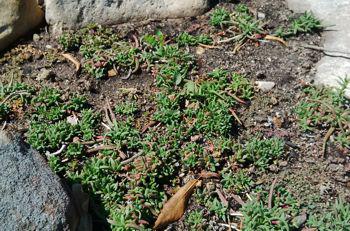 Growing Cephalophyllum parviflorum
Grow
Plant C. parviflorum in semi-shade to full sunny areas in your garden, preferably in rocky areas with a good drainage, mimicking the wild habitat. It has potential in hanging baskets and can be an excellent trailing pot plant for the horticultural trade. C. parviflorum is relatively easy to grow from either seed sowing or cutting. It is a plant that gives a gardener a burst of confidence.
There are two methods to propagate this species vegetatively:
In summer take internodal cuttings. Use a growth medium of 60% river sand and 40% sifted fine bark, or river sand only. Use a sterilized seed tray and lay coarse bark or chip stones underneath the tray, for adequate drainage. Take the cuttings from a healthy disease-free specimen and use a suitable sterilizing agent for any fungal or bacterial infection that may occur. Collect cuttings from the base of the main stem or take new sprawling bunches. Every cluster of leaves may be callusing or rooting already, so cut every internode of the sprawling branch into  3 to 4 cm slips, and insert the cuttings in the media. No root stimulants (hormones) are necessary. Water well and place in well-ventilated area in shade.
 The second econd vegetative method is to cut the runners from the main plant and lay the sprawling branches in the same medium mixture as mentioned above and slightly cover the runners/stolons with river sand. Rooting may take place within two to three weeks.
When fully rooted, separate the plants and transplant them into individual small pots. In three  to four weeks you can transplant them into larger pots, as they do not have massive root systems, or plant them directly in the garden in a suitable place.
To grow from seed collect the capsules when they are dry from August to September; clean the seeds and sow them in May.
Sow seeds in a shallow seed tray with coarse sand, level sand surface area without compacting. Apply pre-emergent fungicide to prevent fungal infection to the seed, Scatter the seeds evenly on the surface and cover lightly with sand and preferably apply a treatment such as smoke disc to increase germination rate.
References
Herre, H. 1971. The genera of the Mesembryanthemaceae. Tafelberg, Cape Town.
Jackson, D.B. 1928. A glossary of botanic terms Edition 4. Duckworth, London.
Manning, J. & Goldblatt, P. 2012. Plants of the Greater Cape Floristic Region 1: the Core Cape Flora. Strelitzia 29. South African National Biodiversity Institute, Pretoria.
Plants of southern Africa: an online checklist. http:posa.sanbi.org
Raimondo, D., Von Staden, L., Foden, W., Victor, J.E., Helme, N.A., Turner, R.C., Kamundi, D.A. & Manyama, P.A. (eds) 2009. Red list of South African plants. Strelitzia 25. South African National Biodiversity Institute, Pretoria.
Credits
Mpendulo Gabayi
Kirstenbosch National Botanical Garden
April 2015
Plant Attributes:
Plant Type: Ground Cover, Succulent
SA Distribution: Western Cape
Soil type: Sandy
Flowering season: Spring
PH: Neutral
Flower colour: Yellow
Aspect: Full Sun, Morning Sun (Semi Shade), Afternoon Sun (Semi Shade)
Gardening skill: Easy
Special Features:
Drought resistant
Pioneer plant
Horticultural zones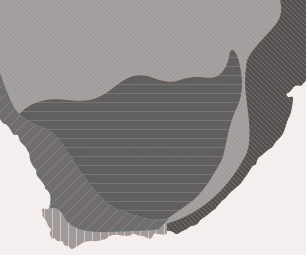 Zone 2 Coastal winter rainfall, frost free
Google QR Code Generator