Chaenostoma hispidum (Thunb.) Benth
Family: Scrophulariaceae
Common names: bristly skunkbush (Eng.); stinkbossie (Afr.)
Introduction
A small, aromatic, perennial shrublet with attractive white, pink to mauve star-shaped flowers in summer, good for garden borders.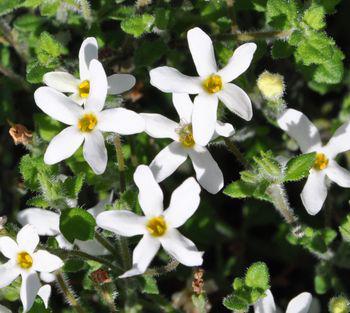 Description
Description
Chaenostoma hispidum is an attractive, bushy, dwarf shrublet, 100–500 mm high, with sprawling branches, up to 500 mm long. Stems and branches covered with rough, stiff hairs, up to the leaves. Leaves are decussately arranged (paired leaves arranged opposite and at 90° angles), oval to elliptical, toothed.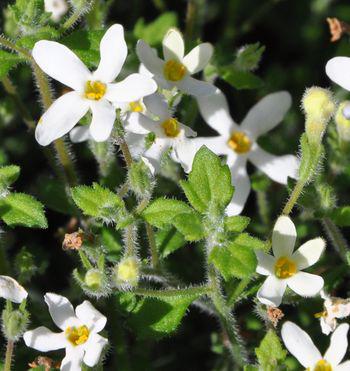 It bears axillary pairs of white, pink to mauve flowers, with the lower 2 stamens swollen, a superior ovary, a yellow gullet and narrow, funnel-shaped tube, 8–12 mm long, with 5 petals and 5 sepals. Flowering mainly from midwinter to midsummer, from July to January, but may have a few flowers at any time of the year.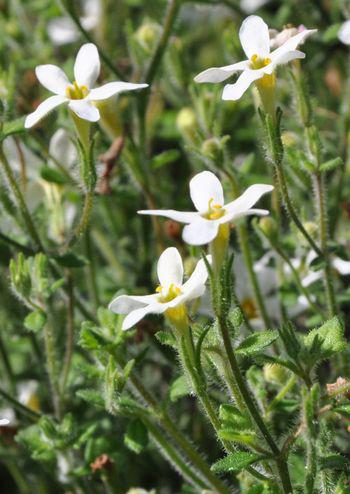 Like many other herbaceous shrublets, C. hispidum grows relatively fast. 
Conservation Status
Status
This species is not considered to be of conservation concern, therefore, it is red listed as Least Concern (LC).
Distribution and habitat
Distribution description
Chaenostoma hispidum has a narrow distribution, occurring in the Western Cape from the Cape Peninsula to Aasfontein, in the Agulhas National Park. This species grows on rocky sandstone or limestone outcrops, on flats and on shale slopes, in full sun to partial shade.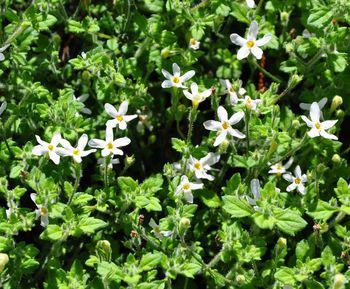 Derivation of name and historical aspects
History
In the world, the family Scrophulariaceae consists of 269 genera and 5 100 species. In southern Africa there are 66 genera with 900 species (Koekemoer, Steyn & Bester 2013). The family has recently undergone a drastic reclassification, and many northern hemisphere genera with two-lipped flowers, previously considered to belong to this family, such as Digitalis, Antirrhinum and Penstemon, are now classified in a separate family, with the Plantago Manning (2009). The genus Chaenostoma occurs in Africa, but mostly in South Africa with 46 species and has recently been revived to accommodate all but 3 former Sutera species.
The name Chaenostoma means 'gaping mouth' and is derived from the Greek chaeno, meaning 'gaping' and stoma, 'mouth', referring to the funnel-shaped flower tube. The species name hispidum, means 'covered with coarse bristles' referring to the leaves that are covered with coarse and rigid hairs. They are called 'skunkbush' or stinkbossie, because the leaves have an unpleasant odour when crushed.
Ecology
Ecology
The southern region of the Western Cape, where Chaenostoma hispidum naturally occurs, is hot and dry in summer and cool and wet in winter. This species has adapted to this region by having hairs all over the surface of the plant, to help prevent water loss during the hot dry summer, and to collect water on misty days. They also afford some protection from herbivorous insects. Bees are the primary pollinators of this species.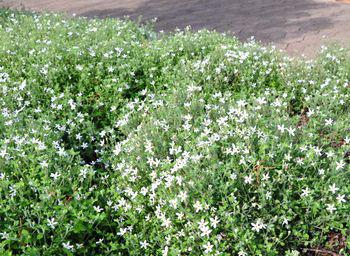 Uses
Use
There are no records found on traditional or medicinal uses, but this plant is widely used as an ornamental in gardens, as a ground cover and as a border plant on the edges of garden beds, and for its almost continual production of flowers. Although adapted to wet winters and dry summers, it can be grown in summer rainfall regions, but cannot tolerate frost. It is easy to grow, suitable for small gardens, and also makes a useful filler in between other plants and does well in containers and hanging baskets.
Growing Chaenostoma hispidum
Grow
Chaenostoma hispidum is easily propagated and responds best when it is vegetatively propagated from tip and stem cuttings, preferably taken in summer (mid-October to mid-February). Use a root-stimulating hormone for soft cuttings; take cuttings from a healthy, disease free, vigorous mother stock, preferably at the coolest time of the day (morning or afternoon), to prevent water loss.
Use a well-drained and aerated rooting medium mixture of 1 part sifted fine bark, 2 part river sand or silica grit or 2 part perlite, and water well. Take cutting below the node with a sharp, sterilized cutting tool and place the cuttings on warm benches at temperature of 22–25ºC, in a moderately humid area or mist house. Rooting should take place after 4–5 weeks. Once cuttings have produced adequate roots, transplant into bigger containers and harden off under a shade cloth to prevent shock, before moving plants into full sun, or planting out in a full sun spot in the garden.
Once the root system has fully developed, prepare your soil; add compost to your garden bed and organic fertilizer to encourage new growth. Mix and aerate the soil to encourage root establishment. Choose a full sun to semi-shade area to plant in autumn to winter time (April, May or June) or during the rainy season, to prevent excessive use of water.
References
Dictionary of botanical epithets. http://www.winternet.com/~chuckg/dictionary.html
Goldblatt, P. & Manning, J. 2000. Cape Plants. A conspectus of the Cape flora of South Africa. Strelitzia 9. National Botanical Institute, Pretoria & Missouri Botanical Garden, Missouri.
Jackson, W.P.U. 1990. Origins and meanings of names of South African plant genera. University of Cape Town.
Koekemoer, M., Steyn, H.M. & Bester, S.P. 2015. Guide to Plant Families of southern Africa. Strelitzia 31. 2nd ed., 2nd print. South African National Biodiversity Institute, Pretoria, South Africa.
Manning, J. 2007. Field guide to Fynbos. Struik Publishers, Cape Town.
Manning, J. 2009. Field guide to wild flowers of South Africa. Struik Nature, Cape Town.
Plants of southern Africa: an online checklist. http:posa.sanbi.org, accessed 20/03/17.
Raimondo, D. et al. 2009. Red list of South African plants. Strelitzia 25. SANBI (South African National Biodiversity Institute), Pretoria.
Credits
Mpendulo Gabayi
Kirstenbosch National Botanical Garden
April 2017
Plant Attributes:
Plant Type: Ground Cover, Shrub
SA Distribution: Western Cape
Soil type: Sandy, Loam
Flowering season: Spring, Early Summer, Winter, Sporadic/All year
PH: Acid, Alkaline, Neutral
Flower colour: White, Pink, Mauve/Lilac
Aspect: Full Sun, Morning Sun (Semi Shade), Afternoon Sun (Semi Shade)
Gardening skill: Easy
Special Features:
Fragrant
Good potplant
Feeds honeybees
Horticultural zones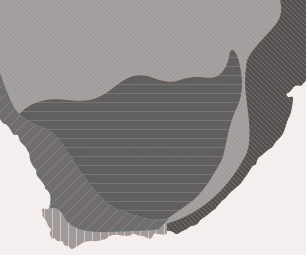 Zone 1 Coastal summer rainfall, frost free
Zone 2 Coastal winter rainfall, frost free
Google QR Code Generator