Chascanum cernuum (L.) E.Mey.
Family: Verbenaceae
Common names: None recorded
Introduction
Chascanum cernuum is a fine-leaved herbaceous perennial covered with whitish flowers for most of the year. It is well-suited to coastal gardens and light shade.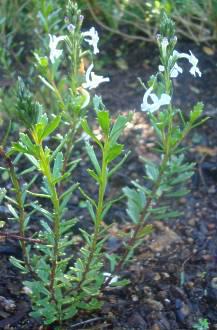 Description
Description
This much-branched herbaceous perennial grows up to 300-600 mm. The fine, leathery sessile leaves are arranged in a whorl and toothed at the tips.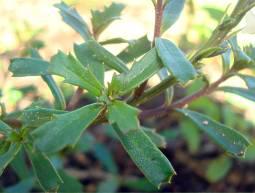 The flowers have a small, curved tube and are either white or tinged mauve. It flowers throughout the year, with its main flowering time in winter, spring and early summer (from July to November).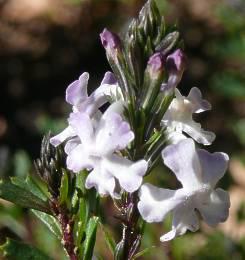 Conservation Status
Status
Chascanum cernuum is not threatened and has the status of Least Concern (LC) (Raimondo et al. 2009).
Distribution and habitat
Distribution description
Chascanum cernuum occurs from the Cape Pensinula to KwaZulu-Natal. It grows on rocky flats and on flats of karroid scrub and amongst limestone fynbos.
Derivation of name and historical aspects
History
The genus name Chascanum comes from chascanon, a name used in the first century A.D for the species Xanthium strumarium (cockle burr) by Dioscorides, a Greek physician. In those days it was quite effective in colouring hair yellow. In the area of classical theatre, chascanum refers to a mask with a wide-open mouth which alludes to the wide-open flower tube.
The species name cernuum means 'nodding' or 'cernuous' and is used to describe the nodding fruit of the species.
Ecology
Ecology
There are no records of specific pollinators.
Uses
Use
There are no records of it being used medicinally or culturally. It has some potential as an ornamental.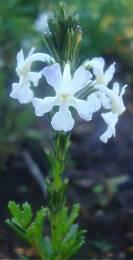 Growing Chascanum cernuum
Grow
Chascanum cernuum is grown by means of cuttings at Kirstenbosch National Botanical Garden. It can be propagated any time of the year. Take cuttings of between 40-70mm long and dip them in rooting hormone powder which will aid the formation of roots. Use 1:1 ratio polystyrene and bark mixture as a rooting medium. Place cuttings in a mist unit with a heated bench. They root fairly easily and by week 2-3 roots will have formed on most cuttings. Remove the cuttings from the mist unit and place in an area where they can be hardened-off for up to two weeks. The cuttings will now be ready for potting-on. Feed regularly until they are of a good, healthy size. Pinching back will help ensure a good-looking, bushy shrublet.
This herbaceous perennial will do well in most gardens where it will perform best in full sun or light shady conditions. It is ideally suitable for the herbaceous border, and with its fine texture it will play-off well against the coarser-textured Pelargonium cordifolium 'Valentine', P. tomentosum, P. odoratissimum, P. betulinum, P. hispidum, Phygelius aequalis, Cotyledon orbiculata and Scabiosa africana. It also grows well with Scabiosa incisa, Cineraria saxifraga, Felicia dregei, F. amelloides, F. aethiopica and Helichrysum cymosum.
References
Goldblatt P. & Manning, J. 2000. Cape plants: A conspectus of the Cape flora of Southern Africa. Strelitzia 9. National Botanical Institute, Cape Townand MBG Press, Missouri Botanical Garden, Missouri.
Jackson, B., Daydon.1971. A glossary of botanic terms, edn 4.Gerald Duckworth, London.
Mustart, P., Cowling, R. & Albertyn, J. 1997. Southern Overberg. South African Wild Flower Guide 8.Botanical Society of South Africa, Cape Town.
Raimondo, D. et al. 2009. Red List of South African p lants. Strelitzia 25. SANBI (South African National Biodiversity Institute), Pretoria.
Trinder-Smith, T. 2006. Wild flowers of the Table Mountain National Park. Botanical Society of South Africa, Cape Town.
Credits
Roger Oliver
Kirstenbosch National Botanical Garden
July 2010
Plant Attributes:
Plant Type: Perennial
SA Distribution: Eastern Cape, KwaZulu-Natal, Western Cape
Soil type: Sandy, Loam
Flowering season: Spring, Early Summer, Winter, Sporadic/All year
PH: Acid, Alkaline, Neutral
Flower colour: Purple, White
Aspect: Full Sun, Shade
Gardening skill: Average
Special Features:
Horticultural zones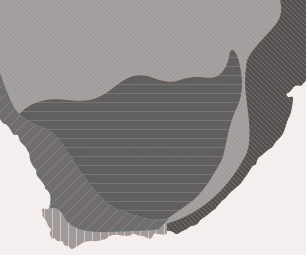 Zone 1 Coastal summer rainfall, frost free
Zone 2 Coastal winter rainfall, frost free
Google QR Code Generator